Training in Mt Hagen, 1982 by Jenny McDonald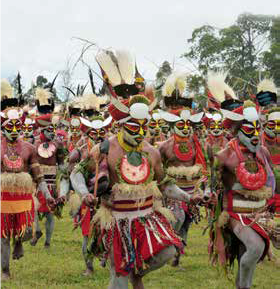 It was a rite of passage to go to Papua New Guinea as a medical student. I went with my husband, Peter Sip, in January 1982. We had just finished our fourth year at the University of Sydney. In trepidation we flew in a small plane up to Mt Hagen from Moresby through the mist and between the mountain peaks. The reason I wanted to do my elective term in PNG was because I spent my first five years in Port Moresby and I had grown up with stories of my father's adventures as a veterinary scientific officer.
Peter and I spent four weeks at the Mt Hagen Base Hospital, as it was known then. I worked in Paediatrics and Peter worked on the General Medical Ward. The doctors were mostly expats, but a junior doctor on the medical ward was a man whose family was from Mt Hagen and was a graduate of the University of Papua New Guinea (UPNG) Medical Program.
In the Paediatrics Ward mothers slept on mattresses on the floor, or low bunks with their child. I remember there being 20 or 25 mattresses lying side by side in a long, narrow ward.
I worked in the Paediatric Emergency Triage Room side by side with nurses and one of the expat doctors. Families walked two or three days to present their children with fevers, respiratory distress and rashes. The most common illnesses were measles, malaria, pneumonia, meningitis and gastroenteritis. A toddler presented in heart failure with anaemia due to malaria. I quickly learned to take a history in Pidgin and I let families know 'Em I mas slip long haus sik' when the illness was severe enough for the child to be hospitalised. It was a busy emergency department, and I like to think we helped with the workload, but I suspect I gained more than I gave.
What I learned has stayed with me throughout my career. I learned that the nurses, who were all nationals, were far more important to the children's care than the doctors. That was not taught in medical school. A few disabled children presented with increasing seizures, carried in by a family member. There was not a hint of burden or stigma from the families or treating staff. The child was a community and family member.
I watched an eight-day-old infant die of septicaemia due to an infected umbilical cord. The nurse turned to the child's mother, looked at her sadly and said 'mi sori mama'. I have never seen bad news delivered with such sincerity or compassion since.
The highlight of our stay was an invitation to visit the local doctor's village and attend a sing-sing. His family welcomed us warmly. There were pigs roaming around thatched houses and smoky fires. I admired a bilum his aunt was making so she gave it to me. I still treasure it. When Peter and I sat on a hill to watch the sing-sing the children gathered round to stare at us. They scampered away when we tried to talk to them. It was obvious we were stranger to them than they were to us.
I am now teaching at Western Sydney University Medical School after three decades in paediatric practice. What I learned during my time in Mt Hagen I share with students. The best healthcare is delivered by the combined efforts of a community not by clinicians, the best communication is simple and honest, mothers should always be included in their children's care, everyone is frightened by the unfamiliar and generosity and kindness are never forgotten.