The Wau to Bulolo Road in 2017 by Deryck Thompson
Notes and photos by Deryck Thompson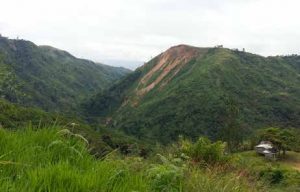 In the early days after WW2 a road was constructed from Bulolo to Wau and in later years it was known as the Gorge Road, as it closely followed the Bulolo River gorge from Pine Top bridge just out of Bulolo and it took about 30 minutes to drive from Bulolo to Wau.
Later again PNG Forest Products cut another road up through the hills east of the Bulolo River to Wandumi to access its pine plantations.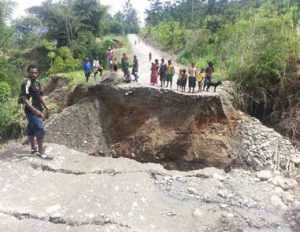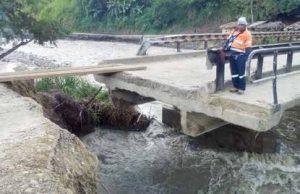 Eventually the wartime bridge over the Bulolo at Wandumi, 5 km east of Wau was replaced and it became possible to drive Bulolo to Wau via Wandumi. The Gorge Road became known as the "Front Road" and the PNG Forests logging road became known as the "Back Road".
Later again, a landslide at the Koranga Gold sluicing mine adjacent to the main Gorge Road revealed the remains of an extinct volcano.
The area of the land slide began to heat up and steam loaded with sulphur indicated a possible coming to life of a volcano. Any eruption would have blocked the "Gorge Road" so the "Back Road" also became known as the "Escape Road" as it would have been used if the road to Bulolo was cut off by volcanic activity.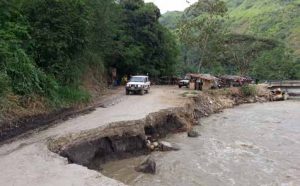 Peter Shanahan was working at the Forest Research station at this time and he remembers that all the staff undertook training for the expected emergency which thankfully did not happen as the volcanic activity settled down.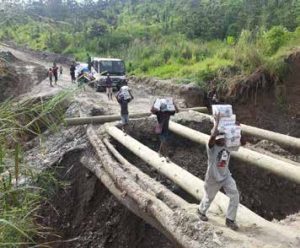 In 2015 the "Front Road" was closed by a series of landslides caused by illegal miners throwing over burden down from the heights above the road so all vehicles had to travel on the "Back Road" and that continues to this day.
The distance from Bulolo to Wau on the "Back Road" is about 33 km and it generally takes about 1 hour to drive. Over the course of this year 2017 there have been heavy rains and several sections were washed out although all have now been repaired thanks to the combined efforts of PNG Forests Products and a gold exploration company now based in Wau.