Samuel Warren Carey
Samuel Warren Carey (father of Dr Harley Carey), was the geologist in charge of Oil Search Ltd in the Sepik district from 1934 to 1942. Many of the places he went to were in uncontrolled territory. At the age of twenty-three, Carey sailed to Boram, five km east of Wewak, on SS Montoro. He spent two years in the Sepik district working on foot, followed by two years in the Gulf region of central southern Papua, where field work could be done by boat.
During his time there he produced geological maps and reports that were highly sought after for many years. His field work in New Guinea also provided an excellent background for the next stage in his career, a spell in a special commando unit within the Australian Army. Samuel Carey was Foundation Professor of Geology at the University of Tasmania from 1946 until retiring in 1976.
Samuel Carey had an interesting life and his biographical memoirs (written by Patrick G Quilty and Maxwell R Banks) provide a fascinating glimpse into a young geologist's life in PNG in the 1930s. Work in these conditions, where self-sufficiency for long periods in the field was absolutely necessary, brought out the attention to detail that was to mark the rest of Carey's career.
The full memoir is available at the website following. Some short excerpts are reprinted from, and with acknowledgement to, the Australian Academy of Science. It can be accessed Here.
In the high humidity, the glass in the eyepiece of a theodolite telescope is subject to fungal growth, especially where etched with vertical and horizontal cross-hairs. The diaphragm with cross-hairs was thus replaced with glass bearing spider-web cross-hairs that lasted longer than the etched variety. He collected spider-web thread on a card with a slot in it, after a lengthy process of getting 'his boys' to collect the right type of spiders and choosing the individual spider that produced the best single thread (hence the personal word 'spidering'). Applying the spider web to the eyepiece often had to be done several times to get the spacing absolutely correct …
Carey had many medical experiences including regular stitching of surface and deeper wounds. He also treated yaws and sexually transmitted diseases, malaria, pneumonia, diverse parasites, some measles, typhoid, deaths. All to be cared for by a non-medically-qualified geologist in his early twenties! His principal guidance came from a ship's captain's medical book and from the company doctor. His background in Scouts, Rovers and the Sydney University Regiment had given him some relevant experience. While taking so much care for others, he contracted tropical typhus and survived on beef tea until strong enough to walk out of the base camp.
He carried a few bags of rice, blue peas (soak overnight and carry damp in hessian bags during the next day so they sprout and produce vitamin C, to prevent scurvy) and some canned bully beef in case all else failed. He made bread regularly but had to keep the yeast alive. Meat was what could be shot. Self-discipline was highly developed to prevent him developing any tropical diseases and camp routine was strict, including a daily bath, sick parade, and administration of 'bush justice'. He learned to identify key fossils in the field and developed his own means of polishing rock slabs to examine with hand lens the fossil foraminifera therein, using the field guide prepared for the purpose by Professor Martin F Glaessner.
Carey made great contributions to the understanding of the geography and geology of Papua New Guinea and the country, left a very strong mark on him because, in contrast to the age and stability of the areas in which he had worked in his earlier research, it is geologically young and one of the most active places on Earth. It is a land of growing mountains, active volcanoes (and many others that have been active very recently), earthquakes, and vigorous erosion and sedimentation regimes.
He experienced first-hand the natural violence of the local environment. He was very close to the epicentre of the Torricelli Earthquake of 20 September 1935. This was the then most violent earthquake recorded in Papua New Guinea and caused the seismograph recorder at Riverview Observatory in Sydney (3,500 km away) to go off-page and to react violently for many hours. His records of the earthquake illustrate again his attention to detail in that he recorded the frequency of various types of vibration, the effects on local material (suggesting acceleration greater than g), and the different types of vibration. There were major landslides and it took months for the shocks to die down and the effects to become fully evident.
His experience and observations of landslides and mudslides were to stand him in good stead in teaching about past environments when he eventually assumed a professorship. … He made predictions that took many years to be proven correct, and the knowledge base he left in company reports and papers has been an important element in the successful search for hydrocarbons in the area. His interests in tectonics were enhanced extremely and he never lost his interest in this part of the world.
Notes from Rob Parer:
Rob Parer tells PNG Kundu of his family's connection with Samuel Carey:
Bob Parer (Rob Parer's father) was prospecting for gold, inland from Yakamul, in July 1937 when his wife, Mollie, gave birth to twins, six weeks prematurely, at Wau. Wally Hook had a trading station at Yakamul, thirty-five km east of Aitape, and passed the news on to Bob. This news had been delivered by the weekly policeman's postal service where one policeman would leave Wewak and another leave Aitape, meeting half-way at Suain/Matapau to exchange mail bags.
Later, when Bob Parer wanted to build a bush material house in Wewak in 1937 after the twins, Carolin and Rob, were born, he was provided assistance by Samuel Carey. Oil Search had just recruited over one hundred workers to take bush and, as they didn't have an immediate job, Samuel Carey offered them to Bob Parer to help get the materials in the bush and to start building the house. The house was later called 'Haus Kranki' as some of the foundation posts started growing.
And in another note, Rob Parer writes:
Geologist Samuel Carey knew the Sepik District so very well, and I was amazed that he also explored and surveyed the Bulldog area. What a man!
I have learnt from his diary that the first place an aircraft landed in the Sepik was in 1935 on the beach at Suain, and it was piloted by Ray Parer in his Fairy Fox. This aircraft was in the 1934 Great Air Race from England to Australia. Ray flew it up from Australia.
Some years later the engine blew up; as it was water cooled and due to the radiator leaking, it over-heated. Ray left it at Maprik and went up the Sepik exploring and prospecting for gold. He did not know that his kind younger brother, Kevin, had found a spare engine and left it at Maprik for Ray to install. But war started and the aircraft fell apart.
After the war the aluminium propeller was found and Roy Worcester had it in his yard at Kaindi in Wewak. When he was leaving PNG to return to Australia, I asked him how much would he like for it—and he said a bottle of Black Label Whisky.
So I took it to Aitape and had it on display in our front garden at St Anna Plantation. It is still there.
Post Script: I am not sure if Ray landed at Suain to get water from a creek, or if he was on charter to Oil Search, as there is a creek near Matapau called Kerosene Creek that was found in 1929 to have oil leaking out.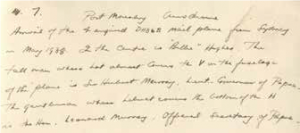 Attached to the material given to Robert Parer was a note, handwritten by Samuel Carey, which says: Port Moresby Aerodrome. Arrival of the 4-engined DH86B mail plane from Sydney in May 1938. In the centre is 'Billie' Hughes. The tall man whose hat almost covers the V on the fuselage of the plane is Sir Hubert Murray, Lieut-Governor of Papua. The gentleman whose helmet covers the bottom of the H is the Hon. Leonard Murray, Official Secretary of Papua.