PNGAA Update – Sept 2020 Kundu
As well as PNGAA events, members of the Management Committee continue to network on your behalf, attending a wide range of events and activities, and encouraging new members and possible partnerships to keep our association vital and viable. Featured here are reports and updates from the committee, other news of interest and a welcome to new members.
From the President
So much is written about its mining wealth, but Papua New Guinea's real treasure is its people.
This association is proud to continue to tell the 'good news' stories of PNG, including of those young women and men inspiring new generations and making their mark on the international scene— and the parents who in turn inspired them.
They were youngsters who dared to dream-like the little eleven year-old from Lae whose father showed her an article on the first female African American Secretary of State, Condoleezza Rice. That little girl is now Dr Yalinu Poya, one of the world's most accomplished young scientists whose trailblazing chemistry research has won plaudits from the United Nations, a string of international prizes and made her the face of plutonium on the Periodic Table of Younger Chemists.
As the then University of Glasgow PhD student told me for a blog for PNGAA last October:
'My parents were supportive of me while growing up, especially my father. The passion to do a PhD began when my father pointed out a newspaper article of Dr Condoleezza Rice,' said Yalinu.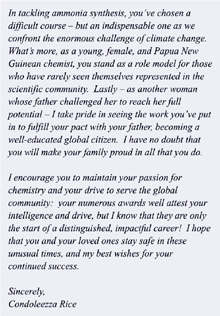 'Being eleven years old I asked, "How can a medical doctor be the US Secretary of State?" My dad told me the title "doctor" comes from a PhD. And there I was, instantly attracted to becoming a doctor. I made a pact with my dad that before or at the age of thirty I would receive a PhD.'
Well, she did and it's a pleasure to update you with news that Dr Condoleezza Rice read the article about young Yalinu, sent her a congratulatory letter (opposite), and has reached out to set up a meeting between the two. Yalinu has promised to get some photos snapped for us on the day her other dream comes true in the post-COVID world!
Just as Yalinu was inspired and supported by her parents, so too was Benson Saulo. The son of a New Ireland man born on a beach and an indigenous Australian woman, was recently named as Australia's first indigenous Consul General (see story page 31).
Benson's dad arrived in Australia with little more than the clothes he was wearing. His mum had been living in a tin shed. With dignity, perseverance and grit they made a life together and gave Benson every opportunity. In turn, Benson has thrown himself into causes for indigenous communities in Australia and for the education of young New Irelanders through his Mind Gardens Project.
Then there's the Kama kids, sister and brother Shera and Bal.
As Bal proudly announced on Twitter recently: 'My sister, Dr Shera Kama just graduated from specialised medical training (Masters) and will be PNG's first national endodontic specialist. We endured the challenges of growing up in the village, but more for her as a female. Proud of her and an inspiration she has become.'
Dr Bal Kama himself wrote an award-winning PhD thesis (Law, ANU). He was conferred in April. Bal is also a Commonwealth Pacific Young Person of the Year and director of Kama Foundation Inc., empowering villages in health, education and youth development. The social media outpouring of pride of the achievements of all these young role models and their parents has been heartening to see. The sentiments flow freely not only from fellow Papua New Guineans, but also from Australians in our association and other PNG-related groups.
There is no better tangible evidence of the ongoing bonds between the two countries. On that note, there is no more admirable example of a person who embodies that relationship than our patron, Fred Kaad, OBE, who turns one hundred in September.
Our Special Feature and salute to Fred by Bill Brown (pages 17–23) is a staggering portrayal of a crowded life of personal achievement, public service and indomitable spirit.
It chronicles how the fastest schoolboy athlete in Australia went first to war in New Guinea then, subsequently, a cavalcade of hands-on and administrative positions – from patrol officer to district commissioner and multiple other roles. His contribution to the development of PNG was immense.
Fred's response to a plane crash in New Guinea in 1964, permanent disability and confinement to a wheelchair, is as inspirational a story as can be told. It spurred him to new heights of study and service. Like General MacArthur, he did 'return'.
This association is privileged and proud to have Fred Kaad, OBE as patron and extend him our warmest birthday wishes as he and his family celebrates a wonderful milestone.
MAX UECHTRITZ
PNGAA President
Journal Editor Required
The editor of PNG Kundu is a PNGAA Management Committee voluntary position. The person would need to co-ordinate the content for each issue, liaising with members and proofreaders as well as the Production Designer and the Website Manager on the final hard copy and electronic copy. Capacity to access articles via email and use track-changes in Word would be helpful; flexibility to learn about uploading items to the PNGAA website would be useful.
Some PNG history, a proficiency in written English, and some journalism or publishing experience would also come in handy.
As articles are readied for publication, response periods are critical, requiring commitment to an 'all hands-on-deck' approach. The volunteer's physical location in this instance is not relevant as long as they have good access to the Internet. It's a rewarding role for those interested in our Australian/ PNG story.
Expressions of interest to be forwarded by email to editor@ pngaa.net, or contact Andrea Williams on (mob.) 0409 031 889.
Celebrating Forty-Five Years of Independence
Papua New Guinea achieved their independence on 16 September 1975, and became a constitutional monarchy with membership of the British Commonwealth.
Officiating at the main ceremony, held in Port Moresby, were HRH Prince Charles, Prince of Wales; Sir John Kerr, Governor-General of Australia; Gough Whitlam, Australian Prime Minister; Sir John Guise, Governor-General Designate of Papua New Guinea and Michael Somare, who became the country's first Prime Minister.
Prince Charles was to return in August 1984 to open the new National Parliament building, which is featured on the cover of this issue of PNG Kundu.
Designed by Cecil Hogan, with the front façade by Archie Brennan, the building in the style of a Maprik Haus Tambaran (house of spirits) rises from a reflecting pool, whose waters symbolise that Papua New Guinea is an island nation.
Christmas is Coming!
PNGAA's book, When the War Came: New Guinea Islands 1942, will make a great gift or an addition to your library.
Published to commemorate the 75th Anniversary of the Fall of Rabaul and the sinking of Montevideo Maru, this book is a collection of personal stories, memories and reflections that enhance the history of civilians and soldiers living in Rabaul, Kavieng and the New Guinea islands at the outbreak of the Second World War. And don't forget the PNGAA Tote Bag—these high-quality environmentally friendly, large laminated jute shopping bags, in natural colour, are great for your plastic bag-free shopping and for carrying everyday items.
More details are available about these and other items for sale in the STORE.
PNGAA New Members The PNGAA Committee welcomes the following new members:
Robert Aitken, Colin Asher, Dominic Barnes, Roger Benzie, Paul Bloink, Joe Costello, Brad Eaton, Denise George, Glenn Halligan, Victor Malla, Peter McGuckian, Louise Moore, Rod Mountford, Mila Nelson, Iava Parapa-Falvey, Rodney Parker, Pauline Phillips, Ruth Pitt, Mik Plumb, Ian Smith, Peter Stace, Werner Strauss, Donald Varcoe, Peter Walsh, David West, Stephen Willis and Colin Young.