PNG in the News
Featuring articles and news reports about contemporary Papua New Guinea—also included are the nation's sporting achievements and events, and stories about young people doing interesting things— we encourage young people to become involved in PNGAA to ensure the strong ties formed between PNG and Australia continue into the future.
First PNG Female Vet
A tremendous achievement – Dr Tania Areori will return to Papua New Guinea as the country's first female veterinarian!
Tania has spent the last six years studying a Bachelor of Veterinary Science in Wagga Wagga, initially leaving behind her nine-month-old son to further her education in a new country, and as a mature-aged student.
'When I started out, I didn't know that I was going to be the first female vet. I was just a young woman going after my dreams. 'I had separation anxiety as a new mum, I was worried about settling in and making new friends.' Tania thanked Charles Sturt University student services and the School of Animal and Veterinary Sciences team which helped her settle into Wagga Wagga. I'm also thankful to the students from my year for their friendship and support, driving me to and from class, for group study sessions and working together to get through exams.
'I would like to make people, especially from the Pacific who are interested in pursuing this career, aware that studying veterinary science is possible.
'There is always a way. Just keep asking, searching and pursuing.'
The Anne McCosker Collection
PNGAA members and their friends interested in the history of the Mandated Territory of New Guinea, and the years after WWII up to independence in 1975, may like to know that Anne McCosker, a longstanding contributory member to PNGAA, has now given to the Fryer Library, University of Queensland, much of her valuable collection.
The material includes much of the primary source material on which is based Anne's book, Masked Eden, a History of the Australians in New Guinea, and her booklet, New Guinea Waits, now included in the second edition of Masked Eden.
In this collection are hundreds of photographs showing aspects of plantation life with Europeans and New Guineans both pre- and post-WWII; photographs of Rabaul, Kavieng, and other geographic areas; a few pre-WWI photographs; short stories and articles about the Islands, diaries, maps.
This Collection gives the viewer a sense of continuity not often available in archive material.
There are batches of pre-WWII letters from European resident 'Befores', also batches of letters from other 'Befores', people like John Gilmore, Stella Spencer, and Lil Evenson written to Anne in the early 1970s when she was researching material for Masked Eden.
Anne also has bundles of letters written in the 1990s from European resident 'Befores' like John Leeuwin Clark and ex-WWII soldiers, and then postwar residents like David Behrens. After Masked Eden was published in 1998, Anne received and responded in the following decades to a considerable number of people, 'Befores', ex-New Guinea soldiers, a few of these had escaped the Japanese invasion, sons and daughters of parents from the islands, even their grandchildren, and readers interested in New Guinea in general. These letters— and emails—have all been kept.
There is a good collection of letters from WWII in New Guinea between Stan McCosker, and his business partner, then Colonel, Walford King, the West Australian Government Auditor written when Stan McCosker was in active service in ANGAU.
Miscellaneous items of interest— so much ordinary material was lost during the war—are, for example, the Kokopo Club audit books prepared by Anne's mother, Marjorie McCosker, a chartered accountant, in 1938 and 1939 and several German New Guinea business seals.
Another selection of letters and photos are those on which is based Anne's book, Lieutenant Martin's Letters, an Anzac in the Great War. These are letters to Fred Martin's family in Queensland from Gallipoli, England, and the Western Front. There is also material on the Expeditionary Force to capture German New Guinea in 1914. Fred was a member of the Kennedy Regiment that sailed on the Kanowna from Townsville to Port Moresby. The Collection also includes exercise books with their pages full of the first drafts of many of Anne's seven books of poetry. Other note books contain Anne's observations of New Guinea flora and fauna and the Islands in general, background material which she used when writing Masked Eden. This descriptive information has also helped Anne at times when writing some of her New Guinea poetry. Anne plans to add more material later.
Birds of Paradise: Ellis Rowan in New Guinea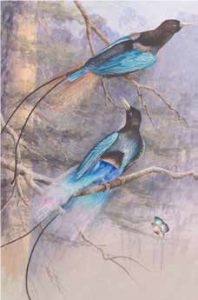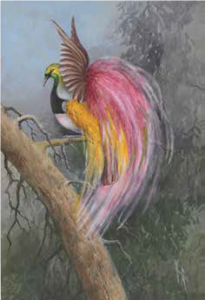 This exhibition is on at the National Library of Australia in Canberra until 8 March 2021.
Ellis Rowan (1848–1922) is one of Australia's most celebrated artists, best known for her striking wildflower paintings but also for her interest in birds. During WWI, when she was almost seventy years old, she had the opportunity to spend time painting professionally in New Guinea. Ellis created numerous pictures of the region's Birds of Paradise and wildflowers. She was able to paint most of the forty-two species of Birds of Paradise.
Her visits to New Guinea in 1916 and 1917 were at a time when it was uncommon for women of European descent to travel to the region independently. She befriended Irish-born writer and traveller, Beatrice Grimshaw, who hosted Ellis on her visit to the island of Sariba, near Samarai in the Milne Bay Province, and provided Ellis with advice about New Guinea. Beatrice had sailed to Papua in 1907 for a short visit but stayed close to thirty years managing a plantat ion, accompanying exploring parties up the Sepik and Fly rivers and growing tobacco near Port Moresby with her brother. She also wrote many of her fortytwo books which included a partautobiography, Isles of Adventure.
Beatrice was a close friend of the acting administrator, Sir Hubert Murray, and became his unofficial publicist. In 1908 Beatrice urged Australian Prime Minister Alfred Deakin to make Murray's position permanent. Deakin commissioned Beatrice to advertise Papua's need for white settlers and capital and, following pamphlets, a book was published in 1910, The new New Guinea.
Ellis preferred to work "en plein air", which involved hiking to remote areas with the support of the local people. Her passion for flowers and insects is also reflected in her watercolour compositions.
She captured the elaborate plumage and complex mating rituals of the male Birds of Paradise, their long tail feathers, curled wires and some with iridescent head feathers A significant portion of the material on display in the exhibition is available to view online. See more HERE:
Archaeology in the Great Papuan Plateau
Papua New Guinean and Australian archaeologists are investigating whether a remote and rugged part of PNG was an important transit point in the migration of people from South-East Asia to Australia tens of thousands of years ago.
500 kg Cocaine Seized
Near Port Moresby An organised crime syndicate attempted to smuggle more than 500 kilograms of cocaine into Australia, but the small plane loaded with the drugs crashed while trying to take off in Papua New Guinea.
The criminal gang was already being watched by police as part of a two-year investigation, and five people were arrested in Queensland and Victoria shortly after the plane took off.
The Cessna 402C was found empty with its pilot missing near what appeared to be a makeshift runway at Papa Lea Lea, about 30 kilometres north-west of Port Moresby.
The Australian pilot handed himself in to the Australian consulate in PNG and has already faced court in Port Moresby, charged with illegal entry into the country.
Read more HERE
Bushfire Donation
Merimbula Rotary Club in far south New South Wales has received a donation of $60,000 from twenty different organisations in the Morobe District of Papua New Guinea. This generous gesture will be used to assist the recovery of the community from last summer's bushfires.
Read more HERE
Archibald Prize
Papua New Guinean artist and student at National Art School Sydney, Lesley Wengembo, entered his portrait of campus assistant Mal Nagobi for this year's famous Archibald Prize.
Although not among the prize winners, Lesley's obvious talent for realistic portraiture has attracted considerable attention.
Still only twenty-three years old he arrived in Sydney from Port Moresby in 2018 determined to develop further the skills he has exhibited since he was five years old.
Read more HERE.
Agricultural Exports Fall in PNG
This article, based on data from the Bank of Papua New Guinea, describes falls in exports of all major agricultural products— coffee, cocoa, palm oil and tea—in the last decade. It suggests that any improvements in production arising from increased government support for the sector will be some time in the future.
Read more HERE.
Cocoa Production Drops by Twenty-three Per Cent
Cocoa has seen a twenty-three per cent drop in production in the first six months of this year, Cocoa Board of PNG (CBPNG) chief executive officer Boto Gaupu has told the National Times. He said that the industry faced a challenging financial situation in the last quarter of 2019, and the first quarter of this year with the lockdown due to COVID-19. He said the industry was expected to rebound heading into the final quarter of 2020 to reach 44,219 tonnes or three per cent higher than last year's crop.
Read more HERE
The (Proposed) Purari Hydro-Scheme
When Australia's richest man, Andrew (Twiggy) Forrest, led a team of his Fortescue Metals Group executives to PNG in late August/ early September the business pages of the Australian press gave the tour good coverage.
The main interest, as reported by the press, was 'clean' and 'renewable' energy which, these days, often refers to wind and solar power. The damming of rivers and creation of large lakes are not seen as ecofriendly. However, it was reported that among several projects the team was considering was the hydroelectric potential of the Purari River.
The recent closure of the Porgera mine and long-proposed Pacific Marine Industrial Zone at Madang were also under consideration. Also mentioned was Twiggy's research vessel being in West New Britain waters at the time. It was searching for a Beaufort bomber, piloted by his uncle, believed to have been shot down near Gasmata Bay in 1943. Twiggy reportedly joined the search for a short time.
The team was believed to be proceeding to Indonesia after PNG and to Afghanistan in October. One could be forgiven for questioning the real motives behind the PNG trip, especially in light of PNG's recent policy changes in regard to foreign investment, which are perceived to have substantially increased 'sovereign risk'.
The potential of the Purari River has long been recognised and serious investigations and studies were first carried out in the mid- 1950s by Comalco. That company finally decided that its large bauxite reserves in the Northern Territory and Queensland would be shipped, for refining, to Bell Bay in Tasmania or The Bluff in New Zealand despite the shorter distance to the south coast of (then) Papua.
During the world energy crisis of the 1970s the Japanese Government teamed up with the Australian and PNG Governments which financed Nippon-Koei and Snowy Mountains Engineering Corporation (SMEC) to review the earlier studies and undertake a multi-million-dollar new feasibility study for a proposed dam at Wabo in the north of the Gulf Province.
The enormity of the proposed project with its associated cost, lead time, construction time and falling oil prices resulted in a decision being made in 1977 to not proceed. On 23 January 2007 a brief report appeared on page 22 of The Australian under the heading 'PNG Dusts off Blueprint for Hydroelectric Dam Project'. It went on to provide scanty details of Russia's interest in establishing a smelter, but there appeared to be little follow-up. Then, in 2011, Origin Energy became interested and teamed up with PNG Sustainable Development Programme Limited, a company initially created to take over the Ok Tedi mine after BHP opted out. Another multi-million-dollar study was undertaken but the idea of any development was dropped in 2014 when Origin Energy realised that it might not be able to tap into international carbon credits to help make the proposed scheme financially viable.
The entire Purari Basin river system has a potential of more than 5000 megawatts (MW). A dam at Wabo, envisaged by the earlier proponents, would consist of 1800 MW installed capacity with a firm output of 1200 MW. Origin's proposals were for a total of 2500 MW based on the Wabo dam and one or two dams further upstream. Total cost in 2014 was estimated at $5bn. Whilst hydro might produce 'clean energy', the use of that energy to convert raw materials into useful products creates huge quantities of waste which has to be disposed of.
Such huge amounts of energy are far in excess of PNG's domestic needs and so the huge surplus generation would have to be exported by costly under-sea cable to Australia. Large power losses would be incurred along the length of the under-sea cable and transmission lines as far south as at least Townsville. Alternatively, and as originally envisaged, the principal user would be a very large industrial complex on the south coast of PNG. Such a complex would create potentially huge social and environmental problems for PNG.
Thus, PNG might benefit from exporting its electricity to Australia but would have much to lose environmentally were an industrial complex to be constructed in the Gulf Province.
CHRIS WARRILLOW
Unauthorised Use of COVID-19 Vaccine
Papua New Guinea has turned around a plane full of Chinese workers after it was revealed a Beijing-backed mine had been testing an 'unauthorised' corona virus vaccine on it s employees at Ramu nickel mine.
Read more HERE
Kokoda Track
This article, written by Eric Bagshaw, suggests that the immediate threat of COVID-19 and the proposed establishment of a gold and copper mine near Naoro are both likely to have detrimental effects on the Kokoda Track and the tourism income it has generated in the past.
Read more HERE
COVID-19
The Australian Government has provided $135,000,000 to assist Papua New Guinea with management of the COVID-19 pandemic. This Radio Australia report includes discussion on the current PNG budget.
Read more HERE
Philip Clark
On 20 July 2020, Philip Clark of ABC Radio chaired a discussion of Papua New Guinea. His panel consisted of Ian Kemish, who grew up in PNG and served as High Commissioner to PNG between 2010 and 2013; Stephannie Kirrowom, a lawyer from Madang who works in Port Moresby and Rowan Callick, a former Asia-Pacific editor and foreign correspondent for both the Australian Financial Review and The Australian.
The discussion was wide ranging and covered topics which included the Australian public's general ignorance of Papua New Guinea and its people, and the history of its association with Australia. There was a frank treatment of the problems confronting a society changing from traditional ways to those of a self-governing democracy. The pane l l i s t s agreed on the need for improved administrative performance from the government and the accelerated distribution of the benefits derived from exploitation of natural resources.
Read more HERE
Bougainville Elections
Ishmael Toroama is president of Bougainville's new regional parliament. The election of the new parliament followed the referendum which saw 98% of voters favouring independence. The implications of this vote for PNG was discussed on Philip Clark's program included in this issue's PNG in the news.
Read more HERE
Ambulance Service Extended
St John Ambulance and Digicel Foundation have joined in a program worth K528,735 to expand its rural ambulance service to the Milne Bay District.
Read more HERE.