BOOKS & ART REVIEWS
A Constant Forester
Paul Ryan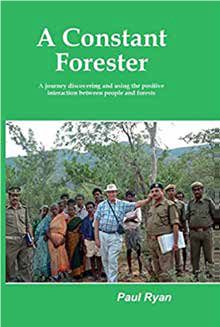 This is the story of Paul Ryan's forestry career, but it's not just about trees. It also relates to his growing involvement with the people who, living in or on the fringes of forests, rely partially or wholly on the forest for their livelihood.
Starting in Papua New Guinea, where, to the local people, the forest was their birthright and source of subsistence, Paul then moved to Canada. Based there, he worked on numerous projects in various countries around the world, initially involved with industrial forest management.
An assignment with the World Bank to Afghanistan in 1978 changed his focus, as he was dealing with the provision of firewood to rural communities. Further work with the Bank in Africa continued this trend, until, in 1986, he was asked to join the World Bank as a specialist in wood-fuels and forestry.
There followed an increasing degree of interaction with communities to develop a bottom-up approach to solving wood-fuel and forestry issues.
While designing a wood-fuel supply project in Tanzania, Paul realised that the best solution was to support communities in protecting and managing their traditional woodlands rather than to plant trees to provide the needed wood-fuels. After initial scepticism the project proceeded successfully and reintroduced communities to their forests.
As the story follows Paul's peripatetic career, it also relates the many non-forestry experiences that occurred, some dangerous, some fascinating, but none boring.
The climax was working in India on a community forest management project involving 5,150 communities. It was a win-win situation for both the impoverished forest fringe dwellers and the hitherto degraded forest, which the communities had been allocated to manage with World Bank funding.
There was immense satisfaction in seeing a majority of the people's livelihoods improved and the forest regenerated to a much healthier state.
ISBN: 978-0645331516
Published by Paul Ryan, 2022
246 pages, paperback & e-book. Cost $26.95
Available from Amazon, Booktopia, Book Depository and others.
A Matter of Conscience: Operation Rausim Kwik
General Jerry Singirok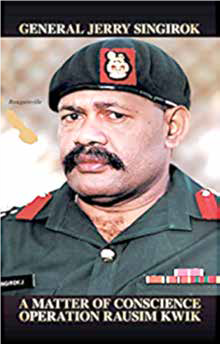 Twenty years on from the abrupt ending of his military career, Jerry Singirok has had much time to ruminate on the past. He stands back and reflects, often quite critically, about his own decisions, as well as more broadly about politics, leadership, corruption, faith, family and many other facets of public and personal life in PNG.
The book will be of considerable interest to many readers, and not just for those with a Pacific focus.
In a review, originally published by PNG Attitude in April 2022, Rae Stuart said that the book, written from the unique perspective of former Army commander Singirok, is a no holds barred account of a mutiny.
It tells the story of Singirok's bold response when Sandline mercenaries, engaged by the government of then prime minister Sir Julius Chan who was intent on winning the civil war in Bougainville, were stopped in their tracks, potentially saving thousands of lives.
Singirok tells the story leading up to this event and relates what happened when, as defence force commander in 1997, he defied Chan's orders and stopped the Sandline mercenaries.
Singirok was dismissed and faced a number of inquiries, one of which reinstated him in 1998. But, dissatisfied, the government called another inquiry and he was dismissed again in 2000 facing a number of charges including sedition. In March 2004, he was cleared of all charges except sedition and his military career was over.
More recently, Singirok has been outspoken against Australian intervention in the Pacific, particularly the deployment of forces to the Solomon Islands. He has accused Australia of imperialism and also suggested that Papua New Guinea risks becoming a failed state.
The book also covers other aspects of Singirok's life, including what influenced him as a youth and a young man. It describes his career as a professional soldier in the Papua New Guinea Defence Force, and what happened when, after the drama of the Sandline Affair, he had to reconstruct his life.
ISBN: 9781543768800
ISBN-10: 1543768806
Published 24 February 2022
636 pages; hardcover $70.34; soft cover $56.56
Available from Amazon: https://www.amazon.com.au/Matter-Conscience-Operation-Rausim-Kwik/dp/1543768806
The Evolution of Charlie K
Richard Nye
The novel follows the fortunes of a young man from one of the world's most extraordinary countries. He is suddenly thrust from a stone-age society, having to navigate the alien culture of American schooling and university life, later returning to his home country.
Overnight, the young man has to cope with extreme racial prejudice. He suffers violence but also experiences generosity of spirit, in an otherwise inward-looking America. The reader follows not only his adventures in the US, but later when he returns to his own country, to live in a remote tribal area with vividly described episodes featuring unexpected and exciting encounters. The story draws on the effects of war on his country during WWII.
The book is spiced with humour, tragedy, romance and violent racism.
'A fascinating book . . . A must read . . . Captivating and great storytelling … A thoughtful and eye-opening read . . . Interesting story brilliantly told'.
About the author. In 1960–61 at age of 23, Richard Nye worked for the administration's P&T Dept as a telecoms technician based in Port Moresby, travelling throughout the Territory, maintaining the then rudimentary radio networks. Richard now lives in the UK.
There is more information about him and PNG with some of his photos, to be found at richnyeauthor.com
ISBN: 1800462832
Published by Troubador Publishing Limited, 2021
370 pages, softback,
Cost: (incl postage within Australia) Paperback $20.37, Kindle $7.39.
Available from Amazon, Kindle, Audible.
The Lazy Little Frog—Liklik Hambak Rokrok
Joycelin Kauc Leahy

The author, Joycelin Kauc Leahy, is also a visual artist, textile designer and arts curator, and she has illustrated the books with water colours and pen and ink drawings. The books tell the story, in both English and Tok Pisin, of life in an abandoned haus kuk where a group of animals all have a place to sleep and a job to do. All except the little green tree frog who thought hard work was for losers and, instead he spent his days sleeping or singing, and pretending to be Elvis.
Singing like Elvis and being a nuisance gained him the name 'Loki Enough'. When he added trickery to his performances to gain free food, all the animals could see through his tricks and they resented Loki. The hero and peacemaker is a generous and tolerant rooster.
Pam Jeffs, the author of Turtle Island, writes: This is a delightful universal story suited for children of all ages. It is a story about love, kindness and friendship. The story gives an insight into life in PNG. Joycelin wrote this book in English and Tok Pisin to assist in language preservation in PNG. This is a wonderful example of how different languages can be used to portray a story. All cultural terms are delivered in an accessible manner and easy to understand.
ISBN: English 978-0-9807503-3-1
Tok Pisin 978-0-9807503-6-2
Published by PNG Publishing, 2022, 46 pages, hardback;
Cost: $45 plus postage.
Available: For order on Kickstarter https://lazylittlefrog.com/
For every book sold through Kickstarter a portion will be donated to help develop elementary school materials for Bukawac speaking schools in PNG.
Additional info:
Joyce Leahy at (Tel.) 61-415743025 (Email) joycelinleahy@gmail.com
Australia's Secret Army: The story of the Coast Watchers, the unsung heroes of Australia's armed forces during World War II
MICHAEL VEITCH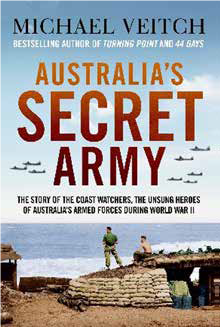 Acclaimed author Michael Veitch brings to life the compelling and vivid account of a little-known chapter of Australian wartime history. Australia's Secret Army documents a group of civilians who worked with the Australian Defence Force during WWII as 'Coast Watchers'.
Established after World War I by the Royal Australian Navy, the Coast Watchers were a loose organisation of several hundred European settlers, missionaries, patrol officers and planters living in British and Australian Pacific Island territories. They were mostly all unpaid volunteers whose job it was simply to observe and report on foreign shipping and aeroplane movements. It was never envisaged that the Coast Watchers would do any fighting, nor operate inside enemy-occupied territory. But when World War II came to the Pacific, that is exactly what they ended up doing, becoming, in effect, Australia's secret army. Fully cognisant of their fate should they be caught, they nonetheless battled, not just the enemy, but constant exhaustion, tropical disease, and the ever-present spectre of capture, torture and death. Without the coastwatchers and the crucial intelligence they provided, key moments in the war could have turned out very differently. This is the story of these unsung heroes who risked their lives—and sometimes lost them—in the service of their country.
'A coastwatcher's work is … to sit in hiding like a spider, right in the web of the enemy, unseen and unheard. We became the eyes and ears of the Pacific.'
Reg Evans, Coastwatcher
ISBN: 978 0 7336484-7-2
Published by Hachette Australia, September 2022
352pp, Soft or Hardback
Available from: All good bookshops and online
Cost: (incl postage within Australia where appropriate) $32.99.
The Digger of Kokoda: The Official Biography of Reg Chard
Daniel Lane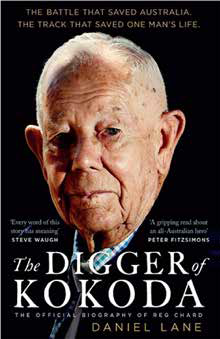 This book is the life story of 98-year-old Reg Chard OAM. Reg was 18 when he was sent to war and endured the hell of the Kokoda Trail. As one of the last surviving soldiers of the campaign, he has now become a custodian of its legacy.
Ironically, Kokoda rescued Reg decades later. After losing Betty, his wife of 66 years, the grief-stricken great-grandfather lost the will to live. But he found new purpose through educating young people, giving guided tours of Sydney's Kokoda Track Memorial Walkway.
This deeply moving, healing and inspiring biography tells us of Reg's war in the jungle and how, 80 years after the battle that saved Australia, Kokoda still lives within him.
Two reviewers' comments:
Grittily honest, told with great sensitivity, this is the finest account of Kokoda by a front-line soldier that I've read. Reg Chard, only 18 when he fought the Japanese in Papua, tells much more than another 'mud and blood' story. Now 98, he shows how the experience touched his life and, in an extraordinary twist, saved him from his own demons after his wife died. The true story of a boy soldier who faced some of the worst battles of the Pacific War.
Paul Ham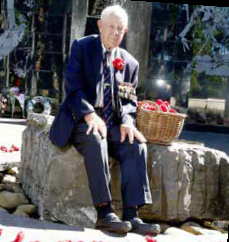 A lifetime ago, no series of battles were more critical nor horrendous than those of the New Guinea campaign—Kokoda and the likes of Sanananda. Reg Chard was a typical and thus extraordinary digger who fought in those battles and survived, to this day mourning and honouring his many mates who fell. This brilliant account by Daniel Lane, of Reg's war service, reminds us all of the price of peace so many of our predecessors have paid. A great story.
General Sir Peter Cosgrove
ISBN: 9781761260278
Published by McMillan Aust., 2022
368 pages, soft or hardback
Cost: $36.99; ebook $17.99