Books and Reviews
THE KUK BOOK
Ten Thousand Years of Cultivation at Kuk Swamp in the Highlands of Papua New Guinea
ISBN (print): 9781760461157 ISBN (online): 9781760461164
Edited By Jack Golson, Tim Denham, Philip Hughes, Pamela Swadling And John Muke
A DIDMAN'S PERSPECTIVE
This voluminous scientific writing reconstructs the environmental history pertaining to key agricultural milestones of cultivation at KUK Swamp in the Western Highlands of Papua New Guinea, in the Wahgi Valley near Mount Hagen.
For anyone associated with indigenous agricultural practice in the New Guinea Highlands it is a fascinating read of the agricultural history at KUK which extended back 10,000 years.
When Philip Hughes, asked me to write a brief review of this scientific treatise of 544 pages I questioned my interest and or my ability as a "layman" to summarise the work. Well, far from it; interesting because of the so many people involved: the principal researchers; contributing scientists; international graduates; horticultural specialists; indigenous staff; benefactors; governments and universities and also the staff at the focal point of research, the KUK Agricultural Research Station. A whole community working together. Many of the names of the people involved in the research will be familiar to those who have worked in the Western Highlands Province since the early days of European exploration up until now.
The observations and scientific findings relevant to the Papua New Guinea highlands are fascinating. "The pollen evidence from the Waghi Valley shows that the temperature regime after some 10,000 years ago was suitable for the major staples of Pacific agriculture (taro, yam and banana)". Taro pollen from Lake Wanum in the Markham Valley was dated 9000 years ago!
The regional pre-history covers in detail the development and production of subsistence crops; wooden cultivation tools; the phases of swamp gardening; village housing development over time and the importance of pigs, integral to the indigenous lifestyle over so many years.
Suffice to say, the importance of this historical site, the dedication of the continuous research work conducted within it, and recognition of the traditional owners of the land, the Kuk Early Agricultural Site was formerly accredited onto the World Heritage List in July 2008.
The book will be available to be reviewed at the PNGAA Christmas luncheon Sunday 3rd of December 2017. You can download a free pdf copy of the book or order a hard copy at:
http://press.anu.edu.au/publication/series/terra-auatralis/ten-thousand -years-cultivation-kuk-swamp-highlands-papua-new
or at:
http://dx.doi.org/10.22459/TA46.07.2017
David Montgomery – Didiman – 1956-67
Anna: My Life From A Coffee Plantation In Papua New Guinea To The Shores Of Byron Bay by Anna Middleton
Cost: $29.95 plus $8 p& p within Australia
Self Published – Available from Anna Middleton – https://www.annamiddleton.com.au/
Ph: 0411325471 or email: annacmiddleton2@gmail.com
After a whirlwind romance in Melbourne, Jim Middleton returned to life as a coffee planter in the highlands of Papua New Guinea, while Anna headed to Europe. But distance could not deter them from destiny. On the way home, Anna called in to see Jim. Surprised by what she found, but undeterred, Anna set out to establish a life and home with her new husband.
Living in a native material house, with no electricity, telephone, running water or sanitation, in a place without roads or shops, life was not easy. But it was an extreme adventure. Along with a small band of other young brides, Anna would mix cement, change tires, treat lepers, give birth and overcome serious illness like malaria, while making her own clothes and all the time trying to look pretty.
Masked Eden, a History of the Australians in New Guinea
By Anne McCosker, ISBN 978-8890-89-170-9 2nd Edition, 2016. First published, Matala Press, 1998.
Published by University of Papua New Guinea Press
Pages 354 + 32
Soft back
Bibliography, Notes, b&w photographs, maps
Category, History
Available from Amazon, Fishpond, Author's web-site: www.annemccosker.com
Masked Eden is a story of love and beauty, gallantry, courage and betrayal.
The wonderful pioneering spirit of Australians is seen – often in co-operation with the New Guineans – struggling with the incompetence and ignorance of a small elite in Canberra and Rabaul.
The Fall of Rabaul to the Japanese in 1942 – when over 1000 Australian civilians and soldiers were lost; the greatest purely Australian tragedy in history – is, for the first time, fully examined using original material gathered from the nation's archives and the author's personal collection.
The author is well-suited to write Masked Eden. A B.A. History Honours degree from the University of London gave her the discipline and discernment needed to collect and correlate the large amount of available material. This was added to her personal knowledge. Her father first went to New Guinea in 1924. He married Marjorie Martin in Rabaul in 1929 — then the capital of the Mandated Territory of New Guinea. Later the partnership 'McCosker and King' bought Matala Plantation. Anne McCosker was born in Rabaul. New Guinea would dominate her childhood even whilst being educated in Queensland, Australia.
Masked Eden will be enjoyed by all those interested in the facts of history.
Paper Lady by Judith Hollinshed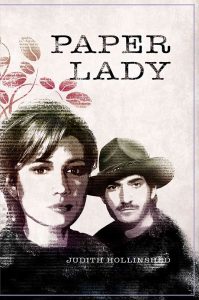 Publisher: Austin Macauley Publishers Ltd, 2017
ISBN: 9781786298355 (Paperback) 9781786298362 (Hardcover)
Pages: 404. Soft. Hardback
Category: Thriller/political
Available from: Booktopia, The Book Depository, Amazon.com, Goodreads, Gardners, Austin Macauley
Cost: (incl postage within Aust where appropriate) paperback averages $30
Description: A novel that shows the implications of PNG independence in the late 70s from different viewpoints. These are represented by a kiap, coffee planters, a clan 'bigman' and his recalcitrant sons, an entrepreneurial politician and an impetuous journalist with firm anti-colonial convictions who, despite that, finds herself attracted to a planter.
The Volcano's Wife by Amalia Cowley and Pamela Virtue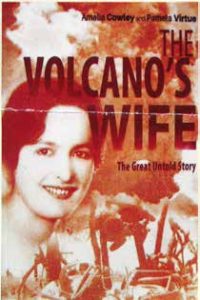 ISBN 9781925152951, Inspiring Publishers, Calwell, ACT, Australia, 2015,208 pages, Paperback, Photographs, maps, index. Category: Memoir/Biography. Cost: $25 plus $5 p&p within Australia.
A great read! Buy this fascinating book and help the PNGAA's Helpim Wantok Project!
Available from Papua New Guinea Association of Australia Inc, PO Box 453, Roseville NSW 2069 E: admin@pngaa.net and www.pngaa.org/site
With thanks to Pamela Virtue, ALL SALES WILL BE PUT TO THE PNGAA PROJECT 'HELPIM WANTOK' – a donation of 700 chairs and 350 tables being shipped from UTS, Sydney, to the University of PNG through its Open College network of campuses and study centres throughout the country.
See https://pngaa.org/blog/2017/08/10/helpim-wantok-project/
On the book cover:
Amalia marries Cecil in 1933 after a lightning five day shipboard courtship. She is catapulted from sleepy Lismore in Australia to the wild heart of Papua New Guinea, walking the trail with convicted murderers to her first home, Kokoda, where she erected its first Australia flag and raised their two children in a land of serenity and great beauty.
A remote station, Higaturu, is Paradise to Cecil, District Commissioner. But Paradise becomes an Inferno when the family is torn apart by implacable forces. This is Amalia's first-hand account of this unprecedented destruction.
It is also a gut-wrenching account of Pamela's memories. What did it mean, this calamity that destroyed her family? This is also her story.
Excerpt from the Review by Wally Johnson:
'This absorbing and heart-felt story will appeal to anyone with a soul and a love for Papua New Guinea and its people. It has some harrowing parts—as you might expect from a book about the great human tragedy of the disaster at Mount Lamington volcano on Sunday 21 January 1951—including stories of the survivors who were left with life-long grieving if not psychological trauma. But, make no mistake, the human spirit shines through and your own spirits will lift in reading The Volcano's Wife through to its conclusion.
Pamela Virtue, one of the authors, was just 12 years old when a catastrophic and unexpected 'lateral blast' from near the top of Lamington volcano swept northwards down over her family's home at Higaturu, the Australian Administration's headquarters in the Northern District (now Oro Province) of Papua. The 'blast' killed her father, Cecil Cowley, the Australian District Commissioner at Higaturu, and her 16-year-old brother, Erl. They were just two of the thousands of people who perished. And mother and daughter only just survived the eruption.
If you wish to simply donate to the 'Helpim Wantok' project you can donate directly on the form at the bottom of the page at https://pngaa.org/blog/2017/08/10/helpim-wantok-project/