Back to Wau After the War – Part two (PNG Kundu Mar 2021)
Peter Shanahan was one year old when he was evacuated from New Guinea in 1942 whilst his father stayed on to fight the Japanese. In a previous issue we heard about Peter's return to PNG after WWII—now, we will hear about his return to his home in Wau.
Finally, we steamed into Lae. The water turned dark and muddy—water from the mighty Markham River that reached a mile out to sea. Close to the end of the airstrip we could see the uplifted bow of the Tenyo Maru, a Japanese minelayer, combination troop carrier and supply ship that had been sunk in April 1942 by aircraft from the American carriers, USS Lexington and USS Yorktown. Again, manoeuvring between the wrecks of sunken vessels, we tied up at the wharf at Malahang.
Dad was waiting with a cheeky grin. He was in a military outfit without insignia and sported a slouch hat. Formerly of the New Guinea Volunteer Rifles, my father had taken his discharge from ANGAU (Australian New Guinea Administrative Unit). He took Mum in his arms, held Gail up to get a good look at her and gave me a friendly squeeze and nudge with rough, gnarly hands.
We crammed into a Ford blitz truck, me in the back and Gail on Mum's knee. The vehicle had a canvas canopy with a red cross painted on both sides. The tray was packed with four-gallon containers of hard navy biscuits, cases of bully beef (tin bulmakau), baked beans, spaghetti and meatballs, bags of rice, a variety of medical supplies, and tools. Dad was ready for everything.
We stopped several nights in Ma Stewart's temporary hotel in a former military camp near Butibum village. Ma and my parents were old friends and she made an embarrassing fuss over Gail and me—representatives of a positive future.
Walls of the buildings were covered with green tar paper that came down to within two feet of the cement floor, where one could see the passing feet of the hotel patrons and native servants. The beds were canvas cots and shelves were fitted to the walls. Toilets and showers were located away in a separate building for obvious reasons, given the temporary nature of these facilities.
At night Gail and I were sent to bed early while the adults socialised at the bar and recreation area made of bush materials, its roof covered with saksak fronds (sago palm). The lulling sound of generators, coupled with loud and raucous laughter, as well as music, put us to sleep. Except we woke up after midnight, when the generators shut down and revellers stumbled past, swearing as they sought their rooms in the dark.
During the day I went exploring. People asked me my name. They all knew Dad. I also had my first interactions with the local people who loved children. They cut tops off green coconuts and introduced me to the delicious taste of coconut water (kulau). I was also presented with fruits such as laulau (Malay apple), fresh bananas and pawpaw. And though I didn't speak Tok Pisin I was getting rapid lessons in the language, which was to dominate most of my early life.
After a few exciting days in Lae, and with a couple of natives who Dad had employed, we headed for the small ships' wharf at Voco Point. It was here that Ma Stewart was later to build a modern Hotel Cecil.
Dad drove onto a landing barge (LST) and we headed for Labu on the other side of the Markham River estuary. It was going to take ten days to get to Wau and we would have to live rough. Dad had prepared a bucket of hard-boiled eggs. We also had navy biscuits, tinned butter, tinned jam and powdered milk to feed us on our way. We expected to sleep covered with grey army blankets under the truck.
The road was terrible. We shared our provisions with our wokboi (labourers) and bartered for food from travellers we picked up on the way. Passing over the Zenag plateau and down to Mumeng we stayed a day at a tent camp set up as a temporary hotel. We crossed many rivers. None had bridges and often we had to wait for floodwaters to subside, making the crossing only after the wokboi and natives we had given lifts to had waded across to ensure the water was shallow enough and free of obstructing boulders.
We travelled a vital supply line which had been pushed through by the military using bulldozers. Miners, planters, sawmillers and their contractors were anxious to get back to Bulolo and Wau to repair machinery and restart operations.
The final hurdle was the seventeen-mile section of the Wau-Bulolo Gorge with its twisted, winding road set on precipitous cliffs, subject to numerous landslides. The gorge was home to the Bulolo River, foaming and rushing 300 feet below. Klinki pines, like giant sentinels, guarded the ridges.
We finally reached Wau. At the bottom of the airstrip Dad pointed out Grandpa's original coffee plantation. Luckily, Little Wau and Big Wau creeks were not in flood and we made an easy crossing, reaching the homestead about five kilometres out of town just before dark. The house, built by Grandfather, was situated on a twenty-five-acre miners' homestead-lease planted with Jamaican Blue Mountain Arabica coffee. It was an L-shaped highset building made out of red cedar, on the banks of Big Wau Creek. Grandpa had gifted Mum the house and lease to the block, where I was born on 9 December 1940. The underdeveloped block on a kunai-covered hill above us was owned by my Aunt Ticky (Elspeth).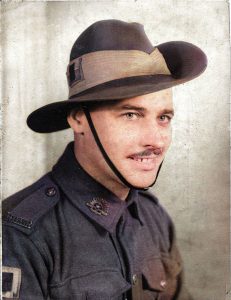 Our house wasn't burned down, scorched-earth style, like others in Wau and Bulolo—a travesty caused by fear and inexperience of an Australian army officer when the Japanese were advancing from Salamaua on the coast.
It had been taken over by the military and used as a hospital. Two large bomb craters lay in front, which were shortly to be filled in with the help of friends and made into lawn. The roof, painted green with red crosses, was crisscrossed with bullet-holes from strafing Japanese fighters. The veranda planks and steps were missing and we had to walk the joists to get into the house. The veranda stayed that way for a while because we had very little money.
Dad had just finished fixing the veranda floor when we had a visit by a group of armed and dread-locked Kukukuku. Completely silent and not moving, this 100-plus group of warriors squatted under their bark capes with their bows and arrows between their legs, watching the house. Mum took Gail into one of the rooms in case she would cry.
Dad told us to keep quiet and not move unless we had to, then he carefully set up assorted firearms along the veranda rail. These included his military .303, an American M1 carbine as well as two shotguns, all loaded and ready, plus a Smith and Wesson Colt .45 pistol. We waited as the Kukukuku stared at us. They said nothing and made no direct threats. By the fourth morning these infamous killers had disappeared from the river bank as mysteriously as they had arrived.
Originally, Wau was an uninhabited valley on account of the huge klinki pine trees that speared through the canopy like enormous towers often encircled with mist. In the local language it was the 'valley of spears', the giant trees being regarded as homes to malevolent spirits. The valley was tambu (forbidden). Tribes kept away; instead they settled on the ridges.
Incidentally, klinki pine (Araucaria hunsteinii) became a valuable resource. Logged and milled locally, the fine timber was used to build most of Wau, Lae and Bulolo. These giant trees, many of them thousands of years old, are the world's largest tropical rainforest tree and grow to about fifty to eighty metres, sometimes reaching ninety metres.
Later BGD (Bulolo Gold Dredging Company) built the largest plywood mill in the southern hemisphere to log and process klinki.
Dad and Mum, while waiting for compensation from the War Damages Commission, had to eat and live in the meantime. Labour was scarce and the few labourers available were used by the government for its rebuilding programs and as carriers on patrol.
From somewhere Dad got hold of a hand-operated coffee pulper. The whole family was set to picking ripe coffee berries. Dad turned the handle and Mum directed water from a hose into the hopper. The machine stripped the skin from the ripe cherries and the wet beans fell into a wooden butter box. The box was covered and the coffee fermented overnight. The beans were then washed in running water and spread on two sheets of corrugated iron in the sun. Mum turned the beans over to ensure an even drying process. Dad then rubbed the beans between his hands, removing the parchment skins. The beans were then graded by size through a sieve ready for roasting.
Dad's inventiveness and welding ability got us income. He built a rotary kiln using a larger mining pipe inserted by a rotating pipe which held the coffee beans. The unit was placed on a stand over an open fire and I could turn the handle to roast the beans.
Freshly roasted coffee was ground, packaged and loaded on the Jeep to be hawked round Bulolo. We visited the cooks on every dredge, all nine of them. The miners, many of them American, paid a premium for what was to become the world's best coffee.
My father was a mining engineer who came from the Otago gold fields of New Zealand. His father had been a sergeant in the mounted police gold escort and rose through the ranks to become a Commissioner of Police. Dad sought his fortune in the New Guinea goldfields and, after a few escapades, took on the job of a dredge master in Bulolo. He had enormous talent and a short temper, a trait which, together with his war injuries, was to get him into trouble later on.
Chet (Chester) Mayfield came from Alaska with the dredges and was responsible for reassembling them. He then became the No.1 dredge master in charge of all dredges in the Bulolo Valley. He married my Aunt Ticky and had some Mexican-Spanish ancestry. Later his three sons and I became close friends, though there was jealousy or discomfort between Tom and Chet, which was never adequately explained to me.
Grandfather Wilde offered a contract for the sale of his coffee plantation at the bottom of the airstrip. It was optioned to Colin Tomkins and Peter Jensen who ran it badly. These two never took up the option, but sold a large amount of coffee without making reimbursement. Wilde cancelled the contract and appointed my father to manage the plantation. Dad's wages were used to buy up miners' homestead-leases until we had two hundred acres. Our new plantation was incorporated as a family company, Wau Coffee Estates.
In the meantime, the town was being rebuilt by volunteer labour and local businesses. A public hall was constructed to show movies and the stage was used by local thespians. Down the road from the hall an oval for cricket and football matches was established and a fifty-metre swimming pool and diving tower were constructed. Roads and bridges were repaired or built. With its mild climate Wau was in full vigour. A golf course was laid out and I was one of the founding members. Alas, my golf-playing days were short and I soon dropped out.
The administration buildings were established in the abandoned army camp at the bottom of the airstrip next to Wilde's coffee plantation. The first primary school was started in one of the military buildings which, as per Lae, was covered in tar paper. Later when the new Administrative offices were built in the main part of the town, these buildings became the Government labour compound. The school was then moved into town by Bill Seale, the Assistant District Officer. I went to school with his son, John, but we had begun our association well before, when I was at kindergarten in Leura in the Blue Mountains behind Sydney.
An excerpt from Jungle Shan (unpublished memoir) by Peter Shanahan, edited by Martin Kerr