John Quinn Exhibition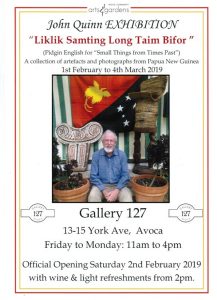 John Quinn Exhibition: "Liklik Samting Long Taim Bifor" (Trans: Small things from times past), a collection of artefacts and photographs from Papua New Guinea at Gallery 127. 13-15 York Ave, Avoca.
Friday to Monday: 11 am to 4 pm.
Official opening Saturday 2 February 2019 with wine and light refreshments from 2 pm.
Exhibition dates: 1 February to 4 March 2019.