Vale September 2002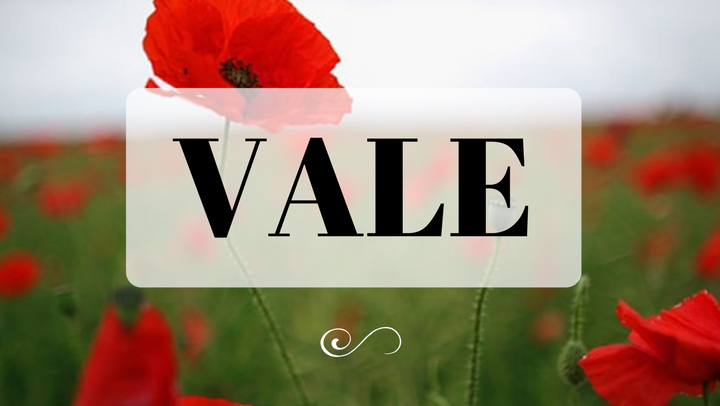 ABBOTT, Douglas Charles(13 November 2001) | BIRRELL, Ela Lorraine Catherine, MBE(12 July 2002) | BOYD, Graham(early 2002) | BURSTON, Thelma(30 March 2002) | CARRIAGE, Jessie Olive (Jess)(31 May 2002) | DUN, Bonny Evelyn(8 August 2002) | FISK, Dawn(circa May 2002) | FRENCH, Rex (25 May 2002) | GARRETT, Tom(30 July 2002) | GODWIN, Gordon Joseph (Bluey)(16 June 2002) | HALPIN, Ronald Edward (Sno)(5 June 2002) | HENRY, Chalcott Thomas Gibson(12 May 2002) | KLECKHAM, Fred Henry Albert, OBE(11 May 2002) | LARGE, Betty(6 December 2001) | LARUM, Beatrice Grace(25 June 2002) | LATCHFORD, Judy(28 June 2002) | OLIVER, Annie Margaret McArthur(12 May 2002) | RAMM, Peter David(11 May 2002) | ROBINSON, John (Robbie or Cob)(12 April 2002) | SEARLE, Pat(7 July 2002) | SIDEBOTTOM, Wally(12 July 2002) | SPENCER, Wallace Hunter(7 June 2002) | SWANSTON, John(3 May 2002) | TUMILTY, Leo(6 November 2001) | VEALE, Betsy Margaret(29 June 2002) | WATSON (FERGUSON), Hilda(9 April 2002) | WEBB, Royce Arthur, MBE(9 July 2002) | WRIGHT, William Henry(25 July 2002)
Gordon Joseph (Bluey) GODWIN (16 June 2002, aged 88)
Gordon was born in Sydney in 1913 and moved to the Tweed in Northern NSW in 1933. It was there that he married in 1935, and grew bananas and cut cane for the next 16 years.
In 1951 he went to PNG with Comworks and was posted to Kairuku and Bereina in the Mekeo. A move to Rouna followed. In 1957 he joined Public Works Dept and was posted to Mount Hagen and later to Kainantu, Goroka and Port Moresby. He was known by the labour lines as 'Masta Bilu'. Blue was better known in Rugby League circles as the 'Zambuc' who cured all ailments at the old Konedobu Rugby League grounds in the mid fifties. An avid sportsman and competent bowler, Gordon played for several Territory clubs, winning two gold medals in Territory pairs championships.
He retired to Hervey Bay in 1972 and enjoyed bowling and fishing, and in later years moved to Taylors Beach and Townsville. He is survived by Mary, his wife of 66 1/2 years, sons Graeme and Kerri, and daughter Valerie. Mary Godwin
Leo TUMILTY (6 November 2001, aged 67)
Born in Perth, Scotland, Leo served in the RAF and the Civil Aviation Constabulary (London), before migrating to Perth WA in 1962. There he served in the WA Prison Service before joining RPNGC on 19 October 1964 as a Sub Inspector at Rabaul. In July 1966 he was selected to go to the New Zealand Police Service dog training centre where he learned dog handling procedures. On returning to the Police College at Bomana, he set up dog squads which proved successful. He resigned with the rank of Inspector (3rd class) on 11 June 1969, and then went to South Africa where he joined that police force and served for about five years. He then returned to Perth WA and went into private enterprise.
Leo is survived by his wife, Corinne (whom he met while she worked at Police Headquarters, Kondeobu), and two sons. Max Hayes
Rex FRENCH (25 May 2002, aged 74)
Rex's first job was as a baker and much of his working life was connected with bakeries. He and Lyla were married in 1948. The family moved to PNG in 1965 when Rex accepted the position of camp manager for Barclay Bros who were building IGAM Army Barracks near Lae.
When that was completed Rex worked for the University of Technology for six years as catering administration officer. After a stint back in Australia, Rex was offered a six-year contract as production manager at Arnott's Biscuits factory in Lae. As the only European at the factory, he was required to train the native staff—200 were employed over the 24-hour day. Rex and family returned to Australia in 1984, and Rex held further positions in biscuit factories. The family then settled in Caloundra where they enjoyed golf and Rex rediscovered the joy of lawn bowls.
He was a very active member of the Caloundra Bowls Club. He took an active interest in community affairs until ill health prevented him from doing so. Rex is survived by his wife Lyla and daughters Kerri, Wendy and Donna and their families. Jean Kelly
Betsy Margaret VEALE (29 June 2002, aged 71)
Betsy was the wife of the late Graham Veale who was with the Marine Division of Trade and Industry, and was Harbour Master in Rabaul. No further details available.
Judy LATCHFORD (28 June 2002, aged 99)
Judy lived in Bulolo from 1945 to 1969. She was the widow of Edward James Latchford. She lived at Turramurra NSW for many years, and more recently at Lady Gowrie Village. She is survived by her sister, Athole, and her nieces and nephews and their children. ROAPNG records
Peter David RAMM (11 May 2002, aged 70)
Peter gained his agricultural degree from the University of WA. He joined the Dept of Agriculture, Stock & Fisheries in PNG in mid-1957. Following several months 'initiation' at Taliligap, the District Ag Station up on the rim of the outer harbour of Rabaul, Peter and his wife were transferred to Talasea, New Britain, where they were stationed for the next three years, their first daughter being born in Rabaul in 1960.
In mid-1960, Peter became District Ag Officer in Kavieng, New Ireland, and the following year was selected to attend the Imperial College of Tropical Agriculture in Trinidad, obtaining his post-graduate Diploma in Tropical Agriculture in October 1962. On returning from Trinidad, Peter was posted to Popondetta where he and his family lived in the DAO's residence with its view of the smoking Mt Lamington volcano. In mid-1964 Peter, with wife and by then two daughters, was transferred to Port Moresby where they remained until leaving PNG in early 1977. He then enjoyed a life of semi-retirement, enjoying his workshop and life beside the ocean at Trigg Beach in WA. Peter is survived by his wife Vema, daughters Judith and Lynette and four grandchildren. Syd Saville
Douglas Charles ABBOTT (13 November 2001, aged 75)
Douglas Abbott served at HMAS Ladava (Naval Base at Milne Bay) from 1943-44 and at HMAS Madang (Naval Base at Madang) from 1944-45. In the late '60s to early '70s he was stationed at Murray Barracks, HQ of the Papua New Guinea Command (Pacific Islands Regiment). Later he undertook a doctoral thesis entitled Anglican Mission Education in PNG, supervised by Dr Hank Nelson. After 1982 he made a number of visits to PNG on the Fairstar as guest lecturer/chaplain two or three times a year. ROAPNG records
Pat SEARLE (7 July 2002, aged 97)
Pat Searle, formerly of Awala plantation, was born in Derby, England, in 1904and was raised in Adelaide, South Australia, Pat married Clen Searle in 1933. They moved to Port Moresby where Clen was a radio operator at the AWA wireless station on Ela Beach. In addition to providing communication links with outstations, expeditions, shipping, etc., they were part of the first radio program broadcasts in the South Pacific islands when Station 4PM began in 1935. Pat assisted with the announcing, live transmissions of Papuan choirs and locally produced plays.
In 1940, Pat and Clen took up a lease at Kokoda to grow rubber, but moved to establish Awala (on the road to Popondetta) just before Pearl Harbor was bombed. Pat and the two children were evacuated to Adelaide (via that refugee train), and Clen enlisted with ANGAU. Awala became an Army base and HQ for the then Northern Division's radio spotters. Like others, in the retreat to Kokoda the house and plantation buildings were destroyed, following the first fighting between Australian and Papuan troops and the Japanese near Awala.
After the war work resumed on the plantation, growing rubber, coffee and cocoa, interrupted by the disastrous eruption of Mt Lamington in 1951. No doubt many will remember Pat's love of gardening, innovative spirit, hospitality and wide range of interests. Pat and Clen retired to Nambour in 1977 where many ex-PNG friends had settled. Clen died from cancer in 1988. Awala became an adjunct of the Anglican Mission's Martyrs' School, but the plantation is now closed.
Pat is survived by her daughter Rhonwen, son Peter, and grandchildren: Duncan, Rosanna, Malcolm, and Roy. Rhonwen Searle
Ronald Edward (Sno) HALPIN (5 June 2002, aged 84)
Sno Halpin was a builder with the Department of Civil Aviation. He arrived in PNG in 1945 and left in 1980, having served in Goroka, Madang, Lae and Bulolo. He is survived by his wife Audrey, children Ron and Joy and grandchildren Veronica and Rachael. ROAPNG records
John (Robbie or Cob) ROBINSON (12 April 2002, aged 69)
John went to PNG in 1952 working at a sawmill at Port Moresby and was then employed by COW, PWD and Govt Stores. During his 22 years in PNG he worked in Port Moresby, Rabaul, Manus Island, Samarai and Madang. A strong R.A.O.B. G.A.B. member, he also played rugby league for Hawks and ComWorks. He met a nursing sister, Colleen O'Keefe, in Rabaul. They married in 1962 and had three children, Brett, Adele and Belinda. The family moved back to Australia in 1974 and settled in Brisbane where John and Colleen raised the children and where the family still live. Allan Neilsen
Thelma BURSTON (30 March 2002, aged 85)
Thelma was born in NSW where she grew up, and moved to PNG post war with her husband Jack, who died a few years ago. They lived and worked at Matupi Plantation, Madang, until returning to Brisbane in the early 1970s. Thelma also worked for many years at the Madang Hospital and was well known in many spheres of local activity. She is survived by sons Rodney and Donald, and several grandchildren. John Moody
Annie Margaret McArthur OLIVER (12 May 2002, aged 82)
Margaret McArthur attended Melbourne University in 1939-42, graduating with BSc and MSc degrees. After working for the CSIRO, and completing a post-graduate course in nutrition, she became a member of the New Guinea expedition of the Commonwealth Dept of Health in 1947. She then was nutritionist on the Australian-American Scientific Expedition to Amhem Land in 1948-49, and in 1952 obtained a post-graduate Diploma in Social Anthropology at the University of London. She worked among the Kunimaipa (New Guinea) from 1953-57. After that she held a number of prestigious positions around the globe and finally was Senior Lecturer in Anthropology at the University of Sydney from 1965 until her retirement in 1975. She wrote The Curbing of Anarchy in Kunimaipa Society, Oceania Monograph 49. She is survived by her husband Douglas Oliver.
John SWANSTON (3 May 2002, aged 75)
John grew up in Tamworth, and in 1943, when not quite 17, he managed to join the Army. He was posted to New Guinea with ANGAU and served with their marine section at Torokina in Bougainville where he skippered on their 'small ships'. After discharge he worked in New Britain on a copra plantation, then in other enterprises, and then back to various runs in 'small ships'. In 1949 while working in Rabaul in an electrical retailing business, he met and married Anne.
John and Anne then went to Mai Mai plantation near Samarai where John was assistant manager; this was followed by stints on plantations in the Western District. Other positions followed, and in 1959 'Weeds & Seeds', the Dept of Agriculture, Stock & Fisheries asked John them to join them. He was posted to Vudal where he worked on the further establishment and extension of the Agricultural College. With the opening of the Papuan Agricultural Training Institute, PATI, at Popondetta in 1961, John was transferred as station manager to establish and lay the foundation for that college. John stayed at PATI until 1975 when he settled in Brisbane and worked in Real Estate. He retired in 1982 and spent time travelling around Australia, enjoying his family, and fishing. He is survived by his wife Anne, his children Deane, John, Lynda and Graham and five grandchildren.
Fred Henry Albert KLECKHAM, OBE (11 May 2002, aged 86)
Fred was born in London in 1918. His father brought him to Australia when he was four, and told him his entire family had been killed in a bombing raid on London. He did not learn of his relatives in England until he was 63. His father died of stomach cance when Fred was nine. At tyhe age of seven, when his father was hospitalised for weeks at a time, Fred was living on a farm outside Brisbane, feeding himself, taking care of the tasks and taking himself to school on his horse, when he could catch it. This upbringing made Fred an able, strong, discreet and independent person. He was fostered into the Marks family in Brisbane who saw him through his schooling which included gaining his Diploma in Agriculture at Gatton College.
Following college, he spent some time fossicking for gold. He married Marjorie Sheldon, a nurse, in 1940 (the marriage lasted 62 years) and then departed for the Middle East as an inflight engineer with the RAAF: he was away five years. After the war he went to PNG as an Agricultural Officer, first in New Britain and then Popondetta where in 1949 he was joined by Marj and their children Fred and Betty. In January 1951 Mt Lamington erupted; for his bravery in rescuing the injured and others Fred was awarded an OBE. Subsequently the family were transferred to Manus island where they stayed five years. His other postings were to Daru and Port Moresby and finally Lae as Regional Controller of Agriculture for the New Guinea mainland.
While in PNG Fred and Marj developed a serious interest in shell collecting and orchids, and became well informed general naturalists: they discovered new shells and contributed worldwide to the science of Conchology and its associations. They never ceased this communication.
In 1975 Fred retired to Seaforth beach in Queensland but shortly after that the couple returned to Popondetta for two years to lead the establishment of the smallholder Oil Palm project based in the Northern District. In 1980 Fred learnt he had direct family alive in the UK, with the discovery of his natural mother and full brother living in Scotland. This resulted in a lot of new found happiness. In retirement Fred and Marj visited parts of the world they had not seen and maintained their interests in nature throughout life. Fred is survived by his wife Marjorie, sons Fred and Percy and daughter Elizabeth (Betty). From the Kleckham family
Hilda WATSON (FERGUSON) (9 April 2002)
Extracts from an Appreciation written by Frank Smith: In early January 1954 I arrived in Madang to work for Modilon Motors. I stepped off the DC3 to be welcomed by Hilda and Wally Ferguson: the beginning of a lasting friendship. Hilda and Wally had arrived in Madang in 1947. Wally was the Madang-based Qantas engineer; and Hilda commenced work in New Guinea Company's store and did so very competently for 19 years. In 1955 Hilda became the proud owner of a VW Beetle: having transport to get to golf was great. Later in the year she was involved in a minor accident. She bumped her head and developed two black eyes, and shrugged off remarks alluding to 'dark eyed beauty', etc. Hilda had a friendly ear for others' problems as well as being hostess to friends and travellers at 'Hilda's Boarding House'. She enjoyed golf and bowls and was not temperamental about either game and a pleasure to play with.
Hilda and Wally returned to Australia in 1966 and lived in Manly NSW. They settled well into suburban life and kept in touch with ex New Guinea friends. Wally passed away in 1971. Hilda remained in Manly and in 1973 married John Watson. In 1985 they moved to Runaway Bay in Qld where they were welcomed by the many ex New Guinea friends. In 1995 Hilda and John returned to Sydney and settled in Dee Why. A few years later, and suffering from osteo-arthritis, Hilda moved into Palm Grove nursing home. She is sadly missed by her many friends.
William Henry WRIGHT (25 July 2002, aged 83)
Bill was born in Samarai and was at Gili Gili and Ahioma in Milne Bay before the war. During WWII he flew Spitfires with the RAAF. He was in the European and the New Guinea campaigns. After the war he returned to the Madang area, and worked for Carpenters and at Dylup. He left PNG in 1956 and worked for Legal and General in Sydney and Wright Insurances Agencies Pty Ltd, Sydney. His wife Dorothy predeceased him. He is survived by his children Bill and Diana, and five grandchildren. ROAPNG records
Ela Lorraine Catherine BIRRELL, MBE (12 July 2002, aged 86)
Ela Birrell was born in Port Moresby in 1916, being the daughter of Flora and Harry Gofton, a pioneering family, who had settled in Papua ten years previously. Her father died in France that same year, so she never knew him. Her mother married James Stewart and in 1928 moved to the gold fields in Wau. Ela, upon finishing her education in Sydney, returned to Wau to assist in the management of the hotel built by her parents. In 1941, Ela and her mother and sister travelled by troopship to Sydney.
In 1946 the family returned to Lae. In 1951 Ela married James Birrell and a son, James Moresby, was born in 1952. Ela led a very active community life in PNG and supported many organisations, including Girl Guides, Red Cross, Rotary and the Horticultural Society, and was also a member of the Anglican Church Council. She was appointed Morobe Girl Guide Commissioner in 1958, a position that she held until she and Jim left PNG in 1989. She was instrumental in having the Mary Lalor Training Centre built in Lae. She was awarded the MBE as well as the International Rotary Services Award for her services to the community. The Girl Guide movement in PNG now calls their highest guiding award the "Ela Birrell Award".
Ela joined the Girl Guide Trefoil Guild, Southport, not long after settling in at Helensvale on the Gold Coast. She took a great interest in the movement and added support whenever she could, and was hostess at many luncheons for Trefoilat, her home. She kept in touch with many of her indigenous Guiders and friends in PNG. A memorial service for Ela was held at the All Souls Anglican Church, Lae, on 17 July and was attended by Lae Brownies, friends of the family and members of the Lae community. Ela is survived by her husband James and son Jimmy, her grandchildren Jessica and Connor, and her sister Flora and family.
Royce Arthur WEBB, MBE (9 July 2002, aged 81)
Royce was a very successful student and sportsman. In 1940, aged 19, he enlisted in the 2nd AIF. He served with the 2/13 Battalion 9th Division in Tobruk and was twice mentioned in dispatches. He was wounded and spent some time in hospital in Alexandria, then returned to fight in PNG in the Owen Stanley campaign, Buna and Gona. In 1944 he married Marjorie and their first son Richard was born in Sydney in 1945.
Royce joined the PNG administration and in early 1947 was posted to Finschhafen with Marjorie and Richard. He attended ASOPA in 1950-51. During this time the couple's second son Derek was born. Royce's next posting was to Saidor in the Madang District.
Subsequent postings were to Goroka, Talasea in New Britain and Wewak. He was promoted to District Officer in 1960: his duties included investigating illegal border crossings and, in 1961, diplomatic missions to Indonesia. While in Wewak, Royce took his turn as president of the local RSL and Wewak Golf Club and made lifelong friends. The family moved to Port Moresby in 1966 when Royce became District Inspector for the new Dept of District Administration. In 1968 problems again occurred on the Sepik border with Indonesian West Irian, involving more diplomatic missions. Over the next few years Royce visited Jayapura, the capital of West Irian, on many occasions resulting in an eventual border agreement being signed in 1973.
After his promotion into the Dept of Foreign Relations and Trade, Royce retired to the Gold Coast in 1974. He joined Broadbeach Rotary Club and served as President in 1982-83. He initiated the Broadbeach Probus Club which was only the second such club to be formed in Qld. He recently served as its 20th President. He was a great supporter of Legacy, and being great lovers of flowers and gardens, both Royce and Marge were members of the local Garden Club.
In 1993 after a bout of ill health, Royce and Marjorie moved to a semi-retirement complex at Benowa where Royce served as chairman of the Body Corporate. Royce is survived by Marjorie, sons Richard and Derek and grandchildren, Brendan, Lachlan and Laura. Marjorie Webb
Beatrice Grace LARUM (25 June 2002, aged 91)
Beatrice Larum was the widow of Isaac George Larum. She retired from Department of Education in early 1967. No further details available.
Wally SIDEBOTTOM (12 July 2002, aged 83)
Wallace Keith (Wally) was born at St Kilda in Melbourne and died in hospital after a long illness. It was just after he had first met Beryl Fuller, then about 17 years old and a member of a prominent sporting family at Albury NSW, that he was sent to Malaya with the 2/19th Battalion. There, Wally was struck with a tropical disease which resulted in his being returned to Australia before the fall of Singapore. He was thus able to marry Beryl in 1942.
Some time later he took up an administrative position with the Geelong Cemetery. In 1949 he accepted a position with the War Graves Commission in PNG and was initially located at Bita Paka Cemetery outside Rabaul. He finally took over the parks and gardens administration at Rabaul, which included the war graves at the cemetery. In 1966 Wally was appointed curator of Parks and Gardens in Lae. Through his work, Wally came into personal contact with many public figures including the Duke of Edinburgh and various Governors-General. Ill health forced his retirement to Australia in 1972. The family then settled in Southport, Qld. Beryl said that Wally, a lover of trees and shrubs, was greatly affected by the destruction caused by the 1994 Rabaul eruption. Wally's cheerful attitude gained him many friends in his retirement. He is survived by his wife Beryl, son John and daughter Barbara, and their families.
Graham BOYD (early 2002)
Information on Graham was provided in the June 2002 issue. Following is a clarification: Graham succeeded John Farquharson as editor of the South Pacific Post (the change of masthead to Post-Courier did not come until later). Graham and his wife Gail went to PNG through Melbourne where they had worked for the Herald and Weekly Times which published the Melbourne Herald, the Sun-News Pictorial and, of course, the South Pacific Post which they had acquired at the end of 1964. Graham worked with John before taking over, and Gail also worked on the paper as a reporter before going to the Dept of Information and Extension Services. John Farquharson
Bonny Evelyn DUN (8 August 2002, aged 90)
Bonny was the wife of the late Gordon Dun of Dept of Agriculture, Stock and Fisheries and lived at Keravat on New Britain. She is survived by her daughter Jennifer, grandchildren and great grandchildren. No further details available.
Tom GARRETT (30 July 2002, aged approx. 78)
Tom was born in Rabaul and spent his early years on his family's plantation 'Varzin' in the Kokopo area. He was the grandson of T.W. Garrett, the test cricketer, and the uncle of Peter Garrett, of 'Midnight Oil' and conservation fame, who spoke at his funeral. Tom went straight from school to the RAAF, was training in Canada at 18 and had a distinguished service with a RAF squadron flying Liberators and based in Iceland, Ireland and the North of Scotland.
At war's end he returned to New Britain to rehabilitate 'Varzin', and remained until independence. He lived life to the full and soon became prominent in public, business, sporting and social affairs. Over the years he was President of the Planters Association, the Kokopo Sports Club, the New Britain Show Society, a member of the District Advisory Council, the Copra Stabilisation Board, the Vunapope Hospital Board and many other community organisations. He was an excellent sportsman. Back in Sydney in 1976 he joined the headquarters of Legacy as NSW Pensions Officer and Advocate and served with dedication, competence and compassion until he retired, reluctantly, because of ill health in 1997 at the age of 73. He is survived by his first wife Ann, their four children Tommy, Simon, Jodie and Katie, and his second wife Heather. Harry West
Jessie Olive (Jess) CARRIAGE (31 May 2002, aged 93)
Jess was the wife of the late Frank Carriage. Jess was an excellent dressmaker, well known in the Boroko/Port Moresby area. No further details available.
Wallace Hunter SPENCER (7 June 2002, aged 82)
Wal passed away in a War Veterans' Home in Sunnybank Hills, Qld. He first went to PNG at age 5: his father was an accountant for W.R. Carpenter. The family returned to Australia during the depression. Wal joined the RAAF in 1939 and served in many areas of PNG as ground crew. He went back to PNG in 1947 and worked for Vacuum Oil in Madang. Then he had several years on plantations north of Madang and later worked with Buntings Stevedores at Samarai. He then joined Dept of Agriculture, Stock & Fisheries as a produce inspector in Rabaul in 1957 and went to Madang, Moresby and Lae in 1963. He married his second wife Dorothy in Lae and later they moved to Kavieng. They moved to Queensland in 1973. He is survived by his wife Dorothy, children David and Sue, and five grandchildren. Dorothy Spencer
Dawn FISK (circa May 2002, aged 77)
Dawn was a zestful and enquiring person. In WWII she was in 'Special Operations' while her husband was in 'Z' Force. She saw military service at the age of 19 in Sarawak and subsequently in post-war Japan, including Hiroshima. Between 1945 and the mid 60s she worked in PNG for the Justice Department and the Office of the Administrator. She is survived by her sons Andrew and Tony, and grandchildren. Tony Fisk
Betty LARGE (6 December 2001, aged 73)
Betty was the wife of Des Large and they lived in Port Moresby from 1947 until 1975, when they retired to Caloundra, Qld. Betty began work in Port Moresby at Steamships Trading Company, then spent many years as an insurance broker with Harvey Trinder Ltd. She was a committed Girl Guide for a number of years and held the positions of District Brown Owl and Commissioner. Betty provided much support to Des's interests, including the Port Moresby Rifle Club where Des was captain for manyyears, the Masonic Lodge in Port Moresby and Caloundra, and the Caloundra RSL. Wherever Des was, Betty was there alongside him helping out. She was also a very talented craftswoman, an energetic lady who would try almost anything. She was devoted to her family and she leaves behind her husband Des, her children Valerie, Shirley and Alan and their spouses, and five grandchildren and their spouses. Shirley Webb
Chalcott Thomas Gibson HENRY (12 May 2002, aged 87)
C.T.G. Henry retired from Dept of Public Works in 1970. No further details available