Vale Nick Booth (22 November 2021) – former PNGAA Website Manager and Treasurer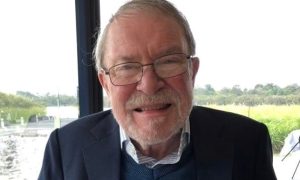 It is with tremendous sadness that we acknowledge the death of Nick Booth on 22 November 2021. Nick was a great friend of the PNGAA and his contribution over many, many years since 2010 was invaluable.
Introduced to the 'behind the scenes' work of the association by Keith Jackson, Nick's ongoing assistance and expertise with the pngaa.net website, initially created by Ross Johnson, was greatly appreciated. When PNGAA needed an efficient search feature on the website, Nick asked his son, Tim, to help design it. It was a huge asset for the association. Many voluntary hours had been spent typing up and categorising early articles in Una Voce by Nancy Johnston and Ross Johnson…then Keith Jackson arranged for the scanning of all the early journals from 1978 on. This wealth of information needed to be accessible – and Nick made that happen.
It was through Nick and Ross, and many voluntary hours, that that search mechanism was updated regularly and worked so efficiently on the association's earlier website.
When the Rabaul and Montevideo Maru's 70th anniversary was gathering momentum back in 2010/11, it was Nick who took over the management of that website too.
Nick generously gave his time to the PNGAA, eventually also taking on the role of treasurer between 2011 and 2013 (inclusive), following Ross Johnson and then Will Muskens.
Only a few weeks ago he was asked about updating the Rabaul & Montevideo Maru website in the lead up to the 80th anniversary next year. With his usual cheerfulness he got right into it, replacing the updated education program.
Nick had initially gone to Port Moresby to live in 1962. His father, Dr Peter Booth, had seen an advertisement in the British Medical Journal for the new position of Director of the Red Cross Blood Transfusion Service in Papua New Guinea, and was offered the position. See his story at: HERE
Nick had wide ranging knowledge and interests in many diverse areas, and he was patient and generous with his time. Nothing was ever too much trouble and he quietly contributed much to the Papua New Guinea Association of Australia. He was friendly, happy and a delight to work with on a voluntary team. Nick will be greatly missed. Our thoughts are with his wife Lynn and his family.