Tribute to Merle Wall, MBE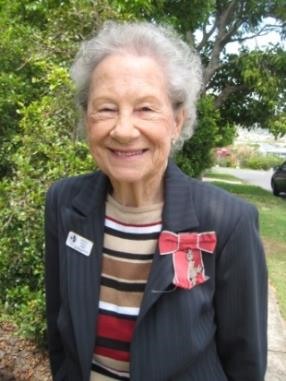 Merle, an admired mentor and friend to the people of Bougainville and a great supporter of her church and family, died on 5 September 2013, aged 85 years.  Merle was born on 23 March 1928, the second youngest of the four children of Bob and Millie Hallam, growing up in the Whitsundays, with her parents holding a lease on Hayman Island in the 1930s.
Merle first visited Papua New Guinea in 1954, when visiting her brother, Bill Hallam, who was a captain on the MV Polurrian.  Merle travelled on the Polurrian calling into Nissan, Carteret Islands, Buka and all ports along the east coast of Bougainville.  Bill and the ship's engineer, Noel Jones, had visions of home cooked meals dropping hints that "scones would be appreciated for morning tea." The ship's galley had a tiny kerosene fridge to keep a little meat and a small supply of beer—for emergencies—a rocking primus stove and one porthole that hadn't been wiped since the ship's maiden voyage. Butter and milk came in tins and batting flies off the milk turned Merle off white tea for decades.
The Walls married in January 1955 in Mackay and, on accepting a job on Tenakau Plantation, the newlyweds, with Wayne, Merle's son from a previous marriage, took the three day journey to Bougainville. Throughout the 50s and 60s, Merle suffered an ongoing heart disorder with doctors warning she might not live past thirty. So when Merle was expecting in late 1955, she travelled to Rabaul where Dr Mattie Radcliffe-Taylor, while conferring with specialists over a radio-telephone, delivered daughter Christine by caesarean section under local anaesthetic.
The Walls spent five happy years on Tenakau during which Merle was finding her place in the complexities of colonial expatriate life and a growing awareness of local people, their culture and the challenges they faced. While Greg was learning the ropes of plantation life, Merle taught Wayne through correspondence. In 1960, Greg took up a manager's position on the Colyer Watson owned plantation, Cutarp, located on New Britain's South Coast. The children were growing up; Wayne went to boarding school and Christine started correspondence.
Bill Hallam was managing the Kieta Trading Company on Bougainville but, by 1962, was keen to return to sea, so he recommended Merle and Greg to take on the job.
But by the time the Walls arrived in Kieta, the guest house was upgraded to a hotel. Merle took charge of housekeeping, teaching Christine school and supporting Greg in running the second business of copra and cocoa handling. Kieta was heading for radical change. Ken Phillips, CRA's first Geologist, and the early drillers all stopped over at the Hotel Kieta before trekking into the mountains around Panguna. An overseas wharf was built and the road between Kieta and Arawa Plantation opened up. 
Merle noticed the pressures of village life often saw girls taken out of school early, so to create a culture of learning, she decided that girl guiding, an international movement, was the answer. With no experience in 1963, Merle began with eight Brownies.
In 1964, The New Guinea Biological Foundation, the brainchild of 'Kip' McKillop from Arawa Plantation purchased Aropa Plantation. The Aropa project would benefit PNG in agricultural research and tertiary scholarships. Greg was offered the manager's position which included handling the airline agency as the airport was a long way from town.
Merle catered on plane days, and while such duties made for a very busy time, they also provided Merle with opportunities to fundraise for community causes.
In the seven years the Walls lived at Aropa, Merle taught school for a while and they threw themselves into local initiatives, supporting the RSL and what was then the native ex-servicemen's association. 
Merle's commitment to Guiding, Brownies and Red Cross continued which led to Merle approaching Theresa Reina Jaintong in 1971 to stand as Bougainville's first entrant in the Red Cross Miss Papua New Guinea competition. It was a good choice, because Theresa won the competition.
While a bulldozer was creating new roads in Kieta, Merle appealed to the Lands Department for a small block on which to build a Girl Guide House. Brownie and Guide Packs had expanded to Sohano and Buka. At first officials said there was no spare land. Undaunted, Merle asked, "If I find some, would the answer be 'yes?'." Greg and Merle knew the 'dozer driver and worked out that if he took fill from the base of Kieta Hill, they'd end up with an ideal house pad. The project was a banker's delight as it was the only scheme that finished with a bigger bank balance than when it started. 
In 1970 Merle started Island Casuals, a part-time business, and on seeing the looming shortage of accommodation with Bougainville Copper Ltd expanding its operations, Merle purchased some land in Toniva and built a block of flats. Building works were completed only months before Greg's sudden death in July 1971. He was 48. Merle and Christine left Aropa to live in one of the flats, renting the other three as a necessary income given Christine was still at boarding school and Wayne was completing an apprenticeship as a radio technician.
The next few years saw Merle continuing her community projects through her church, the Red Cross and Lioness Club commitments. She became a lay magistrate in the children's court, started a sub-agency for the Bank of NSW and was a stringer for PNG's national newspaper. Merle educated several children including some from the atolls of Mortlocks and Tasmans. In 1975 Merle escorted Queen Elizabeth II for more than an hour, chatting and walking past the parade of Guides and Brownies on Toniva oval. 
When the Kieta Lions Club built a war memorial in ANZAC Park, Merle wanted the sacrifice of local ex-servicemen remembered. She organised a bronze plaque to honour Chief Barosi of Sirovai Village near Koromira, who was beheaded in Kieta by the Japanese in 1942 because of his loyalty to Australian troops. In 1980 Merle was honoured with an MBE for her service to the community. 
Merle's application for PNG citizenship in 1983 was about to be accepted but, on considering her looming health issues, the family strongly advised against this which meant giving up her Australian citizenship. While Merle retired to Australia in that year she maintained a close association with her extended Bougainvillean and PNG friends and family. The 25th Anniversary for Guiding on Bougainville was celebrated in 1988 and thanks to the brilliant organising by Annette Embery and others, Camp Aropa was staged in Arawa with representatives from PNG, Australia, Canada, Solomon Islands and New Zealand attending. Merle returned to open the Camp as the name was chosen in honour of Merle and all she and Greg had done for Guiding. The Camp's theme, PUFF, was an acronym for Peace, Understanding, Fun and Friendship. It was about 12 months before the Crisis.
Recent years have seen Merle's health deteriorate with breast cancer in 2009 followed by a debilitating auto-immune disease. But Merle was always cheerful and positive and will be remembered as a graceful, caring and remarkable woman who always had time for others. Merle was farewelled on 13 September 2013 in a Requiem Mass which included a Bougainville choir and coffin being adorned with a photo wearing her MBE medal, shell money, a Buka basket and a spray of Australian native flowers.
Merle's ashes will return to Bougainville to settle in the coral sands on Greg's and Bill's graves some time in the next year.