The Jimi River Road: Jim Moore
Follow-up to article Jimi River by Robert Blaikie. Jim Moore was a kiap 1965-1974
Robert remembered looking for a possible track from the Waghi to the Jimi in 1957. I started as a CPO in Minj in 1965, and was posted to Tabibuga Patrol Post in the Jimi in late 1967 as a PO.
By that time, the airstrip at Tabibuga had been operational for some time, even though landing there was probably enough to put most people off flying for all time. It was 1,200 feet long, had an 8 degree gradient, with cliffs at top and bottom, and on both sides. The OIC's house was still on top of the hill was as Robert described it, though upgraded to permanent materials. My house (a typical SOQ) was also on top of the hill. From the back door, I could see Mt Wilhelm (15,400 feet above sea level) and from the front door, I could see the Ruti grassland flats (around 1,500 feet asl).
Ross Allen had just become ADC Mt Hagen at the time (Jimi was then part of Hagen Sub-District). The Waghi-Sepik Divide is very rough country indeed, as Robert attested to: uninhabited and virtually uninhabitable. Public Works had been asked to look for a possible road route at around that time and, after aerial surveys, said "Forget it."
That was just the impetus Ross needed: the Jimi would have a road. Ross had a brilliant grasp of how to do a project of this magnitude, and was always the driving force behind it.
The first task was to plan out how it would be done. There was no shortage of desire for the road to happen: the people knew that, without a road, there was little chance of economic development. There was huge willingness to get on with the job, all they wanted was some help to achieve it. We did get some Government funds to buy spades and crowbars, from memory probably no more than $2-3,000. That didn't go very far, with spades from Gov Stores at probably $1.50 each, and crowbars $3 each, for a workforce varying between 1,000-2,000.
It was obvious that the construction was going to take a long time and an unbelievable amount of sheer hard physical work: the amazing thing was the people knew that from the start and were still happy to do the work. The keys to getting the road built were ensuring the people continued to share a vision of what might happen once they had a road, they all understood how we and they were collectively going to approach the task, they all shared equally in the labour, and they all accepted the kiap's role in carrying out the project. I have often wondered, did they realise the kiap was about five minutes ahead of them when it came to road-building knowledge and experience? They weren't silly, of course they knew.
There was about six miles of existing road from Tabibuga, almost to the Catholic mission at Karap, with only the Administration Toyota to traverse it. That had been carried in in pieces and re-assembled. I was given an Abney level (the most rudimentary method of finding levels: a protractor fitted to a spirit level) and told, go forth and build a road from Tabibuga to Banz.
It took couple of months to find and survey the route, for most part following a 3-5 degree gradient. The eventual route proved to be many, many times the crow-flying distance because of the need to keep the road gradient manageable. I remember the people constantly wanting to make the grade steeper to cut distances, and the "discussions" that followed about where we would go. I guess only a few people have ever tried to mark out a route through virgin rainforest with no tracks, along very steep mountain sides up to about 8,000 feet asl: it is a character-building exercise.
There were about 25,000 people in the Jimi, and the next step was to allocate each clan grouping in the entire valley a certain length of road that they became responsible for digging. Trying to estimate roughly equal allocations was something of a nightmare but eventually everybody was happy with their section.
Rob Kelvin then arrived as PO-OIC Tabibuga, and for the next 18 months, we both dreamed, lived and breathed the road. The Jimi LGC President Kolye Suwi was always a big driver of progress on the road.
To get to their section, people had to walk from home, in many cases taking 2-3 hard days walk to get there. That meant carrying enough food for the walk there, to last the 3 days spent on the job, with enough left for the 2-3 days walk home. "Walk" is of course, a euphemism: anyone who has patrolled in the Highlands would understand that. A week at home, then do it all again. They had to construct temporary shelters used for the periods they were at the worksite. The actual digging work was like nothing Australians could now possibly envisage. Clear the rainforest using only axes, dig the road using spades, crowbars, and dainamit bilong mipela (burning huge fires around immovable rock outcrops, then tipping water onto them to crack the hot rock), watch the previous month's work slide down the mountain after a downpour, and start all over again with good spirit: unbelievable. All the time, put up with the kiap complaining about digging not following the mak, work not going fast enough, the weather, etc.
At the height of activity, there were probably 2,000 men digging away on sections of the road that all eventually connected together, and then met the road being dug climbing the other side of the range following the Wara Ka valley on the Waghi side. No-one was paid a cent for their work. 
In 24 months, these amazing people had dug roughly 24 miles of road (well, really, a damned rough 4-wheel drive track) through impossible country that did its best to destroy construction as quickly as it was completed. The finished task was considered of such note that the road was officially opened by C.E. Barnes, the Australian Minister for External Territories, and Peter Barnes, Interior Minister, in June 1970.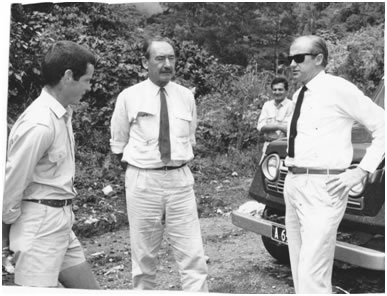 Jimi Road opening June 1970 
L-R: Jim Moore PO; CE Barnes (External Territories Minister); Rob Kelvin PO; Peter Nixon (Interior Minister)
I returned to the Jimi in 1998. Our Cessna couldn't land at Tabibuga: the strip had been closed and was covered in bush. However, we landed at Kol, and I found the road had been extended to there. Keeping the road network open obviously was and always will be, a nightmare.
I couldn't help wondering what the young people of the Jimi of the day knew of what their fathers had contributed in blood, sweat and tears to the building of that road. Looking back now, I suppose one had to be young, idealistic and inspired by a true leader like Ross Allen to achieve a task like that. A sense of almost naïve willingness to accept that some things not feasible in a 'normal' world could occur there as a matter of course probably helped. Such was a kiap's life. I will never forget the people who dug that road, especially Council President Kolye Suwi, or ADC Ross Allen (gone but not forgotten), without whom it would not have happened as it did.