New book: "A Short history of the Pacific Islands Monthly Magazine"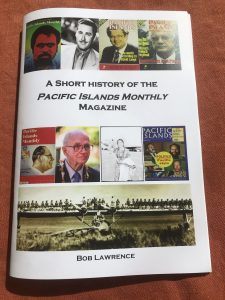 The Pacific Islands Monthly Magazine (PIM) was a brave publication started in The Great Depression that over the following 70 years became the 'Pacific Bible'.
Now Bob Lawrence, an ABC News Journalist who was among a group of ABC staff seconded to the National Broadcasting Commission of PNG in the 1970s has written a history of the magazine which closed in June 2000.
PIM informed colonies and nations that span a third of the globe from Torres Strait and PNG through Micronesia to Hawaii, the Samoas and Norfolk and Cook Islands, Nauru, Fiji, Vanuatu and New Caledonia.
PIM told all the great stories of the Pacific, from the desperate people who fled The Depression to find gold in New Guinea, to the horrors of World War Two, the searches for the missing Americans Amelia Earhart and Michael Rockefeller, to the Pacific's con-men and carpet baggers, the people searching for lost 16th century Spanish galleons, and the growth of the major Pacific trading houses and shipping and airlines that connected the remote countries as they grew to independent nations, plus the supportive stories of new nations as they achieved independence. It also told of average people: planters, public servants and others, plus governments and their edict, plus such international notables as Errol Flynn, James A. Michiner, Margaret Mead and Raymond Burr.
The New Zealand founder/editor, RW (Robbie) Robson in 1914 saw the lack of cross information between Pacific settlements. In his own words Robson said that in 1930 he "decided that a career in metropolitan daily newspaper journalism held no future for people after middle age. I was 45. It was a gamble." Robson and his later long-term editors, Judy Tudor, Stuart Inder and Gus Smales and dedicated staff and contributors championed, through PIM, the Pacific and its emerging nations and the creation of bodies such as the South Pacific Forum.
In the mid-1950s, Robson bought the Suva The Fiji Times newspaper. This and PIM were attractive to the Herald and Weekly Times Group. When the Murdoch empire swallowed HWT there was no place for PIM. PIM operations were sent to Suva and under a trail on short term, under-resourced editors it wilted and was suddenly closed in June 2000, one month before its 70th anniversary!
What remained was the PIM Lunch started in the 1960s because expatriate Australians employed in the Pacific were always keen to share food and drink with the Sydney based PIM reporters they had met when those reporters travelled the Pacific, often on Burns Philp or WR Carpenter ships. To maintain productivity, a weekly lunch time and place was set and published in PIM. Pacific parliamentarians, planters and the general Pacific public regularly broke bread with the PIM crew.
That lunch survives*. In 2017, the book's Sydney based author, Bob Lawrence, delivered a eulogy to his friend, the recently buried former PIM editor Gus Smales. Afterwards, a luncher said she never realised the 'Pacific Islands Monthly Lunch' she enjoyed so much was linked to a magazine called the Pacific Islands Monthly.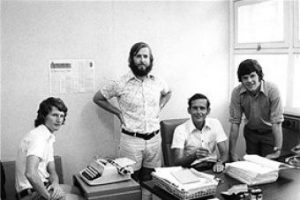 Bob figured someone should inform the world of this brave magazine and its devoted staff!
Bob first met PIM in November 1974 soon after arriving in Port Moresby. Sean Dorney, his colleague, gave him a copy of the latest PIM. Bob was hooked. In July 1975, Bob became Journalist-in-Charge at Rabaul. He found hundreds of back copies stacked in the news room which became his night time reading. On leaving to work in Parliament House, Canberra, Bob became a long-time subscriber.
A short history of the 'Pacific Islands Monthly' Magazine is for sale for $25.
A further $5.50 post and handling charge is added for mailed copies.
There are only 100 copies. Available from Bob Lawrence at boblaw@bigpond.net.au.
*PIM lunches are held at the Law Society Dining Room, 170 Phillip St, Sydney NSW on the first Friday of each month, February to December. All welcome. Contact Tony Gentile 0412 303 757.
Photo caption: ABC secondees Sean Dorney, Bruce Bertram, Albert Asbury (all from ABC News Queensland) and Bob Lawrence (ABC News Adelaide) in the National Broadcasting Commission Newsroom, Boroko, Port Moresby in 1975. (Photo: Don Hook ABC PNG Correspondent)