Hamamas Hotel has its own currency: Maxwell R Hayes
When in Rabaul in August 2003 and staying at the Hamamas Hotel, in what remained of Mango Avenue after the 1994 volcanic eruption, I noticed some unusual coins in usage by those local citizens playing snooker and pool tables in the lounge bar and the sportsman's bar at the hotel rear. These pool table games were very popular with the local citizens.
Kina currency was used in exchange for these coins required to operate the pool tables. The value of the coin remained at the rate set for the game, e.g. it could be exchanged for 50 toea, 75 toea or 1 Kina cash depending of the cost per game which increased from time to time.
Strictly speaking, from a numismatic point of view, these are not coins but tokens. Bruce Alexander, then the co-proprietor with his wife Susie, generously gave me a handful of these tokens. He had a  couple of full calico bags and stated that they made a successful foil which could be taken in lieu of actual currency in the event that the bar was held up by rascals, a not unlikely event.
These tokens were the idea of Gerry McGrade, then owner of the Hamamas, and who had 1000 of these tokens manufactured by a Brisbane firm AJ Parkes, 555 Tarragindi Road, Salisbury, circa 1995/1996. Each token bears the "H" logo of the Hamamas Hotel on the obverse, and on the reverse a punched 4-digit number commencing with 0. I have a series going from 0421-0480. Each weighs 9.7gm, measures 27mm in diameter and is 2mm thick. They are manufactured in cupro-nickel.
In later years these  tokens were used for disco entry and tours to tourist sites of the adjacent hot springs or the more distant Tavurvur (Matupi) and later redeemed for cash by the tour operators.
These tokens remain as a very interesting numismatic souvenir of the former Hamamas Hotel. From c. 1952 it was known as Arthur Brown's "Ascot Hotel" on the same site at the top of Mango Avenue. During the September 1994 eruptions, due to monumental efforts by the proprietors and staff, the Hamamas survived and was renamed in recent years as the Rabaul Hotel and owned by Susie McGrade. Many visitors to Rabaul during April 2012 for the 70th anniversary of the capture of Rabaul by the Japanese on 23 January 1942 stayed with Susie McGrade at her Rabaul Hotel.
These tokens are very possibly the only tokens minted for use in Papua New Guinea since Independence in September 1975.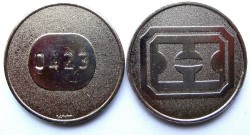 Tokens issued by the Hamamas Hotel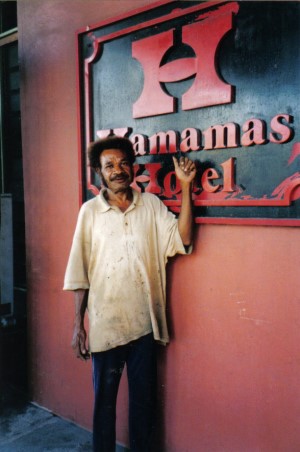 The earlier Hamamas Hotel sign at the entrance is shown with Stanley, still a faithful employee of the Rabaul Hotel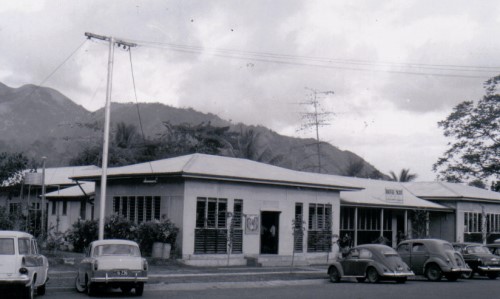 Ascot Hotel, current site of the Hamamas Hotel