Annual PNGAA Brisbane Lunch – The Ship Inn – Sunday 25 July 2021
Stanley and Sidon Streets, Brisbane; near Southbank 3 Ferry Terminal
Date: Sunday, July 25, 2021
Time: 11:30 – 3 PM
Price: Food and drinks own expense; $10 charge to assist PNGAA
RSVP: 21 July 2021 – Click HERE
All welcome – bring family and friends, young and old(er)! Book now!
It is always a great opportunity to catch up with PNG family and friends and make new ones at our Annual PNGAA Brisbane Lunch in July when the weather is most agreeable.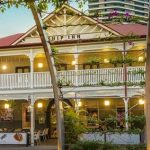 Anyone who is able to join us in the very pleasant surroundings of The Ship Inn is welcome.
Food and drinks are at your own expense upon arrival and PNGAA have asked for a small donation of $10.00 to assist with ongoing expenses with the PNGAA Collection and fundraising for the Pacific Community Centre of Excellence. The Ship Inn will still require all guests to sign in using the QR code (please check that you have all downloaded the Check In Queensland App).
To help manage bookings this year we are using the Trybooking website which can accept the donations for a small fee and provide you with tickets to the event through this LINK
Book now! Bookings are now open through the link but need to close on Wednesday 21 July 2021 to confirm final numbers with The Ship Inn as all events need to have numbers to ensure they remain within Covid-19 requirements.
PNGAA thanks Kieran Nelson for kindly organising this event for the association.
Look forward to seeing you on the day!