When the War Came: New Guinea Islands 1942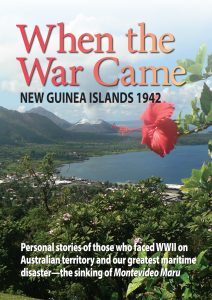 The book, a collection of personal and family stories on the varied experiences of those in Rabaul, Kavieng and the New Guinea islands prior to WWII, is sponsored by the Rabaul and Montevideo Maru group of the Papua New Guinea Association of Australia and will be available at the 75th Anniversary commemorative dinner in Canberra on 1 July 2017.
It also provides an insight into life in both Australia and the then Mandated Territory of New Guinea.
Limited copies will be available from 1 July 2017.
If you would like to purchase this book, click here: BUY