Tales of PNG 2 with Bob Lawrence and Lesley Wengembo – 6 June 2021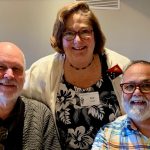 Sara Turner's last official function as event coordinator was held on Sunday 6 June 2021 and what a fabulous day it was!
With Bob Lawrence carrying the audience away with amusing anecdotes from the Pacific Islands Monthly (PIM) about Robbie Robson, Judy Tudor, Stuart Inder and Gus Smales, along with characters of the Pacific – Amelia Earheart, Aggie Grey, James Mitchener, Margaret Mead, Errol Flynn and many, many more, we heard about the rise of news around the Pacific from August 1930 until August 1988 when PIM moved to Suva as part of the Pacific Times group.
As Stuart Inder said in his obituary of the Pacific Islands Monthly: 'The recipe for PIM that Robson devised and perfected was a palatable pie of news, commentary and information services.' PIM later passed on to the Adelaide Advertiser, the Herald and Weekly Times and finally News Ltd.
The weekly, later monthly, PIM lunch in Sydney brought together journalists, islanders and island residents past and present – rather like this event – a day not to be missed!
Bob Lawrence has written a short memoir titled 'A Short History of the Pacific Islands Monthly' available by emailing him. See more about this at https://pngaa.org/new-book-a-short-history-of-the-pacific-islands-monthly-magazine/
We are also in discussion about Bob possibly giving a talk in Cairns – keep an eye on this space!
Anyone following the art of PNG cannot but be in awe of 24 year-old Lesley Wengembo's energy and passion. Lesley spoke to the audience about his 'Art Practice and Journey'. His first painting was of his grandfather's face when he was about 7 years old. Lesley spoke about growing up in PNG and how challenging it was for a PNG family to accept that someone could make a living from artworks. Art was not encouraged at school but he continued to draw and paint in any free time. Whenever he saw paintings that inspired him he tried appropriating them. Lesley is passionate about eyes and faces as he feels these reflect the real character of the person. He is particularly keen on older people as he feels many experienced life before PNG independence and they have so much knowledge about original PNG culture.
Lesley began entering art competitions – sometimes winning and sometimes not. This did not dampen his enthusiasm! His first exhibition was held at the Port Moresby Arts Theatre in 2014 but his main goal was Australia's Archibald Prize. Lesley entered this in both 2020 and 2021 – and the audience was incredulous that he was not selected as a finalist! No doubt his time will come! Lesley was a finalist in the Brisbane Portrait Prize in 2020.
Lesley feels he is preserving the culture of the past for future generations as life in PNG villages rapidly changes. Through social media his paintings, and hence PNG culture, are seen around the world. He has been invited to paint a number of commissions, including the Prime Ministers of PNG. He has participated in art workshops overseas and been invited on cultural exchanges.
Lesley is in his final year at the National Art School in Sydney. Lesley is a delightful and humble young man, quietly passionate about achieving his best, and PNGAA wishes him well in the future whilst looking forward to hearing about his future journey and, no doubt, achievements.
This event was another hugely successful PNGAA event and we thank Sara Turner together with her husband, Roger Carroll, very much for the joy they have given our PNGAA members over the last 4-5 years. The audience, over 45 attending, thoroughly enjoyed meeting and interacting with the speakers and were reluctant to go home!
The Gallery with all the photos can be found HERE.