SYDNEY OCEANIC ART FAIR + Lecture – 6 November 2021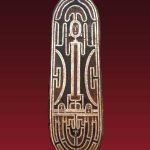 Date: Saturday 6 November 2021
The PNGAA table at the Sydney Oceanic Art Fair welcomes your contributions for sale (10% to PNGAA; the balance to you!) Please email events@pngaa.net if you'd like to participate.
Come along to buy, sell or browse. Genuine ethnographic rarities and collectables from Papua New Guinea, the Pacific, Australia, South East Asia. Masks, carvings, weapons, artefacts, jewellery, textiles, books, prints. Great pieces at great prices!
VENUE
Cell Block Theatre | The National Art School (NAS) corner of Forbes & Burton Streets, Darlinghurst.
Entry to the Sydney Oceanic Art Fair is $5 public, $2 student at the door.
Lesley Wengembo will present a lecture at 1pm. CULTURAL IDENTITY, OUR GREATEST ASSET which will be held at the Cell Block Theatre – numbers are Covid limited and bookings essential!
Lecture is $10 public, $5 student and may be purchased at the Cell Block Theatre or online at https://www.oceanicartsociety.org.au/event/sydney-oceanic-art-fair-lecture-2021/?mc_cid=63304f8265&mc_eid=675fb4acb4
The Lesley Wengembo Lecture can now be attended online via Zoom. If you are unable to attend on location, visit https://www.oceanicartsociety.org.au/event/sydney-oceanic-art-fair-lecture-2021/?mc_cid=b90914c239&mc_eid=442a3bcf20 to register for your zoom link.
LECTURE
Meet outside Cell Block Theatre at 12.45pm to be escorted to the lecture space for 1.00pm start.
Sydney Oceanic Art Fair OPENING HOURS
Doors will open at 9am with trading to cease at 5pm.
The organisers of the SOAF are also looking for silent auction items. If a PNGAA member would be willing to donate an item to the silent auction on the day, that would be most welcome—20% to go to OAS and the balance to PNGAA. Please advise by 1 November 2021 – email: events@pngaa.net
Masks and DBL Vaccination Mandatory
DISCLAIMER: at this stage, we are optimistic that Sydney Oceanic Art Fair 2021 (SOAF) can go ahead as scheduled on November 6 2021. We will notify you immediately should Covid restrictions cause the cancellation of the (SOAF). Should that be the case, OAS will undertake to address SOAF vendor table bookings and SOAF Lecture ticketing refunds in a fair and equitable manner. SOAF sub-committee & Oceanic Art Society.