PNGAA BOOK EXPO
FRIENDLY REMINDER
PNGAA BOOK EXPO
As seen in latest Una Voce #3 p13.
The Papua New Guinea Association of Australia invites members, friends & family to the Sydney Book Expo.
Please let anyone know and bring friends you think may be interested in this event.
SPREAD THE WORD!!! TELL A FRIEND!!! SEE YOU THERE!!!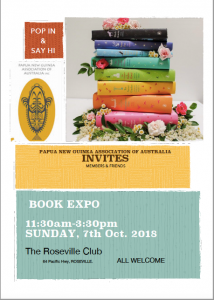 PLEASE PUT YOUR CLOCKS FORWARD ON SUNDAY 7 OCTOBER!!
THE EXPO
Meet the authors & have them sign your books
Hear authors speak about "Aspects of Writing"
WRITER'S OPPORTUNITY stories will be displayed
PNG books for sale
Buy a PNGAA tote bag
RAFFLE
Attending Authors
Judith Hollingsworth
Patricia Bernard
Alan Pierce
Michael Claringbould
Bob Shaw
Authors books available for sale at the Expo
Lynette Arden
Myra Macey
Margaret Reeson
Ian Townsend
Gillian Nikakis
Selection from Bill McGrath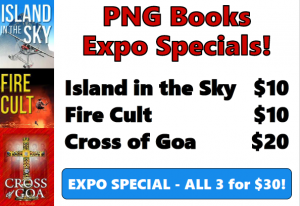 Author: R.B. Shaw
Talks at the Expo
Bob Shaw
Patricia Bernard.
Also available: Opportunity to view the Ladies Panel Presentation as well as submitted stories by Carol Worthy &
Marie Clifton Bassett.
PNGAA books & DVD's will also be available for purchase. We will also have our new
PNGAA Tote Bag for sale at $15.
Contact: Sara Turner: events@pngaa.net
PH: 0401 138 246
PLEASE SEE BELOW FOR FURTHER DETAILS OF EVENT
BOOK EXPO
SYDNEY, 7 OCTOBER 2018
Venue: The Roseville Club
Address: 64 Pacific Hwy, ROSEVILLE
Date: Sunday 7th October 2018
Time: 11:30am-3:30pm
Public Transport: Roseville Railway Station (5 mins walk)
Parking: Street Parking & Larkin Lane just behind the Club
Disability: Access available
Cafe & Bar available to public (reasonable prices & great coffee)
CONTACT: Sara Turner, PNGAA Events Coordinator
events@pngaa.net
PH: 0401 138 246
HELP WANTED FOR THE BOOK EXPO
You might be able to help prior to the day or on the day.
It's amazing what a few people can achieve, but we do need those few people!