PNG Rugby League player in Sydney club.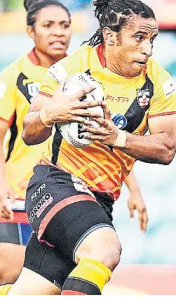 Albert sourced from The National
The biggest rugby league news for PNG this year is the announcement this week of the signing of the PNG Orchids captain Elsie Albert by the St George Dragons for the National Rugby League Women's (NRLW) season.
Albert is the first women rugby league player from PNGRFL's domestic elite pathway programme to earn a NRLW contract. It is a landmark occasion for women's rugby league and women's sports in PNG.
The St George Illawarra Dragons recruit considers herself lucky to have not had rubbish thrown at her by fans while playing rugby in her home country of Papua New Guinea. It hasn't been an easy journey for Elsie, who started out as a boxer and only began playing rugby two years ago, when she left home to study at university. Growing up in PNG's rugged highlands region, culture and religion had meant that it was mostly unthinkable for girls and women to play rugby league. Elsie has come across the following attitudes to female players:
"People, especially men would say that girls are not supposed to play rugby,"
"'You ladies are just wasting your time. Just get married and have babies and stay at home.'"
But Elsie Albert says the women who went before her, who she calls the "pioneers", started proving them wrong.
"They were the ones who were being ridiculed by the men, when they were playing on the field. They'd throw, like Coke bottles, or water bottles onto the field," she said.
Albert said that all changed last year when the national women's team, the PNG Orchids, played in two Tests against England at home. As captain, Albert led the Orchids as they secured the PNG women's first-ever test match win.
She said that game helped change attitudes in the country, the only place in the world where rugby league is the national sport.
"Me standing on the field and I could hear men folks also calling, 'go the Orchids'. That meant a lot," Albert said.
"I'm glad I'm being a part of this change to change the minds, changing perspective, changing the way the men folk think about women," she said.
Dragons NRLW coach Daniel Lacey said Albert's debut was an historic moment for PNG rugby.
"There's no other way to describe Elsie other than an out-and-out trailblazer for women's sport in Papua New Guinea," he said.
"She has had a lot of obstacles and hurdles thrown her way over the years but now she can safely say she's the first Papua New Guinean native to earn an NRLW contract."
Elsie Albert's hard hits saw her earn the nickname "The Jukebox" in the World Cup 9s last year, and she was named Most Valuable Player for the South Logan Magpies who she played with this year.