Kicking off a little PNG power for the Olympics and Matildas!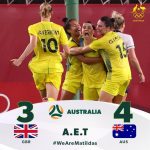 PNG power in Aussie Matildas! 18 year old soccer sensation Mary Fowler unleashed a 20 metre strike to score a stunning extra time goal in the Matildas Olympics 4:3 win over Great Britain to make the semi finals.  With goals by Captain Sam Kerr and Alanna Kennedy, and 'Player of the Match – goalkeeper Teagan Micah – who had a knockout game with 7 saves, together with outstanding team work from all players, the Matildas had a brilliant game on Friday 30 July 2021 in Tokyo!
Mary's mother hails from Kirakira and Mahuru villages in PNG. See Mary's goal here: https://twitter.com/i/status/1421065984052535296
The Matildas come up against Sweden in the women's semi-final at International Stadium Yokohama tonight, Monday 2 August 2021, at 9:00pm.