Helping Hands – sourced from "The National"
Medical equipment arrives.
MORE than K700,000 worth of medical equipment has arrived in Port Moresby as part of a donation by Chinese business magnate Jack Ma through the Jack ma foundation.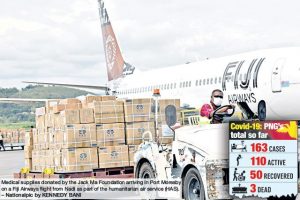 A 4000kg shipment of medical equipment and personal protective equipment (PPE) arrived on a Fiji Airways flight from Nadi in Fiji. Ali Baba founder Jack Ma supports the United Nations sustainable development goals. He is providing PNG, Fiji, Tonga, New Zealand, New Caledonia and French Polynesia with PPEs for frontline health workers.
The Humanitarian Air Service (HAS) is part of the Pacific humanitarian pathway on Covid-19, an initiative launched under the Pacific Islands Forum driven by Dame Meg Taylor and funded by the Australian Government for AU$3 million (K7.4mil).
UN resident coordinator Gianluca Rampolla said the UN World Food programme was operating the air service. It will allow Pacific island states to access humanitarian supplies and allow humanitarian and medical personnel to move around the Pacific island nations affected by the restriction of air travel.
Health Minister Jelta Wong thanked the Jack Ma Foundation for the donation.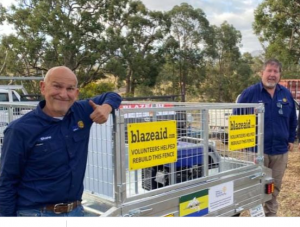 Another example of helping hands occurred when Andy Thorp heard his rotary club in the seaside town of Merimbula, NSW, was being sent a donation from people in Papua New Guinea to help bushfire victims, he was shocked to learn of the amount.
"I thought there might be anything from a couple of hundred dollars to $1,000. But I was wildly wrong," he said, but the donation totalled more than $60,000.
Merimbula is one of many towns on the NSW east coast that is still recovering months after some of the worst bushfires Australia has ever seen.
Images of blood-red skies over the Bega Valley and thousands of people who had been trapped and then evacuated by the Navy were broadcast around the world.
In Papua New Guinea's second-largest city, Lae, Sheila Harou saw those pictures on the news and was inspired to take action.
"We called out to all our Morobeans to be united in one heart, to give from the heart to console our neighbour," she said.
She started a bushfire appeal and young people publicized the appeal, taking to the streets with wheelbarrows to ask for public donations, while more than 20 organisations also gave money.
"Youth groups, churches, businesses, schools, and corporate houses … they all participated and gave their contributions in cash and kind," she said.
In total, they raised $61,000, which has made its way in recent weeks to communities in the Eden-Monaro electorate.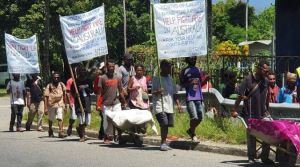 The Merimbula Rotary Club spent $11,000 on two trailers for BlazeAid, a volunteer-based organisation that repairs fences that were lost in the fires in rural communities.
The majority of funds were donated to the Bega Valley Community Disaster Relief Fund, which will benefit communities that were still struggling to recover many months after more than 400 houses were lost and many livelihoods destroyed in the bushfires.
Sheila Harou said she was pleased to hear the money they raised in Lae would help rebuild the homes and hearts of their neighbours across the sea.
"From the beginning we said we must give from the heart and it must reach another heart, so it feels good that our money is put to good use supporting our neighbour friend and family out there," she said.
"We have our own needs here as well but when we saw the need of our closest neighbour … it touched our heart."