Helpim Wantok Project
PNGAA "Helpim Wantok" Project – UTS Furniture Donation
By Steven Gagau – Project Coordinator
Please help – Donate Now
By October 2017 the University of Technology, Sydney (UTS) will have approximately 350 student tables and 750 chairs surplus to requirement after it receives its new supply of classroom furniture.
Through an agreement with the PNG Consulate in Sydney, UTS has kindly agreed to donate this secon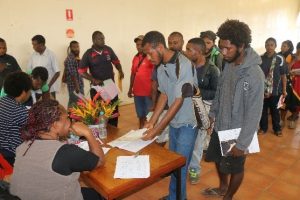 d hand furniture to educational institutions in PNG on the provision that the furniture is collected from the UTS campus in Sydney "as is – where is".
Because of the PNGAA connection with the PNG Consulate, we have taken on this project known as "Helpim Wantok". The beneficiary will be the University of PNG through its Open College network of campuses and study centres throughout the country.
These donated chairs and tables must be picked up from UTS and delivered to the UPNG depot in Port Moresby. The Project will involve the logistics management of collecting the furniture from the UTS campus in Sydney, packing everything into a shipping container and transporting it to the UPNG in Port Moresby including all the related costs. We are endeavouring to complete this undertaking at the lowest possible cost.
PNGAA will attempt to fund this project through potential business sponsors and donations from PNGAA members, businesses and other parties interested in the welfare of Papua New Guinea. We strongly believe that the education of Papua New Guineans is critical to the future of PNG, and success of this project will assist in a small way towards this objective.
If you wish to help out in this project, you can make a contribution through Form below. Your assistance would be greatly appreciated. Progress on this project will be updated on this website page as it materialises.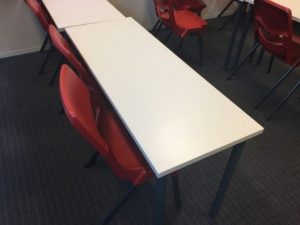 Any surplus monies collected will be retained in a fund for future projects for the benefit of Papua New Guineans. Full transparency and accounting for the project will be provided on the website page.
A photo of the donated tables and chairs in a classroom setting are to the right.
If you are interested in assisting, please fill in the details below: