Finding the MV Montevideo Maru – 1 August 2023 – Shrine of Remembrance, Melbourne
The loss of the Montevideo Maru is the worst maritime disaster in Australian history, and until 2023, the exact location of its final resting place remained a mystery. Its discovery in April off the coast of the Philippines made headlines around the world. Captain Turner played a pivotal role in the discovery alongside the team at Silentworld Foundation and Fugro, with support from the Departm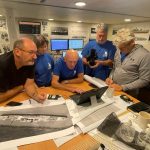 ent of Defence.
Join us as Search Director and Submarine Specialist, Captain Roger Turner CEng FIMarEST RN shares his behind-the-scenes insights into the remarkable discovery of the Montevideo Maru.
During this event, attendees will have the opportunity to gain unique insights into the intricacies of maritime archaeology, modern technological advancements in underwater exploration, and the meticulous research that led to the successful identification of the Montevideo Maru.
Date: 1 August 2023 Time: 6pm-7pm
Venue: Shrine of Remembrance, Melbourne.
The talk will be followed by an audience Q&A and light refreshments.
This event is free for Shrine Friends* and volunteers using their discount codes. Booking essential.
* One free ticket per membership
About the speaker
Roger Turner enjoyed 30 years serving in the Royal Navy as a nuclear submarine engineer before bringing his young family to Australia. While running his own engineering consultancy he then assisted with a number of marine archaeological projects including those concerned with Australia's first submarines, HMAS AE1 and HMS AE2. He was the search director for the discovery of the Montevideo Maru.
Book now – https://shrine.rezdy.com/573000/finding-the-mv-montevideo-maru-behind-the-scenes-with-captain-roger-turner-rn?_gl=1*jchps8*_ga*ODU2NzIwNjc5LjE2NzQ1MzA5Mzc.*_ga_J7SXS0R0D6*MTY4NzkwMjY2NC40MTIuMS4xNjg3OTA5NDE3LjIzLjAuMA..&_ga=2.172014563.1353125519.1688985297-1838085876.1688985297