Butterfly Bows Quilt – a Silent Auction item at the Sydney Christmas Lunch 2 December 2018
YES! Early bids accepted!
If you would like to bid in the lead up to the Christmas luncheon, please Email: events@pngaa.net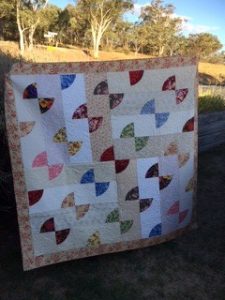 PNGAA is delighted, and very appreciative, that the Canberra "Broomsticks & Bobbins' Quilters' Group have donated a beautiful quilt as part of the Sydney Christmas lunch Silent Auction.
Postage will be at the highest bidders expense if they do not attend the lunch to collect it. Early bids will close at 5pm on Saturday 1 December 2018.
PNGAA member Jane Turner, a member of the group, kindly organised the quilt for us. Like many other groups around the world, this group contributes a lot to communities.
Jane tells us:
"We started out as friends meeting fortnightly for craft and then decided to make quilts for charity. When we made quilts to send to Queensland for the floods we realised we could not pay the postage so thought we would donate locally. We have donated to Snowy Hydro, Red Cross, Children with Cancer, Pegasus and any other charities we may hear about, especially where sick children are involved".
In fact, the group donated quilts to Mr Gordon Ramsay MLA, ACT, during his time on the Board of Uniting Care NSW-ACT from 2011-2016. Mr Ramsay spoke at the Rabaul & Montevideo Maru 75th Anniversary Dinner in 2017 and it was here that Jane had the opportunity to meet him. He spoke enthusiastically about the quilts and was most appreciative of the generous donations from them.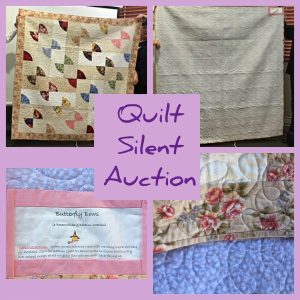 The motifs are butterflies hence the name "Butterfly Bows". This has particular significance when you consider the gorgeous butterflies that inhabit Papua New Guinea.
The Butterfly Bows quilt was first displayed at the Women's Panel Presentation in Sydney mid 2018. Those quilters who attended were impressed with the exemplary detail and design.
The measurements are as follows:-
161 cm x 160 cm or 63 1/2 x 63 1/2.
Funds raised will go towards our PNGAA Collection. Funds are needed for digitisation and for eventual display purposes.
PNGAA thanks the Canberra 'Broomsticks and Bobbins Quilters Group' for this generous donation.
All members and friends are welcome to attend the Sydney Christmas Lunch on Sunday 2 December, but please book by 17 November! See: https://pngaa.org/blog/2018/10/29/pngaa-christmas-luncheon-sydney/