Book review: March 2016
The Flying Kangaroo by Jim Eames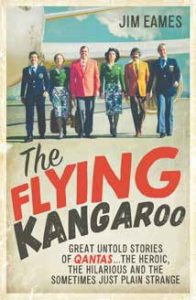 The Flying Kangaroo by Jim Eames
Published in November 2015 by Allen and Unwin. ISBN: 978 1 76011 355 1, Softback and eBook, 344 pages, Black and White Photographs. Available in stores, $29.99.
Description: The Flying Kangaroo celebrates the extraordinary characters, events and challenges that have made Qantas an Australian icon.
This is a book about the people who made Qantas such an icon during the years between the Second World War and the privatisation of the airline in the 1990s.
It's a story of a dedication to safety which would win the airline worldwide renown, along with the characters who made it a very Australian airline.
Much of that reputation was forged in Papua New Guinea in the late 1940s, 50s and 60s when Qantas played a major role in re-establishing the country's air services after the devastation of the war. It was a time of dangerous skies, long hours in the air flying repeated trips into the Highlands before the clouds closed in over the vital gaps in the mountains. It was a tale of primitive living conditions when, due to an almost complete absence of roads, just about everything went by air.
A chapter of this book is devoted to the Qantas New Guinea story, identifying some of the aircrew and support staff, many of whom would go on to play vital roles in the airline as Qantas continued to spread its wings worldwide.
It captures their humour amid the hardships, the necessity for the occasional calculated risk and the dangers that lay beyond dead end valleys, where a simple error of judgement could have fatal consequences.
But the main message from the chapter—perhaps fittingly titled Taim Bilong Balus—is the critical part such flying and operations contributed to the development of an airline which would go on to hold a unique place in the hearts of many Australians.
Beyond the PNG experience the book reveals other facts about the airline's operations in subsequent years, many told for the first time, from the top secret smuggling of a future Princess Diana back to London under the eyes of the media to frightening stories of near misses in the air. A must read for anyone interested in aviation in Australia and PNG.