75th Anniversary Service RABAUL and MONTEVIDEO MARU Group, Papua New Guinea Association of Australia Inc
RABAUL on Thursday 22 JUNE 2017
To remember all those lost in the New Guinea islands in 1942 the 75th anniversary service will be held on dusk at the Montevideo Maru and Rabaul 1942-1945 Memorial, Rabaul, Papua New Guinea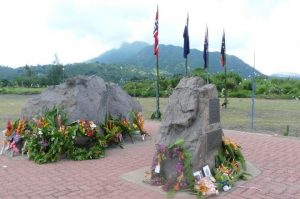 The PNGAA Rabaul and Montevideo Maru group together with the Rabaul Hotel/Rabaul Historical Society are commemorating this 75th anniversary of WWII in Rabaul.
Tours include historical sites.
Rabaul Hotel has put together a package including accommodation, meals, tours and transfers for five nights.
Cost: $350 pp twin share/double or $500 pp single per night.
Please contact Susie McGrade at Rabaul Hotel on email: susie@rabaulhotel.com.pg.
Airfares, drinks and any optional expenses are additional and to be organised and paid for independently.
Air Niugini – daily flights from Brisbane to Rabaul and return.
Three flights weekly from Sydney to Rabaul and return.
Download the flier in Word: Rabaul 75th Anniversary Event 22 June 2017
Download the flier in PDF: Rabaul 75th Anniversary Event 22 June 2017
Further information: admin@memorial.org.au
www.pngaa/org www.memorial.org.au
Facebook: Rabaul and Montevideo Maru Society
Facebook: Papua New Guinea Association of Australia