Kokoda Memorial Walkway Anzac service
Cheryl Marvell said that it was an honour to represent the PNGAA at the Kokoda Memorial Walkway Anzac Service today, 24 April 2021. The Kokoda Track Memorial Walkway is a principal site of commemoration honouring those who fought for Australia in WWII with a focus on Papua New Guinea. This annual service reflects much dignity and poignancy.
Various dignitaries attended including the Mayor of Canada Bay, Angelo Tsirekas, and the Consul General of PNG, Leo Oaeke. Also attending the ceremony was Alice Kang, Director of the Kokoda Memorial Walkway, who will be speaking at the PNGAA AGM on Saturday 1 May 2021.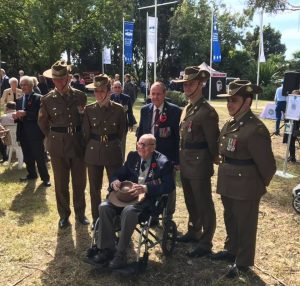 Of special significance were three WWII diggers who attended the service – aged 97, 100 and 104 years.
The Anzac address was given by Renee Wilson, War Widows CEO and wife of Gary Wilson, who was terribly injured in the 2010 Black Hawk helicopter crash in Afghanistan.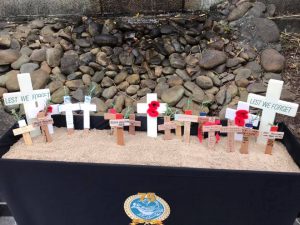 The day was shared with the War Widows Association who held their annual ceremony of planting crosses in a Field of Remembrance. These have been placed at St Andrews Cathedral for the last 64 years.
The War Widows crosses were named for loved ones. These were made by the men's shed at Haberfield. A few thousand were sent to families that could not make the day to place in their gardens.
Rhonda Vanzella, State and National President, also spoke on behalf of the War Widows.
Pupils from various schools including Strathfield North Primary School, Rosebank College, Abbotsford and Mortlake Primary Schools also participated and laid wreathes.
Wreathes were layed around the site.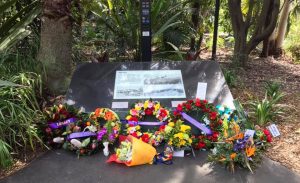 Cheryl said:
'Alice Kang, Director of the Kokoda Memorial Walkway, and the Mayor of Canada Bay, Angelo Tsirekas, who has walked the Kokoda Track eight times, were very welcoming and looking forward to seeing if we, PNGAA, can forge an alliance in the Canada Bay Council area.'