Working With NGOs in PNG—Global Pressures on PNG Culture Natalie Moxham (PNG Kundu March 2021)
I was first invited to visit PNG in 2010 and then again in 2011 by the Dutch funder, ICCO. I was to facilitate their national partners' meeting of some fifteen local NGOs. I flew into Kokopo, staying at the beautiful Kokopo Beach Bungalows, which was in its final stages of development. I facilitated this three-day workshop with mostly environmental local NGOs. After working most of my life in Indigenous/Aboriginal land management throughout Australia and in Timor-Leste, PNG was new to me. I knew enough about indigenous cultures to know that I didn't know anything about PNG.
I have always been passionate about the environment. I suppose this comes from my Dad dragging me up and down mountains of the Victorian alps throughout my childhood. He was a policeman who died when I was eleven. He definitely instilled a love for the bush in me.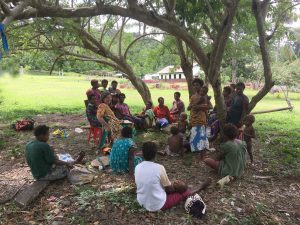 The second gathering was a year later in Goroka. I was struck by the 'power' that people gave me. Working throughout Central Australia with traditional Aboriginal people with the Central Land Council on Land Rights and Jointly Managed National Parks I was taught to be extremely humble, always eat last, honour and respect elders, put any white privilege in a box. Whereas, in PNG, I was placed centre and overtly honoured, asked to eat first. This was very confronting for me. As an 'empowerment' practitioner I had to learn quickly the black-white power relations and carefully work with them, never overstepping or over using my position.
I have been coming and going from PNG now for over ten years working with Anglicare PNG on their HIV AIDS program, the Centre for Environmental Law (CELCOR), Bismarck Ramu Group, the Eco Forestry Forum, the Bougainville Women's Federation, FORCERT (Forests for Certain Forests for Life), YUS Tree Kangaroo Project, Wide Bay Conservation Association to name a few. Most of what I am doing with these groups, although pitched as strategic planning, evaluation or organisational development, is to hear what these groups really want to do for their environment, custom and people—and then assist them to translate that effectively into language and values that their funders and international audiences will understand. Here, as people with experience in PNG will know, is the task of working with people to deeply value and appreciate their own way of life and customs so that they have pride in their identity and culture. My PNG friends call it self-reliance.
For me it is a sense of agency for cultural, and for that matter biodiversity, survival. Perhaps my conviction comes from the juxtaposition of working with Aboriginal Australians that have lost so much culture and the trauma that that has led to, and then seeing the deep and rich culture of PNG and the rate of global influence threatening that.
One of the highlights has been visiting the villages of East Pomio in Wide Bay, East New Britain. A six-hour dinghy ride from Kokopo. Here I was able
to go around the bay in a dinghy visiting each village for a day. Many people in these places did not recall a white woman having ever come to their village. I think one community built me a toilet and repaired a road and vehicle for me. They drove me 500 metres to the community gathering. Such a spectacular place.
Now, ten years later I am feeling that I have a better understanding of the sensibilities of PNG culture and the tensions between biodiversity responsibilities held by custom, the church and religion, and PNG's national government structures. I am now wondering what more I can do as an Australian, with my PNG friends to help them protect their biodiversity, celebrate their culture and manage global pressures. I'd be interested in hearing from others that might also be thinking on this. My email is natalie@leanganookyarn.com and mobile +61 (0) 448 372 466.
Biography:
Natalie is the principal consultant for Leanganook Yarn, a small organisation that works in design, evaluation, facilitation and participation. She is an inspired change maker working in intercultural spaces drawing on empowerment approaches. With over thirty years of experience she undertakes facilitation work in community development and environment contexts, both internationally, and in Australia with First Nations people, NGOs and the Australian Community, and Government sectors. Natalie is passionate about authentic processes that enable us to be our best, and bring about grounded change. With her partner and two children she lives on DjaDjaWurrung Country in Central Victoria, Australia.