Vale – Una Voce June 2017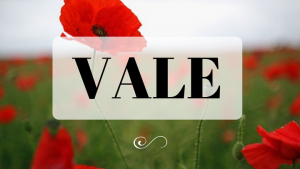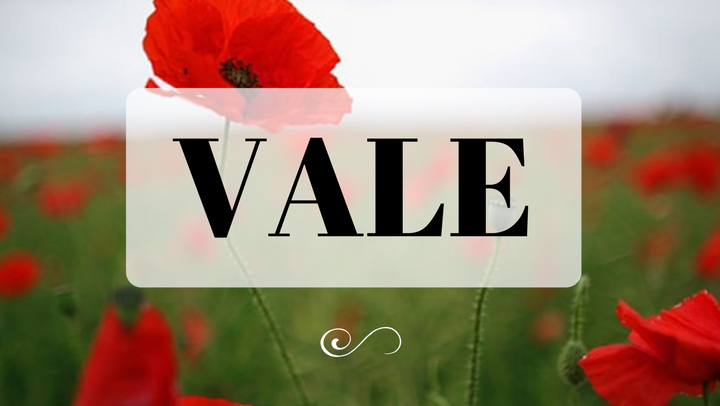 BREDMEYER, Theo | HUHUME, Susan Karike | KENNEDY, Leo William (Brother Iggy) | Marett, Terence L

BREDMEYER, Theo
D. 25 September, 2016
THEO BREDMEYER'S STORY
In the Vale section Una Voce December 2016, there was a brief tribute, from the Supreme Court of WA, to Theo Bredmeyer, who had died in September 2016. As this did not tell the life story of this truly remarkable man, who gave so much of his life's work to PNG, I have written the attached article, with the encouragement and help of his widow Audrey.
by Neville Threlfall
Theo Bredmeyer was born at Perth, Western Australia, in 1940, and was educated at North Perth State School and at Perth Modern School (the latter was a selective school, only entered by winning a scholarship). He studied Law at the University of Western Australia, and graduated LLB in 1961. After serving his articles and working in a law firm, he came to the Territory of Papua and New Guinea in late 1964 and worked in the land section of the Department of Crown Law, involved in land litigation concerning the restoration of titles to the Torrens system register, which had been destroyed during World War 2. In 1966, he went to England and gained the degree of Master of Laws at London University; later he attended the Australian National University as a Visiting Fellow in the Department of Law in the Research School of Social Sciences, preparing academic papers and commencing work on a Doctorate of Philosophy. During this time Theo married Audrey Rutledge, a New Zealander, who was teaching at the PNG Dental College. They had two children, a daughter Avianne and a son Mark. (Avianne is now a lawyer, making the third generation of the Bredmeyer family to serve the law, as Theo's father Reginald served on the staff of the Supreme Court of WA and became Deputy Sheriff.)
Theo returned to PNG in 1972 and was appointed Deputy Crown Solicitor in Rabaul. In 1976 he was appointed Senior Magistrate, and in 1980 he a became a Justice of the National and Supreme Courts of PNG, serving in this capacity for ten years. This involved hearing both civil and criminal cases, in Port Moresby and in regional centres. During this time he completed his Doctoral thesis on The Registration of Land in the Mandated Territory of New Guinea, and received his PhD. In 1984, he was made a Commander of the Order of the British Empire for services to law.
Theo and I became firm friends in Rabaul, and he gave great encouragement to my writing of Rabaul's history and checked some drafts. At his request, I read his PhD thesis before it was submitted.
In 1990, the Bredmeyers left Papua New Guinea for Western Australia. The position of Master of the Supreme Court of WA was vacant; but a requirement for appointment was to have served in law in WA for five years. Theo's qualifications were so impressive that the law was amended to allow the obligatory five years to have been served elsewhere than WA, and Theo was appointed to the position. The Chief Justice of the Supreme Court later called this change in the law "The Bredmeyer Amendment". During his time as Master of the Supreme Court, Theo did further studies at his old alma mater, the University of WA, and gained his fourth degree, Bachelor of Arts. At his retirement from the Supreme Court in 2002, legal leaders paid tribute to his "extraordinarily wide knowledge and sure grasp of all areas of the law of practice and procedure", and his "great courtesy, tolerance and patience". It was noted that few appeals were made against his decisions, and fewer still succeeded.
Theo died on 25 September 2016, mourned by Audrey, Avianne, Mark and other family members, and by many friends from his Australian and Papua New Guinean days. Among the 500 people at his memorial service in Subiaco, WA, were Papuans and New Guineans who spoke in Motu and Pidgin, thanking him for staying on after independence and giving legal guidance to their nation. Meanwhile at Chatswood in NSW members of the former Rabaul Chinese community had a special mass said in the Roman Catholic church to remember and honour Theo.

HUHUME, Susan Karike
D 11 April 2017
Grand Chief Sir Michael Somare, while addressing the crowd during his final farewell this afternoon, acknowledged the contribution of late Susan Karike Huhume.
"I want to also acknowledge the passing of Susan Karike Huhume who designed our flag, and who passed away yesterday. I thank her and her family, for the contribution she made to PNG. "The flag flies all over the world, they see the Bird of Paradise, the colours and stars depicting where we are," he said. He passed his condolences and that of his wife, Lady Veronica, to the family of the late Susan.
Posted by Gloria Baua, April 12, 2017

KENNEDY, Leo William (known as Brother Iggy)
B 1931. D. 28 January 2017
Hawks stalwart & PNG educator for 27 years
By John Murray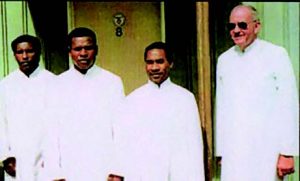 The unexpected death on 28 January of Leo William Kennedy, known in the De La Salle order as Brother Ignatius, brought to an end over 60 years of religious life dedicated to teaching. 'Iggy' (seen here with three De La Salle brothers) as he was known to thousands of pupils over 60 years, had retired to the Brothers' home in Cronulla, Sydney, only in 2013, after returning from Papua New Guinea where he spent 27 years as a teacher and mentor.
Born in Melbourne in 1931, Iggy was a member of the Kennedy clan renowned for its contribution over three generations to the famed Hawthorn Australian Rules club. His elder brother John was team captain from 1955 to 1959 and later coach, taking the Hawks to five grand finals and three premierships. John's son also played for Hawthorn as did his grandson Josh before moving to his present role with the Sydney Swans.
During Iggy's first teaching appointment to De La Salle in Coogee, NSW, a rugby union playing school, young students were astounded by the manner in which their new sports coach could kick a rugby ball from one end of the field to the other. They were puzzled at how, instead of standing with two feet planted on the ground and elbows tucked firmly into the ribs while waiting for a kicked ball to arrive, Iggy would leap upwards to grab it from the sky well beyond the reach of stationary players. In those days, rugby players rarely jumped up even in lineouts.
After terms at Australian country and urban schools from 1952 to 1984, Leo was sent as principal to the Brothers' high school at Bomana near Port Moresby where he remained from 1985 to 1993. The following year he moved to Mount Hagen where he was to stay until 2012, involved in teacher training at Holy Trinity Teachers College, which has produced over 1,000 teachers now working throughout PNG.
Even in retirement back in Australia, Brother Iggy was grateful for the love of his religious community, his unflagging enthusiasm for the Hawks and the endearment of the many people he had met and befriended over his years in PNG. That the latter friendships were reciprocated was evident at his funeral when a group of Papua New Guineans in traditional dress sang in harmony while a PNG flag was draped over Iggy's coffin. Just a month before his death, he had been eagerly preparing for a return visit to PNG but instead his life was to be commemorated by a series of masses in the four regions of his beloved adopted country.
UV: This post from Keith Jackson & friends: PNG Attitude was brought to our attention by Patrick Bourke, citing the "passing of my School Principal at De La Salle College, Dubbo". Thank you Patrick.


Marett, Terence L
Born Melbourne 24 Sept. 1942, Terry died peacefully at home in Melbourne 28 February 2017 with family and friends around him.
He moved to Mount Hagen in 1968 to work for the Catholic Archdiocese as a qualified plumber. He then moved to Erave [SHD] and worked on the new quarters being built by the Catholic Mission Franciscans. Here I met him as a fellow volunteer teaching at the mission. Good memories of times in Erave include dining and social drinks with John & Jenny Hicks at their government residence.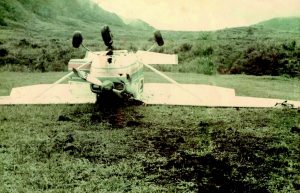 In 1968/69 Terry and I and a friend Graham H Bamford set up trading posts in Poroma, Nipa and Margarima firstly in tents while bush-materials house/stores were being built.
All provisions were freighted in by plane from Mount Hagen; one Cessna [VH-GKM] landing upside down in Poroma with Terry and I, two pilots and a full load of trade goods in it!
Terry and I next moved to Tari where we bought Greg Rheinberger's business. Shown here before it was re-clad and branded with our name "Supiri Trading Company".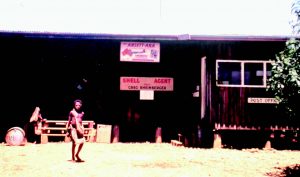 We spent 3 years or so running the local store/Airlines/Fuel and Post office (including radio telecommunications (RTC)). Here we socialised with many Administration staff including Chris Warrillow, John & June Wiltshire, Peter & Liz Andrews, Joe & Jan Chapman , Brian & Penny McMahon and three Peters – Fairey, Sandery & Connick.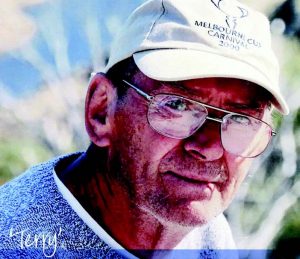 In the early seventies, there was no vehicular road into Tari and everything had to be airfreighted in, including machinery, vehicles, building materials, fuel and foodstuffs other than fresh vegetables.
However, Terry did manage to bring in a new Land Cruiser from Mt Hagen overland which took a long time as he and his crew had to build bridges and corduroy road stretches and camp in the cold of the Tari Gap which has an altitude averaging almost 9000ft ASL. He came through and we welcomed him and the new ute in Tari.
Terry was a friend to all, he socialised with ease among Government and mission personnel. He took part in daily telegram and radiophone calls on the P&T "Crammond" and the T.A.L. two -way with Mount Hagen and many other stations in the Southern Highlands.
In 1972, the business was sold and Terry returned to Australia. He spent some time on a crayfish trawler in Tasmanian waters. Terry married Christine in November 1989 and they had their daughter Kiara in August 1991. For eight years he was a Regional Manager for the TAB and then became an agent for 19 years prior to retiring in 2006. He was a lifelong Brisbane Lions [Fitzroy] supporter; he was born in Clifton Hill.
Gerard Yates