Vale – Una Voce Sept 2016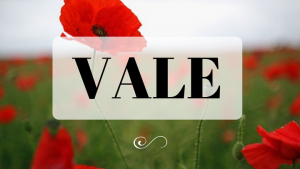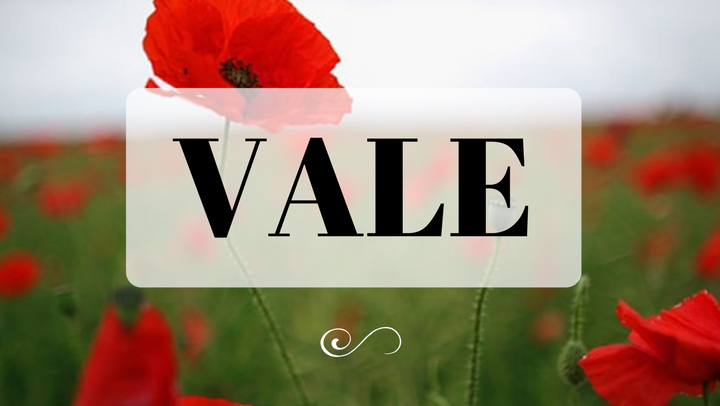 BIGNOLD, Miss Violet (Vivi) OBE; | DESAILLY, Robert Neil; | EGGLETON, Michael Leslie James (Mike); | Farquharson, John; | Finter, Keith; | Foley, Pamela; | HOLMAN, Hal; | NORTON, John Edgar; | O'ROURKE, Maureen Frances; | ROWE, Stanley Ernest Barry; | SPELDEWINDE, Wilhelm; | TAYLOR, Shirley Betty

BIGNOLD, Miss Violet (Vivi) OBE
29 July 2015
Vivi was born on 6.9.1914. Her parents were Hugh and Nellie Bignold of Kirribilli. She attended school at S.C.E.G.S Darlinghurst during which time both parents died when she was only 15 years old. Her only sibling was her brother Esmé. After school, Vivi trained to be a nurse at Prince Alfred and Crown Street Hospital. In 1940 she joined the 2/5th AGH and sailed on the Queen Mary for the Middle East. She served in Greece, Crete, Palestine and others for six years and later returned to Australia. Vivi visited her brother who was a judge in PNG and subsequently joined the Health Department's Maternal and Child Health (MCH) section. During the next 20 years she became Senior Matron and travelled the Territory widely visiting and advising all the mission training schools and health clinics and centres. She was much loved and admired by all the mission Sisters, expatriate Sisters and local nurses and thoroughly enjoyed her work. Vivi served on a number of committees and was awarded the OBE in 1970 for her work among mothers and babies in PNG.
She returned to Australia in 1973 and enjoyed an active life first doing the Rubella Injection Campaign in schools and then Meals on Wheels then Dial and Angel for a number of years. Music Concerts were much enjoyed. Vivi passed away peacefully in the Kokoda Hostel of the War Veterans Home, Narrabeen. Obituary supplied by Mary Westbrook

DESAILLY, Robert Neil
4 June 2016
Robert Neil Desailly was born and raised in Bairnsdale, Victoria. His preferred name was Neil. He enlisted in the Navy during WWII, serving on the Farmulet, Koala and the Quickmatch. After the war a program for ex-servicemen found Neil being trained as a business machine mechanic. However, he yearned for more and headed to the Northern Territory to take up mica mining. After 2 years of very hard work and not much gain, he found himself back in Melbourne.
In 1949, after a 10-week course in Sydney, Neil became a Cadet Patrol Officer. His first posting was Samarai, followed by Misima. In 1951, as a Patrol Officer, Neil was posted to Goroka, then Henganofi and later Wewak. In 1954 he went to ASOPA to undertake a diploma for patrol officers, gaining that in 1955. Neil's next postings were Lae and Telefomin. In 1958 he was posted to Koroba in the Southern Highlands as an Assistant District Officer.
Neil married Bernice McBride, a long-time friend, whilst on leave in 1961 before returning to Koroba with his family. In 1962, Neil was posted to Tari and 2 years later, Kundiawa. With an increasing interest in law he commenced a law degree by correspondence from the Unversity of Queensland. Neil was promoted to resident magistrate in 1966. In 1970 the family went to Port Moresby, where Neil was appointed a Magistrate in the Central Court. He completed his legal degree in 1972, before leaving Port Moresby to return to Australia in 1975.
Upon returning Neil spent 6 months undertaking further legal workshop studies before being admitted as a Barrister and Solicitor in the ACT. However, rather than set himself up in a law practice in the later stage of working life, he modestly chose to learn the ropes by working as an overly qualified clerk for a Sydney firm.
In 1978, he took a position at the University of Technology, as a Lecturer of Law. In 1982 he co-authored with Nicholas O'Neale on the publication of 'The criminal jurisdiction of magistrates in Papua New Guinea'. Neil and Bern retired to Killcare in 1988. Neil joined the Killcare Wagstaff Trust and also volunteered at the Maitland Bay Centre from 1998. He was widowed in 2001. In 2002 he joined a local Landcare group clearing weeds from the National Park in the Maitland Bay area. Neil continued his weekly weeding activities until 2014. Shortly after celebrating his 90th birthday, he relocated to live with his daughter in Boorowa, NSW.
Neil is survived by his daughter Peta, her children and grandchildren, his nephew Peter and nieces Elizabeth and Margaret.
Supplied by Chris Jackson.

EGGLETON, Michael Leslie James (Mike)
25 August 1941 – 25 March 2016
Mike was born in Derby, England on 25 August 1941 and migrated to Australia with his family in 1958. His schooling was in Nicosia (Cyprus), Rochester (UK) and Crows Nest High School in Sydney. On leaving school Mike became a trainee land surveyor for four years. In 1964, seeking a change of career, Mike applied to become a trainee teacher in the TPNG Teaching Service. Unfortunately, his application was received too late for inclusion in that year's intake so he successfully applied to be a Cadet Patrol Officer, commencing at ASOPA on 9 November 1964.
On arrival in the Territory, Mike's first posting was to Mendi in the Southern Highlands where he was kept, by the District Commissioner, to exploit his surveying skills for many land acquisitions. His first real patrol was with D.O. Jim Kent when they carried out basic survey work on a road route from Erave to the Kikori River in early 1966 as a follow-up to a similar patrol conducted by Chris Warrillow a year earlier. Chris asked for Mike to be posted to Erave and thus he conducted another three patrols from that station. After his first leave Mike was posted to Komo Patrol post, initially with Mike Press, and conducted a number of arduous patrols. Following his second leave Mike was, in 1969, posted to the Western District and spent time in both Olsobip and Ningerum from where he continued to accumulate days on patrol. A second term in Western was spent mostly at Morehead as ADC and earning him the title Morehead Mike. In 1973 Mike continued his anti-clockwise transfers around western Papua and brought his new bride, Narelle to Kikori in the Gulf Province. After a term as ADC (and over 10,000mm of rain later), Mike became ADC Kerema in 1975. It was in that position that Waigani finally decided that Mike had 'done his share' and deserved a small reward! Thus, after Independence, Mike was posted to the Madang Province and was appointed as Executive Officer to the Administrative Secretary as District Commissioners were now known. The Secretary's role became more associated with being the senior public servant and as a result, Mike was appointed Chief Liquor Licensing Inspector.
At the end of 1980 Mike, Narelle and their children, Kim and Linda returned to Australia to start a new life. Initially moving to Sydney, they made their home on the Sunshine Coast. Unfortunately, Mike contracted a debilitating condition in recent years but was well enough to attend last November's Kiap Reunion where he caught up with many of his friends. Everyone who knew Mike respected him immensely for his fairness, integrity and forthright personality. Rest in peace, mate, we will miss you. Obituary supplied by Ross Wilkinson.

Farquharson, John
June 29, 2016. Age 87
John Farquharson born September 7, 1929. As parliamentary reporter for the Canberra Times he covered stories from the defection of Russian spy Vladimir Petrov, and the sacking of the Whitlam Government. He also spent a few years in PNG back in the 1960s helping train local journalists. Tony Eggleton described John as "a truly outstanding and distinguished journalist whom I have admired and respected over half a century. A fine writer and a good friend".
There is a very full obituary in the Sydney Morning Herald on 5 July 2016 titled John Farquharson, journalist who covered the most dramatic news stories'' and in Canberra Times on 8 July 2016 headed Eyewitness to historic events. Supplied by Don Hook.
Further information HERE.

Finter, Keith
3 July 2016
Keith Finter, electrical contractor, has passed away aged 89 years. For over 40 years Keith owned and operated Rabaul Electrical Service (RES), an electrical contracting business in Rabaul, East New Britain Province, Papua New Guinea (PNG). The twin volcanic eruptions of Tavuvur and Vulcan in September 1994 destroyed the central business district of Rabaul town and showered the outskirts with ash. Keith made the decision to close RES and retire to Brisbane. At the time of closure, many of Keith's employees had been with him since the very early days. Keith inspired loyalty in those who worked with him.
Keith was born in Gladstone, QLD on 30 March 1927. His mother Lily (Leila) Mercy Page lived until aged 100 and his father, Jack Finter, a train driver, died when assisting at a train accident when Keith was 16. His older brother Jack died in 2006.
Keith spent his early years travelling between Gladstone, Roma and Brisbane before finishing his primary schooling in Coorparoo, QLD. Keith completed his secondary schooling at State Industrial High in Brisbane, did an electrical apprenticeship with Les Burley Electrics and then worked as a tradesman at Claude Neon Pty Ltd.
In the early 1950s Keith moved to Rabaul to work as an electrical contractor. His particular expertise was rewinding motors; which was highly sought after in Rabaul and its surrounds, as most establishments needed to be self-sufficient in providing power for their business needs. Keith also rewound the motors of many ships and large vessels which came into the Rabaul Harbour. For many years Keith and RES maintained the generator and electrical needs of the Toboi Oil Mill owned by Coconut Products Pty Ltd (CPL) a division of the WR Carpenter (PNG) Group of Companies. CPL is the largest buyer of copra in PNG and the main copra buying point is the Toboi Oil Mill. The Mill purchases and processes copra, and exports coconut oil all over the world. It was a testament to Keith's skill that he and RES serviced the Mill for so many years.
Keith and his friend Bill Gray founded RES in the early 1950s. Keith and Bill initially operated their business from a bench under a tree at the end of Mango Avenue, in the vicinity of Burns Philp & Co. Ltd and the Yacht Club. RES was eventually located on Malaguna Road at the base of Tunnel Hill until it closed in 1996. Keith serviced many local businesses and plantations in the Rabaul and Kokopo areas as well as in other parts of East New Britain, West New Britain, New Ireland, KarKar Island and Bougainville Island. Over the course of 40 years Keith employed a number of Australians as well as many local Papua New Guineans.
On 21 January 1967, Keith married Elizabeth "Betty" Fenwick (nee West). Betty was born in Madang, PNG and educated in Brisbane. She returned to Rabaul in 1949 where she was employed as a nurse for the Public Health Department, before commencing work with Keith at RES. Betty had been widowed on 28 March 1963, when the MV Polurrian, sank in the Solomon Sea en-route to Rabaul from Bougainville Island. Up to 80 people including Captain Peter Fenwick lost their lives in this terrible tragedy. Consequently, Keith became father to Betty's 4 children: Ewen, Roderick, Judith and Deborah (who was also Keith's Goddaughter). On 25 January 1968, Keith and Betty were blessed with the birth of their daughter Sophia.
All of Keith and Betty's children attended primary school in Rabaul before going to boarding school in Australia for their secondary education. Rabaul was an ideal environment for raising children; it was a tropical island paradise where the children could take a boat to a remote island, fish, scuba dive, water ski, play in rainforests, waterfalls and fresh water rivers, and explore caves and sea wrecks for traces left by the Japanese during their Rabaul occupation in World War II. During his time in Rabaul, Keith lived in Rabaul town, by the beach at Paluat, Nonga Road (past Nonga Hospital) on the way to Tavui, and then later by the beach at Vunagam, Kokopo Road, near Raluana Point. Having his family at Paluat was rich and rewarding with many social and family occasions spent together, having picnics at the beach front and BBQ's at the main residence.
Keith (R. W. Brother K.N. Finter, P.S.G.W) had a longstanding association and involvement with the Freemasons. He joined Newtown Lodge 363, U.G.L.Q. in 1949. In Rabaul Keith continued his Masonic interest and was a member of Rabaul Lodge 449, U.G.L.Q. until the chapter closed, and Rabaul Lodge 4468 E.C. until he left Rabaul in 1996.
Keith and Betty retired to Brisbane in May 1996, where they lived between Brisbane and Maroochydore. Keith was highly regarded throughout his personal and business life as a gentleman, skilled in his trade, kind, generous and always available to assist others less fortunate than himself. He will be forever adored and missed by his wife, 5 children and their partners, and his 9 Grandchildren.

Foley, Pamela
D.30 June 2016
Pamela was an Army nurse and one of the first women to travel to PNG after WWII. She married Mick Foley (DDA) and was mother to five children – Kerry (deceased), Christopher (deceased), Catherine, Mary, Peter. Sister to Ann-Marie Bakewell. Loving grandmother and great-grandmother. Deputy President, PNGAA. Made a life member 1/5/05 for her contribution of 30 years. Long outstanding service to ROAPNG/PNGAA
Pamela was a loyal and devoted member of the PNGAA, joining the management committee in 1982 as Assistant Secretary, and Deputy President in 1996. Pamela, together with Joe Nitsche, organised many of the enjoyable PNGAA AGM and Christmas lunches at the Mandarin Club. She took on the role of Secretary in 2002 and remained on the committee until early 2013. Her contribution over 30 years was recognised when she was given Life Membership of the Association.

HOLMAN, Hal
20 June 2016
Hal Holman OL OAM, soldier, artist & designer, dies at 94
Hal Holman, who was awarded significant honours by the governments of both Australia and Papua New Guinea, has died on the Gold Coast aged 94. He was a prodigiously talented artist and sculptor who devoted much of his life – and his art – to Papua New Guinea; his achievements including the design of the national crest and major influence in the design of the PNG flag.
After war service as a commando in New Guinea, which included operating behind Japanese lines on the mainland and being attached to the American marines who landed in New Britain, Hal used his Army demobilisation grant to earn a Diploma of Art at East Sydney Technical College. Soon after he travelled to India and spent three years as art director for the Advertising Corporation of India in Calcutta, Madras and Bombay.
Upon returning to Sydney, Hal worked for six years in the film industry: designing sets and working as an animator on 13 short films. During these years he began portrait painting and created a number of murals including four at the Shoal Bay Country Club Hotel in NSW – which, upon its old building being demolished in 2008, commissioned him to recreate them for the new hotel.
Hal moved to Port Moresby in the early 1960s, initially employed as an illustrator in the Department of Education, where he and I worked together for the first time – Hal designing and drawing, me writing and editing. He was promoted to the position of Senior Artist for the PNG Administration, in which role he designed the national crest and was influential in the design of the national flag. He also designed, drew and illustrated innumerable maps, posters, pamphlets and publications while continuing to produce portraits and other works, his paintings of birds of paradise and other PNG creatures were especially striking. During this time, he also designed the uniforms for the Royal PNG Constabulary Band.
After leaving PNG just before independence in 1975, Hal turned his attention to sculpture, but continued to return regularly to PNG to work on a range of artistic assignments. From the 1980s until the early 2000s, his output included a one-tonne metal national crest for the supreme court building, bronzes of six PNG prime ministers, a bust of Queen Elizabeth II and many examples of public sculpture including a magnificent fountain near parliament house.He also worked on many commissions in Australia and his public artwork – including sculptures, fountains, fences and other built design – abounds in Sydney and the Gold Coast, including the famous mermaid at Mermaid Beach in Queensland, pictured above.
In 2004, Hal and I were awarded Orders of Australia on the same day at Government House in Sydney. And in 2009, in the company of his family and mates, Hal was formally invested into one of PNG's highest awards, Officer of the Order of Logohu, by High Commissioner Charles Lepani. Hal and I began working together in 1966 and we enjoyed a fine friendship over the following 50 years. Hal is survived by his wife Jo, son David and daughter Lisa. So very well done, my dear friend, so very well done. Obituary supplied by Keith Jackson. Full obituary posted on www.pngaa.net

NORTON, John Edgar
20 April 2016, aged 87 Years
John's father was Charles Edgar Norton. He served with distinction as an officer in the British Army in the first world war. After the war, he joined the Indian army for a further four years. The army offered resettlement, he chose Australia, and arrived with his wife Grace in 1924. They settled on land at Balmoral in the Western District of Victoria. John was born there on 31 October 1928, the fourth of six children. Then the depression hit, the economy collapsed, sheep farming became a day to day proposition. Mindful of the children's schooling, the family moved to Melbourne.
John attended the University High School and gained his matriculation. He applied for a cadetship as a Patrol Officer in PNG, was accepted, and landed in Port Moresby in 1949. Thereafter, he served in the Bougainville, New Britain and Madang Districts of New Guinea and the Northern and Western Districts of Papua. When working in Rabaul he met Margaret Joy Smith who was a senior nurse at the Namanula hospital. John and Joy were married in Sydney whilst he was attending the Long Course at the Australian School of Pacific Administration at Mosman in 1954/1955. They had three children – Stephen born on 12 December 1955, Michelle born on 21 April 1957 and Rebecca born on 10 March 1962. All of the children spent their childhood and received their primary education in PNG.
John was a competent field officer of the Department of Native Affairs. He did have a bit of a reputation of being prickly and somewhat difficult to get along with among some officers. He was a perfectionist and firmly of the belief that if a job was worth doing, it was worth doing well. He was posted to Headquarters at Konedobu in 1970. In the period 1949/1974, he had progressed from Cadet Patrol Officer to Deputy District Commissioner/ District Inspector. He had devoted 25 years of his working life to PNG and its people.
John is survived and sadly missed by his sons Stephen and Peter, his daughters Michelle, Rebecca and Jacinta, his brother Mark and sister Christine and their families.
Details provided by Stephen Norton, Mark Norton and Ken Hanrahan.

O'ROURKE, Maureen Frances
20 JUNE 2016
Maureen was born on the 16th April 1938, the eldest child of Cecil and Eileen Shorthouse. Her brother Kevin followed in 1939, Lynette (Larkin) in 1942 and Geoffrey in 1947. Cecil had joined Steamship Trading Company in 1935 and had brought Eileen to Moresby as a young bride.
In December 1941, shortly after Japan entered the war and was threatening Papua and Guinea, the decision was taken by the then separate Administrations to evacuate women and children and over-age men to Australia. Eileen was 7 months pregnant with Lynette when the family embarked on the SS Katoomba on 20 December 1941. They were given 24 hours' notice and could only take one suitcase of personal effects with them. Males of eligible age, including Maureen's father, were inducted into the Army early in 1942.
On arrival in Sydney they lived with Eileen's mother for some months until allocated Government found accommodation at Maroubra. Their next-door neighbour was Tilly Devine, of dubious underworld fame, whom Maureen described as being kind to her and sister and brother. Maureen returned to Moresby in 1946 where she finished her education with the Ela Beach Catholic Nuns.
A committed participator in group activities and sports, Maureen at age 11 years was the youngest ever Girl Guide Patrol Leader to represent Papua New Guinea at the International Girl Guides Camp at Narrabeen Lakes in 1949. A competent sportswoman, she represented Papua on many occasions in basketball against New Guinea, was captain of the S.P. Brewery team for a number of years and was more than handy at softball and tennis.
Maureen joined the Commonwealth Department of Works as young teenager and remained with the Department until her departure from PNG in 1966. She was Personal Assistant to the Accountant, Bert Bandy, at the time.
Maureen married prominent basketball player and Rugby League footballer – DCA and Papua – George O'Rourke in 1957. George held a senior position with the South Pacific Post (subsequently The Post Courier). In 1966 they left Moresby to start a new life in the private sector in Guyra (New England Tableland) where they remained until 1984 and where their three sons Craig, David and Paul were born. Maureen was very active in the Guyra community during this period. Thereafter, they moved to Brisbane for a final working stint before retiring to Caloundra on the Sunshine Coast in 1998.
Maureen is survived by George, their three sons, brothers Kevin and Geoffrey and their extended families. Her sister Lynette predeceased her in 2004. A large number, including many ex PNG friends, attended her Requiem Mass funeral at Our Lady of the Rosary, Caloundra, Qld.
Bamahuta Maureen, ai laloaboio lasi oi. (Goodbye Maureen, we will not forget you.)
Derek Baldwin

ROWE, Stanley Ernest Barry
(Further information in following issue)

SPELDEWINDE, Wilhelm
18 May 2016.
(Further information in following issue)

TAYLOR, Shirley Betty
26 May 2016 aged 89
Shirley, a Kiap's bride, married Patrol Officer Graham Taylor during his Long Course studies at ASOPA in 1954 and with baby daughter Susan, the newlyweds were posted to Kokoda late in 1955. In 1958, with a second daughter Kathy, Shirley and Graham moved to Graham's new posting at Konedobu in Port Moresby where, following his resignation from the Administration, Graham joined the ABC as the first Director of the ABC's Indigenous PNG Radio broadcasting service. In 1962 the family moved to Rabaul where as Regional Manager Graham established the ABC's Regional Radio Station 9RB. In 1964, with a third daughter Robyn Graham was appointed ABC Foreign Correspondent in South East Asia and the family moved to Singapore. Shirley and Graham and their three daughters came home to Australia in 1968 with Graham engaged in senior corporate management levels of the ABC. In 1972, with a recently born son John, the family moved to Adelaide where Graham became the ABC's General Manager in South Australia and the Northern Territory, retiring in 1987 to become Director of the Foundation of Flinders University. In the years since then Graham and Shirley together played a prominent role supporting the activities of the SA members and friends of the PNGAA and other arts and cultural activities in South Australia. Their children Susan, Kathy and Robyn live in Adelaide; John in Sydney; and there are ten Taylor grandchildren and two great grand-children