Vale – Una Voce March 2016

Dorrie Allwood | Colin Robert Benton | Jim Birrell | John Roy Hartley Burnell | Stanley Lionel Burton | George Cockram | Brian Costello, Elizabeth Foulger | Peter Gabriel | John Matthijs Theodor Groenewegen | Alexander (Sandy) McNab | Bob Oatley | Bruce Reid | Pat Riddel | Peter Ryan | George Dixey Straughen

Bob Oatley OAM, 10 January 2016, aged 87
Bob Oatley was a well-known businessman, winemaker and owner of the 30-metre supermaxi, Wild Oats XI. He spent many years travelling throughout PNG and made many friends. From the 1950s to the 1980s he worked firstly with the trading company, Colyer Watson and then with his own company, ANGCO.
Bob Oatley was born on 11 June 1928 and lived in Mosman. The now-exclusive Sydney suburb was regarded as working class in those days. He was brought up by a maternal aunt after his mother died of melanoma about a year after he was born.~
Last year Forbes Magazine ranked Mr Oatley as Australia's 34th richest person, with a net worth of $910 million. Though he is best known for his yachting exploits, he originally made his money trading in PNG coffee and cocoa, then in wine. Oatley's business acumen was evident right from the start when, at the age of 15, he was hired as an office boy by RA Colyer of Colyer Watson Trading in Sydney. Colyer quickly saw his potential and took the teenager under his wing. The pair later launched a very successful coffee and cocoa export business from PNG. In 1958, at the age of 30, Bob became the head of Colyer Watson's New Guinea coffee trading division and in 1963, Mr Colyer offered him the opportunity to be a partner in a new company, ANGCO, to control coffee and cocoa operations in New Guinea. Although Bob never lived in PNG he travelled frequently and extensively throughout the country.~
Bob had great success as an exporter of high quality PNG coffee and cocoa beans. The new PNG government saw the potential of the business and moved to take control of the nation's coffee and cocoa production. By independence in 1975 it had bought out ANGCO, retaining him as services manager for the next decade. In 1984 he received the British Empire Medal for his service to PNG's economy.~
Bob also got into the wine business in a big way. From its establishment in the Hunter Valley in 1969, he built up Rosemount Estates to a value of $1.4 billion before selling it to Southcorp in 2001.~
In 2014 he was appointed as an officer of the Order of Australia (AO) for:
'his distinguished service to the Australian wine and tourism industries, to the sport of yacht racing, and to the community as a supporter of medical research and visual arts organisations'.~
Bob's philanthropy was low key but extensive. He focused on the fields of sport (sailing and equestrian), medicine and art.~
His generous donation to the Rabaul and Montevideo Maru Memorial was made on behalf of the late Mr RA Colyer. It was in memory of Bill Spensley who lost his life in the events following the invasion of Rabaul in 1942.~
Interview with Bob Oatley, Ocean 44, July 2012
'Bob Oatley tribute on behalf of Mr Colyer in memory of Mr Spensley', Rabaul and Montevideo Maru Society, Memorial News, September 2011

Brian Costello, 13 October 2015, aged 85
When Brian asked Nigel Stingel to read his eulogy, he told him not to be silly. After all the stories he had told him, Nigel felt Brian would live for ever.
Brian loved to tell tales of his adventures and I wish I had written them down. From telling employers he was older than he was to earn more, to making batteries in a Sydney factory, to riding the latest motor bikes across town to deliver them to the Police, to borrowing a hand saw and tool belt to help build a hospital in Geraldton even though he wasn't a builder, to putting a whale in the back of a DC3 to fly it to Sydney from PNG. (The whale story may have been a bit of a tall tale.)
Brian was born on 21 June 1930 in Manilla, a small town north west of Tamworth, NSW. After completing his education at St. Joseph's Convent School in Manilla, he joined Stoddard and Hayward, a local merchandising company where he gained considerable experience in various retail departments.
He was interested in Rugby League and boxing. When he left for Sydney in 1948, he was keen to continue boxing but the professional side of the sport lost its appeal after months of rigorous training. He joined the Guildford Rugby League Club, playing 'A' Grade was appointed Captain / Coach in 1952.
Brian went to PNG to work for the Australian Petroleum Company, then joined Steamships Trading Company in Port Moresby. He married Patricia Wood in 1956. They had two children, Peter John and Kim Lianne.
When Qantas withdrew from PNG in 1960, Brian (through Steamships) assisted Ansett Airlines to set up their sales office in Port Moresby. He accepted a position as a Traffic Officer and later became Manager in Lae.
In 1968 Brian returned to Port Moresby as Airport Manager and in 1969 became Ansett Airlines of PNG Manager for Madang. After three years, Brian returned to Port Moresby where he remained as the Manager of Ansett Australia after the formation of the Air Niugini in 1973. Brian also had other company interests and he was appointed as an assistant to Dr. Harold Poulton, Ansett's executive commissioner on the Papua New Guinea National Airline Commission.
In PNG Brian played league Magini's, based in Port Moresby, from 1955-59. He was Vice Captain for three years and was made a life member on retirement.
Brian represented Papua in the Inter-Territory matches against New Guinea eight times, five times in the first representative side and three in the second representative side – twice as Captain. The standard of play and crowd intensity was not far removed from the State of Origin matches of today.
As a member of the Hash House Harriers Club, Brian walked the Kokoda Trail in 1974. The group covered the distance in four days walking up to 12 hours each day.
Brian was also involved on many committees. He played golf and always enjoyed a convivial glass or as some would say a 'jug' or two with his friends.
Brian's passion for Military bands and marches and his collection of WWll history books indicates his early interest in the Australian Military Forces.
He was also an honorary member of the Papua New Guinea Volunteer Rifles, a tribute as he was only the third honorary member. (The Commander of the PNG Defence Force and the Police Commissioner of PNG were the others.)
In 1976 Brian transferred to Ansett head office in Melbourne after 16 years of service and 22 years of residency in PNG. Bryan Grey, the then general manager of Air Niugini, offered him a position as NSW Manager, on secondment from Ansett, to set up Air Niugini operations in Sydney. At the end of the secondment Brian resigned from Ansett and remained with Air Niugini for 14 years. During this time, Brian met and married Jackie Le Lacheur and his second daughter Candice Carlien was born in Melbourne in 1976.
As an airline delegate to the International Airline Transport Association, Brian attended conferences in New Zealand, Penang, Kuala Lumpur, Singapore, Manila, Hong Kong, Bali, Jakarta and Tokyo. After joining Compass Airlines as sales interline manager during its brief operation, Brian visited Hong Kong, Singapore, Chicago, Los Angeles and Berlin on company promotions. After the demise of Compass, he had several fill-in jobs before becoming Marketing Consultant and later, Manager of Special Projects with Flight West Airlines.
Brian was extremely proud of his association with Ansett in the 1960s and early 70s. He held the then general manager, Frank Pascoe, whom he regarded as the greatest 'Man's man' he had ever known, in very high regard and great respect.
He also had great respect for the Alliance Managing Director, Scott Mcmillan who set a high standard of control management and never failed to recognise the efforts of his staff with whom he was always on a first name basis.
On 30 June 2003 Brian retired and he was given an official Alliance staff party at Breakfast Creek, followed by a farewell in the company's engineering hangar. A generous presentation was made by the managing director. RIP Brian.
Nigel Stingel Nigel is married to Brian's daughter, Candice.

Bruce Reid, 4 October 2015, aged 90
Bruce was born on 23 September 1925. My wife, Barbara, and I visited Bruce after our return from Cairns and Rabaul and had an interesting chat with him. Unfortunately, his health had deteriorated and he later spent some time in respite care. Bruce said he would visit us on his return home to see the photos of our trip on our TV screen; but that did not eventuate.
I visited him in my role as Almoner for the Brighton S.A. RSL Subbranch for just over seven years and he allowed me to read his father's WW1 military memorabilia.
Ken Hayes

Colin Robert Benton, 24 October 2015, aged 70
Col was a Didiman in Papua New Guinea for 50 years. (Didiman is the pidgin term for agricultural officer, originating from a Herr Dieterman who was the first German botanist in Rabaul in the late 1800s). I only knew Col for the last 15 of the 50 years that he was a Didiman.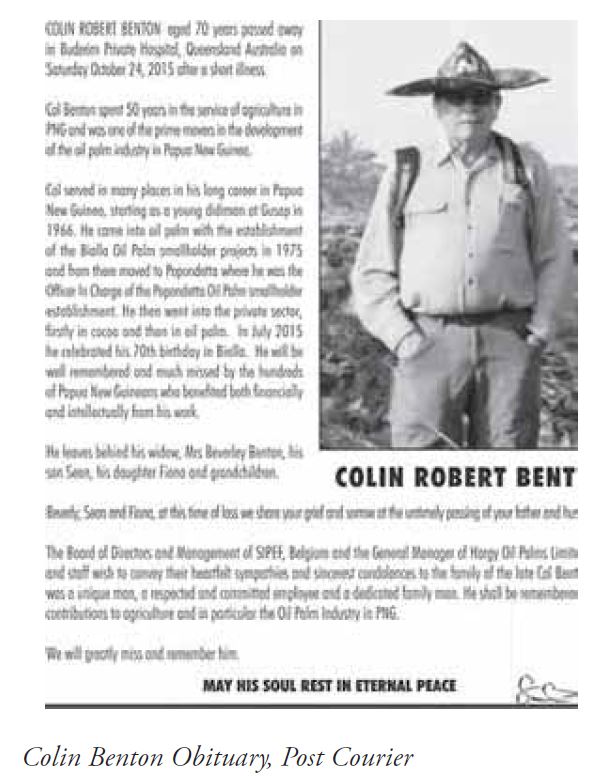 Col was a great Didiman, he made a huge difference to the lives of countless thousands of Papua New Guinean smallholder farmers and hundreds of Didimen and plantation managers. An agricultural extension officer's job is to get farmers to change their behaviour and the only way to do this is to influence and encourage and motivate them. He had little or no authority to force change but he was very effective in changing people's behaviour.
When we first met at Higaturu I did not really believe all his stories but over the years I found that they were true, with maybe a few embellishments added over the years. I will try to relate some of Col's achievements in PNG by using some of his stories.
Col and I started together at Higaturu Oil Palms in Popondetta in August 2000.
Col went to PNG straight from Hawkesbury Agriculture College. He had read the then newly published Patrol into Yesterday by J.K. McCarthy and attended a lecture given by Syd Saville, the father of Vudal Agriculture College. Syd was recruiting Agriculture graduates for TPNG. The lecture and the Kiap's story inspired Col to try working in the then Territory of PNG.
He was first posted to Gusap in the Ramu Valley in 1966. His job was to plant village coffee to provide the people with a cash income to supplement their subsistence food production.
Working life meant leaving the station at 3am and walking through the kunai in the cool of the night before hitting the first steep climb into the mountains at dawn. Col claimed that he spent 200 days a year on patrol, planting smallholder coffee. For the first four years that meant walking some of the most rugged country in PNG in the Finisterre Ranges, the Sarawageds, and between Mumeng and Menyamya in the Upper Watut. There were not many places those little boots didn't take him.
Col also worked in Madang and he was assigned to find a droving route for cattle from Madang to the Highlands. He walked from Madang to Tabibuia in the Jimi Valley near Mt Hagen. This took six weeks and Col was very glad to get to the government station at Tabibuia and fly home. I am not sure if any cattle used this route. To this day there is no road.
In 1971 Col was transferred to West Sepik as Provincial Rural Development Officer. This was a huge area to cover and much of his time was spent on patrol in a canoe on the Sepik River. Later he became OIC of Sepik Cocoa Growers Cooperative in Wewak where Sean and Fiona were born.
After leaving the government in 1987 Col worked on cocoa plantations in Bougainville and East New Britain for Roger Gillbanks. If Col was the greatest smallholder Didiman then Roger was arguably the greatest plantation management guru.
Col was OIC of Bialla Oil Palm project from 1975-77. On 15 Sep 1975 he lowered the Australian flag for the last time and stood with his team of PNG Didimen the next morning when the PNG flag was raised. Col had hoped to claim the Australian flag but somehow a kiap got to it first.
Col started the Popondetta smallholder project in 1977 and when he left in 1987 he left over 1500 families each with a 4ha block of oil palm and earning an income. Today there are over 20,000 families earning their livelihood on smallholder oil palm blocks. They represent 32 per cent of the PNG oil palm industry and last year earned over $200 million in export earnings.
Col and Bev met at the Sambogo river picnic area in Popondetta. Bev was the new teacher in town. She jumped off the cliff into the river and lost her bikini top. No one knew that Col could swim that fast to rescue a damsel in distress. They have been together ever since.
Col joined CDC/Pacific Rim Plantations in 1998 and worked at Poliamba in New Ireland, SIPL in the Solomons and then was field manager at Higaturu Oil Palms and then General Manager of Milne Bay Estates. He retired again at the end of 2003 but was not really ready to settle down. I became General Manager at Higaturu in 2005 and had lunch with Col and Bev to see if he wanted a job running the Smallholder Dept at Higaturu. He jumped at the chance (and I am pretty sure Bev was glad he got the job too) and over the next three years he took smallholder production from 150,000 tonnes to 187,000 tonnes before cyclone Guba hit and wiped out every road in the province.
Soon after I was recruited by Hargy Oil Palms in Bialla but Col decided he had had enough adventure for a while. Col and Bev and I would meet for lunch whenever I was in Brisbane and Bev would implore me to give Col another job as he was still not ready to retire. Eventually I got Col a position as Head of Plantations in 2012. He quickly turned the plantations around and we will have a record year this year.
Col's method was simple but required a lot of hard work which he was still doing until late July last year when he realised he could not hold a pen to sign his name. In April last year Col and I took four PNG Plantation Managers to Indonesia for a field trip to learn how to make terraces and plant on the contour. I noticed that his hands were shaking but otherwise he was his usual bundle of fun.
On our return to Hargy however, Col tried to put the training into practice but he could not do it. I had never seen him fail before. The tremor in his hands was becoming worse but he put this down to his blood pressure. He flew back to Australia on 1 August and found that he had four tumours and that there was not long to go.
At Hargy Oil Palms we have 85 white land cruisers in the fleet and from a distance they all look the same. The Papua New Guineans loved to tell that it was easy to pick Col's car from a distance as it appeared that no one was driving. They all loved Col.
I tried to get him an MBE for the 40th Independence celebrations to recognise his services to PNG agriculture but the application was not accepted. If anyone deserved recognition it was Colin Benton. He made a difference to the lives of thousands of Papua New Guineans.
We will remember him always and will retell his stories and exploits for many, many years to come. To Bev, Sean, Fiona and the grandkids, thanks for letting him be part of our lives. Farewell Col.
Graham King
Dorrie Allwood, 21 October 2015, aged 84
Born in Townsville, Dorrie was the sixth of seven children. Shaccounts lived an idyllic childhood e grew up in the tiny town of Guru in the heart of sugar cane country Far North Queensland and by all with a large extended family. Dorrie found attending St Patrick's College fitted well her family and faith. After a brush with office work she opted for a nursing career, trained at Townsville Mater Hospital, with stints in Sydney and Adelaide, graduating in 1956 as a registered nurse with triple certificates in Midwifery, Child Health and Tropical Diseases. In 1957 Dorrie applied for a nursing position in Wewak, Papua New Guinea, solely because her brother Timothy Hayes had served with the RAAF based at Merauke in West Papua during the war. He was reported lost in March 1944, devastating the family. She wanted to find his resting place, but only later found his name on a memorial in Lae.
Whilst working in Wewak, Dorrie's world changed again. During her battle with polio, she met Max Allwood at the hospital and they married a year later, in 1958. From 1958 to 1969 they travelled from post to post (Rabaul, Mt Hagen, Goroka, Mendi, Sohano, Port Moresby), had five children, and Max spent much time on patrol. Women needed character to keep a home together in a remote environment, and what does not kill you makes one stronger. She was a rock for Max as he completed his Law studies externally through the University of Queensland and then gained admission to the bar. For a few years in Port Moresby Dorrie juggled family life and work at the Moresby General Hospital, nursing in the maternity ward which she thoroughly enjoyed.
After PNG Independence in 1975, with heavy hearts Max and Dorrie decided to leave PNG and make a new life in Brisbane for their family. Schooling was an issue, and it had become apparent that son Timothy, who had developed severe epilepsy, required specialist attention in Australia. However, for the first two years Dorrie had to go it alone in Brisbane for the most part, while Max continued as a consultant to the PNG Government.
The years 1976 to 1994 were busy for Dorrie and Max; their full time, seven day a week commitment to meeting the demands of Timothy's care, until his death at 42, was the result of love and giving. They always found time to keep in touch with their treasured PNG friends, and I doubt they missed many Kiap reunions over the years. Max worked in Law at Queensland University and, in later years, at the Brisbane City Council. Dorrie was gifted with anything handmade and while busy at home always kept up with her wide-ranging interests in painting, crafts, dressmaking, cake decorating, floral arranging and wood work. She was always keen to learn a new skill and in the last year or two took up spinning Alpaca wool. She had a love of people and told endless stories about the early years, the people and life in remote places. We pleaded to record the 'Doris Hayes Story' to keep these memories alive, but she dodged and hedged and dived away from that opportunity.
Max and Dorrie retired to Maleny and thoroughly enjoyed their life on their patch of paradise, made many friends and were involved in the local community for many years. Life was going as it should until tragedy struck with the loss of their son Timothy in 2010, son Paul in 2012, and then Max passed away in 2012. This left a big hole in the family.
Dorrie was not ordinary, but extraordinary in so many ways; her family, friends and faith were her passion, she loved politics and competitive sport, particularly rugby, and her home was open to anyone and everyone. Some would say she had a tough life but with her gutsy determination she always just got on with it. In her life following Max's death, she showed remarkable courage, strength and independence and worked through a huge learning curve to take on all the tasks that Max had done previously. They really had been a tight team. She continued being involved in many activities, such as spinning, crocheting and playing Mah-jong with friends weekly.
Dorrie fell ill suddenly in September 2015, fought to 'stick around' but this was not to be and she passed away at Maleny Hospital. Her faith was strength for her. Dorrie will be sadly missed by family and friends far and wide; she leaves three children: Rosemary Collins, John Allwood and Elizabeth Ferguson, two in laws Brett Collins and Mick Ferguson, and six grandchildren.
Rosemary Collins

Jim Birrell, 28 November 2015
Jim was one of two known surviving members who served in New Guinea Volunteer Rifles.
Phil Ainsworth

Peter Gabriel
The Babinda RSL sub branch conducted an RSL funeral for Peter at St Rita's Catholic Church, Babinda.
Don Lawie represented the Babinda RSL members and the Papua New Guinea Volunter Rifles Association.
Peter joined PNGVR in 1970 and afterwards served nine years in the ARA. His mother was an Elevala / Hanuabada lady and his father was a WWII Digger.
Don Lawie

Pat Riddel, 18 January 2016
Pat and her husband Vic regularly attended our monthly Islands Memories in Toowong until mid2015 when Vic's medical condition interrupted their return travel from Caboolture to Toowong.
Pat was very bright and bubbly and we certainly knew that she was with us at our meetings. She was interested in anything relating to Papua New Guinea where she had been a Missionary School Teacher.
Jim Burton

George Dixey Straughen, 7 August 2015, aged 93
George was born in Melbourne on 16 June 1922. He enlisted in 1941 at age 19 and was posted to the 7th Infantry Battalion where he remained for two years before joining the 1st Australian Parachute Battalion.
He was discharged in 1946 and in 1949 started work as a field assistant with the Australasian Petroleum Company. This was his introduction to PNG. Following the completion of his contract he went on to manage plantations in Kokapo, New Ireland, Kavieng and Ulatana.
In 1956 George married Anita and started working for J.K. Dowling in Rabaul, eventually becoming Manager of the New Guinea Finance Co. In the early 1960s George bought 350 acres of virgin jungle on the island of Bougainville with a loan from the War Service Agricultural Scheme. He developed it into Tanaboia Plantation, located about 20 miles from Kieta, the main town and port of Bougainville.
In 1974 Tanaboia Plantation was sold to an indigenous cooperative and George and his family moved to Brisbane. In 2000 George's contributions to PNG's development were recognised by Sir Silas Atopare, the then Governor General of PNG.
George is survived by his second wife Patricia, his son Kirk, daughter Gina, stepdaughter Sandra and his granddaughter Amrita.

John Matthijs Theodor Groenewegen, 8 May 2015, aged 78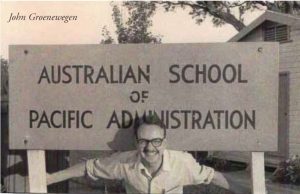 John was born in the Netherlands on 7 July 1936. He was the eldest of five sons of the late Rev. J.B. and Mrs R. Groenewegen. With his parents and brothers, he migrated to Australia in 1952, settling in Corrrimal, NSW where his father was the Minister at St. Andrew's Presbyterian Church.
After completing his Leaving Certificate at Wollongong High School John enrolled at Sydney University to do an Arts Degree. In 1956, after two years at university, John took a holiday job with Mission Relations in the Education Department in Port Moresby. At the end of 1957 he accepted a scholarship to train as a Cadet Education Officer at ASOPA in Mosman, NSW.
During his first year at ASOPA he met Barbara Joyce, a member of his father's congregation at St. Columba's Presbyterian Church, Lane Cove. At the end of his two years at ASOPA, John took up his first teaching position at the school at HMAS Tarangau, Lombrum, Manus Island. After six months there, he was transferred to the Primary 'T' School at Lorengau, Manus Island.
At the beginning of 1961 he was appointed Head Teacher at the Primary 'T' School at Garaina (the experimental tea plantation) in Morobe District. At the end of that year, he had six months leave in Sydney and during that time he completed an Anthropology Course at Sydney University.
Just before he returned to New Guinea he and Barbara were engaged and were married 18 months later, on 30 December, 1963 at Lane Cove Presbyterian Church.
During these 18 months John was a Lecturer in English Method at Goroka Teachers College in Eastern Highlands District.
After their marriage John and Barbara returned to Goroka where they stayed until the end of 1966 when John became Assistant Principal of the Teachers College.
Due to family circumstances they returned to Australia, first to Brisbane where John completed his B.Ed. Degree at Queensland University, then to Sydney where John began teaching at Knox Grammar School, Wahroonga at the beginning of 1968. He taught there for 29 years, mainly teaching English. During that time, he completed an M.A. in English Literature at Macquarie University. John retired at the end of 1996.
He is survived by Barbara, his wife of 51 years, and his four brothers and their families. He loved his time in PNG and enjoyed being a member of PNGAA.

John Roy Hartley Burnell, 17 November 2015, aged 91
John was born in Nottingham in the United Kingdom. He died at the Gold Coast, Queensland following surgery for long standing heart problems. During World War ll he served in the Royal Marines and then the British Army 11th Armoured Division. He was one of the first soldiers to go into the German Belsen – Bergen concentration camp where he witnessed hundreds of emaciated survivors and the bodies of those who did not survive the years of German brutality.
Post-war, he served in the Nottinghamshire Constabulary from 13 March 1947 to 31 January 1959 when he migrated to Australia. He was appointed to the Royal Papua New Guinea Constabulary on 12 November 1962 and served at Port Moresby, Mt. Hagen and Bulolo. Unable to withstand the tropics, he resigned on 19 October 1965 and returned to Australia, where he worked in the automotive industry. He is survived by his widow Edith and three adult sons.
M.R. Hayes

Peter Ryan, 13 December 2015, aged 92
Peter Allen Ryan was one of the last of the post-war generation of Melbourne intelligentsia. He was born in Melbourne on 4 September 1923.
During WWll he served in an intelligence role behind the lines of Japanese-occupied Papua New Guinea. This became the subject of his first book Fear Drive My Feet. Later in the war he taught elementary PNG language to servicemen in Canberra and this led to a place in Alf Conlon's Directorate of Research and Civil Affairs. After the war he studied at Melbourne University where he was active in the Labor Club but later became more conservative.
He was most famous for the controversy created by his scathing attack on Manning Clarke's History of Australia in the conservative magazine Quadrant.
Ryan's books include Redmond Barry (1972), William Macmahon Ball: A Memoir (1990), Black Bonanza: A Landslide of Gold (1991), Chance Encounters: AD Hope (1992), Lines of Fire: Manning Clark and Other Writings (1997) and Brief Lives (2004).
In Brief Lives Peter celebrated the lives of 15 of his friends (14 Australians and one Papua New Guinean) from a Prime Minister and a Nobel laureate to a wood-cutter and a doorman.
Peter's book Fear Drive My Feet is probably the most well-known book on WWII in PNG. He continued to write for Quadrant until recently and was always a strong supporter of Una Voce.
Peter's long and happy marriage lasted nearly seven decades. He is survived by his wife, Davey, and children Sally and Andrew.
An obituary by Gina Rushton and Ean Higgins was published in The Australian on 14 December 2015. The Quadrant obituary is on the PNGAA Facebook page.

Alexander (Sandy) McNab, 24 November 2015, aged in his 90s
Sandy was a fine and brave man. He spent a lot of time behind enemy lines during the Pacific War. We have lost another great Australian. Sandy is with his No1 Independent Company mates again, many of whom were lost on the Montevideo Maru.
Lest we forget.
John Schindler Alexander
(Sandy) McNab was one of the few survivors, perhaps the only survivor, of his WWll commando unit. And now he has died, aged in his nineties.
Sandy was a tough little character of Scottish parents. In early 1941, before the war with Japan, he responded to a call for recruits to 'undertake service in a secret and adventurous unit'.
Eventually he was paraded before a senior officer who sat him down and asked him lots of strange questions.
'Was I good at street fighting? Could I fly a plane? Sail a boat? Ski? And much more.'
As he answered 'no' to most questions, he went back to his AIF Battalion and forgot all about it.
'Eventually several of us were told we'd been accepted but we were given the opportunity to withdraw with no detriment to our military careers. Nobody withdrew. We had still not been told anything about the unit we were joining. We soon found out.'
For several months Sandy and some 350 colleagues of the 1st Independent Company went through strenuous training in the rugged Wilson Promontory area of Victoria. There were few spare moments. Weapons training, booby trapping, explosives and explosive weapons, field training both day and night, swimming, use of radio, and more weapons training.
On 12 July 1941 the unit left Australia by ship, headed for New Guinea. The commandoes established their headquarters at Kavieng on New Ireland and sections were sent to Manus, Namatanai, Buka, Tulagi in then British Solomon Islands, and New Hebrides (now Vanuatu).
Private Sandy McNab was one of 25 members of 3 Section posted to Buka Island in October 1941, just two months before the outbreak of war with Japan. By April 1942 it was obvious that the section should move to nearby Bougainville, a much larger island offering mountainous shelter from the probing Japanese patrols.
The section established radio contact with Australia and received regular supply drops from Allied aircraft. Apart from harassing the Japanese, the main task was to provide support to American forces engaged in the decisive battle for Guadalcanal. Reports were radioed to the Americans giving early warning of Japanese aircraft and shipping heading toward the battle area.
The Americans were loud in their praise of the Australian 'coast watchers'. Four of the section were awarded US Silver Stars.
At the time, Bougainville was described as 'an island crawling with Japs'.
In April 1943 the members of 3 Section were evacuated by American submarines, ending almost 18 months behind enemy lines.
Alexander 'Sandy' McNab wrote the book, We Were the First – The unit history of No 1 independent Company, first published 1998 by Australian Military History Publications.
Don Hook

Lionel Burton, 20 October 2015, aged 99
Stanley Lionel Burton, Sgt NG2116 and NGX 452, former NGVR and AIF. Stan was one of three known surviving men from the New Guinea Volunteer Rifles.
He was born 18 May 1916 and died just six months short of his century. His wife Daphne died in 2014, aged 103 years. They had been married for 76 years.

Elizabeth Foulger, 18h August 2015
George Cockram
No details available.