VALE & TRIBUTES – March 2022

BOOTH, Nicholas Peter |BURTON, James Frederick | KERLEY, Fr Kevin | RAMPLING, Anita (née Larcher) | STEWART, Michael John | WILSON, Roger | WHITE, Benjamin J

BOOTH, Nicholas Peter (22 November 2021, aged 76)
Nick Booth, who died in Sydney on 22 November 2021, was a busy and enthusiastic man, who delighted in being with people and working with people to get things done.
Nick was born in England in 1945 and later found himself in Papua New Guinea, where his father, Dr Peter Booth, in the late 1950s, was appointed medical officer at Saiho hospital—'eighteen miles and eighteen rivers from Popondetta', he wrote. 'Bush materials, flat swampy ground, a tropical paradise and absolutely lethal. Infested by mosquitoes all full of Falciparum malaria, not chloroquine-resistant in my day.'
In 1962, Dr Booth established the Blood Transfusion Service of the Territory of Papua and New Guinea. By this time Nick had been packed off to school and university in Brisbane (where he edited the student newspaper, Semper Floreat), spending holidays in PNG.
An arts degree in his pocket, and wife Lynn and children now in his life, circumstance took him to the University of New England in Armidale, NSW, as Information and Publications Officer.
In 1976, this is where we met, as I fled PNG to establish a new radio station in Armidale. Nick was one of my most valued associates. He was already immersed in the city, the university and the medium. Just a year later, Nick moved to Sydney to the Higher Education Board.
Nick was also a first rate and highly-skilled radio presenter with a wonderful sense of how to construct a music program. Listenable but not loud. His radio 'presence', as we called it, was warm, intimate and witty. Nick could have made a career in radio and I told him that a number of times (in fact, I once offered him a job).
But radio careers can be skittish and Nick, with family and security in mind, chose instead the path of an administrator in public service, a role in which I understand he was highly competent and senior.
This important side of his life I did not know well and, with me, his talk was always of broadcasting and family.
When 2SER-FM on Sydney's Broadway launched on 1 October 1979—not all that long ago for us who are getting old—Nick's was the first voice on air.
Later Nick presented a popular program called 'Summer Breeze'— lovely languorous leisurely radio; the music mellifluous and (mostly) calming (Nick was mischievous and could spring surprises). The presentation was laidback, witty and concise.
He let the music do the talking, if you get my drift. In real life beyond the studio, Nick liked to let his talking do the talking.
The song of the same name was the opening theme of the program. 'Summer Breeze', by Seals & Croft, a hit in 1972, is playing as I write. It reminds me so vividly of Nick.
Many years later, Nick later resumed contact with Papua New Guinea as a committee member of the Papua New Guinea Association of Australia (PNGAA) and was treasurer at the time the association showed great generosity to the Crocodile Prize.
Nick was asked to run our PNGAA and Rabaul & Montevideo Maru websites, together with Ross Johnson. Nick's knowledge and expertise with both editing, as well as the technical behind the scenes work on the website was a wonderful assistance to both the PNGAA and the Rabaul and Montevideo Maru Group, continuing for many years.
Nick was always friendly and happy—nothing was ever too much trouble. He was really generous with his time and experience.
So we have lost a fine man and we grieve for him but are grateful for who he was.
We get old and our friends depart, taking a bit of us with them as they leave. That is life's sorrow. But its joy is that they were with us at all.
Our condolences to Lynn, the boys and the family. Nick was so proud of you.
Editor's Note: This vale has been abstracted from Keith Jackson's tribute on his website: HERE
and includes a contribution from Andrea Williams.


BURTON, James Frederick (23 May 2021, aged 83)
James, known by most people as Jim, was born in Bowen, North Queensland. One of four children, he started his schooling at Merinda Primary, however, the family moved to Mount Isa so his schooling was completed at Mount Isa High. On finishing school he commenced work as an apprentice carpenter for Mount Isa Mines, but after three months he decided that was not what he wanted to do and went to work in Burton's Hardware, the family business. The work was not fulfilling for Jim so he applied to work for Burns Philp in Cairns. He returned to the family business after a period away and met Joan Campbell who was working there.

Jim was drawn to the Pacific Islands for employment opportunities. His South Pacific journey began in June 1957, when he was nineteen. He arrived in Fiji as a trainee clerk with Burns Philp (South Sea) Company Limited in their Suva office. He would go on to serve more than sixteen years with Burns Philp—six years in Fiji, nine years in the New Hebrides (now Vanuatu) and one and a half years in Papua New Guinea. His career ended with Burns Philp in June 1975 when he was thirty-seven.
Later Jim returned to Papua New Guinea for two and a half years to manage a trading store.
His wife, Joan, joined Jim in the New Hebrides in 1962 when she was seventeen. Joan also worked at Burns Philp in the office as a secretary. They would go on to have three children. The first child, Merelyn, was born in Vila in 1963 and two sons followed, Wade in 1967 and Brett in 1972.
On Jim's return to Brisbane he worked at the Government Stores until retirement in 2002.
Jim and Joan's love of the South Pacific islands never left them. Jim worked tirelessly on a project close to his heart. He had an extensive collection of Pacific Islands Monthly magazines going back to the first edition in 1930. From the magazines he developed his Identities Project, which collected, documented and researched those born in the Pacific islands and those who came to the islands to make their contribution towards the development of each island nation.
In early 2007 Jim and Joan organised a get-together for expatriates who had been born in the South Pacific islands or had lived there at some stage of their lives. The first meeting took place at Mount Ommaney Library with twelve attendees. They named it 'Memories of the South Pacific Islands', and asked for former residents to gather and contribute to this nostalgic trip down memory lane.
When Jim got up to address those in attendance, he said:
A few words before I begin my address. My uncle used to say of me, 'Jimmy's a good bloke but don't mention coconuts or the islands to him, you won't shut him up.' Furthermore, my wife Joan has often said, 'we returned from the islands many years ago but Jim hasn't really left the islands behind him'.
The first guest speaker at the meeting was Max Quanchi. Other notable speakers were author James Sinclair, ABC Correspondent Sean Dorney and many more. After a few meetings the group moved to the Indooroopilly Library in August 2007 and then finally settled at Toowong Library in January 2009. The meetings have been held once a month and many people have attended and given wonderful talks about their life and experiences whilst living in the Pacific islands. The meetings have provided wonderful friendships with a common bond.
Unfortunately, due to ill health, Jim was not able to attend the meetings for the last couple of years. However, Ian Lockley took the helm and steered the ship onwards. Jim will be remembered for his love of the South Pacific, and he said it was one of the greatest privileges of his life to work and be able to contribute in his own small way to the welfare and advancement of the three South Pacific nations he was associated with.
Keitha Brown

KERLEY, Fr Kevin, SM, OAM (29 September 2021, aged 93)
Kevin Kerley was born in Gympie, QLD, on 23 July 1928. He spent three years schooling with the Sisters of Mercy and ten with the Christian Brothers, matriculating in 1945, then working in the Commonwealth Bank, Brisbane for three years.
Kevin was professed as a Brother in the Society of Mary in September 1950 and spent three years as assistant bursar at St John's College, Woodlawn, NSW, before transferring to Oceania Marist Province in 1953.
From 1954–72 Br Kevin worked in Bougainville as diocesan procurator, builder, manager of woodwork in Tsiroge Technical School, a small ships master and supervisory work at a sawmill. During 1973–74 he was bursar at Tutu Training Centre, Fiji.
In 1975 Br Kevin began studies for the priesthood at Catholic Theological Union, Hunters Hill, reaching diaconate in December 1978. Then followed pastoral experience during 1979–80 in Bougainville and priestly ordination in Brisbane in September 1980.
Returning to Bougainville, during 1981–83 Fr Kevin was parish priest in Tsimba, Sipai, and Kuraio, isolated parts of NW Bougainville. From 1984–88 he was part of Kieta Area Ministry Team based in Manetai and working in Tunuru and many neighbouring parishes.
In November 1988 the Bougainville Conflict erupted, the worst catastrophe in South Pacific since World War II, with up to 20,000 deaths. For years Fr Kevin experienced Papua New Guinea Defence Force resistance and rebel gunmen close by. While thousands of expatriates departed Central Bougainville, Fr Kevin was one of the few who stayed on and ministered. He was an unofficial 'chaplain' to both sides, eventually receiving recognition and thanks from both.
In late 2001 Fr Kevin returned to Australia to live at Villa Maria, Hunters Hill, and work on his memoirs of the Bougainville conflict. He attributed his survival to the intercession of Emmet McHardy who 'blazed the trail' in the Kieta region. Fr Kevin intended his memoirs for Marists and the Church. As they responded slowly the Pacific Manuscripts Bureau (PMB), nine Pacific Research libraries that give priority to vulnerable and/or elusive material, intervened. The PMB continued to microfilm Fr Kevin's notes of years of his work.
In 2014 Fr Kevin was awarded the Order of Australia Medal for his commitment to the people of Bougainville. In 2015 he moved briefly to the Montbel community before taking up residence at Twilight Aged Care facility, Hunters Hill, where he continued his work of recording and collating memories of the Bougainville crisis.
He died peacefully on 29 September 2021, aged ninety-three. May he rest in peace.
Paul Mahony, SM
RAMPLING, Anita (née Larcher) – (27 September 2021)
Anita Larcher was born in Crosby, Lancashire, on 31 January 1936. She attended Eardington Grammar School from 1946–53 where she excelled in science and won a Warwick County Scholarship to attend Nottingham University. Her original intention was to become a farmer, but after graduating with a degree in dairying, she went to work in the laboratory of Craigmore Hospital in Inverness as an assistant bacteriologist.
Anita came to Australia in 1959 and worked for three years as a dairy bacteriologist in the Department of Agriculture and Stock in Queensland.
In 1962 she was appointed to a position in the Territory of Papua New Guinea as pathologist/bacteriologist at the Veterinary Laboratory at Kila Kila, Port Moresby. Part of the Division of Animal Industry, this laboratory processed specimens collected by veterinary staff from diseased animals throughout the Territory. Anita's experience with growing and identifying bacteria was a welcome addition to the skill set in the laboratory at that time.
Anita lived and worked in Port Moresby for the next five years. Apart from the routine diagnostic work of the laboratory she made an important contribution to the investigation, with Tim Murrell of the Department of Health, of the cause of pig bel. This was a disease of Highlanders, often fatal, associated with feasting on pig meat. The bacterial component of that disease was isolated and provisionally identified for the first time at the veterinary laboratory while Anita worked there.
Her work at Kila Kila inspired an interest in research. After an unhappy marriage she left TPNG in 1967 with her infant child, Michael, and returned to England where, in succession, she completed a PhD and then a degree in Medicine.
With these qualifications she enjoyed a long career as a consultant bacteriologist in the Public Health Laboratory service of the UK.
Following remarriage to veterinarian, Jim Darbyshire, and retirement Anita began a new life on a small farm in Dorset. Here Jim bred Dexter cattle and Anita was able at last to have the horses she always wanted and to begin, and eventually to excel at, the sport of dressage. She continued riding into her early eighties and after Jim's death in 2006 all her animals were a great consolation for her.
After a series of strokes over the last few years she had to stop riding, but kept her horses until her death from a heart attack in September 2021.
Anita is survived by her son, Michael, who practises medicine in the UK.
John Egerton, AM
STEWART, Michael John (2021)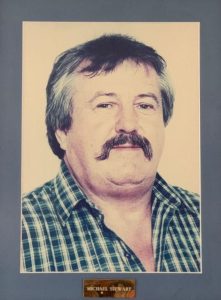 Michael John Stewart (Mick, Mick the Flick, Flicky) was born on 11 February 1948 in Nyngan NSW, the eldest of fifteen children. He grew up in Bourke and left school early for the shearing shed and other country jobs.
Around 1969 he moved to Sydney and lived in Manly where he met his wife, Ann. They moved back to Bourke and were married in 1974. His eldest daughter, Michelle, was born in November 1974. Two more daughters followed—Amy in Mackay and Libby in Port Moresby. (Libby arrived in 1986 at the General Hospital, nine months after the curfew expired.)
Around 1976 he began work with Flick Pest Control in Sydney and travelled around Queensland working for Flick before moving to Port Moresby in 1981. Mick worked for many years as the company's general manager in PNG until branching out on his own with PNG Pest Control, a company he began with his 'brother from another mother', the late Steven Piriki Kamma, MP.
Mick was known as Flicky around his Port Moresby stomping grounds including, in the early days, at the Ela Beach RSL, the Boroko Golf Club and in later years at the Port Moresby Golf Club where he was made a life member due to his tireless work on the committee.
Mick 'went finish' to Brisbane around 2013. Mick and Ann then moved to the Gold Coast in 2015 where he played an active role as the grandfather of three bubu girls. His grandfatherly activities included spending time with Maxine out in Tallebudgera Valley with her beloved horses, reliving the stories of his youth and playing some of his favourite songs to Ruby and Phoebe.
He also enjoyed spending time with his sons-in-law, Kotti and Luke, who he trained to fill out TAB betting slips and they, along with his eldest brother Christopher 'Condo' Stewart, will sadly miss his Saturday racing tips.
Mick the Flick was appropriately mourned and farewell by the Royal Port Moresby Golf Club.
Bruce Mackinlay, OBE
Editor's Note: Mick's daughter, Libby, contributed to the preparation of this vale.

WILSON, Roger (9 June 2021)
Roger was born in Christchurch, New Zealand, on 9 July 1948. His first job in PNG was with Burns Philp as District Accountant in Madang from October 1981 to August 1982, and then he was transferred to Port Moresby. He had played golf at the Madang Country Club, and joined Port Moresby Golf Club upon arrival in 1982. His employment continued at Burns Philp until leaving PNG in late 1989.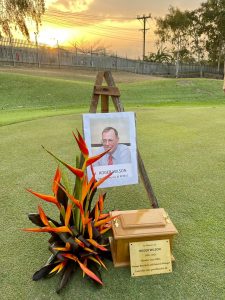 His second job in PNG was with The Lotto in Port Moresby when he returned in late 1992 as Financial Controller, and then became General Manager. When The Lotto ceased operations, he started his own consultancy business in 1995. He then worked for various companies including Port Moresby Golf Club as Club Manager.
Roger was a member of the Club from 1982 onwards and served on the committee at various times, including holding office bearer positions. He also started up the Burns Philp/Ela Motors Pennants team, and organised sponsorships through various companies.
Roger was generous and trusting, he always made new members and visitors welcome at Royal Port Moresby Golf Club and had many friends there and in the community.
Roger died at Paradise Hospital from post-operative complications. He was mourned and farewelled by his many friends from Papua New Guinea, Australia, New Zealand and other countries.
Our condolences were passed on to Evelyn, Scott and other family members.
His ashes were spread over the 17th green at Royal Port Moresby Golf Club. A bronze memorial plaque (above) reminds us of his friendship and contribution to the club over many years.
Bruce Mackinlay, OBE


WHITE, Benjamin J, DCM (1912-1959)
Benjamin enlisted in the Australian Military Forces, in Victoria, in June 1940. After training he transferred to No. 1 Independent Company, No. 3 Section (a commando unit required to live and fight independently from main forces) in May 1941. He landed with the section in Kavieng, New Ireland, in July 1941 where they spent the next few months training and acclimatising themselves to the tropics.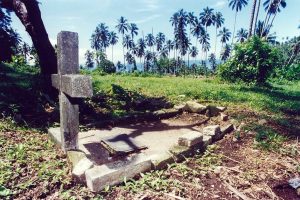 In October 1941, the section travelled on the schooner, Induna Star, to Buka Island where they prepared themselves for the expected Japanese invasion, which occurred in late January 1942. His section was now behind enemy lines, patrolling and watching. The next move was to the main island of Bougainville where again they spent their time patrolling, reporting and evading capture. They were spasmodically re-supplied by Catalina flying boats.
Towards the end of April, the fragmented section, including Ben White, was evacuated by the US submarine, USS Gato. Paddling out to the submarine, which had surfaced offshore, they clambered on board and were fed and attended to by the crew after many harrowing months evading the enemy and sickness—the first proper food and medical treatment they had received for many months. They arrived at Guadalcanal on 29 April 1943. By May, Ben was back in Australia and to his home in Victoria, recovering from his tropical ailments and then transferring to M Special Unit (part of the Australian Intelligence Bureau) in November 1943.
After being promoted to Acting Corporal, he departed for two further stints of active service on Bougainville from January to March 1944, and returned home to marry Elizabeth. He returned to Bougainville and Cape Torokina in June 1945 and took part in the offensive operations there. He was promoted to Sergeant and in July he learnt of his award of the Distinguished Conduct Medal (DCM) for his bravery in action while serving in the Allied Intelligence Bureau.
With the cessation of combat operations and the surrender of the Japanese on Bougainville, Ben returned to Australia and was discharged from the AIF on 29 November 1945. Apart from his DCM, he was also awarded the 1939/45 and Pacific Stars, the 1939/45 War Medal and the Australian Service Medal.
A story in the Pacific Islands Monthly, November 1959, recorded Ben White's death from a heart attack on Garua Island in October 1959 and described his postwar experience in New Guinea. He stayed on, working first for Choiseul Plantations Ltd, Bougainville. He became a well-known and respected planter, later managing Robert Stuart's Tenakau Plantation, then Bali Plantation. In 1953, he went south for a spell and for several years farmed in Victoria, but he returned to New Guinea in 1956 first as the manager of Garua Plantation and later working for Coconut Products Ltd.
His wife, Elizabeth, three daughters and a son survived him.
In this post-war period Ben enlisted in the Royal Australian Naval Volunteer Reserve (Special Branch) and was commissioned as a lieutenant on 17 July 1951.
After his death Ben was buried on Garua Island just off the coast from Talasea, New Britain (left). Due to difficulties in accessing Garua Island for the purpose of maintaining the grave, some years ago, a decision was made to commemorate him officially with an Australian War Graves bronze plaque at the Victorian Garden of Remembrance, which is part of the Springvale Botanical Cemetery in Melbourne's south-east.
It is the intention of the Office of Australian War Graves to continue to attempt to access the island so that, if possible, his grave can be restored and a maintenance program organised.
Greg Knight