VALE – Sept 2020 Kundu


BENJAMIN, Max | BLOINK, Dixie RF | CARSWELL, Agnes (née Gangloff) | Claringbould, Joan (née Alder) | COX, Kenneth (Ken) Brian | DRAKE, Peter John | FRANCIS, James (Jim) | KNIGHTS, John | MANLEY, Elsie Beatrice | MEISSNER, Emerson C | MOORE, Rev. Sir Desmond Charles | NIGHTINGALE, John | PHILLIPS, Kenneth Macdonald | PYE, David Raymond | Rheinberger, Gregory J | SYPHERS, Captain Graham | THOMPSON, John Russell Stewart | WONG, Wanda Helen (née Mason) | WATT, Neal Currie |
BENJAMIN, Max – 15 July 2020, aged 72
Max Benjamin trained as an agri-culturalist at Muresk Agricultural College at Northam, east of Perth in Western Australia. He went to West New Britain in March 1966 with DASF as a field didiman (agriculturalist). He was the first Australian Administration Officer to establish Nahavio Oil Palm Smallholder Centre in 1966 and Kapore Land Settlement Scheme in 1967. This initiated the commercial oil palm industry of PNG which now includes thousands of PNG smallholders.
In December 1969, Max purchased and moved to a failed cocoa plantation called Walindi Plantation, located on the Talasea Highway between Kimbe and Talasea. His commercial aim was to rehabilitate it with oil palm, the new export crop for PNG.
In May 1975, Max married a fellow agriculturalist, Cecilie Kemp, a graduate in agricultural science from the University of Queensland, who was also working in agricultural extension in West New Britain.
In 1983, Max and Cecilie created a scuba diving resort, Walindi Plantation Resort, on the plantation foreshore facing onto Kimbe Bay. Walindi Plantation continues to operate as an oil palm plantation. It is now on its third generation of planting with palms.
The diving resort gained an international reputation for the world-class marine biodiversity of the reefs accessed, as well as the land-based resort itself (www.walindiresort.com). Max, Cecilie and their son, Cheyne, were operating the resort at the time of Max's death.
Max took out PNG citizenship at Independence in 1975, as he had a strong belief in the future of the country. Max leaves a significant legacy in PNG, including the Max Benjamin Elementary School, which is located on land donated for its construction by Walindi Plantation.
Max and Cecilie initiated the Mahonia Na Dari Research and Conservation Centre adjacent to Walindi Plantation Resort, Kimbe Bay in 1995 (www.mndpng.org). Max was awarded an MBE by PNG in 2004 for services to agriculture and tourism.
Max passed away on 15 July 2020 at Cairns Base Hospital after a short but intense battle with an aggressive cancer. He is survived by his wife of forty-five years, Cecilie, and his three children—Charmaine Benjamin, Cheyne Benjamin and Auvita Rapilla.
A tribute to Max from the diving world and more information on Walindi can be found here: (http://divemagazine.co.uk/eco/9037-max-benjamin-a-tribute-2).
Cecilie Benjamin & Mike Bourke
BLOINK, Dixie RF
11 March 2020, aged 101
With sadness I advise the peaceful passing of Dixie RF Bloink, one day after her 101st birthday. Many from the pre-Independence, Administration days, may remember the surname as Dixie's husband, Vince, was Government Printer and thus had his name in the fine print on many government publications.
Vince and Dixie met before WWII at the Cairns Post, where Dixie worked as a bookbinder and Vince a printing machinist. At the outbreak of WWII, Vince volunteered with the first batch of Australian troops to leave for overseas service. He fought with the Australian artillery in North Africa, Greece and Crete, where he was captured as part of the rear-guard action. Then came the nearly four years in German POW camps. They kept in contact over this period despite the communication difficulties.
After the war Vince returned to Cairns and married Dixie one month after his army discharge. About a year later Vince took a job in Port Moresby as a machinist compositor in the Government Printing Office. Dixie went to PNG about six months later. In those early days Port Moresby was small with a population of 400 Europeans, and things were a little primitive as their only accommodation was a tar paper house.
Vince was promoted to Government Printer in 1962. Dixie took a job in the Treasury Department. They spent twenty-five contented years at Konebobu on the corner of Goldie Street. They had two children, Paul and Lois. Vince was a regular at the Kone Club, being awarded a life membership. Dixie was a keen gardener lovingly tending her orchid fernery in Port Moresby's adverse climate.
In 1971, Vince and Dixie retired. The Post Courier produced a two-page spread on Vince entitled 'He has ink in his name AND HIS BLOOD'. Vince was awarded an MBE for his service in PNG.
For Vince and Dixie a new phase of life began in Kenmore, Brisbane, establishing new friends and landscaping, making new garden and fernery. The orchid collecting began anew.
Things changed again when Vince passed away in 1989, aged seventy-seven, after a long battle with bowel cancer. Dixie in her stoic manner returned to the Kenmore home, living alone for another twenty-nine years with a son in Melbourne and a daughter in Sydney. She travelled and took up with her garden club and mahjong group. She enjoyed an overseas trip to Crete commemorating the fiftieth anniversary of the WWII fall, visiting the old battle sites where Vince had once served.
In later years, with declining balance, hearing and eye sight, Dixie found it difficult living in the split-level Kenmore house on a steep block. Tending her beloved orchids became very difficult. Eventually, at ninety-nine, she needed continuous care and the difficult decision was taken to move Dixie into residential aged care. Thankfully her passing was very peaceful with family present, and free from the anxiety and confusion due to the late onset of dementia.
Vince was buried at Rookwood, Sydney, in a dual grave site, so now, after thirty years, they will be reunited. Rest in Peace together.
Paul Bloink
Editor's Note: Many courageous young people went to live and work in PNG before independence in 1975. It is interesting to reflect on Australia's role in PNG when Vince and Dixie Bloink chose to make it their home—Port Moresby's expatriate population was only 400 and those who went there after WWII had to both recover from their experiences of war, and assist a young nation to recover and develop.
CARSWELL, Agnes (née Gangloff)
19 March 2020, aged 82
Agnes' mother was Elizabeth Ah Tam, whose father was one of the earliest and best-known Chinese immigrants to German New Guinea. Hardly five when the Japanese invaded, Agnes was one of many mixed-race and Chinese children left behind to endure the occupation, fleeing into the bush with the nuns and other missionaries in order to survive.
After the war she was educated by missionaries at Vunapope. Leaving school, she worked for Chinese traders before being accepted to train at the Nonga Nursing School where she graduated second in her class.
In April, 1962 Agnes married Stan Carswell, who was a transport officer in the Administration's Public Works Department (PWD). Stan was based in Lae where Agnes was able to continue nursing until the first of their three sons was born. Subsequent postings were Goroka, Mendi, Wewak, Port Moresby and back to Lae before 'going pinis' and settling in Cairns. Agnes is survived by Stan, their three sons and three grandchildren.
Chris Warrillow
Claringbould, Joan (née Alder)
8 March 2020, aged 93
Joan arrived in Port Moresby in 1962 with husband, Roy after having spent several years in colonial Nigeria. Roy worked with the Department of Trade and Industry and the family lived on Budoa Avenue, Boroko, next door to the Port Moresby High School headmaster. Joan was a keen philatelist and member of the Boroko East PM&C. In later years she taught at the Waigani Preschool, leaving PNG for good in 1973. The family settled in St Lucia, Brisbane.
Joan is survived by her three children, Michael, Susan and Jennifer, seven grandchildren and two great grand-daughters.
Michael Claringbould
COX, Kenneth (Ken) Brian
8 May 2020, age 90
After service in the NSW Police between 26 October 1953 and 2 August 1956, he joined the ACT police on the following day and served until 27 July 1958. On 28 July 1958 he joined RP&NGC as a Sub/Inspector (personnel file p189). He served at Port Moresby, Bulolo, Lae, HQO as senior operations officer at Konedobu and OIC Rabaul in June 1971. He directed investigations into the murder of DC Jack Emanuel that August, and in the Mataunguan problems in Rabaul during the 1970s. He was retrenched from RPNGC under the provisions of the Permanent Officers Employment Security Scheme on 1 August 1974 at rank of Senior Superintendent. He was highly regarded as a conscientious highly efficient officer.
On his return to Australia he became Security Superintendent with BHP at Whyalla and later at Port Kembla from which he retired in 1990. His wife, Joan, pre-deceased him and whilst in retirement he had a nasty fall which left him with a broken back, three broken ribs and a fractured neck. He died of natural causes and is survived by son, Bruce and his family.
MR Hayes, RPNGC 1959–74
DRAKE, Peter John
4 January 2020, aged 77
Peter was born in Brisbane on 21 December 1942, the older son of Jack and Phyllis Drake. Early schooling was at New Farm State School and Bulimba State School. Jack Drake was an avid sailor, sailing 12 ft, 16 ft and 18 ft skiffs on the Bulimba reach of the Brisbane River and gave Peter his early interest in sailing.
In 1954 the Drake family travelled to Port Moresby where Jack Drake took a supervisory position with John Stubbs Builders. Peter and younger brother Geoffrey attended Ela Beach School. Secondary school commenced in 1957 with both attending Ipswich Grammar School as boarders.
Unfortunately, Peter's tenure at IGS was cut short when he contracted rheumatic fever requiring him to finish his secondary schooling by correspondence in Port Moresby. After completing his secondary schooling Peter joined the Yorkshire Insurance Company in Port Moresby in 1959 as a clerk.
Peter followed his father's footsteps in sailing when he represented the Royal Papua Yacht Club in 1960, sailing in the VS class yacht in Sydney. The champion of that tournament was John Bertram.
Peter continued his employment with the Yorkshire Insurance & General Accident Group in Port Moresby in a succession of positions until he ultimately became Manager, maintaining the position until the mid-1980s when he accepted a position in Australia.
Whilst in Port Moresby, Peter was instrumental in the establishment of the Insurance Council of PNG. Peter, with his sound knowledge of the General Insurance business was used in a multitude of roles in the company, often filling roles back in PNG, Brisbane, Sydney, Cairns until ultimately becoming State Manager for Qld.
While in PNG Peter became a champion sailor representing PNG in the Lightweight Sharpie Class over many championships as well as competing in the Sydney to Hobart Race in 1974 on Red Boomer.
Peter married Lynette Dwyer in Port Moresby in 1971, and their daughter Johanna was born in 1975.
In the mid-1990s the family moved to Canberra where Peter took the position as State Manager for ACT, a position he held until the group sold their Australian insurance business in 2003 and closed the office.
Peter and Lyn liked the Canberra climate and especially the proximity to the Australian snowfields. They decided to remain in Canberra where Peter started his own successful insurance brokerage business. He was well respected as a general insurer by his peers.
Peter is survived by wife, Lyn and daughter, Johanna and brother Geoffrey.
Geoff Drake
FRANCIS, James (Jim)
17 February 2020
Jim always maintained an interest in PNG where he worked with Bougainville Copper and then with the Electricity Commission, first in Port Moresby and then Goroka. He passed away after a long illness.
Dawn Francis
KNIGHTS, John
24 February 2019, aged 89
John grew up in the northern suburbs of Melbourne as one of four siblings. At the age of nineteen he decided to leave Melbourne and move to Port Moresby, PNG, seeking adventure and an escape from the long Melbourne winters. He spent the best part of the next thirty years in PNG working in government and local government roles in various areas before returning to Australia (Brisbane) in 1976 following independence.
John, however, was subsequently offered contracts to return to PNG in the late seventies to early eighties, which he took up before finally returning to Brisbane to settle approximately mid-1980s. On return to Australia he took up a business opportunity before taking on a role in the ATO from where he retired at the age of sixty-five.
During his time in PNG, John spent approximately fifteen years in Port Moresby, five years in Goroka, six years in Rabaul and four years in Mendi. He held a range of roles including auditor, management and town clerk roles during this time and loved the work and absolutely loved PNG. He also received a number of recognition awards for his services to the development of PNG.
During one of his early leave returns to Melbourne he met and subsequently married the love of his life, Rosalie, in 1956, a marriage which lasted sixty-three years until his passing last year. John and Rosalie had two children, Rod and Narelle, both born in Port Moresby. John is survived by his wife Rosalie, two children, seven grandchildren and eight great grandchildren.
John's love of PNG, his work and his adventurous spirit led to many fascinating conversations around the dinner table over the years. Sadly, this fine man, the incredible experiences, and many of the stories of his amazing adventures, air, sea and jungle, have now passed with him.
Rod Knights
MANLEY, Elsie Beatrice
15 May 2020, aged 97
Elsie was born in 1923 at Albany, Western Australia one of five children of the manager of a car business. She was educated at Methodist Ladies College, Perth, and subsequently worked as an accountant at a woollen mill and the family car business.
Elsie was in a WA cafe early in World War II when she fell into conversation with sailors on shore leave from HMAS Sydney. The sailors loudly criticized the ship's new captain: 'he doesn't seem to know the difference between the pointy end and the blunt end of the ship' was her paraphrase. In an encounter with a German warship shortly afterwards the Sydney was lost with all hands.
Four years later Elsie heard the chairman of the Australian Board of Missions, Bishop George Cranswick, call for Anglican missionaries to serve in postwar New Guinea. Ready for an adventure in a mission that had a certain romance about it, Elsie undertook studies to become a teacher. Her father asked after her forthcoming salary and Elsie replied $50. Not bad, per month. No, said Elsie, per year. Her father was shocked: he would have to pick up any shortfall!
In 1949 she landed in north eastern Papua and met that great orator-bishop Philip Strong, at whose urging the Anglican staff had stayed behind in the face of the Japanese invasion. His radio speech had won him much admiration and also criticism. Strong sent Elsie to Gona Mission station which had been devastated by Japanese and Allied gunfire. Here for twelve years, as Headmistress of Holy Cross School, she worked for twelve years alongside nurses and priests. Reading the Hon Camilla Wedgwood's educational report in 1946-7, that Anglican schools in PNG's northern (Oro) district had been 'disorganized' by the war, her comment was, 'as for saying the school system had been "disorganised", it is a wonder there were any schools there for her to see – the whole area had been one great bloody battlefield!'
She taught around 300 children each year at primary level. Boarders cooked their own food, slept on dusty floors. There were no pencils or pens, irregular class attendance and occasional pregnancies. But much fun besides. She could be a strict teacher. In the diocese she expressed her mind forcefully, but her plain speaking was tempered by kindness and sensitivity.
She had a mischievous sense of humour, and published a booklet called Tropically Typically Topical which began with the number of words to describe a toilet – the loo, dunny, lavatory, privy, out- house. But in Papua New Guinea there was only one word – 'the small house'. She recalled the Queen's visit to Sydney in 1954 and laughed at Richard Dimbleby's radio commentary which was heard throughout PNG: 'I don't think there is a small house in Sydney without a Union Jack flying on it today'!
After the Mount Lamington volcano in January 1951, with the deaths of 5000 Papuans alongside government officials and missionaries, Elsie Manley joined Ted Marriott and moved the population of the Anglican Church's Martyrs' School to temporary dwellings at Gona for a year. She wrote, 'I am glad I was in PNG when I was; there were tough times, the Mount Lamington eruption… long walkabouts to inspect schools but the Mission family WAS a family and many of us kept in touch and knew one another better than …our natural families. We and the Government Officers were honest and did our work in the fairest ways'
By 1962 Elsie felt she had done all she could in PNG. Philip Strong had been elected Anglican archbishop of Brisbane and when he indicated his need for a secretary, Elsie was pleased to accept. She lived in her own rooms in Bishopsbourne at Hamilton.
Hers became a ministry of devotion and support to the bachelor Strong, who became primate of Australia in 1966. Although 24 years his junior, she became a maternal carer and fiercely loyal to him. She prepared his meals, ironed his shirts and bought his clothes. She answered the phone, made appointments, and typed up his letters and diary. She packed his case for appointments, made sure he left on time (punctuality was not one of Strong's virtues) and not infrequently drove him to his destination. Strong was fortunate to have Elsie around.
In 1970, Elsie retired with Strong to Wangaratta, Victoria. She continued as a companion and friend, perhaps the only person who could persuade Strong from a particular course of action. Theirs was a platonic, close, loyal and comfortable friendship.
In retirement she continued with her own brand of directness. She had little sympathy for feminism and supported the 1987 Anglican General Synod's No vote which rejected women 'priests', and she was not amused at the liberals' attempt to have the issue revisited: 'No means No!' she said. At the next general synod the vote went the other way.
Elsie joined the staff of the Wangaratta Technical School in the mid 1970s. She taught there from 10am daily after cooking the archbishop's breakfast. She was strict but fair, and 'if a student misbehaved at the bus stop she would give them a forceful poke in the backside with her umbrella'. According to the Technical School staff, she 'could fix anything', broken typewriters being her forte.
Her favourite pastime after the cathedral's Sunday services was joining her friends at the RSL or the pub, or 'wherever they had pokies'. She also travelled. Liz McAleese recalled Elsie visiting her at home in Samoa. The Samoans, 'expecting a typical conservative missionary, were surprised when she appeared off the plane armed with a carton of cigarettes, a huge bottle of whisky, and a repertoire of risqué jokes.'
Archbishop Strong died in 1983. Thirty years later Elsie's family in Albany persuaded her to move into care at St John's village Wangaratta, where she died on 7 May 2020.
Her vocation showed in her willingness to serve others. She was a kind generous person with a wonderful sense of humour.
Contributions by Diane Dower in Wangaratta, Bishop Jonathan Holland of Brisbane, and Dr David Wetherell in Geelong.
David Wetherell
MEISSNER, Emerson C
12 April 2020, aged 85
Born on 27 October 1934, Emerson worked for Treasury from 1963 to 1973 and, together with his family, Mary, Bob and Peter, greatly enjoyed his years in PNG.
Initially living in Port Moresby and then Popondetta, spare time was spent using an old Land Rover to explore the surrounding areas which were riddled with war relics.
After being transferred to Sohano, Emerson commenced designing and building a number of seaworthy power boats regularly used for recreational fishing in the pristine marine environment there, and around Madang and Lae after later transfers. He also built up quite a photography collection.
Peter and Bob Meissner
Editor's note: Emerson Meissner donated a bound collection of photographs in PNG over the years 1963–73 to the PNGAA Collection at the Fryer Library, University of Queensland.
MOORE, Rev. Sir Desmond Charles, MSC, KBE
Bishop Emeritus of Alotau-Sideia, 2 June 2020, aged 94 years
Born on 12 May 1926, Bishop Moore went to PNG in 1961 as a Missionary of the Sacred Heart (MSC). His first twelve months in PNG were spent in Port Moresby, where he worked with the bishop and the parish priest.
In 1970, he was ordained Bishop of the 20,000 sq.km diocese of Sideia, succeeding the founding bishop of the diocese, Bishop Francis John Doyle who was also a Missionary of the Sacred Heart.
Bishop Moore was there for thirty-one years and knighted for his work in 1996. His house was always open to anyone in need or distress, and most left him helped or comforted. He was always available on the mission radio network for a yarn or to discuss any problems that arose in the far-flung parishes of his diocese.
Bishop Des was a man without any pretensions to be anything else but himself. He respected the formalities demanded by his Office, but apart from that was content to be what he would have described as 'a pretty ordinary bloke'.
He could often be found on the wharf helping to load one of the mission boats, or organising the passengers and deck cargo with typical energy—sometimes to the bemusement of the crew. Often, he would be out and about around Alotau—at one time on a motor scooter.
He could be found in the offices of business houses and stores, always bringing with him a breath of fresh air; people enjoyed his forthright views on everything from the price of roofing iron to how the country was being run.
Extract from Missionaries of the Sacred Heart Magazine, 28 June 2020
NIGHTINGALE, John
19 May 2020, aged 73
John was the pioneer independent cocoa trader who took the PNG Cocoa export monopoly away from colonial plantation companies when he established Agmark Pacific Limited in 1988. John's natural commercial skills and quick-thinking approach ensured Agmark rapidly became PNG's largest Cocoa exporter. John and Agmark single-handedly catapulted the prices offered to farmers upwards to reach over 80% of European market price, a level that has been world best practice ever since.
The name Hummingbird came about in 1974 at the Rabaul Yacht Club. Ross King gave us that name because of Nightingale name (bird).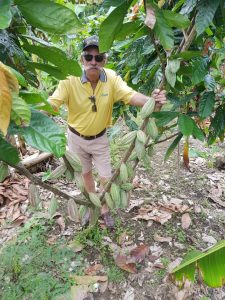 John Nightingale arrived in PNG in early 1971 and purchased his first plantations and coastal shipping vessels in 1975. He later managed New Guinea Cocoa Export Co. until 1988 when he formed Agmark Pacific Limited in partnership with New Guinea Islands Produce Company Ltd and Kina Gillbanks Ltd. He was Managing Director of Agmark Pacific Ltd until the merger with New Guinea Island Produce Co. Ltd in 2005 when he became Managing Director of NGIP Agmark Ltd, a position he held until his death.
John grew up in Victoria, Australia and studied Agricultural Science before starting a career selling agricultural chemicals in Australia and later in pre-independence New Guinea. He travelled widely in Papua and New Guinea before settling in Rabaul where he married Darrie Padir in the days when 'mixed' marriages were uncommon. John had no regard for the prejudices or conventions of the day and was never happier than when he was going against the flow. He was devoted to Darrie and devoted to seeing Papua New Guinea develop. John and Darrie were a formidable trading partnership and their company quickly became a household name. John became a PNG citizen at Independence and remained a PNG citizen for the rest of his life.
John had five overwhelming passions, all of which he loved and pursued wholeheartedly and enthusiastically. These were his family, his business, his staff, the farmers of Papua New Guinea and of course the sport of rugby league.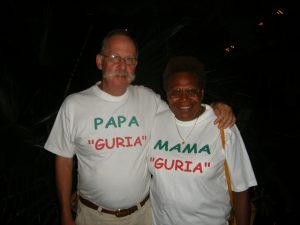 In 1991 he was one of three founding sponsors of the Rabaul Gurias team. For the next twenty-nine years his team was at the forefront of semi-professional PNG Rugby League, funded always by private sponsorship and acquiring a reputation for both sporting excellence and excellent sportsmanship. John acquired a second nickname, that of 'Papa Guria'.
In business, John experienced some setbacks. Firstly, the Bougainville crisis in 1989 and, secondly, the Rabaul volcanic eruptions of 1994. Characteristically it was John who was the first cocoa trader into Bougainville while the blockade was still in force, and it was John and Darrie who resumed cocoa buying in Rabaul just a few weeks after the eruption. John knew that without Cocoa his farmers would have no livelihood and he spared no effort to ensure that Agmark were there when needed by the Cocoa community.
John, 'Papa Guria', was a giant amongst men—he touched the lives of many and will be sadly missed by many for many years to come.
Condolences go to 'Mama Guria' Darrie, to John's sister Judy, to John and Darrie's children James, Nemika and Steven, to grandchildren Marley, Denzel, Troy, Silas and Izaac, to the hundreds of staff of NGIP Agmark, to the 4000 shareholders of the company John created, to the cocoa farmers who John empowered and enriched; to all Guria players present and past and to the tens of thousands of spectators to whom John helped bring the enjoyment of watching the greatest game being played as it should be.
'The idea is not to live forever, but to create something that will.'
Paul Bluett

PHILLIPS, Kenneth Macdonald
29 April 2020, aged 89
Born on 13 August 1930, Ken was a living legend in many ways: geologist, executive, mentor, boss, husband, father, friend and gentleman with a quick wit and dry sense of humour to boot. He had a strong and steadfast moral compass, uncompromising principles, and a determination and unwavering commitment to his team—traits which allowed him to achieve great success as an exploration geologist, project manager and then as a company executive later in life. It can be said that Ken had at least two 'Eureka!' moments in his life, which bookend his professional career. Firstly, as a young geologist in the jungles of Bougainville in 1964, and secondly as a mining executive when his company was subject to a US$1.1bn takeover/merger in 2007, after which Ken gracefully entered into a much-deserved retirement.
Ken is recognised as the discoverer of the Panguna copper deposit on Bougainville Island in 1964 while working for CRA Exploration (CRAE). At the time and subsequent to the mine opening in 1972, it was and still is one of the largest porphyry copper deposits in the world and it provided some 40% of PNG's GDP whilst in operation. The mine was closed prematurely in 1989 following civil unrest on the island.
Ken's vision and determination led to the discovery of Panguna. In 1961 he was appointed project leader of a team within CRAE that was experimenting with the new geochemical technique of stream sediment sampling and assaying with atomic absorption spectrometry (AAS) with the aim of looking for porphyry copper deposits in eastern Queensland.
While on holiday in SE Asia in 1963, Ken visited the Atlas porphyry copper mine on Cebu Island in the Philippines. It was a combination of these experiences and gifted foresight that Ken was able to recognise what Panguna was when he and his team walked into the area in April 1964. Their aim
was to investigate some old gold workings that dated to the 1930s, conduct stream sediment and soil geochemical sampling programs to see if the techniques worked in tropical environments and answer the fundamental question…could there be a porphyry copper deposit in the mountain range (Crown Prince Range)?
In short, the mineralisation that Ken saw in the banks of Panguna Creek reminded him of what he had seen at the Atlas mine on Cebu Island. It was his first 'Eureka!' moment. As a footnote, by the end of August 1964, stream sediment and soil sampling programs had identified a four sq.km anomalous zone representing the footprint of the Panguna copper porphyry deposit. Success all round.
Ken resigned from CRAE in late 1966 and was subsequently recruited as Project Manager for the Ok Tedi copper project in May 1969, with a remit of defining a mineable resource by the end of 1970. The Ok Tedi porphyry copper deposit is in the highlands of PNG, near the border with Indonesia and had been discovered by Kennecott Copper Corp. geologists in 1968 using stream sediment geochemical sampling methods.
For the next eighteen months, up to late 1970, Ken provided the leadership, direction and focus the project needed and was able to define a major copper project for Kennecott.
Throughout what was a very busy time, Ken somehow found the time to meet and marry Pauline in Perth mid-September 1969. Ken and Pauline remained happily married until his passing and have two sons, namely Cameron and Tom.
Following his stint at Ok Tedi, Ken went on to run a number of mining projects for large companies throughout the Pacific Rim.
Ken's next big success story is as an executive and begins with his partnership with Norm Seckold, a serial and highly successful, mining entrepreneur based in Sydney. Norm and Ken had teamed up prior to starting Bolnisi Gold NL, a small company at the time with mining assets in the Republic of Georgia (FSU), in the mid-1990s.
However, it was following a visit to the Madneuli porphyry copper mine and surrounds in southern Georgia that Ken described the prospect of the area as being like a 'Garden of Eden'.
Bolnisi Gold was subsequently formed and named after a town nearby, and the company went on to successfully build a gold mining operation, treating gold-rich 'waste dumps'. The waste dumps had been neatly and systematically stockpiled based on gold grade, by the operators of the copper mine that started in 1975.
In the early 2000s Bolnisi ventured into Mexico by purchasing the historic, silver-rich Palmarejo mine in Chihuahua state. For the next three years Ken and his team drilled, expanded the reserves and began developing the mine ahead of a US$1.1bn takeover by Coeur d'Alene in mid-2007.
This was Ken's second 'Eureka!' moment and a fitting end to a long and highly successful career as geologist, executive, mentor, boss, husband, father, friend and gentleman. A legend.
Ken is survived by wife, Pauline, sons Cameron and Tom and three grandchildren.
With thanks to Scott Marsh & AIG News, Issue 140, June 2020
PYE, David Raymond
17 March 2018, aged 94
Lived in Rabaul prior to WWII. Attended Sydney Boys High School. Loving husband to Dorothy (deceased). Survived by his children, Wendy, Deborah, Robert and Ian, and five grandchildren.

Rheinberger, Gregory J
10 April 2020, aged 82
Gregory was in PNG from 1960–69. He was a Department of District Administration clerk in Tari for five years. Father of Heidi (dec'd) and Bradley (dec'd).
A death notice was in the Dalby Herald, 1 May 2020.
SYPHERS, Captain Graham
16 June 2020
Born in 1944, Graham worked for Talair and Macair. An online tribute said:
Everyone loved Graham. He was a hardworking and incredibly skilful aviator of the highest degree. Many of us were enriched by knowing him and we will all miss his relaxed and fun-loving nature enormously. Vale Graham—A true Gentleman Aviator of the highest degree.

THOMPSON, John Russell Stewart, OAM
14 April 2020, aged 85
RPNGC Valour Medal, Australian National Medal (w/clasps), Reserve Forces Medal, PNG Independence Medal
Stewart died peacefully of cancer at West Melton, New Zealand, six days before his eighty-sixth birthday. After service at rank of Senior Constable in the Mounted Division of the New South Police Force between 7 November 1955 and 14 June 1969, during which time he also served in the Citizen Military Forces (CMF), firstly as a private, before he was selected to attend the Officer Cadet Training Unit, Sydney, from which he graduated as a 2nd Lieutenant having been awarded the Sword of Honour.
He was appointed to RPNGC on 19 June 1969. He served at Mt Hagen, Rabaul, Lae, Tomaringa with mobile squads and, later, with the Joint Services College. At PNG Independence on 16 September 1975 he transferred to the new national government and served there during the Bougainville emergency (during which an estimated 10,000 Bougainville citizens died during the national government blockade).
In January 1977, he was terminated at his own request with the rank of Senior Inspector and returned to Australia, firstly to Springwood and then to a property 'Mistley Grange' at Tennyson, NSW. He is survived by his wife of sixty-three years, Joan, and family.
While in the Constabulary he also served in the Papua New Guinea Volunteer Rifles (Australia's only overseas CMF) from 12 February 1970 (SN 262290) as Captain and 2/IC of B Company, Rabaul until the PNGVR was disbanded in 1972.
On 8 June 2009, the OAM was awarded for service to the community through the Australian Light Horse Regiment 'A' troop.
His RPNGC Valour Award was only the third awarded to expat officers of the twelve medals awarded. The circumstances for this award are that during the Bougainville emergency a RPNGC Sergeant accidentally set off a gas grenade in the police armoury, which exploded. Stewart being aware of the danger to a large amount of police ammunition proceeded to throw it out of the armoury before it too exploded. MR Hayes, RPNGC 1959–74
WONG, Wanda Helen (née Mason)
30 May 2020, aged 77
Wanda, originally from Sydney, was a nurse and transferred from Nonga Base Hospital, Rabaul to Kieta in 1967 where she worked for several months before returning to Rabaul to marry education officer, Kevin Wong. The couple moved to Canberra, at the time of Independence, where Kevin continued a career in education. His future prospects, supporting a family on a 'local' salary, determined the decision to leave PNG. Wanda's nursing career ended with the demands of raising two sons and a daughter. They retired to Witta in Queensland. Unfortunately, Kevin died fairly early into retirement.
Chris Warrillow
WATT, Neal Currie
19 April 2020, aged 80
Neal passed away at Coraki NSW after the diagnosis of a brain tumour in late 2019. Neal was the eleventh and youngest child of Ashley Watt and Muriel (née Saul). Born at Lismore, he grew up on the family dairy farm on the Richmond River at Swan Bay.
Neal was appointed a cadet patrol officer in 1958. In his ten years as a kiap, Neal served in Rabaul, Kandrian and Talasea in New Britain District; Daru and Balimo in the Western District; and Kavieng and Konos in New Ireland District.
Following his kiap service, he was an accountant in Sydney, Brisbane and Mossman in far North Queensland. In retirement, Neal lived initially in Hobart where his old Kavieng mate, John Duffy, was a regular golf partner. He settled finally in Coraki near Swan Bay.
Neal's passing is much felt by his beloved partner of the past forty-two years, Aafke McPhee. He is also missed by his surviving siblings Maisie, Roy and John, and a tribe of nephews and nieces many of whom continue to live around the Richmond River and Swan Bay area.
Neal is also survived by his former wife, Lynn Streakfuss (née Osborne) and their son Jason.
Tony Beard