Vale – Una Voce Mar 2019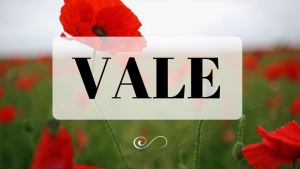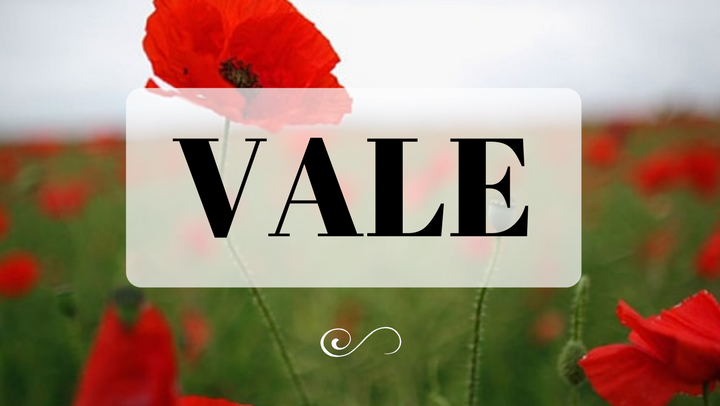 BARTLETT, Jon Richard; | BOTTRILL, Angus, OAM; | BURKE, Dr Clarrie; | BUTLER, Peter; FAVETTA, Sue; | GINBEY, Robert Charles; JOHNSTON, Nancy Edith; | LITTLER, Charles Geoffrey, MBE; | MILAN, Tony Arthur, Major, RFD Ed; | SAVILLE, Sydney Preston.
Further notifications in the Una Voce, June 2019: John Joseph SWEENEY (19 May 2018); Ian FRASER (15 October 2018); James WOO, OBE (11 November 2018); Sir Brown BAI (1 February 2019); Michael CARROLL (3 February 2019); Fr Adrian MEANEY, MSC (7 February 2019); Rev. Allen TAYLOR (8 February 2019); Graham Henry J POPLE, MBE (11 February 2019);
Robert (Bob) PIPER (19 February 2019).

BARTLETT, Jon Richard
d. 11 January 2019
Jon Richard Bartlett was a country boy, born with Irish and Chinese heritage in Wagga Wagga NSW, on 23 January 1942—the day the Japanese forces landed in Rabaul. Jon grew up with his elder brother, Jim, and elder sister, Joan.
Jon was a smart boy, went to medical school but found it didn't suit him and started with Dalgetys. Jon then decided to be a patrol officer in PNG, and began service at the end of January 1963, in the last intake of permanent officers. After a month-long induction course at the Australian School of Pacific Administration (ASOPA), Jon was in PNG.
Jon was posted as a lik-lik kiap (cadet patrol officer) to Kainantu, in the Eastern Highlands District. Senior Patrol Officer Peter Broadhurst recalls Jon's first patrol in PNG: Jon had been warned that the area might be dangerous and one night when he had gone out to the pit-latrine an arrow landed between his knees. Imagining an attack, Jon emerged in terror. Peter, the police and interpreters were rolling around with mirth.
The same evening Peter had left a coiled belt and grasshopper in Jon's bed roll as a pretend snake. Jon almost died of fright again but, on both occasions, and with typical good humour, Jon joined in the merriment.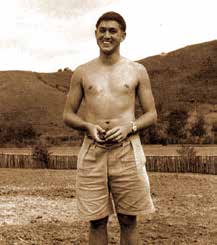 In 1965 Jon did a long course at ASOPA and shared a flat at Fairlight with Murray Tomlinson and Col Boreham. Jon and Murray were then posted to Chimbu, with Jon going to Wandi. He particularly enjoyed the social activities after Sunday rugby league games in Kundiawa. Peter Salmon recalls a moment on a census patrol with Jon in the Waiye-Digibe area of Chimbu: while trying to find out about a possible adoption, Jon was querying a flat-chested elderly-looking lady about her claim to be a new mother. The lady responded by spraying the patrol table with breast milk.
After his time in Chimbu, Jon moved to the East Sepik District and became the OIC of Amboin Patrol Post, where he came to know Joanna, through her interest in traditional art and an adventurous dugout canoe trip. John Blyth recalls that during the early seventies, Jon had been OIC Dreikikir, but then transferred to Maprik as ADC. John had serious trouble with the Yeliwan cargo cult, at Marambanja in the Yangoru area, and after Jon subsequently tried and imprisoned the ring leaders the cult faded out.
In 1972 Jon took on the job of welfare officer in Daru, Western District. Jon and Joanna married, but things didn't work out, however, Jon gained many friends in Daru. Whilst there, Jon, carefully mentored by Ray Moore, became a spearfisherman, bringing home fish and crayfish, and having occasional moments of excitement with sharks. Although Jon loved Daru, his work was not satisfying, so he decided to rejoin the kiap service, and was posted to Misima in 1975 as ADC. Most evenings at Misima involved dart-playing at one house or another.
Sometimes a pig would be spitted, and on those day-long occasions, alcohol consumption was at record levels. Jon learned to scuba dive at Misima, an air compressor was acquired and dives to amazing locations followed. Jon once sentenced a little old man from Sudest Island to twelve-months imprisonment for sorcery. Jon figured that the sentence probably endorsed the credentials of the old felon.
Jon had a close call while on a reccie of Pocklington Reef, about a third of the way to the Solomons from Rossel Island. On the return flight to Misima, land could not be sighted. Eventually, it was and the aircraft island-hopped back to Bwagaoia. The plane's compass was out, and a tin of powdered milk in the forward locker was blamed. Jon also recalled that the engines were making unusual sounds—the fuel had been contaminated. Jon sent Paul out to find a suitable airstrip site on Rossel Island. A local copra plantation at the south-west end of the island was selected and, using hand labour and a small tractor supervised by patrol officers, the strip was built. At the well-attended official opening, the airstrip was officially named the Jon Bartlett Airstrip.
Jon always liked boats, and James Wharram catarmarans. At Misima, Jon almost became the owner of the charming little double-ender, La Mouette. The boat had been stolen from Sydney by a member of the Baader-Meinhof terrorist organisation and subsequently impounded. Because of deterioration of the vessel during insurance company deliberations, Jon didn't get it. Soon after, however, Taholi sailed into Bwagaoia harbour, under the command of Captain John Robertson, previously commander of HMAS Melbourne during the tragic incident with Voyager. Taholi was a Formosan Sea Tiger CT41. Not long after, Jon purchased Taholi, however, as it turned out, Jon was not meant to be a sailor, but he gave it a go and explored the north coast of PNG.
In 1981 Jon returned to Australia and met the true love of his life, Tintin. Soon after was the beginning of their thirty-seven years of marriage. After dabbling in the stock market, Jon joined the Department of Immigration, based in Townsville. Then, son Arnold arrived, followed by Emily.
Jon next won a position as Regional Electoral Officer for the Western Division of NSW, and the family moved to their new home in Narrandera. By this time, other PNG friends had returned to Australia. Every Australia Day Jon and Paul would get together at Narrandera and this became a reason for others to join in. Now and then, all descended on Col Middleton's place on the Darling River. Jon had fond memories of western NSW, and in particular Col's wedding in Bourke.
After many happy years in Narrandera, Jon transferred to Newcastle as the electoral officer. New friendships formed and kelpie, Bonnie, joined the family. Jon enjoyed woodwork, was famous for his home brew, loved rugby and cricket and loved to sing and cook. He preferred warm climates and he and Tin would drive on long trips up north, sometimes as far as Cape York, visiting friends on the way. Jon and Tin loved visiting the Moores on TI, the McArthurs in Kuranda and a catch up with the Becketts at Hervey Bay.
Jon passed away peacefully, and his presence is still with us, with Tin, Arnold and Bec and Emily, beautiful granddaughter Ivy and all his relatives and his friends.
Emily Bartlett

BOTTRILL, Angus, OAM
d. 23 January 2019
Following is an extract from the draft of his auto-biography:
'In 1941, Terry Murray and Ted Fitzgerald, my Christian Brothers College mates, and I joined the air cadets. When we turned eighteen they both joined the RAAF and were both later killed as air crew gunners in Europe. However, my parents refused to give their written consent for me to join the RAAF or the AIF, and I enlisted in the AMF in December 1942.
After Infantry Training at Northam, I was sent to the Australian Survey School in Victoria. First at Burswood then at Darley Camp, Bacchus Marsh. At nineteen, I was allowed to join the AIF. At the Darley Camp there was a Dutch Intelligence School for Indonesians and I was able to learn some Malay from them. One particular soldier, Johannes Rentor from Kei Island, South Moluccas, became a close friend. He told me a lot about his island, his work in the then Dutch Papua as a Catholic catechist and his hopes for self-government for the Moluccas—similar to that achieved by the Philippines prior to the war.
After joining the AIF, I was then sent for further training to No. 4 Field Survey Company that was based at Karrakatta, in Western Australia. I was employed in field work—completing Triangulation at Dwellingup and at Galena. While at Galena I saw for the first time an Aboriginal camp, and it left an indelible and disagreeable impression in my mind.
Also the same situation was at Ajana, in 1943, at the terminal of the Northampton Railway. At the end of the railway line was a vermin-proof fence and there were a number of lean-tos of corrugated iron and other materials. The fence was the lean-tos' support that sheltered several large Aboriginal families.
In 1944, I was then sent as a re-enforcement to the 2/1 Australian Army Topo Survey Coy, which was then in New Guinea. However, I did not join them until the end of the year at Ravenshoe in the Atherton Tablelands, Qld. The Duke of Gloucester, then Governor-General of Australia, inspected 1st Australian Corps, prior to their departure for the Borneo Campaign.
The various units were drawn up in single file along the roadsides of the Atherton Tablelands. I was prepared to be critical of the duke, but was astounded by his military bearing, meticulously speaking to every third or fourth man, when his aide and staff officers with him were puffed, red and untidy trying to keep up with him.
The unit, with the HQ of the 2/1 Australian Corps embarked on the USS General Buttner, a US Navy troop transport ship, from Townsville. We proceeded to Moroptai via Lae, Madang, Hollandia and Biak. A submarine alert occurred and the ship went to full speed, leaving behind HMAS Swan—a slow gunboat escort. On board we learned of the death of Roosevelt. At Morotai our unit made maps of North Borneo and Balikpapen in preparation for the Australian landings there.
When the war ended in September 1945, volunteers were sought for a Liberation Battalion to be formed to go to disarm the numerous Japanese there.
I volunteered and shortly sailed in a troopship. At Ambon we were camped in the Benteng, a pre-war Dutch barracks south of the town. We were received by the townspeople as heroes. They invited us to their houses in the daytime to partake of such things as cinnamon tea, fried sweet potato slices—sprinkled with palm sugar—or fried bananas.
At night we were asked to parties, where gramophones were played outside houses and we danced in the sand. Later we drank sageror or segero—a palm wine.
In early 1946, when the Australian Troops were withdrawn from Ambon, there was a remarkable demonstration from the people of Ambon. The Dutch Military had closed off the wharf area to the public, while we embarked. A crowd of several thousand pushed through the barriers and occupied the wharves and shouted and cried and sang as we pulled away. For the days preceding, we had been stopped by strangers in the streets who made it clear, that we should not leave them to the Dutch again. We could only say that our business was finished and we were going home. I was very young and impressionable, I guess, but I have never felt so moved by such a spontaneous farewell.
After Ambon, I was sent as a re-enforcement to the Engineers, carrying out post-war road re-construction, near Nonga in Rabaul. There, in April 1946, I learned of my father's death and as Rabaul Airport was closed, I returned to Sydney on the frigate HMAS Murchison. I was then flown home to Western Australia on a RAAF DC3, taking about three days. In May, I was hospitalised for malaria in Hollywood Hospital, Perth for three weeks. I was discharged from the Army about a month later, on 18 July 1946.
I applied for jobs in HM Customs and in the Papua New Guinea Provisional Administration as a patrol officer. I was accepted first by the latter and I went to attend the 5th Short Course at the Australian School of Pacific Administration. The school was founded during the war to train army officers for military administration—probably on the advice of Colonels Alf Conlon, John Kerr and JK Murray, advisers to the Australian Government Territories Minister, Eddie Ward. Following the war, the short course was converted into a civil course for the post-war administration of Papua New Guinea.
On successfully passing the course, I proceeded to PNG as a probationary patrol officer, a couple of days after New Year's Day, 1947. A few days after I arrived, the Administrator, JK Murray, invited us all, some thirty or forty men—mainly ex-servicemen, to drinks at Government House, Port Moresby. The single drink provided was one warm gin squash! After meeting us, he delivered a welcoming and advisory address. I remember clearly a part of his speech said we would be judged as successful in our job if Independence was achieved before we reached eligibility for a pension.
My career by that measure was a success, as my job ended in 1974 as Independence approached.
It was the beginning of a notable peacetime career in which Gus served the indigenous peoples of Papua New Guinea and Australia with great distinction, and on 12 September 2008, Angus 'Gus' Bottrill was awarded the Medal of the Order of Australia in the General Division, within the Australian Honours System.
The citation reads as follows:
For Service to the Indigenous Community, particularly through research and assistance with land title claims.
David Montgomery

BURKE, Dr Clarrie
d. 13 January 2019
Clarrie Burke, known to many former educators and senior public servants in Papua New Guinea during the 1960s and 1970s, died on 13 January in Brisbane. He had incurable cancer.
Clarrie was born in Port Moresby, his family evacuated to Australia shortly after the Japanese invasion of PNG in 1942. The family settled in Brisbane but later moved back to Samarai. Clarrie and his brother, Eddie, completed their primary and secondary education as boarders in Brisbane and Toowoomba.
In 1957, Clarrie worked as a clerk at the District Education Office in Port Moresby and the following year he took up a two-year education cadetship at the Australian School of Pacific Administration (ASOPA) in Sydney to train as a primary teacher.
His postings as a teacher were to Lae, 1961–1962, and then Port Moresby as headmaster of the well-known and highly-regarded Hohola Demonstration School (PNG Education Department 1957–75). Clarrie later was appointed principal of the Education In-Service College, which had the formidable task of upgrading teachers' credentials and identifying high-level training for senior PNG administrators in the lead-up to independence.
He mentored and guided many of PNG's early administrators.
It was during his first posting as headmaster, in 1963, that he met and married his late wife, Gail, who was a Grade 6 teacher at the school. In 1974 Clarrie gained his PhD in the philosophy and psychology of education from the University of Michigan in the United States. After independence in 1975, he was awarded the Independence Medal for his services to education. Following Independence, Clarrie returned to Australia and became a senior lecturer in teacher education at the Brisbane College of Advanced Education, where he was later appointed head of education studies.
His final appointment before retiring in 1998 was as associate professor and director of the Research Centre for Leadership and Policy Studies in Education at Queensland University of Technology. After his retirement, Clarrie was a tireless activist in the field of human rights and he was published widely online and in influential publications. Clarrie's humanity, kindness and wisdom will be greatly missed by his friends. }
He was a true gentleman and role-model to all who knew him.
Murray Bladwell
And more on Clarrie from PNGAA archives:
Clarrie Burke was a former Port Moresby Kone Tigers Rugby Player—1957 and 1960. Clarrie was asked by Bill O'Brien, the doyen of the Kone Rugby League Football Club for many years, to play for Kone in 1960, following his return from a two-year cadet education officers' course conducted at the Australian School of Pacific Administration (ASOPA). O'Brien also asked Clarrie to join the management committee for the football team.
Shortly after, at Clarrie's second committee meeting of the year, Bill raised an issue which would have short- and long-term ramifications for the future of rugby league in the Territory. He suggested that a young ex-scholarship holder, John Kaputin, known to many for his high-profile careers in business, politics and government service, be invited to join the Kone Tigers. Bill had described John as 'A superb athlete, with a good head on his shoulders, who can run like the wind.' The management committee supported this.
1960 saw the Papuan Rugby League Premiership Final between minor premiers, the Kone Tigers, and runners up, DCA-QEA. The result: 'Kone Tigers won the 1960 Rugby League premiership at Boroko Oval on Sunday, defeating DCA-QEA 21 points to 17.'
John became the season's leading try scorer as winger for the Kone Tigers in the Papuan Rugby League Competition (1960). He was fresh out of high school and this was his first experience of rugby league—the senior competition at that! All the more amazing was that he made the Papuan 'Firsts' representative team to play New Guinea in the first of two representative matches in his debut season.
Read more on this article in PNGAA archives: HERE

BUTLER, Peter
d. 1 February 2019
Aged seventy years, in Rabaul.

FAVETTA, Sue
d. 20 January 2019
Sadly, Sue has passed away in Melbourne after being very ill for quite some time. She went to Papua New Guinea in 1968 with her husband, Fif, who was part of the first married patrol officers intake to the service, and with them was their one-year-old son, Mark.
Their first posting was to the Northern District, living in both Tufi and Popondetta. In December 1969 Danielle was welcomed into their family, born in Port Moresby General Hospital.
1972 saw Fif transferred to the Southern Highlands, with postings to both Tari and Mendi until they finally went finish in November 1980.
We first met Sue and Fif when Noel was posted to Tari as ADC and became friends. Sue was always an active participant in all things to do with outstation life. On occasions, Sue and the children accompanied Fif on patrol.
When living in Mendi Sue became a Talair employee for many years and enjoyed her job immensely. Her life in town revolved around the International School where Mark and Dani attended, the Mendi Valley Club and the swimming pool we all worked hard to establish, gatherings at the Clive Steele Club and her work at the airstrip. After going back to Australia Sue established herself in the travel industry in Melbourne, gaining plenty of happy and loyal clients over many years. She enjoyed very much being a grandmother and loved her garden.
She will be sadly missed by Fif, Mark, Dani and their families and her friends.
Maxine & Noel Wright

GINBEY, Robert Charles
d. 25 August 2018
Passed away peacefully at home on Saturday, 25 August, aged seventy-four years, surrounded by his family. Adored by all of us, his wife Marie, his children Andrew, Peter and Emily, their spouses Casey, Peta and Mark and his precious grandchildren—Ben, Ella, Abby, Oliver, Reuben, Harriet, Hugo, Jack and Jade.
In our hearts forever.

JOHNSTON, Nancy Edith
d. 10 January 2019, aged 97
An edited extract from 'The Life of Nancy Edith Johnston' as presented at her funeral service, Woronora Memorial Park, Saturday, 19 January 2019—the full version can be viewed on the Association's website: www.pngaa.org/site
'Nancy, who was born on 7 December 1921, would not have changed her life for any other. Her first employment was at the Australian Gas Light Company where she met her future husband, Bill. She enjoyed the clerical work and held the position of a 'senior male clerk' until the end of the war. For two years, Nancy and Bill worked together and spent their spare time with each other until Bill, on turning eighteen, was called up for war service and enlisted in the AIF.
When in the army, Bill volunteered for and was accepted for service in the Australian New Guinea Administrative Unit (ANGAU). Before volunteering, he had sought Nancy's agreement because of the likelihood of postwar employment with the civil administration in Papua and New Guinea. Bill was discharged from the army in April 1946 to allow him to take up a position as a patrol officer with the postwar provisional administration.
After spending Christmas 1946 with her family, Nancy joined Bill at Misima Island, a typical tropical paradise. A few months later they transferred to Woodlark Island, where there was no communication with the outside world, and a government trawler called every three months or so with food and mail. Because of food shortages, they lived 'off the land' and 'from the sea' and when Bill was on patrol, Nancy lived alone, with no amenities, in an old dilapidated building that could not be locked or made safe.
Leave in Australia followed, and after rejecting the pleas from their concerned mothers, 'to get some sense and settle in Sydney', they returned to Papua to live first at Sehulea and then Esa'Ala on Normanby Island.
In 1948 Bill was selected to attend the Australian School of Pacific Administration in Sydney. It was during this time their first son, Alan, was born and a daughter, Christine. At the end of the course, with Bill and the two babies, Nancy returned to Papua to live in the Delta region of the Gulf of Papua.
The posting to Kikori was her most memorable time in Papua New Guinea. The prolonged heavy rainfall made it a dank and miserable place with difficult living conditions and unfavourable for two, then three babies, when her second son, Gary, arrived. Like everything that had gone before her, she coped with the situations as they arose. She had the responsibility of three babies, living on an outstation without the usual 'taken for granted' amenities and proper medical care.
She had the anguish of the tragic accidental death of her beloved daughter, Christine. Christine's death was the reason for their transfer from Papua to Madang in the Territory of New Guinea.
Living in the town of Madang meant, for the time being, the end to her 'pioneering' days. It was a great joy, when nine months after Christine's death, their much-loved daughter, Margaret, was born. She has been a lifetime compensation for her Dad and Mum. It was then to Bogia for three years. Their third son, Christopher, was born and with four young children, they moved to Manus Island for the next five years.
Nancy began her interest in voluntary work at Manus, first with the indigenous women's clubs and in 1958, when challenged by Lady Baden-Powell to do something about the Girl Guides, she helped to start the movement at Lorengau. Besides her voluntary work, the Director of Education gave her the position of the Home Economics Officer at the local high school.
After nine years in the Territory of New Guinea Bill, with his family, moved back to Papua and was posted to Popondetta which gave Nancy the opportunity to be involved with civic activities, particularly those involving her children.
She became involved with the Country Women's Association, holding the position of treasurer for a short time before being elected to the branch presidency. Her contribution to this branch was recognised when the Loyal Service Badge was presented to her at a function held in her honour.
She taught the 'social graces' to two indigenous teenage girls in the days before girls were formally } educated, and this training led to successful futures for them both. One became a diplomat with the Department of Foreign Relations, was crowned Miss Papua New Guinea and represented her country in Australia, and the other lass, after secondary education in Australia, became a successful business woman in Port Moresby.
Bill's promotion to the Director of Civil Defence in 1970 meant a transfer to Port Moresby. It was with regret that Nancy left Popondetta, as she was happy in her job and had many interests. Her only consolation was that, in an emergency, Port Moresby was closer to her children who were, by this time, at boarding schools in Sydney. Nancy's CWA membership was transferred to the Port Moresby Branch.
Without seeking nomination, she was selected as an executive to the National Council, the governing body of the Country Women's Association of Papua New Guinea, and the following year she was elected the National President, a prestige position recognised by the government and the Associated Country Women of the World.
In 1974, she was granted Life Membership, Nancy was the only National President in the history of CWA who had experienced living away from the 'sophistication' of the national capital of Port Moresby.
Nancy had the conviction in believing in oneself and being able to overcome problems and traumas, and considered the best source for 'counselling' was the support of Bill and her friends.
This was often proved, particularly at the time of her daughter's death. As a woman, in the new age of equal opportunity, she believed in ability, not 'gender' and reminiscing back to the days of strict demarcation in jobs for men and women, she had held three positions designated for men.
For thirty years Nancy watched the growth of Papua and New Guinea and saw the country become an independent nation.
She found it a sombre moment when the Australian flag was lowered for the last time as the official flag, symbolising the end of Australia's control in Papua New Guinea. The raising of the flag at sunrise and its lowering at sunset had been a daily ritual in her life. She realised her life in this country was ending, and it was a sad day when she and Bill left Papua New Guinea for the last time. Nancy felt she had made a worthwhile contribution to the country and realised it had been a privilege to be part of this history-making time.
In spite of the hardships, she kept herself occupied and was never bored, and never did she consider it a deprived style of life.
Living for thirty years in Papua New Guinea was a significant part of her life. When such a lifestyle ends, a person feels empty and lost. She appreciated the ongoing friendship with her wantoks (one talks), the members of the Retired Officers' Association of PNG (ROAPNG—later renamed the Papua New Guinea Association of Australia), the men and women who, for many years, shared a similar lifestyle, and had filled the void she experienced by not having family and relations nearby to turn to in time of need. Nancy dearly loved her children, Alan, Gary, Margaret and Christopher and her thirteen grandchildren—a truly remarkable lady.'

LITTLER, Charles Geoffrey, MBE
d. 7 December 2018, aged 89
Geoff was born in Latrobe, Tasmania on 18 January 1929. He grew up on a dairy farm and decided that this was not the life for him. He headed off for adventure, answering an advertisement for patrol officers in Papua New Guinea.
His patrols took him to many isolated places, which would have been an eye-opener for a young naive man from Tasmania. He experienced walking into the aftermath of the Mt Lamington eruption in 1951 to assist any survivors, no doubt a confronting task given he knew and was friends with many of those who lost their lives that day.
Geoff went on to marry Trish in 1955, who he met on leave when returning from England on the liner, Orion. Trish, from Sydney, was returning from her own overseas trip in Europe. They had eight children (three singles, a set of twins and a set of triplets).
Geoff's first posting as a married man was Wewak and he was there when the Busama blew up causing great devastation to the swimmers ferrying the 44-gallon drums to shore. From there he was sent to Milne Bay, posted to Misima Island, and then on to Mt Hagen. He was finally posted to Port Moresby. It was a running joke in PNG that Geoff was the only person whose dependency allowance exceeded his pay.
Some of the highlights of his public service career included his time as Deputy District Commissioner for Mount Hagen and his appointment as a member of the second House of Assembly where he became Deputy Chairman for the Select Committee on the Constitutional Development Committee.
Later when PNG gained its independence and the first prime minister, Michael Somare, was elected Geoff joined him as an adviser in the Department of Prime Minister and Development Administration.
Geoff finally left Papua New Guinea in 1976 as he still had three girls to finish high school, and wanted the opportunity to see them grow up through their teenage years. His service to PNG was recognised by the award of an MBE by the Queen in Port Moresby.
Geoff's commitment to community continued after he left PNG. He was Executive Director of the Red Cross in Darwin upon leaving PNG, he then returned to his agricultural roots and took up avocado farming on the Sunshine Coast. He did, however, want to influence change and stood and was elected to the Maroochy Council for three terms.
Geoff was a frustrated pilot (colour blind) so he became a glider pilot and instructor instead during his free time. His last flight was in 2016 (albeit as a passenger), something he really enjoyed.
Following retirement from council, Geoff continued his community involvement, auditing the books for various organisations, working with Palmwoods Progress Society, Fire Brigade, Water Watch and St Vincent De Paul.
Geoff thoroughly enjoyed his days in PNG and went back in later years with the Rotary FAIM organisation to build a hospital in Kokoda, and was awarded the Paul Harris medal.
Geoff passed away peacefully on 7 December 2018 surrounded by family. He is survived by his wife, Trish, and children Margaret, Jude, Barb, Kathy, Peter, Helen, Trisha and Frances and grandchildren and great grandchildren.

MILAN, Tony Arthur, Major, RFD Ed
d. 14 November 2018
Tony was born 22 February 1935 in Catherham, England where his father Jack was stationed with the Coldstream Guards. During WWII his dad was away for many years in Europe and Africa where he was wounded and lost the full use of one leg.
In 1951 the family moved to Australia, settling in Adelaide, South Australia. Tony matriculated and started his first job with the Adelaide Steamship Company delivering the company mail run in the Port Adelaide area. He completed National Service military training in 1953 and was selected to attend Portsea Officers' Training School. He graduated as a second lieutenant and remained in the regular army until 1956.
Successfully applying for a PNG position, he attended ASOPA and moved to Port Moresby as a health administrator. During his time in Port Moresby he travelled with his work throughout Papua.
Tony's hobbies included hockey, sailing, flying, gliding, fishing, gardening and reading. He married Patricia in 1962 and they had two sons, Scott in 1964 and Martin in 1967. Prior to his 1964 move to Rabaul, Tony completed a Certificate of Health Administration at the University of NSW. His Rabaul appointment was as the Regional Health Administrator for the New Britain Region. Further study earned him a Diploma and a Bachelor Degree in Health Administration.
He returned to Australia in 1967 and worked in hospital administration at the Alfred and Royal Women's hospitals in Melbourne until he moved to Shepparton to take up the position as Chief Executive Officer at the Goulburn Valley Base Hospital.
During his career he became a Fellow of the Australian College of Hospital Administrators, Fellow and Board Member of the Australian Institute of Management and Fellow of the PNG Institute of Management.
In 1990 he commenced work as a health consultant working with a number of hospital rehabilitation projects in Fiji, Vanuatu. He returned to Papua New Guinea with AusAID to work in hospital improvement projects until he retired to Shepparton in Victoria in 2003. He also lived at Glass House Mountains, Queensland for a number of years.
At the time he arrived in PNG he transferred into HQ Coy, Papua New Guinea Volunteer Rifles (PNGVR) based in Port Moresby as a lieutenant from 10 Infantry Battalion. In 1960 he was promoted to Captain and in 1961 transferred to the Reserve of Officers until returning to HQ Coy in time to attend the 1962 annual camp at Goldie River.
During his time in Rabaul he was promoted to B Coy Company Commander (OC) when Major Harry Green retired. In 1967 Tony completed a two-week 'familiarisation visit' to South Vietnam. He walked the Kokoda Track on three occasions.
Tony was a well-respected soldier, as mentioned in PNGVR: A History 1950–1973. Tony was a Rotarian in Port Moresby, Rabaul and Shepparton and was awarded a Paul Harris Fellowship in 2002 for his contribution to the community.
He suffered ill health for a number of years and moved to Nathalia, Victoria to be closer to family, where he died on 14 November 2018, and his funeral service was held in Shepparton. He is survived by Patricia his wife, two sons and grandchildren.
Bob Collins

SAVILLE, Sydney Preston
d. 31 October 2018
NAVAL SERVICE 1941–1945: Royal Australian Navy
HMAS Warramunga 1942–1945,
7 Officers, 190 Sailors;
Motto: Courage in Difficulties
The Warramunga was present in Tokyo Bay during the Surrender Ceremony, 2 September 1945—Syd celebrated his 21st birthday with a hot bottle of beer.
AWARDS & DEGREES
1951: BSc (Agriculture)
1952: Diploma of Education, Diploma of Tropical Agriculture (Imperial College, now part of the University West Indies)
1969: Churchill Scholarship: Masters in Agriculture Extension, University of Reading, UK
1976: OBE
PAPUA NEW GUINEA 1952–79
1952–1954: Typical Didiman
1965–1969: Conceived and led the establishment of Vudal Agricult-ural College. He was its first principal. A memory of that time is of Syd in long trousers and long sleeve shirt. Always impeccable and unflappable.
1970–1979: He was Regional Director based at Kila Kila. It was here that his reputation was estab-
lished. He was perceived as more than a boss, in fact a friend in HQ.
NTH TERRITORY—1979–1989
1979: Departed Papua New Guinea for Alice Springs to become Regional Director for Health for Alice Springs and Tennant Creek.
1980: Transferred under protest to become Secretary of the Department of Education based in Darwin.
1984: Appointed Secretary of Northern Territory Department of Primary Production.
1987: Appointed Public Service Commissioner and Secretary of the Department of Labour and Administrative Services.
1989: Departed to Brisbane on retirement and built their home in Burpengary.
AFTER RETIREMENT
1989–1996: Team Leader of AusAID Cocoa Quality Improvement Project.
1989–1990: Short-term consultancies in the Philippines.
1992: Consultancy on extension for PNG Coffee Industry Corporation (three months).
1994: One-year Team Leader of Agritech Project Philippines.
1995–1996: Four months as Training Adviser to Oil Palm Industry Corporation.
1999: Four months as Personal Adviser to Fiji Sugar Corporation.
To keep himself otherwise occupied Syd was a regular walker and participant in camping holidays with the Brisbane Walking for Pleasure Group.
Syd was to many people of those years a boss, a mentor, a leader, an educator, a teacher, a colleague, a friend and a motivator. Stories about Syd are told by many all with respect and gratitude.
Vale Syd
Heather Saville
Further notifications will be in the Una Voce, June 2019:
John Joseph SWEENEY (19 May 2018)
Ian FRASER (15 October 2018)
James WOO, OBE (11 November 2018)
Sir Brown BAI (1 February 2019)
Michael CARROLL (3 February 2019)
Fr Adrian MEANEY, MSC (7 February 2019)
Rev. Allen TAYLOR (8 February 2019)
Graham Henry J POPLE, MBE (11 February 2019)
Robert (Bob) PIPER (19 February 2019)