Vale – Una Voce Dec 2018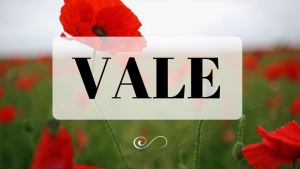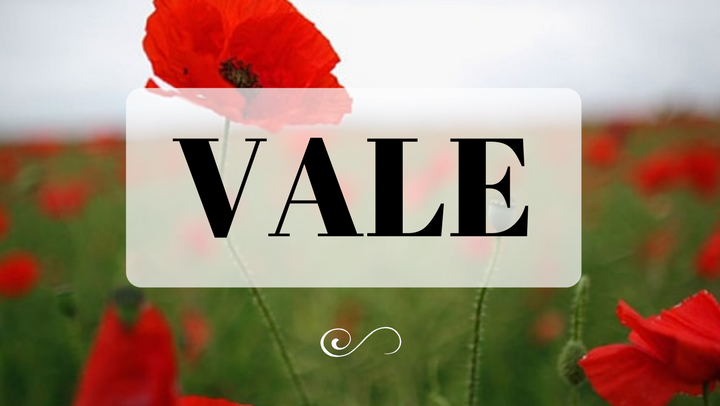 BALDWIN F Jeffery, | BOSTOCK, James (Jimi) Dundee; | BUCKLEY, Rudolph Joseph (Rudy); | FEENEY Greville (aka "Snow") Michael, MENNIS, Brian; | O'MARA, Kevin; | VEALE, Lionel

BALDWIN F Jeffery
D. 27 July 2018, aged 88 years
Jeff lived at Pottsville and provided great assistance to the PNGAA Management Committee over many years, especially in the area of accounts and editing. This was much appreciated. We hope to have further information in the next issue.

BOSTOCK, James (Jimi) Dundee
D. 15 September 2018 aged 55 years in Canberra.
Facebook – In Memory Of TPNG and PNG Kids We Grew Up With – posted by his brother Neal Bostock.

BUCKLEY, Rudolph Joseph (Rudy)
D. 1 August 2018, aged 87 years
Born in Rabaul on 2 August 1930, Rudy was the third of seven children born to William Buckley (of Irish and Tolai descent) and Maria Rocca (of Spanish and New Ireland descent). He was schooled pre-war at the Roman Catholic Church grounds in Malaguna Road. Post-war he attended St Joseph's school in Malay town for about two years and was then employed by the Commonwealth Department of Works for about twenty-five years. During this period as a tradesman he was principally employed in the building and repair of housing supplied to Administration officers. After this he was employed by the Department of Civil Aviation and transferred after PNG Independence in 1975 to Queensland.
When granted Australian citizenship in 1964, he joined "B" Company, Papua New Guinea Volunteer Rifles at Rabaul, was promoted to the rank of Sergeant and served until 1971.
His elder brother Harold was a ship's supercargo/purser and left Rabaul in December 1941.
Rudy was 11 when the Japanese invaded Rabaul and during the occupation he and a friend were employed by the Japanese to look after the cooking fires along Coal Wharf Road; fanning the fires minimised the smoke. They worked from 3am till midday for a weekly payment of a sock full of rice. Rudy had to speak Japanese which he mastered by the end of the war.
Near the end of June, 1942, Rudy and a Chinese friend were attracted by Australian soldiers being marched to a nearby wharf at Rabaul. The Japanese were loading the soldiers on a Japanese vessel, Montevideo Maru, for transportation to Hainan in China to be used as slave labour. A particular soldier saw Rudy and his friend, smiled, and threw them a handkerchief which Rudy picked up and kept. The handkerchief contained the name and Regimental number of FX19523, Cpl Barry Richard David O'Neil of the 2/22nd Bn. In 2004 he presented the handkerchief to the Association Museum. 1,053 Australian military and civilian personnel, including 36 members of the NGVR lost their lives when the unmarked prison ship Montevideo Maru was torpedoed by a US submarine.
Rudy also saw executions of Australian New Zealand and US airmen by the Japanese and after the war showed the Imperial War Graves Commission 32 graves of the executed airmen who had been beheaded, bayoneted or shot. The continued bombing caused the Buckley family to move to hills south of Ratangor, approximately 36 km from Rabual. They worked in their gardens and dodged Allied bombs. Rudy, with a Malayan boy, had the daily task of collecting and calling the roll from Ratangor and returning it to the Japanese police. His father, Willie, a motor mechanic, was violently bashed with a crank handle by Japanese officers impatient for their car to be repaired during an air raid, and Willie died soon after in 1943, aged 44.
Over the years Rudy has donated many pieces of memorabilia to the museum and was involved in Association activities whenever possible. Rudy was also a talented artist.
Information with thanks to Harim TokTok, newsletter of the PNGVR Ex Members Association
See additional article HERE.

FEENEY Greville (aka "Snow") Michael, M.B.E.,
PNG Independence Medal 1975, P.L.S.& G.C.M 1977, Q.E 2 Silver Jubilee Medal 1977, Police Overseas Service Medal 2015,
D. 18.3.2018 at Taringa, QLD aged 87.
Born in Bellingen, NSW he joined the Queensland Police Force on 30.9.1951 and served until 7.2.1955. He was appointed to RPNGC the following day. He served mainly in the Pt Moresby/Boroko area in a wide range of positions steadily climbing the ranks and on 1.3. 1967 he was appointed Superintendent 3/c during which time he was attached to the Police College at Bomana.
When the RPNGC Police Association was formed on 5.8.1964, he became the President. He was appointed Superintendent 1/c on 12.2.1970. and was the Islands Divisional Superintendent at Rabaul between April 1971 and July 1973 during which time the special duties District Commissioner Jack Emanuel, G.C. was murdered at Kabaira Plantation near Rabaul on 19.8.1971. No blame in the subsequent enquiry and trial of the accused was levelled at police who were nearby. In August 1974 he was back in Pt Moresby as Divisional Superintend for the Papua Division.
PNG was granted Independence on 16.9.1975 and some permanent and contract officers ceased to be members of the Australian Government Officers Employment Security Scheme and those who elected to remain in RPNGC took out PNG. National Government contracts. He rose to become Assistant Commissioner on 19.3.1976 following which he was appointed on 18.3.1978 as police liaison officer in Australia between RPNGC and Australian State Police Forces. He resigned from RPNGC on 31.12.1978.
He joined Queensland State Government Administrative Services Dept and retired as a director on 30.6.1994. His wife Aileen died on 9.4.2010 and he is survived by a daughter and two sons. M.R. Hayes. RPNGC.

MENNIS, Brian
1934–2018
Brian Mennis died on 21st May 2018 at the Holy Spirit Hospital, Brisbane. He was 83 years old. Brian was born in Woolowin in 1934 and attended St Columban's College at Albion. He left school at the age of 15, but continued his education by night school, becoming a cadet surveyor for Clem Jones.
One of his first jobs was to sub-divide a large area of Chermside for housing. He had scarcely begun when he received a telegram from Clem Jones telling him to stop work as the area had been bought for the Chermside Shopping Centre.
As a qualified surveyor he worked in Toowoomba, where he got his pilot's license, Lismore and Mary Kathleen.
Brian was always interested in Papua New Guinea and in 1959 he became a surveyor in Rabaul where he lived until 1971. His work in Rabaul included re-surveying plans that had been destroyed in WW2. It was sometimes difficult to find the old German boundary markers, but village children could be encouraged with lollies and the men with the offer of stick tobacco to find locations.
In 1962 Brian was seconded to the US Air Force and witnessed the beginning of two cargo cults in this time. The Johnson Cult in New Hanover in New Ireland began when one of the Americans he was working with suggested to the people they should vote for President Johnson of America. The Mt Turu cargo cult happened later near Wewak when a cult leader carried one of the survey markers down the mountain declaring that now the good times would come.
In 1962, Brian met his future wife, Mary Eccles and they married in 1964. That same year he passed his amateur radio license and was always on the look-out for Japanese radio equipment in the many tunnels around Rabaul. These tunnel searches were called off when a booby trap was set off in one tunnel.
Brian did a lot of work at various times for the vulcanologists who had a major station on the hills above Rabaul. One job was to take measurements across the harbour to check if the caldera was moving up and down. They did this on a monthly basis and were able to detect movements of several inches.
Two of their four children John and Paul were born in Rabaul, and both baptised by the famous Fr Bernard Franke. After leaving Rabaul, the family spent six months in Mt Hagen in 1971, where a third son Gregory was born. Brian was filling in for the Regional Surveyor while he was on long service leave. In Mt Hagen, the family met Mick and Danny Leahy, the first Europeans to discover the Highlands and also Fr William Ross. Mary interviewed him and wrote Hagen Saga about his life. Brian was the editor and this began a life-long partnership in writing and editing with the establishment of Lalong Enterprises. At first books were self-published but later editions were done by universities in Queensland, Otago and Papua New Guinea.
The next eight years 1971–1979 were spent in Madang and daughter, Joanna was born in 1974 – a daughter after three sons. During this time the family had much contact with the local people and Brian became very talented in taking photographs of the people and local culture and scenery. His photographs were used in postcards, calendars, books and articles for Air Nuiguni. His detailed photographs of the construction of a large triple-deck trading canoe in 1978 enabled Mary to write a manual of its construction, which was published by Queensland University thus retaining this knowledge for future generations. In 2013 an even larger balangut canoe was built with much celebration.
Brian took spectacular photographs of the Karkar Volcano, Bagia, exploding in 1974 while he was camped at the volcanologist's site on the caldera about one kilometer away from the eruption. When asked wasn't he worried about this, he replied, "Yes indeed. I thought some of the ash might get into my camera!"
Brian used his radio skills helping to monitor the volcanic eruptions of Karkar Island during the 1970s. Volcanologist, Chris McKee, on Karkar could hear Brian clearly in Madang but could not hear Robin Cooke in Rabaul. So Brian was the go-between for many months directing messages between them. Sadly Robin Cooke and his colleague Elias Ravian died in 1979 on Karkar Volcano from a fatal hydro-eruption, which destroyed their campsite and killed them as they slept. It was the same place Brian and son John had camped earlier.
At the end of 1978, Brian was transferred to Port Moresby to take the position of Assistant Surveyor General and ended up as acting Surveyor General.
During this time his job involved working with the Indonesian Government on the location of the border and installing additional markers and sitting on the Electoral Boundaries Commission. The former involved meetings with the Indonesian National Mapping people in Port Moresby and Djyapura, West Irian, and attending a major meeting at ministerial level in Bali. The latter took about six weeks work and a lot of travel around PNG, but it was all wasted as it was all rejected by Parliament. Later he was asked by the Minister for Lands to act as Secretary for Lands for three months. He was very reluctant to do this, as there were many land problems in Papua New Guinea, and these were far better handled by a Papua New Guinean National. However, he finally agreed.
When the family decided to leave Papua New Guinea in 1982, a delegation of top Papua New Guineans who had worked with Brian urged him to stay. They realised what a great job he had done all those years. He was always honest in his dealings with the land issues and was against corruption in all areas. They thought it a loss to the country when he left.
The family arrived back in Brisbane just before Christmas 1982 and settled in Aspley for thirty years. Brian had a job in the Titles Office in town. Initially it was a comparatively junior position and he missed his job and position in Port Moresby, but he stuck it out. Over the years he was promoted to Senior Surveyor when the Titles Office was taken over by the Department of Lands. He was also a survey advisor to the Registrar of Titles producing the Survey Directions for the new Community Titles legislation. He returned to Madang in Papua New Guinea just before he retired in 1999 to attend a Survey Congress of the Association of Surveyors of Papua New Guinea, at which he gave a paper on the survey of Community Titles in Queensland. Brian received two medals for his work in Papua New Guinea including an Independence Medal.
During retirement Brian and Mary taught in China for a year 2004–2005 which was one of the highlights of their lives. They taught English to many students and travelled extensively around China in the holidays down the Yangtze River and to the Yellow Mountains years later they followed the Silk Road to the western border of China.
On their return to Australia, they worked as volunteer teachers with VISE living on remote cattle stations and helping the children with their school work. They did this for four years making life-long friends.
In 2015 Brian returned to Madang to help Mary set up new displays in the town museum with the help of Sir Peter Barter. The theme of the displays was the flags of all the nationalities that had influenced Madang history beginning with the Russian Miklouho Maclay. Based on this museum work five thousand copies of a booklet was published by Sir Peter Barter in 2018. Called The Flagged History of Madang it was presented to APEC visitors in Madang. Another book Brian helped Mary with was Lakatoi and the Hiri Dalana about the traditional trade in the Port Moresby area. Published by the University of Papua New Guinea, this book is being presented in 2018 to dignitaries at the APEC conference in Port Moresby. It is the story of the Lakatoi canoes and the old Hiri trade which compares well with discussions of the new international trade systems at the APEC meetings.
Brian never lost his interest in Papua New Guinea and was well liked by the people there. He was delighted to learn that at least six children in the country are called after him and one is even called Mennis.
Brian enjoyed good health until the last couple of years of his life when he succumbed to organ failure. He died in hospital with his family around him. A large funeral showed the respect he had gained in his life. He is sadly missed by his wife Mary, their four children, eleven grandchildren and his many friends.
Mary Mennis MBE.
O'MARA, Kevin (M/N 1157)
Passed away on 1 August 2018.
VEALE, Lionel
Coastwatcher
Monday 27, August 2018 I went to the funeral of former Coastwatcher Lionel Veale who died Sunday 19 August – 10 days short of turning 100. I met with Lionel a few times over the past 10 years. He was eyewitness to the fuel fire that sank a PT Boat and Barge at Tufi. Veale Reef off Tufi, 130km east of Kokoda, was named in his honour.
Feldt in his book The Coast Watchers said of charting the way forward from Milne Bay to Oro Bay around Cape Nelson "in this operation we reversed the usual surveying procedure. Normally, obstructions to navigation are charted – we found the clear water and did not fix the position of anything else" – except, of course, Veale Reef, the "key point …. on which a buoy was moored and on which a light could be rung to guide ships at night" (page 189).
I asked Lionel about the naming of Ham Reef (ham and veal). He said when the RAN came through charting a "proper" survey of the numerous obstructions, the RAN identified and named Ham. Now, ships approaching Tufi northwest from Milne Bay pass by Veale Reef on their starboard with Ham portside, about 1.75 miles diagonally west of Veale.
Visiting Lionel at his home here on the Gold Coast in 2008 and without directly raising the subject, Lionel said it was an American Sailor who threw the lighted match from a PT Boat approaching Tufi wharf that caused the fire. His Observation Post was the old Trade Store near today's Anglican Church at the top of the cliffs looking straight down on the wharf area and out to sea through the harbour heads.
I had always thought it unlikely that it would have been a "native" as recorded elsewhere. In my four years in the field in PNG 30 years after the War, I can't recall ever seeing a native using a match to light a cigarette. On Patrol, they always carried a smouldering firestick – very unlikely to be allowed on a US Navy boat.
by Doug Robbins