Vale – Una Voce Sept 2017

BARNES OFM, Emeritus Archbishop Sir Brian | BEECH, John Roland | BOOTH, Tim | DUTTON, Jim (James) | HAVILAND, Margaret Gai | SMALES MBE, Angus 'Gus' | SMITH, Cecily Sinclair | WATTS, Lavah

BARNES OFM, Emeritus Archbishop Sir Brian
23 March 1933 – 9 May 2017 aged 84 years
Brian James Patrick Barnes was born at Wingham, NSW, to Arthur Keith Barnes and Eileen Barnes. He joined the Order of Friars Minor (Franciscans) in 1951 and was first professed on 18 February 1952. He was ordained a priest on 12 July 1958.
As Father Brian Barnes, he was appointed to the mission of Papua New Guinea in October 1959. He served as Assistant Priest in Aitape when he first arrived in the PNG Missions. He then served as Headmaster at Seleo Island and as a parish priest in Monandin, Nuku, Wati, Ningil and Lumi from 1960 until 1968.
He was appointed as the first Royal Papua New Guinea Constabulary Chaplain (rank Inspector 1/c) on 30.09.1968. During his Chaplaincy he visited the local police at every police station, patrol station or police post in PNG, delivering pastoral care to police and their families. Following PNG Independence on 16.9.1975, he was contracted by the PNG National Government to continue his position and retired from RPNGC on 23.3.1988 at rank of Chief Inspector (renamed). The RPNGC presented him with a farewell gift – a retired police dog which Brian named Top and took with him to Aitape. The dog was his great companion and even accompanied him to the altar.
Archbishop Brian Barnes was a man totally dedicated to the people and the church in Papua New Guinea. He became a citizen of Papua New Guinea in 1976 and fought long and hard for the integrity and stability of his adopted homeland.
He took on the cares and concerns of his people, spoke against corruption within the PNG government of his time, using his weekly radio address to reach his people, encourage goodness and challenge those who sought to do harm to his country. He was critical of the government when he needed to be, the first PNG religious leader to be so outspoken. His Tok Pisin radio broadcast Katolik Insight each Sunday night was eagerly received throughout PNG.
Father Brian was appointed as Bishop of Aitape on 3 October 1987 and ordained bishop of that diocese on 10 February 1988. He served in Aitape from 1988 until his appointment as Archbishop of Port Moresby.
Bishop Brian was appointed as the seventh Ordinary and the fourth Archbishop of Port Moresby on 14 June 1997. He retired as the Archbishop of Port Moresby on 26 March 2008. Brian was president of the Catholic Bishops' Conference from 1993-96 until his appointment as Archbishop of Port Moresby in 1997. Archbishop Barnes was made a Member of the Order of the British Empire (MBE) in 1982 and a Knight of the British Empire (KBE) in 2003. Perhaps his highest civil honour was bestowed on him in 2011 when he was made Grand Chief Commander of the Order of Logohu (GCL) in a ceremony which took place at Star of the Sea Friary in Waverley NSW.
During his career, Brian represented the Catholic Church on various bodies such as the National Research Institute, the Chaplaincy Advisory Council, the Board of the Holy Spirit Seminary at Bomana, the Catholic Theological Institute Governing Council and the National Capital District Commission.
His honours included the Independence Medal in 1975, Police Long Service and Good Conduct Medal in 1983; MBE in 1983, 10 year Independence Medal in 1985, RPNGC Centenary Medal 1988, Police Overseas Service Medal 2015, KBE in 2003 and GCL in 2011.
Archbishop Brian returned to Australia as a consequence of health concerns and lived for a number of years at Star of the Sea Friary in Waverley. In his last years, he was a resident of Our Lady of Consolation Nursing Home at Rooty Hill.
Archbishop Brian is survived by his two brothers, Michael Barnes and Denis Barnes, and his sister, Maureen Dingelstad.
Combined vale from Franciscan Friars, Rob Parer and MR Hayes

BEECH, John Roland
died 19 Apr 2017, aged 94 years DOB Jan 1923
Chief Mechanical Engineer with Public Works Department (PWD) and went to Pt Moresby in April 1962 with PWD. He served for various times relieving engineers in Goroka, Rabaul and in his work visited most centres of PNG travelling quite extensively. All this he thoroughly enjoyed and met many people. After setting up workshops in every district prior to PNG Independence, his work was completed.
Grace M Beech

BOOTH, Tim
6 November 1970 – 2 July 2017, aged 46 years
The eldest son of Nick and Lynne Booth, Tim occasionally assisted Nick with our founding website. When the PNGAA needed a search facility on the website, enabling a vast historical resource on PNG to be available to anyone interested, it was Tim who constructed it. We were grateful for his assistance and our thoughts go to the Booth family.

DUTTON, Jim (James)
Queen's Police Medal 1972, Police Long Service and Good Conduct Medal 1971
passed away on 3.5.2017 after a long illness at Caboolture.
Born at Caloundra on 8.2.1927, his early days were spent on a dairy farm. He held a position locally with USA forces before being appointed to the Queensland Police Force on 19.12.1947 and served until 28.11.1948. He was appointed to the Royal Papuan Constabulary and New Guinea Police Force (sic) on 28.12.1948. He separated in accordance with terms of the Permanent Officers Employment Security Scheme on 3.7.1975. at the rank of Superintendent (1/c) He served at Pt Moresby, Wau, Samarai, Police HQ, acting Commissioner, Special Branch, Public Relations, Mt.Hagen, Bougainville and finally at Police Headquarters in 1974.
After the Mount Lamington volcanic explosion in January 1951 (which wiped out the patrol post at Higatura, along with an estimated 35 expats and some 3000 local Papua New Guineans), he was sent to Embi/Popondetta to assist in the recovery. Shortly after the Papua New Guinea Volunteer Rifles was formed in early 1951, he served as Cpl. s/n 159340 in Pt Moresby HQ Company for two years, contemporaneously with RPNGC. Early in his police career, with colleague, Vince Nielson, Jim was the owner of Ilimo chicken farm near Pt Moresby. Given the choice to be either a chicken farmer or a police officer by Commissioner Normoyle, he chose to be a police officer while Nielson kept the farm.
On returning to Australia, he served as court sheriff at Pomona, later publican at Minto, grew strawberries and owned "Sadies" Cleaning Service. He was one of the early police officers who spoke the lingua franca of Papua, Police Motu and also Hiri Motu. He was a foundation member of the Caloundra Surf Saving Club. He is survived by his widow, Joan, and six children.
MR Hayes RPNGC 1959-1974

HAVILAND, Margaret Gai
29th August 1938 – 11th May 2017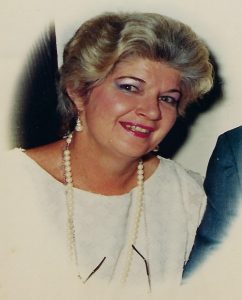 Gai was born in Leeton. Her parents, Nevis and Nellie Farrell, owned an orchard. Her father joined the AIF and her mother sold the orchard and moved to Sydney where Gai attended St Catherine's School, Waverley.
She graduated from the Australian College of Physical Education and became a sports teacher, eventually in charge of sport at her old school, St Catherine's.
We first met while we were at school. On my first leave after my cadetship in New Ireland we became engaged and on completion of the ASOPA No. 10 Certificate course in 1960, we married and were posted to Erave in the Southern Highlands District, under the tutelage of Ron and Colleen Neville.
Our daughter Shan was born in Sydney in 1962 and the family returned to Mendi. Gai was heavily involved with the preparation for the first general elections in 1964; she trained interpreters to accompany the electoral patrols out of Mendi and led the only all women's electoral team in the country. Gai also managed Ron Neville's (Coecon) trade store in Mendi.
In June 1963, after assisting with the Southern Highlands exhibit at the Mt Hagen Show, she and Heather Jeffries, her children, Heather, Edin and Collin, plus Helen Kelly from Erave were the first women and children to drive from Mt Hagen to Mendi, via Tambul and the western slopes of Mt Giluwe. The journey, by two land rovers and the newly purchased Council tractor, was accomplished with the assistance of the 2,000 Mendi tribesmen who were the exhibit – there was not much else to show in 1963!
Our son, Robert, was born while on leave in 1964 and the family transferred to Pindiu in the Morobe District. The Agricultural Officer, the late Ian Rowels became a very close friend and his loss in an air crash out of Kabwum some years later was felt deeply. A transfer in 1967 saw the family at Kaiapit in the Markham Valley for the next four years. Gai taught her children by correspondence with the occasional intervention by "E" course teachers Mac Vines and Peter Beiseman. Helen Sleishman, Mac's fiancé and later wife, lived with us and was a great help to her.
From 1971 until 1978 we were at Finschhafen. Gai was involved in the station life – the 'Golf' Club; Lae Game Fishing Club – she was the first woman to land a marlin and held records for Spanish mackerel and a bronze whaler shark. When Jack Smith retired to Queensland, Gai managed his Finschhafen Kompani store. This involved the Post and Telegraph Office, general store, TAA and Ansett agencies, Shell Oil, an insurance company and a PMV. We thoroughly enjoyed the Independence experience in September 1975. The kids stayed home from boarding school and were drafted into some of the village celebration performances.
Gai loved Papua New Guinea. The people, the characters, the scenery, the colours and the lifestyle. She could adapt to any situation: weather reports for the Met office, mow the grass on the Pindiu airstrip to keep the strip open, she ran trade stores and the post office, she taught the Pindiu women's club to use Singer hand-wheel sewing machines, and to play Netball—once they had made their uniforms.
About sixteen years ago, Gai was diagnosed with Chronic Obstructive Pulmonary Disease. We had to carry an oxygen concentrator when we went on trips to give her oxygen at night; this became a 24-hour a day necessity. Eventually she could no longer travel and had spent much of the past two years in hospital. Gai passed away, in her sleep, comfortable and in no pain at 10:00 pm Thursday 11th May 2017. She is greatly missed, but we are so grateful she is no longer suffering.
Frank Haviland

SMALES MBE, Angus 'Gus'
10 July 2017. Aged 86 years
A Papua New Guinea journalistic doyen Angus "Gus" Smales MBE – former editor of the Rabaul Times and Pacific Islands Monthly – has died.
Mildura-born Smales moved to Rabaul in 1954 and fell in love with his adopted country. There was mutual respect from the leaders of the emerging nation with Smales being awarded an MBE and the Papua New Guinea Independence Medal (PNGIM).
Apart from his editing roles, for decades Gus kept Australia, the UK, Europe and the USA informed on the issues of TPNG and then PNG as correspondent for the Herald and Weekly Times and as a specialist freelance contributor to various media outlets. Gus Smales became close friends with many Papua New Guineans including Sir Michael Somare who hosted the farewell function for Gus and Betty Smales in Port Moresby in 1981.
His son Peter Smales wrote: "Dad might have been born and raised in Australia, but he was, as are Sue and I , proudly "Papua New Guinean", and, first and foremost, a Rabaulite."
Born 1929 in Mildura, Australia, Angus "Gus" Smales' illustrious career as a radio broadcaster, journalist / foreign correspondent, photographer, political advisor and media mentor kicked off in his early twenties when he moved to the Central West Victorian town of Castlemaine to join the state's Sunraysia Daily as a cadet reporter. Following a Sunraysia posting to Sydney where he met his wife-to-be, Betty Cooper, in the offices of the city's Daily Telegraph, Gus in 1954 moved of his own volition to Rabaul, then capital of the Territory of New Guinea, to take his chances as an independent freelance journalist and radio news broadcaster.
Culturally attuned and quickly earning a reputation as a clever writer and articulate broadcaster with a social conscience, sharp wit and powerful sense of humour, Gus was rewarded editorial control in 1957 of the Rabaul Times, at the same time free to continue his freelance reporting and broadcasting activity across the Pacific, UK/Europe and North America. Amidst heightened local, Australian and international debate about the independent future of the Territory of Papua and New Guinea, Gus was provided more privileged access to and direct involvement in the political adjudication process.
His commitment to honest but empathetic and ethical reporting earned the respect of his journalist peers, foreign dignitaries and the local political elite. This motivated Australia's Herald and Weekly Times newspaper to ask Gus in 1966 to move to Port Moresby for easier and more intimate interaction with the country's political leaders and legislators. This proved an astute move, his work during his time in the Capital rewarding Gus with a Member of the Most Excellent Order of the British Empire (MBE) and a Papua New Guinea Independence Medal (PNGIM) in recognition by the country and its leaders of his services.
Fifteen years later, in 1981, Papua New Guinea by then six-years an independent Commonwealth realm, Gus left Port Moresby to take editorial control in Sydney of Pacific Islands Monthly magazine. After 30+ years of immersion and intimate involvement in the reporting and political and socio-economic analysis of the affairs of Papua New Guinea and the Pacific, Gus in 1986 "retired" to Melbourne where he devoted another ten years of energetic and dedicated service to Business Review Weekly, one of his principle contributions being the compilation annually of the magazine's Australia Rich List. The world, journalism and the English language will be poorer for his passing.
Gus Smales, one of the Australia-Pacific region's most respected doyens of journalism died peacefully in Mt. Eliza, Victoria. Gus was the dearly loved husband of Betty (deceased 2015), much loved father of Peter and Sue, loved by daughter-in-law Patricia and treasured by his six grandchildren and four great grandchildren.
Max Uechtritz

SMITH, Cecily Sinclair
14 February 2017
Cecily Smith was born on 4th June 1920 in Walter Street, Claremont WA, the second of three daughters to Arthur Young (known as Jack) and Eileen Emilie Smith (nee Sinclair). Her sister Pat was two years older and Jacqueline four years younger. It was another era; her father worked throughout his life as an accountant with the West Australian Government Railways and her mother was a full-time housewife – two things almost unheard of in 2017.
Her maternal grandparents lived nearby in Goldsworthy Road and the young Smith girls were very close to them in all senses. Cecily attended Glenara Private School and Claremont Central School. She was nine years old at the start of the Great Depression and was always regretful that because of the Depression she was not able to go to Methodist Ladies College in Claremont, unlike her older sister Pat.
After she retired, Cecily wrote down some memories of her childhood. It was a happy time and she recalls many family occasions, outings, long walks before Sunday dinner, the annual anticipation of going to the Royal Show (they lived only two streets away from the Showgrounds), food treats, and going fishing with her father down in Fremantle. They had a number of pets – there was always a dog, many injured or abandoned baby birds to nurse, a galah, a blue mountain parrot, a bobtail goanna, mice kept in shoeboxes, and silk worms that were hopefully kept in separate boxes from the mice.
Her parents were keen on music and poetry. She remembers one song that she found hard to understand. The lyrics went "where my little curly-headed baby waits for me…where the lazy Mississippi flows into the sea." She asked her mother "Has Mississippi got a baby?" She remembers enjoying school, and being a good student, though mental arithmetic was her Achilles heel and she dreaded the weekly test.
At the commencement of WW2, Cecily joined the Claremont Voluntary Aid Detachment [VAD], gaining skills as an assistant nurse, before enlisting as an "enlisted" VAD in November 1941. The years 1942/43 brought the introduction into the Australian Army of two Women's Services: the AWAS [Australian Women's Army Service] and the AAMWS [Australian Army Medical Women's Service]. From the time of this amalgamation, all enlisted VAD's and all later female medical enlistees served as members of AAMWS.
Cecily was posted to 118th Australian General Hospital at Northam and to various camp hospitals around Western Australia, eventually re-joining the 118th AGH in NSW and then moving to serve in Rabaul and New Britain until 1946. She was discharged in 1946 with the rank of Sergeant [X-Ray Technician].
Following her discharge, she went on a working holiday taking in countries such as New Guinea, the United Kingdom and East Africa, returning to Western Australia in 1953 to take up general nursing training at Royal Perth Hospital. There she remained until commencement of her Midwifery training at St Margaret's Hospital for Women in Sydney in 1958.
However, inclined toward Service Training, she joined the Reserve of Officers on completion of her general nursing training and was appointed Lieutenant in the Royal Australia Army Nursing Corps, Australian Military Citizen Forces in July 1957. In 1958, she was transferred to the regular Army and was posted to 3 Camp Hospital at Puckapunyal in Victoria for 6 months before a move to the British Military Hospital at Kamunting, Malaysia; she served there during the Malayan Emergency.
In 1966, as a Captain, she was posted to the 1st Battalion, Pacific Islands Regiment at Port Moresby for two years; this was the first occasion that nursing sisters had been assigned to an Australian infantry battalion. Further postings occurred within Australia between 1969 and 1971; there then followed a move to Singapore with the rank of Lieutenant-Colonel to take up a position as Matron at the ANZUK Military Hospital at Changi. Being the senior female ranking officer, her position required her presentation to Royalty, attending many ceremonial functions and prestigious events. This position was held until 1973 ending with a posting back to Australia as Matron of 1 Military Hospital, Yeronga, Queensland.
Cecily was appointed Matron-in-Chief and Director Nursing Service – Army on 4th March 1974 and, Queen's Honorary Nursing Sister in August 1974 for the duration of her appointment as Matron-in-Chief. On 4th June 1976, she retired from the Regular Army having reached the prescribed age for her Corps. In December 1976, Cecily was mentioned in the Australian Honours list and was awarded the "Royal Red Cross". She was also awarded the "National Medal" in May 1978.
Following her retirement in 1976, Cecily remained permanently in Perth living in Bicton, Kardinya and then in 1997 she moved to Bull Creek, Frederick Guest Village living in an independent unit. She lived a busy retired life with a wide variety of interests filling her waking hours. She recalls that it wasn't really until her retirement that she began to cook, and as with all things she took to it with gusto. She became a keen gardener for the first time now that she was no longer living in military accommodation.
She travelled regularly particularly to the UK where she had built a relationship with many people over the years. She would stay with friends and when in London, at the Victory Club in Paddington. She kept a close interest in military matters, relating both to her own experience and Australian military history in general. During the period 1981 – 1986 she was the Honorary Colonel and Representative Honorary Colonel of RAANC. This appointment was a "Corps" not a "Command" appointment. She was in fact the representative in Australia of Princess Alice, wife of the Duke of Gloucester who was the Governor-General of Australia after the war from 1945 to 1947.
She developed a very strong interest in genealogy, and focussed in particular on the Dungey family of her maternal grandmother. Her approach to this says a lot about Cecily's personality and character. She was not the sort of family history researcher who was looking for ancestors of royal blood, or who came over with William the Conqueror.
She didn't believe the numerous claims from the many people she exchanged information with from all corners of the globe, unless she had documented evidence. One of her pet hates was people who didn't let the facts stand in the way of a good story, and thus who circulated unsubstantiated family trees. She spent years and lots of time on numerous trips to the UK ferreting out all sort of facts.
On the way, she uncovered a couple of family skeletons, pretty tame by 21st century standards, a couple of centuries ago. A couple of times she presented some of this information to relatives who refused to believe that someone in the family could do such a thing. There is a substantial amount of documentation, and any family members who are interested, just see nephew Steve!
Cecily was good with her hands. She always had a keen interest in the arts, and on retirement studied fine art at TAFE obtaining a diploma. She became an accomplished painter and ceramicist, and at one stage had a successful joint exhibition in Claremont with another artist. She also studied ikebana, the Japanese art of flower arranging. She studied calligraphy. Alone amongst her immediate family, she was left-handed and her handwriting had character and style, and what's more, was legible.
She was always a very independent woman and the thought of having to move into a nursing home was not something she looked forward to. However, in June 2012 following a fall, and a series of earlier incidents associated with failing health, she was no longer capable of living independently. She reluctantly accepted and understood that it was necessary to move into a low care facility and forgo a lot of that independence.
She initially spent six months in Parry Hostel, Lesmurdie but was then able to move back to a hostel facility at Frederick Guest Village in Bull Creek. Not long after, a stroke at the same time as a fractured hip left her with difficulty with speech, and this was particularly frustrating for her, as her comprehension of her surroundings was initially relatively unimpaired. However, her physical and mental capacity steadily deteriorated from that time.
Cecily never married, though she came close a couple of times. In later years, she very much depended upon her nephews, Peter and Stephen [sons of her sister Pat] and Trish [wife of Peter] for support.

WATTS, Lavah
4 June 2017
UV hopes to have further information for December issue.
Mrs Watts was the Darwin Accommodation Services team senior supervisor for Helping People Achieve (HPA). HPA chief executive Tony Burns said Mrs Watts was a selfless person who put others first. "She was just an angel. She simply was. She was truly one of a kind," he said.