Vale – Una Voce Sep 2019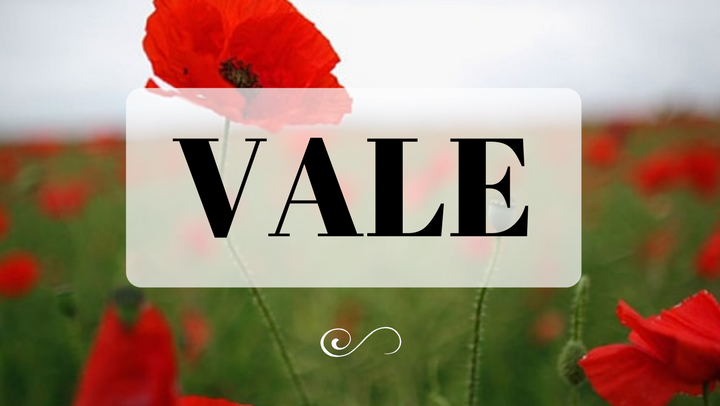 BEINSSEN, Walter ('Wally') | COSGROVE, Hank | DODD, Brian | HILL, Richard Christopher | JOHNS, Prof. Robert James |Le FEVRE, Laurence David | O'NEIL (née Gough), Rita Rosemary | ROBBINS, Douglas George | TAYLOR, Rev. Allen Leslie | TERRELL (née Robinson), Judith Ann, ;
BEINSSEN, Walter ('Wally') (5 January 2019, aged 81)
Wally came to the Territory of Papua New Guinea as a CPO (cadet patrol officer) in 1958. He was initially posted to Rabaul, but subsequently left the public service to manage Warana Plantation.
Wally's father, Ekke, had also spent time in PNG in the 1920s leading a prospecting expedition through uncontacted Kukukuku territory in the Upper Watut, amongst other adventures.
His brother, Peter, also served in PNG as a didiman (agricultural extension officer) during the sixties.
Wally became a tetraplegic after a car accident ten years ago, but continued to live fairly independently in his home in Lota (Brisbane) until he died.
He is survived by his five children and ten grandchildren.
Peter Beinssen
COSGROVE, Hank (May 2019, aged 86)
DODD, Brian (31 May 2019)
Brian lived in PNG from 1968
until 1981, working in a number
of different places and roles including Port Moresby, Bougainville, the Western Highlands and Madang.
HILL, Richard Christopher (30 June 2019, aged 83)
Rick's life (born 28 January 1936) began in Bristol (UK) and traversed through Colombia, Scotland, South Africa, Rhodesia, Australia, PNG and back to Australia.
In 1955, he answered an advertisement—for a 'career with a challenge'. He accepted and spent a year at ASOPA. In 1956, he landed in Port Moresby and was posted to Minj as a kiap (patrol officer), eventually becoming a district officer. Luckily for us, he survived the 1957 plane crash on Lake Kopiago, becoming a member of the exclusive Upside Down club.
In 1959 he married Zelda and they had three children—Diana, Stephen (deceased) and Penny.
Over the years Rick's work in PNG took him to a number of postings: Western Highlands (Minj), Central District (Guari, Tapini, Woitape, Bereina), Eastern Highlands (Kundiawa, Gumini), Port Moresby, Milne Bay (Losuia), Morobe District (Lae, Finschhafen), and Eastern Highlands (Kainantu). His final posting was a teaching position at the Administration College, Port Moresby. He enjoyed the challenge of working in PNG and later his time with the Aboriginal and Torres Strait Islander Commission (ATSIC).
Rick moved to Australia in 1979, where he continued to pursue his passion for sailing, participating in many races including the Brisbane–New Caledonia and the Sydney–Hobart. He also completed his Master of Environmental Science at Queensland University.
Following his departure from PNG, he became a lecturer at the Australian Institute of Management. He later worked at the Aboriginal Development Commission and finally the Aboriginal and Torres Strait Islander Commission. He loved his work in PNG and ATSIC.
To quote Rick when reminiscing with friends: 'I wonder if others realise what a privileged career we've had.' He retired to the Sunshine Coast and became involved with the Verrierdale community, Land Care and the Volunteer Coast Guard. Those who loved him and relished a contested debate will miss him!
Diana Barnett & Penny Lehman
JOHNS, Prof. Robert James (21 April 2019, aged 74)
Prof. Robert (Bob) Johns passed away in London on 21 April 2019 after a long illness. Bob graduated from the University of Auckland, New Zealand in 1966 with a B.Sc. and in 1968 with a M.Sc. He first came to Papua New Guinea in 1968 as a research assistant for the Department of Geography, Australian National University to manage their field station on Mt Wilhelm. He joined the PNG National Herbarium in 1969. In 1971 Bob took up a lecturing position at the PNG Forestry College, Bulolo to teach botany, dendrology and forest ecology before moving to the PNG University of Technology (UNITECH) in 1979 as Senior Lecturer.
He was Head of Department from 1987 until 1990 when he moved to the Royal Botanic Gardens, Kew, to take up the position of Curator for Ferns and Gymnosperms. He retired from Kew in 2004 but continued as a research fellow, which allowed him to continue his work on the ecology of the flora from both Papua New Guinea and Indonesian New Guinea (Papua), with particular emphasis on the ferns. In addition to Kew, Bob continued to be a familiar face at herbaria in Leiden, Lae and Bogor.
He was an active participant of the Flora Malesiana Project, attending all of their symposia, which commenced in 1989. His contributions to the floristics and ecology of the vascular flora of Malesia was recognised posthumously at the 11th International Flora Malesiana symposium in Brunei in June.
Bob published extensively on the botany and ecology of both Papua New Guinea and West Papua and his work can be found in journals and books. One of his early publications, Common Forest Trees of Papua New Guinea, is still used as a major teaching resource at both Bulolo and Lae campuses.
He taught many of PNG's foresters and set very high standards in his courses. He was also an excellent organiser, securing NZ Government funding to build the library at the Bulolo Forestry campus as well as European Union funding to build the forest herbarium at the Taraka campus. In addition, he arranged for UNITECH to open a guest house, which he managed from 1982 until his departure from Lae in 1990.
Although working in London from 1990, Bob continued to mentor many Papua New Guinean foresters and botanists from both UNITECH and the University of PNG over the years, providing encouragement and support as they continued their studies for a higher degree. His heart always belonged to Papua New Guinea.
Mex Peki, Head of the Forest Department, UNITECH, Lae
Le FEVRE, Laurence David (2 June 2019, aged 79)
Laurie, well known to many of us, had a very extensive career covering Papua New Guinea, Australian government departments and agencies, Sri Lanka and others.
He was born in Benalla, Victoria on 14 August 1939. When he was seven years old the family moved to Hobart and he lived the rest of his childhood in the suburb of Moonah. On graduating from Hobart High School, he attended the telecommunications technician school, and various pressures in this school stirred him to look abroad.
Papua New Guinea attracted him and he was interviewed by District Commissioner John Foldi, and appointed to the Customs Department in Port Moresby in January 1961. His stay in Moresby was brief and he was posted to Samarai in Customs, travelling by boat on the MV Bulolo.
In April 1962 Pat arrived in Samarai and romance bloomed. Laurie was then posted to the Western Highlands (Mount Hagen) and appointed confidential clerk and general executive officer to the District Commissioner, Tom Ellis, where he served for thee and a half years. Tom Ellis held Laurie in the very highest esteem. Pat and Laurie had tied the knot but legal reasons, including the acquisition of a house, made it necessary to return to Australia, much to Tom Ellis's regret.
Laurie took up employment with Woolworths but the call of PNG was strong and he returned in 1978 as a co-operative officer posted to Kerowagi in the Simbu Province. I was seconded as District Co-operative Officer at that time for Simbu and with the Chimbu Coffee Co-operative. Laurie was a most valuable asset to my office and particularly in the field where he excelled. After two years he returned to Australia and held a range of executive positions in Victoria.
However, PNG still called and from 2001 to 2003 he returned to Tabubil as advisor/mentor, Procurement Team, Ok Tedi Mining Ltd. Laurie had remarkable communication skills with peoples of all races and he has left so much behind one cannot explain in full his achievements. He wrote many pamphlets and several books including Cloudlands Memoirs, Scribblings by a Visitor to Tasmania, and Tabubil Sunday. He also contributed to major government works on supply and procurement.
Tragically, in 2017 Laurie slid into dementia and a tragic loss of a brilliant mind. All who knew Laurie—Australians, Papua New Guineans and others—will remember him with pride and send their love to Pat and his children, Andrew and Madeline.
Supplied by Roy Andrews with Pat's gracious assistance.
O'NEIL, Rita Rosemary (née Gough) (26 April 2019, aged 88)
Our mum, Rita O'Neil, said living in Port Moresby's expat community in prewar times was like an extended family, a happy community. Her father, Thomas Patrick Gough, a policeman, and his wife, Muriel Rose Gough, lived in a roomy bungalow in Musgrave Street. Rita was born in 1930, a year after their arrival. Rita's Uncle George and his wife, Gwendoline, were also part of this close community.
Rita said her childhood was enchanted and remembers her games with her father's right-hand man, Bagita. 'Where are you, pikinini?' he would ask. Her reply, 'I am here, Bagita! Don't tell taubaba where I have been!'
When the war began, like many women and children, Rita aged eleven, her baby brother, Burnie, their mother and aunt were evacuated to Australia on the MV Katoomba. The sea journey took longer than normal as the Japanese were believed to have a submarine in the Coral sea. Their menfolk remained at their posts under military law.
In 1942 Rita's Uncle George became critically ill with malaria and was evacuated to Brisbane for treatment, escorted by his brother, Tom, who was then transferred to the Commonwealth Police for the duration of the war. The family were stationed in Stanthorpe, Jervis Bay and Canberra where Rita played women's basketball and won a couple of championships.
After five years Rita and family returned to Port Moresby aboard the Ormiston. Their new home was in Winter Street, home to the old Court House and the Commonwealth Bank, where Rita enjoyed her first job as secretary, loving the camaraderie with the 'bank boys'.
Her father, Tom, retired due to ill health and the family left Port Moresby in 1950 to move to Chestnut Street in Wynnum, Brisbane. Rita found fulfilment in a career change as a nurse and midwife, starting at the Mater Hospital in 1955. She met her husband-to-be, Harold O'Neil, and was married in 1962. She continued as a part-time nurse and helped her mother, Muriel, care for Tom. After her divorce in 1984, Rita cared for her mother at Nazareth House where Muriel lived until the age of 104.
Rita lived with chronic pain from osteoarthritis, but was devout in her faith and our devoted mother. She always loved her memories of Papua in Port Moresby. She would look at the moon at night and say to us, 'Look, Kath and Chris, that is the same moon that is shining in Port Moresby.' Bamahuta beloved Rita—our Mum.
Goughy
ROBBINS, Douglas George (8 May 2019, aged 74)
Doug was born in Brisbane in May 1944, and went to PNG as a kiap with his wife, Annette, in 1969, based in Northern (Oro) Province, returning to Australia in 1973. In retirement Doug returned to PNG on many occasions, assisting local communities with eco-based tourism, then later with his wife, Annette, volunteering on the YWAM ship delivering medical and dental care to remote communities.
Doug's time in PNG made a huge impact on many people, and a testament to this is that on hearing of his passing, many of Doug's PNG friends spoke of losing a family member, and thanked Doug for his passion for their country.
Particularly poignant, was a tribute from Adalbert Gangia. Adalbert's father, Randolph was Doug's interpreter and friend in the 1970s, and when Doug returned to PNG forty years later, Doug became, in Adalbert's words, his mentor and friend. Doug's children had the honour of accompanying him and Annette on a trip to PNG in 2009 and the family took great pride in the warmth and respect still afforded to Doug by people who had not seen him for nearly forty years.
Anyone who knew Doug knows that the qualities he possessed as a patrol officer and solicitor—honesty, integrity and respect—permeated through every facet of his life. Doug was honest to a fault and he treated everyone as an equal.
Doug was loved and respected and will be dearly missed. Doug, your humility and selflessness will continue to inspire those of us who were lucky to know you. Rest in Peace,
Doug
This was a summary and part-excerpt from the funeral eulogy provided by his family. There will be a longer article on Doug in the December edition of Una Voce.
Please see also an obituary by Keith Jackson at:
https://asopa.typepad.com/asopa_people/2019/05/doug-robbins-dies-ex-kiap-contributor-to-png-attitude.html
TAYLOR, Rev. Allen Leslie (8 February 2019, aged 84)
Allen was born in New South Wales on 18 August 1934. He first went to TPNG when about the age of twenty, working for Burns Philp & Co., mainly in Rabaul.
In 1959 he felt a call to the ministry of the Methodist Church and returned to NSW, where he was accepted for training and spent 1960–62 in Leigh College, Enfield.
He served as Minister on Probation at Tamworth, but then offered to return to TPNG with Methodist Overseas Missions, and was posted to the New Guinea District of MOM (New Britain and New Ireland).
During 1964–68 he served at Namatanai on New Ireland, then on New Hanover. At first he was still completing his studies and his time as a Minister on Probation, and was ordained in 1966.
Allen then spent 1969 on Matupit Island in Rabaul Harbour; but hearing that there was a need for an additional chaplain with the Pacific Islands Regiment, he offered for this position and was posted as chaplain to the 3rd Battalion of the Pacific Islands Regiment (PIR), stationed at Lae, in 1970. He served in this position until 1979.
By this time the Methodist Church had become part of the Uniting Church in PNG and the Solomon Islands. Allen returned to the pastoral work of the Uniting Church, first at Rabaul and then as chaplain at Sogeri National High School, where he served until 1987, when he returned to NSW and served as a minister of the Uniting Church in Australia, at Eastwood (1987) and at Burwood-Croydon (1988–96), retiring in 1996.
During his years in PNG Allen developed warm relationships with the Chinese communities on New Ireland, at Rabaul and in Lae, and when back in Australia he maintained those relationships with the Chinese who had moved down to Australia from PNG.
In retirement he attached himself to the Malvern Hill congregation of the Uniting Church, which had a large Chinese component, and in 2012 was made Minister Emeritus of that congregation. He also served as a chaplain to the National Servicemen's Association until 2018.
His time as a chaplain, both in PNG and in Australia, was vitally important to him as a part of his service as a Christian minister. He was a keen member of the PNGAA, liking to maintain contacts with those who loved the country as much as he did.
Allen died on 8 February 2019,and his funeral service at Malvern Hill Uniting Church was attended by many of the congregation, by whom he was well-liked and respected.
Neville Threlfall
TERRELL, Judith Ann, née Robinson (22 May 2019, aged 85)
Judy was born in Perth in 1934, where she spent her childhood. After training as a steno-secretary, she worked at the US Consulate in Perth and the WA University Guild of Undergraduates before being appointed as secretary to the then head of the Department of District Services and Native Affairs, Alan Roberts, in Port Moresby. She arrived in PNG in March 1956, and met and married Tim Terrell in the same year.
For the next eighteen years, Judy accompanied her husband on his postings round PNG in the Sepik (Lumi), Morobe (Finschhafen and Wau), New Britain (Rabaul) and, finally, Port Moresby.
Her first child (Holly) was born in Wewak while stationed at Lumi, and her second (Kim) in Lae, while based at Finschhafen.
The family moved to Port Moresby in 1966, and then returned to Australia in 1973,
to Darwin and then Canberra.
Judy was hospitalised in early 2018 after a collapse. She returned home, but remained unwell. After further deteriorating, she was admitted to permanent residential care earlier this year, and three months later died peacefully with her daughter Holly beside her.
Judy's funeral was held on 31 May, attended by more than sixty family members and friends who subsequently shared a thanksgiving function for Judy's life at her home, hosted by her family. It was a fitting tribute to a wife and mother who was deeply loved and for a life well lived.
Judy is survived by her husband Tim, daughter Holly and husband Geoff, son Kim and wife Maree, grandchildren Jaimie (partner Brett), Kiri (husband Evan), Christabelle (husband David), Elise and Rian, and great-grandchildren Henry and Mallee. Very much loved, Judy will be deeply missed by all.
CE Tim Terrell, AM, Judith's husband