Tropicana Billfish Tournament, November 2019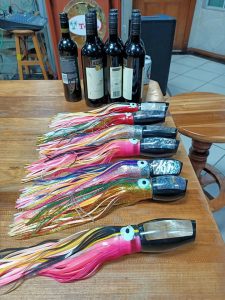 The record breaking 2019 Tropicana Billfish Tournament in East New Britain tagged and released 245 Blue Marlins and three sailfish over eight days, a record in PNG Game Fishing Club history.
This surpasses the previous record held by Lae Game Fishing Club of 188 marlins tagged and released and the New Britain Fishing Club's previous high for a single tournament of 70 marlins tagged and released – and sets the bar high for the future!
The Tropicana Billfish Tournament commenced in 1998 and quickly extended to include anglers from Kimbe, Lae, Pt Moresby and overseas.
92 anglers competed with 72 visiting anglers. In the women's category Pinia O'Hanlon onboard Manu Tai landed first prize with eight marlins tagged and released. Phil Franklin and Steve Fanning onboard Backload took out first place in the team section with 20 blue marlins tagged and released. In the juniors, Aaron and Devin Finall tagged and released three marlins each.
Local legend John Lau's famous lures accounted for the high tag and release numbers.
The winning boats were: Backload with 18 catches (in two days!), Stephanie with 17 and Manu Tai with 11.
Generous comments were flying on social media: An amazing event, phenomenal hospitality, fantastic competition, unforgettable fishing and 'we will be back'!
John and Dame Sandra Lau, and other sponsors, were congratulated and thanked for hosting such an exciting tournament.