The Free West Papua Movement – PNG Kundu June 2020
'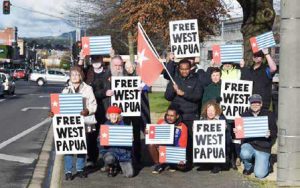 PNG Kundu' readers may remember seeing on the news in October last year graphic pictures of unrest in the now Indonesian controlled province of West Papua. Rampaging groups of Papuans with troops firing on those fleeing groups, flames consuming burning buildings, Javanese immigrants being airlifted out to safety by the Indonesian Air Force and all the other signs of a society in turmoil. All started, it seems, from reports of Javanese sneeringly referring to Papuans, allegedly, as 'Monkeys' and 'rats', with the Papuans reacting violently to these slurs and racial taunts.
Around this time, I came across a tiny, three line notice, in a Ballarat paper concerning a meeting of the 'Free West Papua – Ballarat Support Group' at the Ballarat Trades Hall and, never having heard of such an organization, decided to attend. What an eye-opener this small (only four people plus my wife and I) meeting turned out to be!
But first, a boring bit of history.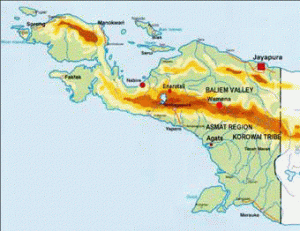 The people originally living in West Papua are ethnically akin to the people living in Papua New Guinea – with over 312 separate tribes living a subsistence life. All these tribal groups lived undisturbed until the Dutch, who controlled the 'Spice Islands' of the then Dutch East Indies, planted posts on the shore at about 141 degree of Longitude in the mid 1800's and arbitrarily declared that all land to the west now belonged to the Kingdom of Holland.
Except for a few small coastal settlements, Dutch control was minimal with early Christian missionaries, who landed in 1855, being given responsibility for whatever health and education there was. And so West Papua slumbered until the Japanese onslaught on the whole Dutch controlled area in 1942, which collapsed like a house of cards. After the war, the Dutch were forced out of the 'Spice Islands' which became the Republic of Indonesia. Dutch New Guinea was retained with belated attempts being made to explore the highland areas and to provide some basic governmental services.
The Dutch encouraged West Papuan nationalism with the eventual aim of independence by 1970. This was not to be with Indonesia launching armed incursions and stating that it regarded West Papua as part of their State. Australia initially supported the independence idea, but appeared to get involved in various 'Great Power' machinations, which reflect no credit whatsoever on the UN, the USA, Australia, Indonesia and Holland. Ignoring the wishes of the estimated 800,000 West Papuans, a so called 'Act of Free Choice' by a carefully selected 1025 'representatives' voted unanimously for incorporation of their country into Indonesia. This Act is widely recognized today as 'The Act of No Choice'.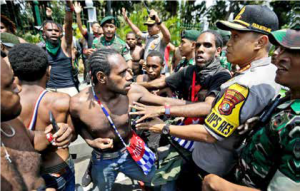 Prior to the Indonesian take-over, nobody bothered about the border – the local people maintained their traditional trade, the Dutch administered the Waris and other tribes on the PNG side, Australia looked after a piece of South West Papua, Europeans on both sides happily visited with no such necessities as passports, visas and customs declarations. Suddenly, all this changed – the border was rigorously enforced and marked, Patrol Posts such as Imonda in the Waris tribal area of the Sepik District established, PIR patrols carefully mapped border trails and incursions to and fro across the border became the norm. The sad thing in all this was the fact that a clansman on this side became a PNG citizen whilst his brother, perhaps living in a hamlet 500 metres away was now an Indonesian.
Indonesia quickly realised what an asset it had grabbed—pristine forests to be logged, natural gas and oil fields to be tapped, the world's largest gold, copper and silver deposit to be exploited, namely the Freeport Mine with, in 2016, over one billion pounds of copper, over one million ounces of gold, two million ounces silver extracted with, unfortunately, downstream river systems swamped with millions of tons of debris. The Freeport Mine is the largest economic entity in Indonesia and the biggest taxpayer. And, lastly, one of the largest transmigration programs in the world with Javanese moved out of their densely-populated island to, supposedly, vacant areas of West Papua.
The Australian Government's official position 'is that it unreservedly recognizes Indonesia's territorial integrity and sovereignty over the Papua Provinces'. But not so with other nations and small groups of concerned and dedicated people, not only in Australia, but right around the world. There have been organized public gatherings (musical evenings, book launches, wreath laying ceremonies etc) not only in Ballarat, but in Melbourne, Canberra, Brisbane and by Aboriginal groups in the Northern Territory.
Somebody has actually scaled an abandoned wheat silo at Sunshine in outer Melbourne to paint 'Free West Papua' which is highly visible to any passing train! International swimming events in the lake at Geneva, the HQ of the UN, Fun-Runs in various countries, support by Jeremy Corbyn, the then British Labor Party leader, all demonstrate the international support for the cause.
There is a 'Pacific Coalition for West Papua', consisting of the various Melanesian and Polynesian nations of the South Pacific with this group being supported by various African and Caribbean countries and there is actually a declared 'Federal Republic of West Papua' with its Department of Foreign Affairs, Immigration and Trade based, strangely enough, at Docklands in Melbourne!
You are invited to do you own online investigation:
Or follow regular updates on Twitter HERE: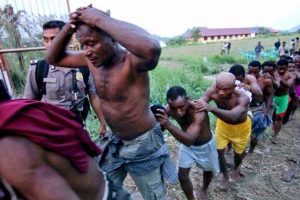 Indonesian Special Forces and Police have been ruthlessly trying to crush any flicker of Pro-Independence activity in West Papua and some of the sights on the various websites can be confronting, so be warned. Foreign journalists are banned because they are 'suspected of dangerous activities, endangering security and public order'. But the brave West Papuans trying to fly their banned Morning Star flag and protesting against human rights abuses cannot be stopped; their cause may seem to have no future but let us remember West Timor, another former colony invaded by Indonesia, which eventually gained its independence and is slowly prospering today.
Where does PNG stand in this matter? Whilst many PNG citizens naturally support their compatriots over the border and provide a haven for refugees, the PNG government has to be much more circumspect. Indonesian forces have conducted covert incursions across the border and PNG obviously has not the means to defend itself if push came to shove. Australia has closed its eyes on the matter and keeps its fingers firmly crossed as the last thing it wants is to become involved in any fracas between its two closest neighbours.
So there the situation stands today.