The Finding of Ok Tedi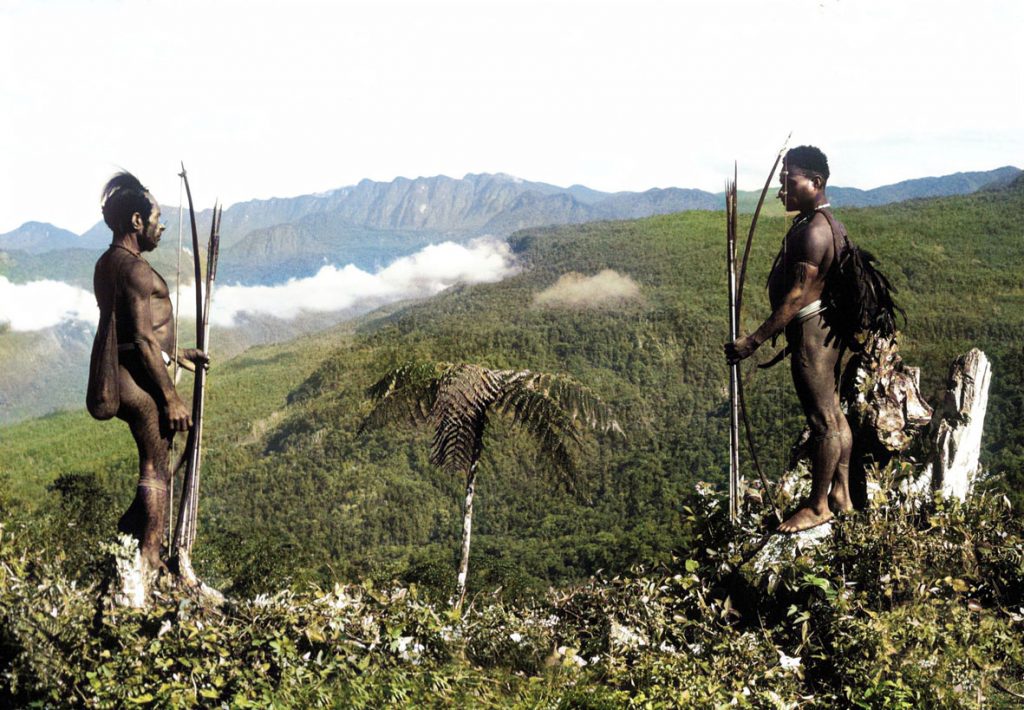 I have often meant to write of my 24-day patrol to the Star Mountains (Wopkaimin) in August/September 1966 and the finding of a copper sulphate presence in that remote north-western corner of the then Western District. There has been some confusion as to who first discovered evidence of copper leading to the Ok Tedi venture, hence this article.
At that time I was the sole kiap stationed at Olsobip Patrol Post, having relieved Gary Luhrs in April of that year.
Olsobip had only been established in 1964 by Bob Hoad (and I think Warren Dutton) and Des Fitzer had made the first complete patrol of the Stars in 1963. Luhrs had unsuccessfully attempted a patrol to the area earlier that year but, to my later benefit, had asked for a track to be cleared to the area of the villages Kawarobip and Gigabip visited by Fitzer.
In my patrol diary for Tuesday, 30 August 1966, I wrote:
Departed KAWAROBIP for second Star village of GIGABIP arriving 1330 (walking) time 5.30). Track follows small creek north then swings west along the foothills of Benkwim Bluff. This small creek has a brilliant yellow sediment the whole length of its course and when handled crumbles to reveal a green centre. Most likely a combination of sulphur and copper washed down from the northern ranges …
This is taken directly from my preserved copy of the patrol report. I recall that the sediment reminded me of coronas used as road base in Pomio, West New Britain. My report went firstly to the ADC Kiunga, Mark Sage, who commented on the copper in his report to Daru Headquarters. I have the Olsobip copy of the letter sent by District Commissioner FA Bensted to the Director, DDA, Konedobu which includes in the second paragraph:
The sulphur/copper deposits below Benkwim Bluff (diary 30 August) may merit further enquiry. If part of the Carstenz Toppen (West Irian) is allegedly pure low-grade copper, could not the identical Star's massif possess the same virtues?
DC Bensted made a flight soon afterwards to discuss the patrol with Mike Richards, a Kiunga CPO who accompanied me on the patrol, and myself. I was posted to Lake Murray post-leave and, being a lowly PO at the time, was unaware of the results of the patrol until told by visiting crocodile traders (Bluey Bedford and Herb Griffin) that a mining company's Jet Ranger helicopter had been to the Stars.
At this juncture I will allow the words of David Charles Hyndman to say what happened. In 1979 Hyndman submitted a thesis in the Department of Anthropology in University of Queensland for a Doctorate in Philosophy, entitled Wopkaimin Subsistence: Cultural Ecology in the New Guinea Highland Fringe. He was in the Stars area in 1973–74, 1975 and later in 1979, 1982 and 1984. He later authored the book, Ancestral Rain Forests & the Mountain of Gold: Indigenous Peoples and Mining in New Guinea. I met him in the 1990s when he was head of Anthropology at the UQ.
In that book, after referring in detail to any patrols touching on the Stars area, he repeated comments made in his thesis that are pertinent to this article, being:
In August 1966, Young (1966) succeeded in bringing the Wopkaimin residents … into the Olsobip Patrol Post census Division … Cleared tracks and a rest house awaited Young's (1966) arrival in … Kavorabip and Gigabip. Young (1966) came to have more profound impact on the Wopkaimin than any previously colonial administrative or army patrol. As he was 'enduring the bitterly cold weather at night, early morning and late afternoon' and was 'struggling over sheer ridges, mountain peaks, waterfalls, landslip scars and pounding rivers' below the Benkwim Bluff, he made ethnographic observations but more importantly he recorded that the streams seemed to contain copper deposits …!
Based on Young's routine patrol report, the American transnational Kennecott took out prospecting authorities No. 28 and 35 P on Wopkaimin land with the Australian colonial Department of Lands in 1967.'
As a last excerpt, I refer to comments made by Gerry Schuurkamp in his book, The Min of the Papua New Guinea Star Mountains, which is the definitive work on the Min culture, being the larger group of people inhabiting the Olsobip and Telefomin areas. He spent some thirteen years amongst the Min people from 1975. His book is of large size and comprises over 300 pages, amply illustrated with many photographs. The publication was sponsored by Ok Tedi Mining with a foreword by the then Prime Minister, Julius Chan.
At page 5 of the Preface, Schuurkamp says:
In January 1963 Des Fitzer mounted the first extended patrol along the southern slopes of the Star Mountains, a 124-day ordeal. It was Colin Young's census patrol of 1966, well into the Wopkai territories contacted by Fitzer, that reported copper-like mineral deposits along the streams and rivers. This patrol would have a profound effect on the future of the area and its people, stimulating expensive exploration work in the upper Ok Tedi and Tifalmin area from 1968-72 by Kennecott, an American multinational company.
Enough of the references. I do not know what happened in Konedobu to my report and the DC's comments on the copper sulphate find, but obviously it was either formally or informally made known to at least Kennecott. Someone would know but of course it is over fifty years now and many memories and documents are lost.
It has been put forward that a member of the Fitzer patrol collected some rocks in the Stars and these were said to be have been shown to contain copper and therefore constituted the start of Ok Tedi mining. If rocks were so collected, there was neither mention of this in a report, nor otherwise in the Olsobip office, nor was the DC or any other district officer so aware.
Given that Kennecott moved promptly in 1967 in taking out the prospecting authorities soon after my September 1966 Patrol Report, and there was a time lapse of some three or four years since the stated find of rocks in 1963, I leave this fact, the above patrol report extract and the statements of civilians closely involved in the area mining, for others to form their opinion.
Sadly, Mark Sage died in recent times and it was really he who saw the copper sulphate find as having development merit—to me it was just something that brought back memories of blue-green copper sulphate crystals in a high-school chemistry class. Mark and I would meet at Sunshine Coast kiap reunions and he, still having connections with PNG and the Western District in particular, would jokingly tell me not to make known my role, as I may find myself being sued by those Fly River dwellers who have suffered physical and property damage from toxic releases from the Ok Tedi mining.
In conclusion, the patrol experience of the Stars was an exhilarating one with the moss forests, constant cloud and fog.