The Air Mail Gets Through by Robert (Bob) Piper
In 1939 a letter carried by a fleeing German pilot, in a stolen aircraft in New Guinea, amazingly reached its destination safely in Melbourne. The now famous correspondence was sent by Patrol Officer Leigh Vial, and is still retained by the family to whom it was addressed. Later, in 1942, Vial became known as the famous 'Golden Voice' coastwatcher in the mountains above Salamaua.
Before World War II the German Lutheran Mission in New Guinea operated a number of aircraft throughout the country, linking up their scattered and remote mission stations along the coast and in the mountains. They were flown by German pilots—
a few of who had served their country in the First World War. Some of these aircraft crashed in accidents with overloads or due to weather, and a few of the airmen and those on board were killed.
One of the pilots was Werner Garms, who often flew in a German Junkers F13 named 'Papua' and carried the Australian registration VH-UTS. His assistant and engineer was a Paul Raube.
In 1939 Patrol Officer Leigh Vial was stationed at Chimbu, in the Highlands of New Guinea—his assistant being Cadet Patrol Officer Webb. A Lutheran missionary by the name of Bergmann was also located at Chimbu with two other Lutheran missionaries at nearby Kerowagi—by the name of Hanneman and Doering—the latter in fact, a Canadian.
The European War was declared on 3 September 1939 and word quickly spread throughout Papua New Guinea by radio. On 7 September the 'Papua' arrived at Chimbu with Garms and Raube on board. In the following, Patrol Officer Leigh Vial takes up the story in his recently re-discovered letters to his wife, Marjorie. Extracts from that correspondence relating to Vial's story record the drama as it unfolded:
Chimbu Post—7 September 1939
There might be a plane out of here tomorrow, hence this letter. About midday today the 'Papua' came in, which greatly surprised us. Garms and Raube, the mechanic, were on it and told me that they had been at Asaloka since before the war broke out—delayed with a broken oil connection. They showed me a note signed by Harry Hamilton giving them permission to leave there and go to Lae.
I said: 'Yes, quite all right—they must have petrol to get back to Lae [the Junkers was based at nearby Malahang] … if Mr Garms and Mr Raube would promise me that they would not attempt to leave New Guinea with the petrol so supplied.'
I had a look at the map and found that Hollandia in Dutch New Guinea would only be about five hours' flying and the plane could just do it with the petrol they would get here.
At the mission I told Garms … before I could allow it, they would both have to promise me that they would fly to Lae and not try to leave the country.
Garms told me he had a friend in Sydney and wondered if she would be allowed to see him if he was in a concentration camp. [UV: In 1939 the term 'concentration camp' did not yet have the severely negative connotation that it acquired after the Allies liberated the German camps in 1945. In 1939 the meaning of the term was closer to that of an 'internment camp'.]
At this point it should be pointed out that both Garms and his engineer, as well as most of the German missionaries, expected to be sent to internment camps in Australia for the duration of the war and none were looking forward to it. Australian authorities knew that some of them, despite working in a Christian environment, openly or discreetly supported the Nazis and their new regime.
Vial, in a further letter to his wife from Chimbu four days later continues the story:
Chimbu Post—11 September 1939
I hope this air mail is still running and that my letters via Garms reach you soon. You should get them at the beginning next week. This morning we heard the startling news from Madang by radio that Garms was missing—officers were to search for him and detain him.
Chimbu Post—12 September 1939
Garms departed to Merauke, at the (southern) tip of Dutch New Guinea. He may have posted the mail for us somewhere, but I don't think so. It was funny, he did not shake hands with me before he left—both Webb and I noticed it.
The envelope (as depicted with this story) and letter were in fact received safely in Melbourne by Marjorie Vial. It bore the correct postage of five pence, the air mail rate then to Australia, and was franked at Edie Creek in violet on either 15 or 16 September with the back stamped at Salamaua on 16 September, and then Melbourne three days later. A remarkable delivery in the circumstances, thanks to Pilot Garms, remembered after eighty years for ensuring that it was dropped off with other mail, and not simply discarded or dumped during his flight from the country.
In past years the envelope, but not the letter, came into the possession of Ray Kelly in Australia. He researched its history and found part of the story. The project had also been carefully researched by Ken Humphreys, who once lived and worked in New Guinea in postwar years. Mrs Mary Vial, Leigh's mother, had written on the front of the envelope 'Posted by Garms German Airman after escaping with plane'. She knew the story from the letter inside to her daughter-in-law, and had endorsed the envelope in her own handwriting accordingly.
In 2013 the envelope was auctioned by Mossgreen Auctioneers for $2,480 after passing through a number of hands, and as the years pass the envelope increases in value. It must be one of the few articles of mail ever delivered by an enemy pilot in a stolen aircraft.
As regards the remarkable Junkers F13 VH-UTS 'Papua'—it was discovered by Australian soldiers at Merauke, partially dismantled and on its nose beside the Dutch Administrative headquarters. A hazy photo in 1944 proves its fate. Garms must have landed it on a small strip there or on the beach.
These Junkers originally came out in the 1920s and were the first all-aluminium monoplane (single-wing), single-engine small transport aircraft in the world. They usually carried a crew of two and up to four passengers. With an in-line liquid-cooled engine of 158–306 horsepower engine they cruised at a very leisurely 90 miles per hour (140 km/hr) with a range of five to eight hours. With a huge wing area, they were able to lift large weights for their relatively small size.
Junkers F13s also had seat belts for the passengers [UV: Not common at the time], and a heated cabin for their comfort. When production finished some 322 had been built in Germany. Others were built under licence in America and even far off Japan. The last one retired in 1951 in Brazil. A number are now in museums with one replica having been built by Rimowa luxury luggage makers and the Swiss airline JU-Air—it first flew in Switzerland in 2016.
Both Garms and Raube made it back to Germany—by ship from Merauke to Japan, then to Russia, and finally via the Trans-Siberian railway home to Germany. [UV: Russia and Japan had not yet entered the war at that stage.] They are understood to have enlisted in the Luftwaffe where Garms was an officer pilot and went missing in action in a Junkers Ju88 on 2 March 1942, on a mission in the Crimea area. Raube's eventual fate is still unknown though with his background he probably served on the German Air Force's ground staff.
The PNG postage stamp (pictured) was issued in 1981 to mark the 50th anniversary of the Lutheran Mission aviation in New Guinea. The Junkers F13 depicted has Swedish registration markings, not Australian. The peak shown in the background is Mt Wilhelm—the highest mountain in PNG with an elevation of 4509 metres.
Coincidental to this story, is the fact that Patrol Officer Leigh Vial carried out the first ascent of Mt Wilhelm in 1938, together with two of his Papua New Guinean staff. He reported patches of snow on the peak.
Appreciation: Lindy Gilham (née Vial) and her family, as well as Ken Humphreys for their encouragement and assistance with this story.
UV: After the start of the war with Imperial Japan, Leigh Vial was commissioned as an officer in the RAAF and served as a coastwatcher, reporting on Japanese military activity from vantage points in the ranges overlooking Salamaua. In 1943 he tragically lost his life at age thirty-four when guiding an American B-24 Liberator carrying supplies for an air drop to a remote Australian Army reconnaissance group in the Highlands of New Guinea. All on board the bomber perished when it crashed short of the drop zone. His remains were subsequently interred in the Lae War Cemetery.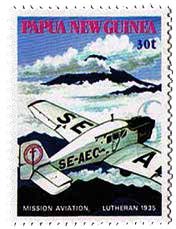 A fuller version of the story of Leigh Vial's remarkable life may be published in a future issue of Una Voce. •
UV: Sadly, as this article went to press, PNGAA learnt that Robert (Bob) Piper passed away on 19 February 2019.