The 2017 Kiap Reunion on the Queensland Sunshine Coast by Chips Mackellar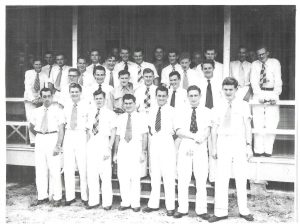 It was a billion-dollar view from the poop deck of the Kawana Waters Hotel across the forest of masts in the adjoining marina, on Sunday 12 November when kiaps gathered for their 2017 reunion. This nautical vista must have reminded Hugh Richardson of the time when he was Commodore of the Royal Papua Yacht Club, and for the rest of us it brought back happy memories of when we used to sit at the Yacht Club in the gloaming, looking out across Port Moresby harbour with gin and tonic in hand, watching the sun setting on the old Empire.
This occasion at Kawana Waters on Queensland's Sunshine Coast was tinged with sadness by the recent passing of Jim Sinclair who had died on 9 October. One of the last of the Australian District Commissioners, Jim left behind a mountain of memories for all of us, in the thirty-seven books he had written of one of the most significant eras of Pacific history – the Australian Administration of Papua New Guinea. Jim's last tome Middle Kingdom is a superb finale to his historic tribute to PNG, and as the British Raj in India is remembered as "Kipling's India." so a hundred years from now the Australian Raj of Papua New Guinea will be remembered as "Sinclair's PNG."
To celebrate our shared memories of PNG, kiaps came from everywhere. Total attendance was 306 including wives and others. Roger and Judy Fairhall came from their home in Hong Kong. And Tom Steen's wife Bessie came all the way from the United Kingdom to be with Tom's old friends, and apart from the Queensland resident kiaps, we were honoured by those who came from further away; some from NSW, others from Victoria and also some from Canberra.
An endearing feature of these reunions is the humbling attendance of wives of departed kiaps. Here we were privileged to welcome Noelene Allan, Lois Parker, Bessie Steen, Robyn Stitt, Margaret Tierney, Barbara Wadsworth, Jan Sinclair, and Joan Colman whose kiap husband John Colman is seen in the attached photo, front row, third from the right. We were also honoured by attending family members like David and Michael Sinclair who came with their mum Jan, and Michael Cochrane who accompanied his dad John.
Though most of us are now withered and old, some of us are remarkably well preserved. Ross Johnson looks a bit weather beaten, but he is still slim and trim. Also slim and trim is Bill Brown who hasn't changed except for his white hair, and Jack Battersby, believe it or not, looks almost the same as when he first went to PNG in 1953. He has hardly aged at all. Jack Bullock still tall and serene is easily recognised. Frank Howard looks the same, and John Balderson is still as handsome as ever. But most of us, now portly and white haired, would not have recognised each other except for the name tags we were wearing. But it was a fun gathering, nevertheless, of the oldest of very old friends.
And the reunion continued the next day for breakfast at Mooloolaba whence one by one we all drifted away again until the next reunion. The last to leave right on the stroke of noon, were Frank Howard, Jack Battersby, Otto Alder and Vin Smith who was still cracking jokes like he always did back there in PNG, eons and eons ago.
Various kiaps took photos of others at the gathering, and these photos remain in the memories of their respective smart phones, or are published on their individual web sites. But Mike Slough was kind enough to publish his photos for all of us to see. Just go to the ex-kiap website, and on the Forum page down the bottom in the Photographs section, and the entry for 20 Nov. 2017, click on the little box next to Mike's name and you can see all our ugly faces on display.
Not on the ex-kiap website, but nevertheless of some significance is this photo of the 1953 Cadet Patrol Officer intake. Most of those depicted here have long since gone to the big Patrol Post in the sky, but a few stalwarts made it to the 2017 kiap reunion. Look closely at the second row from the front, from right to left, Bill McGrath, David Hook, then John Cochrane. Next to John is John Harris (not at the reunion), but over his right shoulder is Chips Mackellar, and partly obscured in the row behind Chips is Bob Cleland. Also lurking in the rear row and out of sight is Jack Battersby. Except for John Harris, all those named here in this photo made it to the 2017 reunion. Not a bad effort since this photo was taken in 1953, would you believe, sixty-five years ago. See how smart and pukka we all were then in our starched whites, and colourful neck ties, the epitome of the well-dressed colonial administrators.
The reunion was honoured by the attendance of Keith Jackson, former PNG chalkie, former President of the Papua New Guinea Association of Australia, and now the publisher of the on-line magazine PNG ATTITUDE. In this endeavour he is ably assisted by kiaps Phil Fitzpatrick and Bob Cleland. This august journal aims to assist PNG writers to publish their works in what is an otherwise barren PNG literature landscape. PNG writers are encouraged by regular articles on PNG contributed by various kiaps like Phil Fitzpatrick, Paul Oates and Chris Overland. This well-presented journal is easily accessed on the internet if you Google "Keith Jackson & Friends: PNG ATTITUDE." It provides good up-to-date information on PNG and is interesting reading for all us old kiaps.
Our thanks go to the staff of the Kawana Waters Hotel who gave us this superb venue. We also thank Peter Salmon and his ex-kiap website for keeping us all informed, and of course our thanks go to the organisers Heather and Bob Fayle and Helen and Denys Faithful. Denys is now 87 years old, bless him.
And finally, one feature of these Sunshine Coast reunions which has made them famous among kiaps is that there are no formalities; no official starting time, no official finishing time, no guests of honour, and definitely no speeches. But on this occasion, it was the end of an era – the passing of our last Australian District Commissioner. So Bob Fayle called upon all those present to drink a farewell toast to Jim Sinclair. And we did. So for Jim, and also for all those other kiaps who did not make it to this reunion and who are too many to mention here, and to all those among us who will not make it to our next reunion, let us remember them all this way:
The Patrol Post up in the Sky
There's a Patrol Post up there in the sky, above the sea near Lae,
Nor'nor West of Samarai, South-East of Hansa Bay.
It has palm trees waving in the moon, where mosquitoes sting at night,
And canoes out on the blue lagoon, awaiting fish to bite.
It smells of kunai in the rain, and smoke from the valley floor,
And you'll hear the pounding surf again, on the reef beyond the shore.
It's the place where all the kiaps go, when their life on earth is through,
And they talk with all the friends they know, of the things they used to do.
They talk of all the times now past, and of places far away,
And of all the memories that last, of Independence Day.
They talk of sights and sounds and smells, and people they all knew,
Of bugle calls and mission bells, of garamut and kundu,
Of days gone by in Samarai, and windswept coral cays,
Of tribal fights and freezing nights, and misty Highland days,
Of black-palm floors and tidal bores, and life on the River Fly,
Of the Kavieng Club and the bottom pub, with a thirst you couldn't buy,
Of carrier loads and Highland roads, at the time when we were there,
Of bailer-shell pearls and Trobriand girls, with flowers in their hair.
And when we say goodbye to you, don't mourn us when we go,
For the Big D.C. will call us too, and this of course we know.
That last patrol will take us all, along that well worn track.
But the difference for this final call, is that we won't be coming back.
But our passing should not cause you pain. It's not sad for us to die,
For we shall all soon meet again, in that Patrol Post in the Sky.
Chips Mackellar