Rotary PNG Project
ROTARY PNG
By Steven Gagau (August 2016)
PNGAA Committee Member, Steven Gagau also a Rotarian was involved in a PNG community project during August 2016 for the supply and installation of solar power and water tanks to a remote primary school in the Trobriand Islands, Milne Bay Province.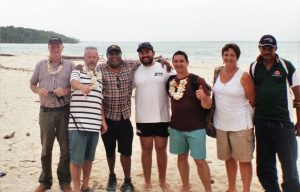 The Rotary Team led by Steven (third from left) successfully completed at the Vakuta Primary School on Vakuta Island the following;
Solar power to 5 teacher houses of 300Watts systems
Solar power to 1 new double classroom and office of 800W system
Solar lighting of 2 security lights of 20W systems
6 water tanks of 2 of 3,000 litres and 4 of 2,370 litres to teacher houses and 2 double classrooms.
The school office now has power for the office for computers, copier and printers and lighting and outlets for other office equipment. The teachers now have power and lighting to their homes for computers, other home appliances like jugs, small fridge and charging mobile phones.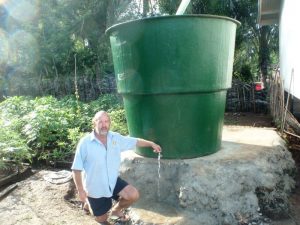 Steven, a member of the Rotary Club of Umina Beach and Project Manager has established partnerships with PNG Rotary Club of Boroko and local solar supplier, Solar Energy Solutions (SES) and Milne Bay Hardware (MBH) for the supply, delivery and installation work of this project and future projects.
Steven believes that PNG rural and remote communities need our act of generosity collectively as most of our educated people were once in this space from our humble beginnings. It all starts with an education and without access to basic infrastructure like power, water and technology, our future generation will continue to be disadvantaged and our children will be hindered from reaching their full potential in early education.
Steven further believes as a humble Rotarian that it's about "Service Above Self" for He/She Profits Most Who Serves Best!