Robinson Sakiki, MM
Increased social media during the lockdown Anzac Day period prompted the emergence of extraordinary 'lost' history of Papua New Guineans who fought bravely alongside Australians and Americans in WWII.
One captivating post by Kokoda Angels Inc. Chairman and CEO, Jeff Keough, led PNGAA to make more inquiries about the feats of Robinson Sakiki of the Papuan Infantry Battalion, who won a Military Medal for incredible bravery fighting and gathering intelligence behind Japanese lines.
In one incident after being captured by the Japanese, a resourceful Sakiki turned their own machine gun on his captors. Sakiki died in 1996 aged ninety-five, and left two wives, seventeen children and ninety-seven grandchildren.
Jeff Keough met the war hero and became close personal friends with Sakiki's son, Daniel, who is on the board of Kokoda Angels Inc.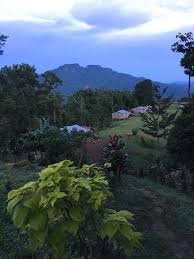 When war broke out Sakiki joined the Papuan Infantry Battalion (PIB) and his service number was 97. The PIB was a unit of the Australian Army formed in 1940. It was deployed on scouting, reconnaissance and surveillance patrols and operated in many campaigns including Buna, Kokoda, Salamaua, Markham Valley, Ramu Valley, Finschhafen, Madang and Bougainville.
They were so effective the Japanese referred to them as 'Green Shadows' (Ryokin) due to their ability to fade into and appear from the jungle unexpectedly.
Jeff Keough tells the story of Robinson's most famous incident:
One of his biggest challenges was between Salamaua and Wau. He was under the command of Australian Captain Jesse and was asked to deliver a letter about the situation to Wau.
Dressed in civilian clothes, Robinson was detained en route by fifteen Japanese, but talked his way through saying he was travelling to his father's village. He made it to Wau but the town was virtually deserted except for one administrator, so Robinson set off by foot back to Wau. He ran into the same Japanese contingent who weren't as trusting this time.
They wired his hand behind his back and chained him to a post, sat him on the ground and treated him badly,spitting and beating him severely. They dug a hole where he expected them to kill and bury him.
The Japanese captain scolded his men for beating him and took Robinson to his tent, ordering his men to fetch water and clean him up. The captain kept Robinson close to him, and told him he was to be his personal guard, even showing him the machine gun and how to use it. But while his captors slept, he planned his escape.
One early morning in the dark he took the machine gun and hid it up the mountain close by and returned to the camp to get magazines he had left. He had it set up before the sun rose and when the commander woke, he realised Robinson and the machine gun were missing. He woke his men, struck camp and the Japanese set off searching for Robinson. When they came into his sights, he fired on them killing the captain and thirteen others. Only one escaped.
He hid the gun and returned to Salamaua. To prove his story, he cut off all the fourteen men's little fingers and gave them to Captain Jesse in Salamaua. He took the Australians to the site.
A telegraph was sent advising that the commander of the Japanese force had been killed in Ioribaiwa, Kokoda, and Australian victory was in sight.
Robinson was involved in many other actions.
He was awarded medals and given certificates of recognition which were lost. He was given 1000 kina in 1980 which was put into a savings and loan society which was never recovered. He was elected as village constable in 1946 and served the position until 1958 following in his father's footsteps, Hajae Sakiki (1906–30).
Robinson brought the first church into the village and built the first school, paying fifteen pounds to Father Holland, and established them as Anglican. He was elected as village councillor from 1960–70 and then became director of the ISI Co-operative Society, a cocoa exporting company—a Kokoda initiative. In 1982 he was elected as village magistrate. In 1984 he brought the Christian Revival Crusade to the village, and Daniel was sent to Bible College in Port Moresby:
I met Daniel in 1994 when I was building a mission sailboat. He became a crewman and for four years we travelled many areas of PNG.
My PNG wife, Dorcas, and I and a small committee started our charity in 2008 when Daniel lost his wife to cerebral malaria when seven months pregnant. We had ambulances donated which Daniel drove. He saved many lives delivering medical and village supplies. Babies were born in the back of the vehicles, including a set of twins.
Robinson Sakiki is one of many brave Papua New Guineans who served and suffered alongside the Allies. Their stories should be revived and inserted into the PNG national narrative. PNGAA encourages members and others to contribute stories and research to ensure this happens.