Record Delivery Time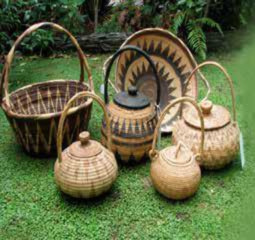 Jack Sweeney, who sadly passed away on 19 May 2018, aged ninety-seven, initially arrived in PNG in 1955 and worked for several years in various jobs, including crocodile shooting. In the 1960s he built a store in Daru, capital of the Western Province of Papua New Guinea, and purchased the ferro-cement boat, MV Vanlin, with which he commenced trading on the Fly River system and Aramia River.
In late 1973, when I was stationed at Lake Murray with Geoff Smith, Jack Sweeney anchored his trading boat, the MV Vanlin, came ashore and had dinner with us. Jack mentioned that he was going to send a shipment of artefacts from Daru down to Brisbane, and I asked if he could send some down to Melbourne for me. Jack agreed to assist and when I showed him my meagre accumulation, he said that to make it worthwhile to box up, I would need to add a few more items.
We agreed that he would supply these, and I gave him $50 to cover the extras and the freight to Melbourne. Jack said that it would take a while because he would have to pack them up, send them to Thursday Island by boat, tranship to Cairns and then arrange rail freight to Melbourne and delivery to my parents' house. I was quite happy with the timeline he mentioned, but didn't realise how long it would be before I saw these items again.
I was transferred to West Sepik Province in 1974 and lost touch with Jack. After several annual leaves to Melbourne, the box had not yet arrived, but I still didn't worry about it. However, on my next leave in early 1977 the box of artefacts awaited me. I opened it and saw straight away that it was not my 'stuff', but I was not particularly worried about it as my artefacts were not exactly collectibles. I returned to West Sepik and didn't bother to try and contact Jack who departed PNG that same year.
Time moved on and I eventually ended up in Cairns in 1992, and settled into life there. Many years later I heard rumours that Jack was based in Brisbane but spent the winter months in Cairns. I finally tracked him down in 1998 and we had a yarn and a few beers at the pub.
I asked him if he remembered the box of artefacts he'd sent down for me and he said straight away, 'It was the wrong one, wasn't it?' He explained that some years after he had sent 'my' box to me, he had opened another one he had stored under his house at Wynnum, recognised the contents as being mine and realised that he had sent the wrong box to me—but by then he was out of PNG and he had no idea where I was. Anyway, Jack very kindly agreed to send my original box up to Cairns after he returned to Brisbane.
Several months later Jack returned to Cairns followed by my box, and it was delivered to his flat in Cairns, where I picked it up and took it to my house.
So, on a Friday night soon after, I picked Jack up and brought him out to our house for dinner, along with a couple of neighbours, and after dinner had a formal opening of my box. Even though it had been more than twenty-five years since I had last seen my artefacts, I did recognise several of them, and also noted the extras that Jack had thrown in. All were in very good condition, and there was no rat or cockroach damage given the holes in the recycled plywood and the passing of the decades.
By now I was in Jack's debt as I had now received two boxes of artefacts, plus he had paid for two lots of freight, so we split the contents of the box between us. I kept the kundu drums and suki baskets and also gave a memento to our neighbours.
Twenty-six years—that would have to be a record for the longest delivery time!
But that is not the end of the story—the following week Jack went to Townsville for (planned) heart surgery, and one of the neighbours followed him down for (unexpected) heart surgery.
Added to this my wife slipped and broke her leg the following Monday and was hospitalised in Cairns. Was it the curse of the Daru box?