Rabaul … September 1994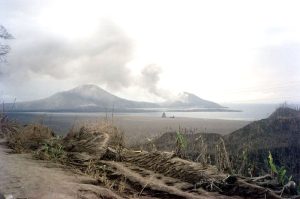 Twenty-seven years ago, on Monday, 19 September 1994, the volcanoes, Vulcan and Tavurvur, erupted and destroyed the once-picturesque coastal town of Rabaul. The town and most nearby villages were evacuated before the eruption but, sadly, five people were killed and many left homeless. It is timely to republish the following story, originally printed in Una Voce in December 1994.
Premier Sinai Brown had tears in his eyes. So did I. We were sitting across from each other at one of the four brown, dust-topped rectangular tables at the Ralum Club, now being used as the Rabaul Disaster Control Centre.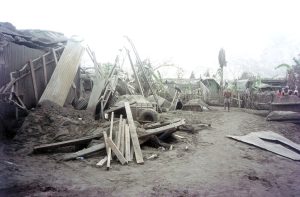 To the east, the sea stretched a deep blue until it surrounded the Duke of York Islands, then further still to the western shores of New Ireland. Slightly to the north over Blanche Bay, Mt Tavurvur looked a sight—still belching a thick greyish-white cloud of ash into the sky.
It was a beautiful day, even though I can no longer remember the exact date, it was during the second week since Mt Tavurvur and Mt Vulcan blew their tops off on that fateful Monday morning. So much had happened since Sunday, 18 September 1994, when Rabaul started to feel the tremors announcing the eruptions, that events have already begun to crowd my memory of that catastrophe into oblivion.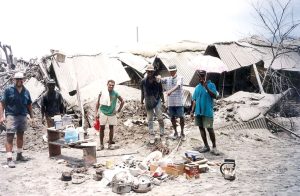 Or perhaps, as I would like to think it, the human mind is built in such a way that it automatically shuts out experiences which are rather traumatic. It would be better like that, for the sake of all those 90,476 people who had nothing left from the eruptions but pain and loss.
The Premier and I were discussing Rabaul, the once beautiful. and peaceful town which was the pride of Tolais in particular, and Papua New Guineans in general. The destruction of Rabaul and the surrounding villages was enormous,
but the Premier was telling me how he was not going to abandon Rabaul, how his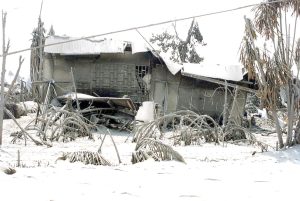 government was going to do everything in its power so that Rabaul would be back, better than it was ever before.
During my two-month stint in East New Britain, I had never seen Premier Brown talk so passionately about a topic. It was obvious how close Rabaul was to his heart. And I could understand why, even though I was not a Tolai.
Rabaul was a special place, not just because of its picturesque setting and colourful history—it was the living monument of a people's pride. It was home to the East New Britain men and women—the Tolai, the Baining, the Sulka and the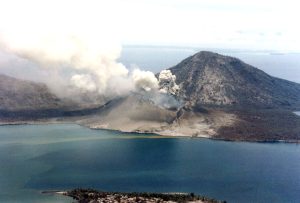 Tomoip, the Taulil and Mengen, the Kol, Makolkol, Nakanai and the Mumusi.
Like me, you didn't have to be a Tolai or a member of one of the other nine tribes that made up East New Britain to at least understand what was going on. As a chief would grieve for his people, Premier Brown was grieving at the loss of his provincial 'home' but, I knew, more so at how the destruction had seemed to break the spirit of his people.
I had never felt so sad for a place or its people before. Rabaul, to me, was a beautiful haven, and I was grieving for it like a child might do so upon finding that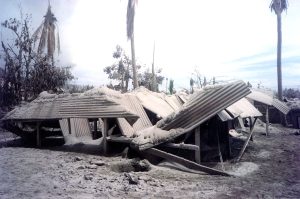 his or her secret hiding place has been destroyed by a mob of bullies.
© GRACE MARIBU, 'The Haven That Was Rabaul', PNG Post-Courier, 1994
(Photographs of the devastation courtesy of Chris Read)