PNGAA Vale – PNG Kundu December 2020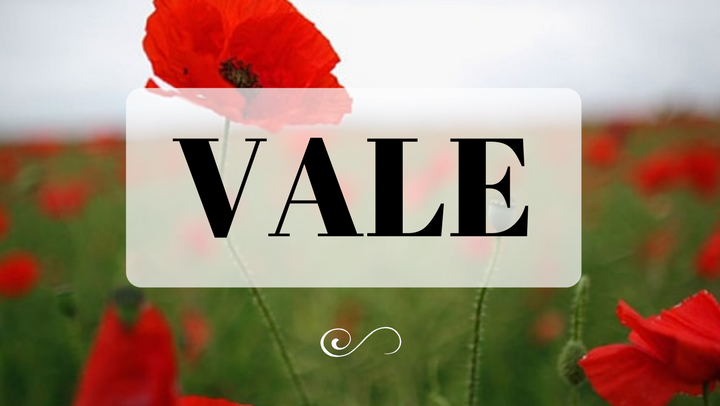 AISBETT, Margaret; ALLAN, Valerie (née Grant); BOURKE, Myra Jean (née Schafferius); BOURKE, Peter; DUNBAR-REID, Richard; DYER, Keith Dyer, ISO; FOWKE, John Philip, FURNESS, Norman Harold; GUEST, Ann Patricia 'Pat'; HUNTER, Richard (Dick), Campbell; MUNKLEY, Graham Rowland; REARDON, Ian; O'DONOHUE, Carolyn (née Dart); TRIST, Peter Oliver Edward; WEAVER, Patsy; WRIGHT, Noel Wright; YEOMANS, Maureen Anne (née Spencer)
AISBETT, Margaret – 19 July 2020
ALLAN, Valerie (née Grant) – 8 May 2020 age 83
Valerie was born in Adelaide on 28 January 1937 to Methodist Missionary parents, Dawn and Ralph Grant.
She spent her early childhood on mission stations in the Milne Bay Circuit and developed a love of both the people and their culture which remained with her for all her life.
It was always said that you could take Valerie out of Papua, but not Papua out of Valerie.
With the imminent threat of a Japanese invasion at Milne Bay, her mother, with sister Rosemary (who later married kiap Ken Brown), were evacuated on Christmas Eve 1942 per the Burns Philp ship, Neptuna.
At aged eight years she was enrolled with Methodist Ladies College Burwood and completed her education in 1950, at which time she returned to Papua taking up employment as a typist in Merchandise Department of Steamships Trading Company, Samarai.
It was here that she met Ralph Allan and the pair were married in 1955 at the Kwato Mission with her father conducting the service whilst mother played the pedal organ.
Following a honeymoon in Australia, Ralph was posted to Burns Philp in Rabaul where their first son, David Ian, was born.
After four years in Rabaul, it was decided to go finish and the family took up residence in Sydney where we spent sixty-five years of married life up to the time of her recent passing.
During this period a second son, Wayne Boyd, was born.
Valerie excelled as an artist and specialised in water colour painting of Australian flora and fauna. She exhibited in Sydney, London and Singapore and produced commissions for private and commercial parties. Her talents also extended to other arts and crafts, including dressmaking, embroidery, knitting, porcelain doll making, teddy bear making and beadwork.
She is survived by her husband Ralph, sons David and Wayne, granddaughters Tanya, Sonia, Tiffany and Lara.
BOURKE, Myra Jean (née Schafferius) – 27 July 2020, aged 77
Myra Schafferius was born in Wondai, Queensland in April 1943, the second youngest of eight children. She grew up on a dairy farm in Murgon where she attended high school, and where her interest in English literature was kindled by an inspiring teacher. She trained as a high school teacher in Brisbane in 1961, specialising in secretarial teaching.
From 1962 to 1965, she taught at Murgon High School and at Malanda High School on the Atherton Tablelands. Two years working in England followed before Myra returned to Australia, changing her name from Myra to Jean. Jean taught at Murgon High School in 1968 and then at Fairholme College in Toowoomba.
She was restless and applied for a secretarial position at Coconut Products Limited in Rabaul, travelling there in late 1970. Within a few weeks, she moved to Tavui Secretarial College near Nonga Hospital, where a progressive teacher is said to have decided to convert the village primary school into a secretarial college, and the principal was keen to find trained experienced secretarial teachers.
Jean taught secretarial skills to girls from all over the New Guinea Islands region from 1971 to 1976, firstly at Tavui then in Rabaul after the college was moved to town. At the end of 1973, she married Mike Bourke, a food crop agronomist based at the Department of Agriculture, Stock and Fisheries (DASF) station at Keravat, forty km from Rabaul.
In January 1977, Jean and Mike returned to Australia where their first son, Edward, was born. Then they went to London, travelling in the UK and Western Europe. At the end of 1977, Mike had been offered a number of positions in the tropics, but they returned to PNG as the security situation was better in the PNG highlands then than in the other tropical locations.
The family was based at Aiyura near Kainantu and Jean was offered three teaching positions on arrival. She chose a part-time volunteer position at Summer Institute of Linguistics (SIL) Ukarumpa and taught typing. Their second son, Patrick, was born at Ukarumpa in March 1980.
In April 1983, the family returned to Australia where Mike was to undertake doctoral studies at the Australian National University. Jean continued her studies as an external student in English literature from the University of Queensland and graduated with a BA in 1985.
She returned to paid teaching in 1987 and taught typing to children with writing difficulties in Canberra for twenty years, retiring in 2007.
Her interest in literature, feminist issues and Australian indigenous issues led to a number of writing and editing projects. The most important edited published books, which were done with other female editors, were Our Time, but Not Our Place: Voices of Expatriate Women in Papua New Guinea and Weaving a Double Cloth: Stories of Asia-Pacific Women in Australia.
She provided significant editorial support to indigenous leader, Dr Chris Sarra, for his autobiography, Good Morning, Mr Sarra: My life Working for a Strong, Smarter Future for Our Children.
Some comments written by friends and family after her death give further insights into her as a person and these are included on a longer vale on the PNGAA website.
She is survived by sons, Edward and Patrick, and granddaughter Ann Myra.
Mike, Edward & Patrick Bourke
BOURKE, Peter – 8 June 2020, age 81
Peter, born 3 December 1938, came from a farming family and worked with his parents at Mungindi (NSW) and Stanthorpe (Qld) where he sheared sheep, fenced and did what all farmers do.
His contribution to Papua New Guinea as a teacher is legendary as were the stories he loved to tell. He was a true raconteur. Peter did his e-course primary teachers' training in Rabaul in the 1960s and then taught at Ajeka Primary School, next to the Kumusi River in the Oro Province.
Next was a move to the Sepik Province where he opened Passam Primary School opposite where the Passam National High school now stands. He also taught at Kaboibus in the Maprik area of the Sepik and collected many Sepik traditional artistic stools, carvings, pottery and shields in the 1960s. Peter's family have donated this collection of Sepik pottery to the Brisbane Art Gallery.
One of Peter's Sepik students, Charles Andreas, shared tales of how Peter motivated his students through stories. Peter shared many stories of the hardships during that time especially driving into Wewak on his motorbike along muddy dirt tracks and waiting for overdue food supplies to be delivered by plane.
There was never a dull moment when Peter came into the Wewak Education office usually accompanied by a variety of students all eager to experience the 'big smoke'.
Australian Primary teachers were localised at PNG's Independence in the mid-1970s and Peter used his 'golden handshake' to purchase a block of units in Nambour, QLD. Peter returned to PNG, firstly working in Adult Education in the Sepik, then transferring to Port Moresby where he worked in the localisation unit of Posts and Telegraphs, and then in the PNG Department of Personnel Management, and finally in a training unit at the Ok Tedi mine. Peter mentored many Papua New Guineans.
On his return to Australia he settled in Nambour and worked in Yandina in real estate, a career he threw himself into with gusto. He never forgot his many PNG friends and acquaintances, both local and expatriate, and loved to dine out and share his experiences. One of nature's gentlemen.
Keith Stebbins & Ray Watson
DUNBAR-REID, Richard – 13 October 2020, age 80
DYER, Keith Dyer, ISO – 17 August 2020, age 97
In August 1942 Keith joined the AIF, having been refused by the RAN and RAAF due to poor eyesight. In late 1944 Keith successfully applied for a course at Duntroon, Canberra, for training of Patrol Officers for ANGAU—the military administration of Papua and New Guinea.
Keith was the youngest to graduate and, with the end of the war, he went as a patrol officer in ANGAU to Port Moresby in December 1945. His military discharge was obtained in Lae on 26 March 1946, and he started as a civilian patrol officer that same day.
In June 1946 he was the junior member of a party of five that were the first postwar civilians to return to Rabaul, which had been the Japanese headquarters in New Guinea throughout the war and which was still recovering and repatriating Japanese.
He worked on the Gazelle Peninsula (Rabaul/Kokopo) until October 1947 when he moved to Mosman NSW and at the end of 1949 graduated with a Diploma of Pacific Administration from the first Long Course of the School of Pacific Administration. During that course, on 18 December 1948, Gwen and Keith married.
During 1950 Keith was Patrol Officer in charge at Taskul, New Hanover, New Ireland District. In 1951 they went to Kavieng where Keith was Acting Assistant District Commissioner. Lynette was born at Kavieng Hospital on 20 September 1951.
A move to Madang District in 1952 resulted in seven years as Assistant District Commissioner,1 including a nine months' temporary transfer to Goroka. Most of the time in Madang was on outstations —about three years at Bogia and almost four years at Saidor. John and Peter were both born at Madang Hospital—John 7 July 1953 and Peter 19 January l958.
In 1959 there was a brief return to Goroka before a posting to Mendi, Southern Highlands, as Deputy District Commissioner. Of the three years there, the last two were acting as District Commissioner. Mark was born at Wapenamanda in the Western Highlands (now ENGA Province) 8 October 1961.
1963 was spent in Australia completing a Bachelor of Commerce degree at Queensland University before returning to Port Moresby as Principal Lands Officer with the Lands Department. It involved close liaison with the Justice Department on matters relating to land disputes, restoration of titles, land alienation and the training of staff in land investigations. Keith was also a member of the Land Board.
In June 1966 Keith was appointed District Commissioner for the new West New Britain District and went to temporary District HQ at Hoskins where Keith said: 'A development explosion occurred in that exciting District.' It was a huge challenge but before the new District HQ at Kimbe was completed Keith was summoned to Port Moresby in mid-1969 to act as First Assistant Secretary for the Department which he did for two years leading up to self-government.
Late 1971 Keith transferred to a planning position with the Economic Advisor in the then Department of Lands, Surveys and Mines. Here he enjoyed becoming involved with major projects such as Bougainville and Ok Tedi copper and this, ultimately, led to his involvement in forming first the Office and later the Department of Minerals and Energy during 1974.
PNG attained full Independence during 1975 but Keith remained with Minerals and Energy as Assistant Secretary, and for a few weeks in 1980 as acting Departmental Head, until departing PNG at the end of June 1980.
Keith had set up a new department with a local university graduate, Nigel Agonia,2 born 1948 at Gabutu, Port Moresby, who initially worked for him and eventually became his boss, with Keith his First Assistant Secretary! Keith acknowledged 'This was as it should be.'
Keith was awarded the Imperial Service Order (ISO) in the 1979 Queens Birthday Honours and the PNG Independence Medal; the Queen's Silver Jubilee Medal; two Scouting Thanks Badges, and the Golden Kumul (equivalent to the Australian Silver Kangaroo) and a life membership of the Port Moresby Tennis club. Gwen represented PNG twice in the South Pacific Games (table tennis at Port Moresby and Tahiti) and John once (swimming at Tahiti).
Keith has written:
I enjoyed a unique career which is no longer possible. The experience was extraordinarily wide and it was my fortune through the HQ experience to visit all but about 2 of the 140 odd government stations scattered throughout the country. Very few have had this privilege.
My career in PNG was exciting, often difficult, and something different every day. My responsibilities included initial contact in uncontrolled territory; maintenance of law and order; police officer; magistrate; justice of the peace. I was the legal authority for births, deaths and marriages; bank master; treasurer and financier; post master; labour inspector; census taker; road maker as well as hosting and accommodating visiting dignitaries and so much more.
When opportunity permitted, I liked to be involved with sport and community affairs. For seven years I was National Treasurer of the Scout Association and helped raise in excess of 150,000 Kina (AU$200,000). I played cricket in East New Britain, golf in Goroka and squash and tennis whenever I could, building tennis courts at Saidor and Mendi.
My services were amply rewarded with good superannuation in the career sense but there were other tokens of appreciation—many received during the early years from the local people were greatly appreciated.
Endnotes
Prior to a 1960's reorganisation of the former Department of Native Affairs a District Officer (DO) was the District Commissioner's number 2 in a District (later Province). In charge of sub-districts were Assistant District Officers (ADOs). The reorganisation resulted in DOs being renamed Deputy District Commissioners (DDCs) and ADOs being titled District Officers. DOs in charge of a sub-district were given the title Assistant District Commissioner (ADC). Other DOs were appointed to special duties (SD) or specific 'non-general field duties', usually based in District (Provincial) Headquarters. Eg DO Local Government (DLGO); DO (Lands); District Government Liaison Officer (DGLO); or to full-time magisterial duties.
Nigel Agonia also became PNG's cricket team's captain.
FOWKE, John Philip – 10 September 2020, age 81
John was born in Sri Lanka (formerly Ceylon) on 12 February 1939. His British tea planter family had been resident there for several generations but emigrated to New Zealand in 1947. After completing his education John had a number of jobs before being accepted, in 1958, as a Cadet Patrol Officer in the TPNG Administration's Department of Native Affairs (DNA).
He was posted to Kikori in the Gulf District where he served two terms. These included postings to Patrol Posts at Baimuru (a new station which he established replacing Beara, taking advantage of an oil-company-built airstrip) and Ihu. Returning for a third term he chose to transfer to the Co-operatives Branch of the DNA. This resulted in a posting to Talasea in West New Britain where he helped to form the Central Nakanai Native Association—a cooperative to market locally grown cocoa. He resigned in 1964 to accept an offer from Brian Heagney, in Mount Hagen, who was building up a business empire which included a soft drink manufacturing company, a tea and coffee packaging business, a service station, a freight company and numerous trade stores spread throughout the highlands.
John had met Penelope Joan McDonald whilst on leave in Sydney. They quickly became engaged and Pennie proceeded to TPNG on the Bulolo to be married. She also worked for Heagney and enjoyed exciting drives out into the bush stocktaking and re-stocking the many trade-stores and collecting the takings.
However, John's desire was to manage a coastal plantation. He also believed that it would give him more time to achieve his ambition to become an author. Thus it was that he and Pennie spent three years managing a Steamships Trading Company (STC) copra plantation called Mamai, in Amazon Bay, Central District.
Aware of his highland's experience STC asked John to go to the Eastern Highlands District to manage their Goroka Coffee Producers coffee mill. John ran the mill for three years during which time his son, Philip, was born in Port Moresby.
In 1971 John moved the family back to Australia and his daughter Anna was born in Sydney in 1971. John took a job with Mobil in Townsville and spent eighteen months there before taking on the Mobil depot in the Far North Queensland town of Mareeba. During this time Pennie and John bought and planted a mango orchard.
Travelling back to PNG in 1975, John managed Korfena coffee plantation near Goroka until 1980. Returning to Australia John began writing his novel Time of Rain under the nom de plume, John Stafford, and it was later published in 1984 by Rigby Publishing.
However, PNG again beckoned, and the family returned to Goroka in 1982 on a short-term contract with the (then) Coffee Industry Board.
Pennie and the children were based in Brisbane from 1983, as John did not want his children having the boarding school experience of his own childhood. From 1983 onwards John tried to settle in Brisbane.
However, his yearning for PNG led him back to the Mount Hagen area in 1986, where he worked for coffee planter, Dick Hagon. He then managed Kurumul Plantation, which had recently been purchased by an English company and he followed this with a stint with another highland's coffee pioneer, Red Williams.
John then 'settled down' for three years setting up and running the AgBank's management company, formed to encourage and assist local small-holder coffee growers—the 'Twenty Hectare Scheme'. Around this time John was writing his book, Kundi Dan, at the request of the Leahy family. The biography of Danny Leahy was published in 1995 by Queensland University Press.
In 1992 John returned, with Pennie, to Goroka once more. John became the quality control adviser to the Coffee Industry Corporation. The early 1990s saw much turmoil in the PNG coffee industry with the International Coffee Organisation and its quotas policy, political interference, bad management, increased competition and some questionable operators which, worst of all, resulted in a decline in quality.
In 1992 John was tasked, by the newly-constituted Coffee Industry Corporation, to introduce the Coffee Improvement Programme. Through his efforts 'the reputation of PNG coffee (was) substantially, if not totally, restored'.
In 2001, sadly, Pennie died after a year-long battle with cancer. John continued to work in PNG for the Coffee Industry Corporation implementing many of his ideas and insights. This period of his work life was satisfying but he suffered the loss of Pennie greatly.
In 2008 John retired to Brisbane but kept in touch with PNG, writing prolifically about PNG and its future. He believed passionately in the country and her people and their potential. He left an unpublished novel set in New Zealand, which he would have loved to have seen published. John is survived by his sister Felicity, his son Philip, daughter Anna and his two grandsons, Tom and Jack Fowke. He died peacefully with his family, reminiscing about a rich and adventurous life, well spent.
Anna Fowke & Chris Warrillow
FURNESS, Norman Harold, OAM (VX23557) – 31 August, age 98
Dearly loved husband of Val (dec.) for fifty years and Beryl (dec.) for ten years. Survived by Barb & Rob (McLeod), Denise and Tim (Watkins), Jan & Trevor (O'Brien) and their children and grandchildren.
For additional information in Norm Furness, go HERE.
GUEST, Ann Patricia 'Pat' – 5 September 2020, aged 97
Loved Wife of Bill Guest (dec'd), and mother of Annette and Scott.
HUNTER, Richard (Dick), Campbell – 9 September 2020, age 75
Dick became a Cadet Patrol Officer on 1 April, 1964. His first posting was to the Western District where he served two terms. He then served in the Southern Highlands District (SHD) until he and his family 'went finish' in 1976.
He and Noel Cavanagh (another former SHD kiap) bought a newsagency in Nambour, Qld. However, after three years Dick left for Melbourne where he joined another former SHD kiap, Peter Barber. Both held senior positions with the RSPCA before retiring. Dick spent his final years in Eden, NSW.
MUNKLEY, Graham Rowland – 25 May 2020, aged 90
Born on 4 June 1929, Graham came from a proud Queensland farming family and was educated at Ipswich Grammar School, where he excelled in both academic and sports subjects. He gained his Senior Teachers Certificate from Kelvin Grove College of Advanced Education in 1948 and taught in Queensland schools before moving to Papua New Guinea, where in 1952 he became Head Teacher at Ela Beach Primary 'A' School.
A distinguished career in education saw him serve across Papua New Guinea in a variety of roles. Graham had postings to Madang, Wau and Goroka before teaching in Dagua, Angoram and Vunamami community schools. He then served as Area Education officer in the Duke of York Islands, Vunamami and Kokopo, and as District Education Officer in the Eastern Highlands, Southern Highlands and the Western Highlands.
In 1961 he was Principal of the Dregerhafen Teacher Training Centre. He then served as District Inspector in the Sepik, Morobe and Chimbu and East New Britain followed by Inspector, Teacher Education Division, then as Inspector for the Central District, and Provincial Superintendent in the National Capital District and as Regional Secondary Inspector for Papua, then Bismarck after a term in the Education Planning Section.
Graham took time off to study commerce and accounting at University of Queensland completing Bachelor of Commerce, Bachelor of Economics and Post Graduate Diploma in Public Administration.
In 1978 Graham served as Superintendent of Curriculum/Inspections National Institutions Division and in 1988 was appointed as Senior Liaison Officer-Schools Administration.
Graham developed professional development courses in school administration, curriculum and in-service training. He was chairman of the national high school's curriculum development committee and coordinated an In-service training week for 600 teachers.
For many years Graham set the Grade 10 Commerce School Certificate examination and chaired marking panels. He co-ordinated the first Higher School Certificate examinations and was a member of the College of External Studies and National High School Boards of Studies.
Graham's positions at Education Headquarters in Waigani, Port Moresby, included a role in the establishment of the International Education Agency, the guiding body for both primary and secondary curricula in International Schools as it separated from the Education Department.
He liaised with Bougainville Copper and Ok Tedi in establishing their education services and was a rostered consultant for the United Nations in Education. In 1991 his last position was Coordinator of the PNG/Australian Governments Scholarship Program.
In Port Moresby he sang with the Choral Society and performed in drama productions. Graham was proud of his contribution to education in Papua New Guinea, and his support and friendships with Papua New Guineans, many who became leaders.
After leaving PNG in 1993, he joined many volunteer organisations, being especially happy with his volunteer work for the Sydney Olympics and Para Olympics.
He worked with the 'Luncheon Club' a group under the patronage of the Lord Mayor of Sydney that assisted terminally ill HIV/AIDS sufferers. He eventually moved to Brisbane to be near his family and old friends. His lifelong support of the aspirations of Papua New Guineans and his contribution to the life and welfare of the country will long be remembered.
Keith Stebbins
O'DONOHUE, Carolyn (née Dart) – 19 August 2020, aged 77
Carolyn was born in Sydney in September 1942 and trained as a nurse and midwife at the Mater Hospital in Sydney. She had an adventurous spirit and visited different places during her holidays.
In late 1965, soon after completing her nursing training, Carolyn headed overseas by ship. She spent twelve months working in London and then teamed up with three girls she had met on the ship from Australia. They bought a VW Kombi van and set off to explore the UK and the Continent.
In late 1967 she returned to Australia and worked at the Mater Hospital in North Sydney for six months. She then joined PALMS, a missionary group and, after a short training course, was sent to work at a Catholic mission hospital in Port Moresby.
She was preparing to return to Sydney when Helen, a childhood friend who lived with her husband in Rabaul, invited her to visit before Carolyn left PNG. She accepted and flew to Rabaul. She liked what she saw there so Helen, who was also a nurse, suggested she apply for a position at the Nonga Base Hospital. She had an interview with the matron on a Friday and started at the hospital on the following Monday.
Carolyn worked there for the next two years during which time she learnt to scuba dive. In early 1970 she met John O'Donohue, a cocoa agronomist based at DASF, Keravat and they married in April 1971. They had four children (Meagan 1972; Kylie 1973; Bevan 1975 and Liam 1978) so Carolyn was kept busy with family responsibilities in this period of her life.
They purchased Vunapau Plantation near Keravat in the early 80s and spent the following years growing cocoa commercially. While at Vunapau, Carolyn spent much of the working week ferrying the children to and from school at Keravat and Rabaul, but she did make time to set up an aid post and counselling services for the plantation labourers, their families and neighbouring villagers.
The family returned to Australia in 1989 and John bought a farm near Boonah, southwest of Brisbane, growing lucerne, cattle and pigs. After selling the farm they bought a house in the Brisbane suburb of Gaythorne. John had a two-year stint as a real estate salesman and then he and Carolyn embarked on a number of small-scale property developments. Carolyn also returned to full-time nursing, at nursing homes for seven years, and then at the Prince Charles Hospital for the next fifteen years.
She was born to be a nurse and had the best interests of her patients at heart as well as being a staunch advocate for her fellow nurses. She was appointed to the Nursing Consultative Forum as a nursing representative for the hospital, and used this platform to bring about change which she perceived to be necessary. She was forthright in her manner and had no hesitation in putting her point across, even to the matron of the hospital. She ended her career as a nurse on her seventy-first birthday in 2013.
In her retirement years, Carolyn indulged her passion for gardening and assembled a huge array of plants. Carolyn was a wonderful mother to their four children and a loving grandmother to their nine grandchildren. She is survived by John, her husband of forty-nine years; their children Meagan, Kylie, Bevan and Liam; and their grandchildren Sam, Cole, Caden, Stella, Lola, Ned, Grace, Jack &Elle.
John O'Donohue & Mike Bourke
REARDON, Ian – Early August 2020
Ian and his family lived in PNG from 1965 until 1984. His first posting was in Popondetta although Ian's wife, Helen, and children Dianne and Mark were unable to join him for some months because of lack of accommodation. After three years there, a year was spent in Kokoda, four years in Alotau, a year in Daru, eighteen months in Wau and eight years in Lae.
Ian was the Provincial Rural Developmental Officer and expenditure Plan Co-ordinator with Department of Agriculture, Stock and Fisheries.
Born on 1 April 1935, Ian grew up in Warrnambool, Victoria. After leaving PNG the family lived in Sydney. Helen died on 27 October 2010. Eventually, Ian went to Albany Creek in Queensland to be near son Mark.
Ian was on the PNGAA Committee from 1999–2008 and both he and Helen were regulars helping with labelling and packing of Una Voce through those years as well as assisting with various other committee roles.
TRIST, Peter Oliver Edward – 11 February 2020, aged 83
Peter had wonderful parents whose sense of occasion was passed on to him with the initials of his name being POET.
His love of performing formally began when he completed a National Institute of Dramatic Art (NIDA) production course.
Peter soon settled into a media career, and eventually went to Port Moresby where he worked at the University of PNG from 1966 to 1972, and as Senior Producer Drama and Features at the National Broadcasting Commission from 1974 to 1984.
Peter found the relay services from Australia were not particularly relevant to PNG audiences. He encouraged local writers to write original plays for radio, adapted books of interest to PNG audiences and also encouraged local musicians who would come and record on cassettes. Peter found the work challenging and interesting.
His huge output of radio features and dramas gave many Papua New Guineans and expatriate actors their chance to shine in theatre. Household names like Roslyn Bobom, William Takaku, Rose and Jean Kekedo and John Billie Tokume, and many others, honed their craft crowded around 9PA's microphone, scripts in hand and eagerly awaiting Peter's cues and directions. In those far off days PNG had no TV and radio was king. Sunday Night Theatre was a program not to be missed.
Peter also directed at the Arts Theatre in Port Moresby working with playwright John Kolia and others. His golden voice and great personal warmth (and tact!) put us all at our ease.
On his return to Australia he was described as a hero of the Hunter for his remarkable series of monthly book chats held for audiences of around fifty people in the Newcastle Library. This dedication won him a NSW Senior's Local Achievement Award.
Peter Trist was interviewed by Jon Ritchie in the Australians in Papua New Guinea (PNG) 1942–1975 oral history project, which is a sound recording in the National Library of Australia.
Ray Watson
WEAVER, Patsy – 13 October 2020, aged 104
WRIGHT, Noel Wright – 20 September 2020, aged 78
Noel was born in Sydney on 27 June 1942 and lived in NSW until his appointment as a Cadet Patrol Officer on 26 February 1962, in what was then called the Department of Native Affairs in Papua New Guinea. His first term was spent in West New Britain, with postings to Cape Gloucester, Hoskins and Talasea.
In 1964, Noel attended the ASOPA Long Course in Sydney and upon returning to Papua New Guinea he was posted to Komo in the Southern Highlands. Just prior to returning, he also happened to catch the eye of one Maxine Paterson on a Gold Coast beach. Four years of correspondence between them followed.
Noel and Maxine were eventually married in February 1969 and were posted to Poroma in the Nipa Sub-District. This was followed by postings to Ialibu, Nipa and Tari and then it was off to the Gulf District for sixteen months with postings to Malalaua, Kikori and Kerema. Happily, for Maxine, they were then posted back to the Southern Highlands to Tari then to Mendi, back to Tari, and finally to Mendi from where they 'went finish' on 13 December 1981.
Noel was a very diligent field officer and led many patrols in both the Southern Highlands and Gulf Districts. Up until their son Darren was born in 1974, Maxine 'accompanied' Noel on some of these patrols including an arduous ten-week foray amongst the Foi and Fasu in the Lake Kutubu area.
Noel was very suited to outstation life. He became an excellent cook, particularly of Asian cuisine, a clever and creative photographer, a mean tennis player who took no prisoners, a bibliophile and a melophile. He was a very convivial host. At his side, Maxine epitomised the perfect kiap's wife, and, as a single kiap, the writer was one of the well-fed beneficiaries of her care.
After returning to Australia in 1981, Noel set about re-establishing himself. He owned a hardware business at Southport for twelve years and, during this time, acquired a Bachelor of Business degree from Griffith University.
In 1995 he commenced a second career in Papua New Guinea in the role of Business Development Officer at Porgera gold mine. After Porgera, he worked as a Business Development Manager on the PNG LNG Project and for twelve months prior to permanently retiring in 2012, he worked in Australia as a consultant to the Frieda River project.
Noel was an inveterate traveller and over the years he and Maxine traversed the globe from Mongolia to Antarctica, across Asia, South America and Africa, Japan, Europe and the Middle East. Noel planned their journeys meticulously and a legacy of their travels is a marvellous photographic record supplemented by Maxine's detailed daily notes. (Trip Advisor has nothing on the Wrights!)
Noel and Maxine also traversed much of Australia by car and caravan, often accompanied by or meeting up with good friends. The Tamworth Music Festival was an annual pilgrimage in the caravan. Noel was still planning further adventures right up until his hospitalisation.
Noel was well read and possessed a quick, dry wit that he wielded like a rapier.
He was much loved and respected by those who knew him. He had many friends and was embraced by all of their families. Noel passed away at the Gold Coast Hospital following neurosurgery. He leaves behind his beloved Maxine, his son Darren, daughter-in-law Dani and grandson Jacob. He is also survived by his sister Ann and brother Ian.
'To live in the hearts of others is not to die'.
Dave Ekins
YEOMANS, Maureen Anne (née Spencer) – 9 July 2020, aged 85
Maureen was born in Rabaul on 8 May 1935 to Tom and Stella Spencer, then of Kenabot Plantation near Kokopo. Apart from absences during the war and to attend boarding school, Maureen spent her life until the early seventies in PNG with her husband, Bill, where they raised a family of four. Their youngest, Shane, was killed in a traffic accident in Lae. Bill was employed by the PNG Electricity Commission and they were posted to Rabaul, Wewak, back to Rabaul again and then Lae.
After WWII Maureen's family moved to plantations along the south coast of Papua spending time at Cocoalands, Veimari, Mariboi, Sagarai before moving back to New Britain and taking up home at Raulavat Plantation on the north coast not too far from Rabaul. It was in Rabaul she met and married Bill Yeomans.
The Yeomans family left PNG prior to Independence and settled near the Sunshine Coast, Queensland. Always a lover of animals, Maureen and Bill settled, eventually, on small acreages where horses, dogs and other pets were comfortable.
Maureen lost Bill in 2005 through ill health and remained on their acreage at Peachester maintaining the property with the help of sons, Christopher and David, who made regular trips up from north of the city for that purpose.
Maureen passed away in Redcliffe Hospital from injuries following a fall. Maureen is survived by her children Christopher, David and Janine, nine grandchildren and fourteen great-grandchildren, as well as Maureen's siblings, Elaine and Ian.
Note: Raulavat in Kuanua means 'On top of a stone or boulder'.
Ian Spencer
Correction to PNG Kundu,
June 2020, page 59: Peter Shanahan died on 13 March 2020, aged 79 years