PNGAA Update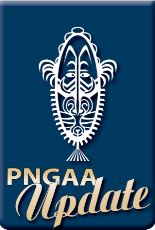 As well as PNGAA events, members of the Management Committee continue to network on your behalf, attending a wide range of events and activities, and encouraging new members and possible partnerships to keep our association vital and viable. Featured here are reports and updates from the committee, other news of interest and a welcome to new members.
From the President
Symbolism. Sweeping, sober reflection and emotion. Even quiet pride.
These all coursed through a very special and historic event for our association at the Australian War Memorial on 6 September. It was a commemoration organised by the PNGAA for the 75th Anniversary of the signing of Surrender of Japanese Forces at Rabaul in 1945.
Distinguished guests including the AWM director, Matt Anderson, and the Chief of the Defence Force, General Angus Campbell, AO, DSC, paid respects at the Rabaul and Montevideo Maru Memorial in the grounds of the national institution in Canberra.
It was fitting in so many ways. The Japanese sur render ceremony in 1945 was aboard the Royal Navy aircraft carrier, HMS Glory nestled just off the Rabaul coast—in the same waters and route where a massive Imperial Japanese invasion force had landed on 23 January 1942.
It was also the passage through which the ill-fated Montevideo Maru left Rabaul harbour carrying 1,053 Australian men and boys, who would perish when the prison ship was sunk off the Philippines on 1 July 1942. From Rabaul, too, Japanese assault forces had left for Kokoda, Buna and other battles. Then after Australia's bloodiest and costliest campaign of WWII, the New Guinea struggle was over and Rabaul was handed back to the Allies.
Japanese Lieutenant General Hitoshi Imamura signed the instrument of surrender. It was accepted by Lieutenant General VAH Sturdee, general officer commanding First Army.
Rabaul was so long forgotten or ignored in our national narrative that it was both heartening and appropriate that our most senior soldier made the key address (see his speech in 'Memorial News'). And it was an eloquent one by General Campbell. His final words resonated powerfully with our members.
'We must not forget historical occasions such as the coming to peace in Rabaul. The friendship between Australia and Papua New Guinea has only strengthened through our remembrance. And we must not forget the significance of memorials like this one. They offer us this moment to reflect on what it has cost for our society to remain open, and free, and in service of our communities and families while respecting our common humanity. Something that has come at such great a cost is truly invaluable. It should not be forgotten. We must forever cherish it.'
Wreaths were laid by members on behalf of the PNGAA, the 2nd/22nd Battalion/Lark Force Association and the NGVR/PNGVR Ex-Members Association.
It was appropriate as well that PNGAA's Andrea Williams gave the thank you address. Andrea lost her grandfather on the Montevideo Maru and was instrumental in forming the committee in its name, and establishing a memorial for the victims of our greatest maritime disaster.
Travel commitments made my attendance impossible, but I was delighted that our extended family was represented by my cousins Dorothea and Carol Schultze, whose grandmother perished in a Japanese prison camp along with my greatgrandmother and another relative.
On a current and more celebratory note, PNGAA is thrilled with a wonderful accomplishment of our former events co-ordinator, Julianne Ross Allcorn. Julianne was announced as the winner of the Trustees' Watercolour Prize 2020 for her painting, 'Mollitium 2' in the Wynne Art Prize at the NSW Art Gallery. The Wynne Prize is awarded annually for 'the best landscape painting of Australian scenery in oils or watercolours or for the best example of figure sculpture by Australian artists' (see her painting in 'Art & Book Reviews').
Your committee is pleased also to welcome the new Editor for PNG Kundu, John Egerton, who has a long and passionate connection with PNG, and we know he will continue the fine tradition of our journal.
MAX UECHTRITZ
PNGAA President
Welcome to Our New Editor: John Egerton
John has been assisting with the December 2020 issue of PNG Kundu, and will take over as Editor for future issues.
John began work as veterinary officer with Department of Agriculture, Stock and Fisheries in 1956, providing services to owners of livestock and companion animals.
Following a course at the University of London in 1960–61, he became OIC of the Central Veterinary Laboratory at Kila Kila, Port Moresby. In this role he organised veterinary diagnostic services for the Territory's veterinary service. John also investigated anthrax in pigs and, with colleagues from the health department, found the cause of pig bel, the fatal disease which often followed traditional feasts on pig meat.
John and Margaret and his family lived in Boroko at the corner of Lahara Avenue and Huala Place.
The Anthonys were neighbours and the Marvells lived nearby. His daughter, Lee, went to East Boroko Primary and daughter, Jenny, was born in the European Hospital, Port Moresby, in 1959. Son, Jack, was born five months after their return South.
In September 1964 John joined the CSIRO in Sydney as a research scientist. In 1972 he was appointed to the chair of veterinary medicine at University of Sydney, retiring from that in 2000. Since then he has continued to write and edit articles and a book on veterinary research history. John now lives in Drummoyne, Sydney.
Thanks to You All
It's been an absolute privilege and pleasure to work with our Production Designer, Jeannette Gilligan, to ensure that the four issues of our newly-branded journal, PNG Kundu, arrive in your letter boxes and inboxes this year. Thank you, Jeannette, for an amazing year! And to the proof readers (especially Eagle-Eyes Benson and Wade) who assist with the final copy, to the Management Committee, including Chris Warrillow and Phil Ainsworth, for their support in so many areas, those who help with the website and post, and to the members of this wonderful association who have ensured our journal is packed with anecdotes, stories, letters and news—I have greatly enjoyed having this involvement with you.
I wish John Egerton many happy days in his role as Editor. Every member has a story about PNG, so please continue to share them in PNG Kundu!
ANDREA WILLIAMS
2020 PNG Kundu Editor
PNGAA Website —
Help Wanted
The PNGAA website is expanding and increasing its functionality. Currently we have a team of volunteers who add and maintain the content on the website, but as the content expands, the need for additional volunteers to assist in monitoring and loading content also increases. Specifically, we need someone to assist in:
Loading articles for the PNG Kundu each quarter
Monitoring and managing the comments put on the website by other members
Loading 'news' articles on to the Website
Loading and maintaining content relating to PNGAA regional events.
Technical understanding of WordPress programs is NOT a requirement; however, some basic understanding of computers and access to the internet will be necessary.
If you have a reasonable computer capability, we are able to show you how to perform the necessary tasks. And, of course, we will answer any questions you may have and provide ongoing guidance. If you have an interest in PNG, this is a great way to help the PNGAA!
Being located in Sydney would be an advantage, but with communication these days, location is not really relevant.
If you are interested in helping out, please contact Roy at membership@pngaa.net
Free Digital Collection for PNGAA Members
In response to requests from members, we have introduced a new section on our website:
PNGAA e-books
Amongst many others, members will be able to view or download digital versions of David Montgomery's A Didiman's Diary—published as a series of articles in Una Voce, and Bill Brown's A Kiap's Chronicle—originally published on-line.
Why don't you check it out and remember that, over time, we will be adding many more publications our members will be able to download HERE.
PNGAA New Members
The PNGAA Committee welcomes the following new members:
Karen Aisbett, Graham Aveling, Nicholas Brown, Anne-Maree Driver, Malcolm Dunjey, Hilary Euscher, Lance Govan, LisaHilli, Debra Humbley, Dyanne Jackson, Robert Jacobsen, JeffKinch, Lilianne Joku Kramer, Peter Laming, Joanne Martin-Blakey, Peter Meissner, Natalie Moxham, Russell Mumme, John Reid, Dennis Robbemond, Dorothea('Doff') Schultze, Carolina ('Carol')Schultze and Elsi Wolff.
2021 MEMBERSHIPSUBSCRIPTIONS ARE DUE
Rates and payment options are included at the back of this issue in the Treasurer's Corner Membership & Order Form
CWA–PNG International Study Year Competition Judging
In February 2020, to complete the year of focus on PNG, Lyn Braico from the CWA asked the Papua New Guinea Association of Australia to help them judge their NSW competition entries. Every country they study has a competition at the end to review and imbed in their membership what they have learnt during the year.
The following was kindly judged by our association members: Senior and Junior School Journals (most from regional NSW schools) Judge: Steven Marvell; Postcards Judge: Sara Turner; Student PowerPoint Judge: Cheryl Marvell.
Judges were chosen for their experience in the field. Despite the challenges of COVID we could contribute, and all judges commented on how much they enjoyed seeing the detail and high quality of work presented. The final NSW CWA Conference of the year is normally held in Dubbo and includes the prize giving and display of the handcrafted items made for the competition.
As the conference had to be cancelled the CWA gathered some judges from the PNG Women's Association of NSW—Lani Drosd (President), Jane Hickson (Secretary), Bernie Clarke(Treasurer), and the PNGAA—Andrea Williams and myself, at Lyn Bracio's home to judge the PNG Dolls, Handicraft items and Bilums.
A lovely morning was had by all reviewing the entries from the talent of the CWA (and sampling some Special Offer for PNGAA Members amazing cakes they are famous for).It was obvious the enormous impact that studying our closest neighbour had been on the CWA.
The PNGAA also immensely enjoyed and was excited to be able to be involved with this great initiative to promote better understanding of Papua New Guinea. Over the previous eighteen months PNGAA members had participated by speaking at conferences, talking about PNG at various CWA international days on PNG throughout NSW, and PNGAA had produced a general information book about PNG that was provided to all CWA centres in NSW.
The CWA raises funds for the country studied and, in this case, the NSW branches already have a long-term association and support of PNG childcare centres and women's organisations among many other worthy causes.
We hope to be able to continue the great friendships and networks we have made over this year to benefit both organisations in the future.
CHERYL MARVELL